Jun Takahashi's UNDERCOVER is one of fashion's most intriguing brands. Between menswear, womenswear, and a whole host of diffusion lines, and collaborations, Takahashi's vision is boundary pushing and always uniquely his own. Even when he's paying homage to the many pop cultural icons – from movies and music to art – that litter his work (and there are many).
In an interview for the brand's 25th anniversary (UNDERCOVER turned 30 this year), Takahashi clarified this position, saying: "It was natural for me to interpret music or movies that I grew up with – that shaped me. I was always interested in rebellion. So, I decided to make clothes that are not merely beautiful; I wanted to interpret culture into fashion." Particularly in these last few seasons, UNDERCOVER's cinematic influences have gone from subtle to in-your-face.
Here, we break down the major films (and a few series) that have inspired Jun Takahashi's work. Unsurprisingly, his celluloid leanings echo UNDERCOVER's preoccupation with the dark side of humanity, resulting in a hearty dose of horror and psychological thriller movies among other cinema classics. So whether you've seen them all or are due for a rewatch, here is one killer recommendation list.
The Shining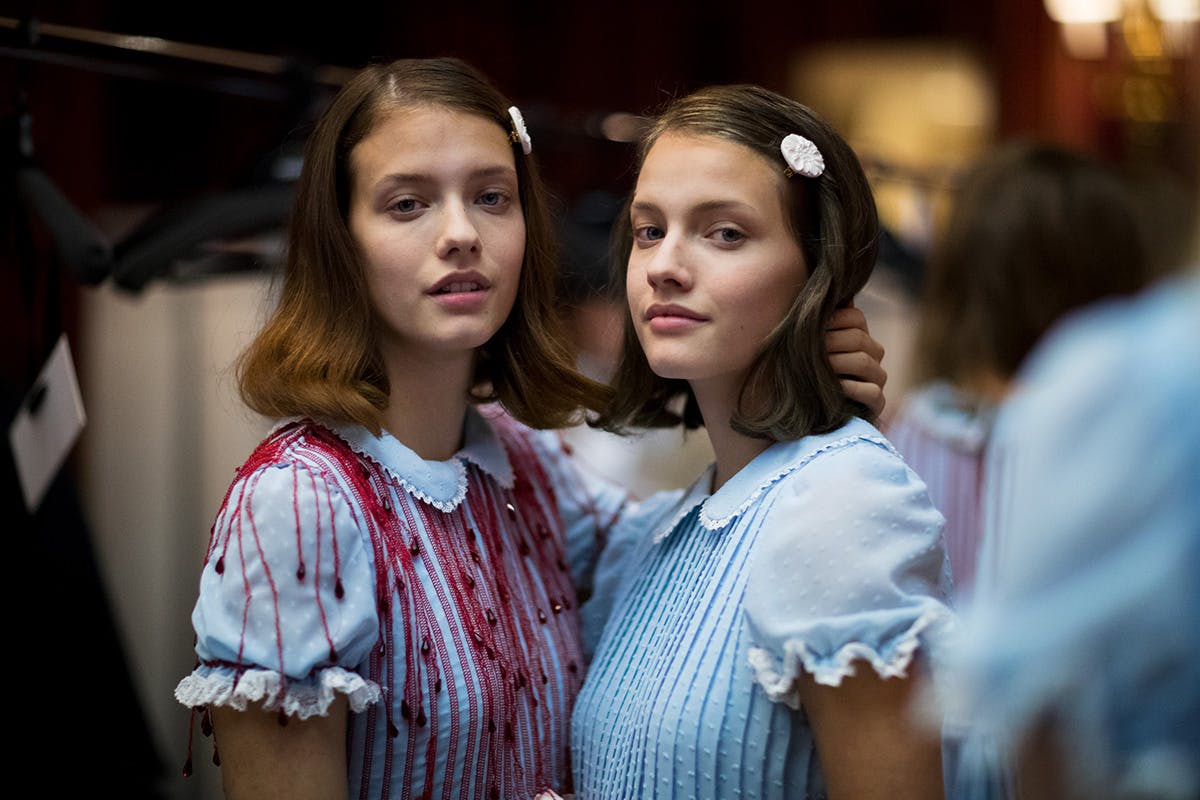 Director: Stanley Kubrick
Artist Cindy Sherman's photographs appeared on clothing in UNDERCOVER's Spring/Summer 2018 womenswear collection, with the artist well known for her work questioning reality versus fiction. Taking this idea even further, Takahashi incorporated references to Stanley Kubrick's The Shining – another piece of art that contemplates the duality of man – explaining, "People have two sides." \
The venue was turned into the Overlook Hotel while the film's score soundtracked the show, as pairs of models held hands while walking the runway together, before identical twins wearing blue dresses (just as the Grady twins did in the film) covered in beaded droplets of blood closed out the show.
Nosferatu
Director: F. W. Murnau
UNDERCOVER has a long-standing fixation with the macabre, so it was no surprise to see F. W. Murnau's Nosferatu, one of the earliest horror films ever made, creep up in the men's show for Spring/Summer 2020. An unauthorized adaptation of Bram Stoker's Dracula, Nosferatu has been widely influential in its depiction of vampires. Silhouettes of the vampire Count Orlok appeared throughout the collection in subtle black-on-black detailing, while cobweb embellishments also added to the ominous vibe.
Suspiria
Director: Luca Guadagnino
Titled "Suspirium," UNDERCOVER's Fall/Winter 2019 women's collection took heavy inspiration from Luca Guadagnino's remake of the seminal horror film Suspiria. Set in a dance academy where supernatural forces are at play, the film is both visually stunning and sinister – the perfect fit for an UNDERCOVER collaboration. Stills from the film were printed on many of the pieces, while the color palette mimicked Suspiria's dull yet striking cinematography. Upon the campaign's release, Takahashi gave "special thanks" to Guadagnino.
A Clockwork Orange
Director: Stanley Kubrick
Alongside UNDERCOVER's Suspiria-influenced FW19 womenswear collection, the menswear line looked to Stanley Kubrick's A Clockwork Orange and similarly, featured stills from the film printed all over garments. Controversial upon its release, A Clockwork Orange tells the story of Alex and his thug friends, as they go around terrorizing strangers and committing acts of ultra-violence in a dystopian London.
Titled "The Droogs," a Nadsat term meaning friend, as coined by the original book's author, Anthony Burgess, the collection considered the darker side of life. In an interview, Takahashi recounted first seeing the film in high school: "It was really shocking. The story of violence, sex, the youth, really everything together – I was inspired. Of course, I'm anti-violence."
Watch on The Criterion Channel
The Wizard of Oz
Director: Victor Fleming
One of the movies to define the Golden Age of Hollywood, The Wizard of Oz has been honored time and time again, but who would have thought Jun Takahashi was a fan? References to the musical fantasy film have appeared multiple times, most prominently in UNDERCOVER's first collaboration with Supreme, by way of a Wicked Witch Bogo tee. Other times UNDERCOVER has referenced the film include a jacquard hoodie featuring a pixelated Dorothy and Wicked Witch, as well as a pouch with the Witch's clawed green hand.
2001: A Space Odyssey
Director: Stanley Kubrick
Mining from Kubrick's rich oeuvre once again, Takahashi paid homage to the director's seminal (and arguably best) film 2001: A Space Odyssey for his FW18 menswear collection. Film stills and phrases from the movie covered everything from bags to jackets, while actual astronaut fits comprising sweatpants and jackets finished the show.
Takahashi's love for Kubrick is very apparent at this point, but he's also said: "There are many artists besides Kubrick that I like so I wouldn't say I'm especially inspired by him more than others. I have always been fascinated by movies that express humanity's duality, or make me feel anxious. I think that is the reason for my style."
Seven Samurai (Shichinin no samurai)
Director: Akira Kurosawa
In UNDERCOVER's second collaboration with Supreme, Jun Takahashi made reference to the forefather of Japanese cinema, Akira Kurosawa, with a box logo tee that features a still from the director's most acclaimed masterpiece, Seven Samurai. Still highly influential to this day, Seven Samurai centers around a small farming village that hires seven rōnin to protect their crops from outside invaders.
It's also Takahashi's favorite film. Upon the Supreme release, he wrote on Hiroshi Fujiwara's Ring of Colour blog: "It's a great movie that's thrilling to the soul, no matter how many times you see it." In case you need any more reasons to give it a watch, see here.
The Warriors
Director: Walter Hill
Inspired by the cult '70s film The Warriors, UNDERCOVER's "The New Warriors" collection for SS19 allowed Takahashi to represent the many sides of his brand. The film's premise follows a gang in New York called The Warriors, who are framed for murder and subsequently must travel 30 miles overnight to get to the safety of their own turf.
Takahashi took this idea of warring tribes and created his own eight urban gangs: The Larms, Bloody Geekers, the Zoruge tribe, Zenmondoo, The X Shadow Hoppers, The Dead Hermits, Vlads, and the Bootleg Truth tribe. He explained: "We took what we'd done so far, from the punky stuff right through to the folky stuff, mixed it all together with a bunch of new angles thrown in, and then spread that across the collection as a whole."
Creamy Mami, the Magic Angel
Created by: Pierrot
As part of "The New Warriors" collection, the Bloody Geekers tribe came outfitted in streetwear staples emblazoned with images from 1980s magical girl anime show, Creamy Mami, the Magic Angel. The lavender-haired heroine and her feline sidekicks might seem at odds with UNDERCOVER's aesthetic, but included in a season that catered to all ends of the brand's domain, it certainly had its place. Bringing the inspiration full-circle, Takahashi employed his daughter and her friends to model in that season's womenswear campaign, while also donning pieces from the Creamy Mami collaboration.
Ultraman
Created by: Eiji Tsuburaya
Another tribe from the same collection, Zoruge, wore printed shirts with daikaiju (giant monsters) terrorizing major cities including Paris, Tokyo and New York. Inspired by the superhero series Ultraman, which boasts a strong lineup of varied Ultra Monsters, the graphic-heavy shirts fit neatly into UNDERCOVER's usual style.
Speaking about his choice to include eight sub-collections modeled by different gangs, Takahashi said: "Personally speaking, I think that in our current climate, the idea of all these diverse people coexisting is interesting. That's definitely one of the things I set out to say with the show."
Kamen Rider
Created by: Shotaro Ishinomori
Worthy of Takahashi's attention on two separate occasions, the media mix series Kamen Rider cropped up in both "The New Warriors" collection (donned by the Dead Hermits) and a separate T-shirt collaboration honoring the show's 45-year anniversary. Visually inspired by a grasshopper, Kamen Rider is a superhero who fights kaijin (monsters) and other supervillains. The franchise is so popular its spawned multiple shows, films, manga, and toys, and is still going strong.
Throne of Blood (Kumonosu-jō)
Director: Akira Kurosawa
Looking to Japanese auteur Akira Kurosawa once again for inspiration, Takahashi based his recent Fall/Winter 2020 menswear collection on the 1957 film Throne of Blood. An adaptation of Shakespeare's Macbeth, wherein the Scottish Highlands are swapped for feudal Japan, Throne of Blood employs elements of traditional Japanese Noh theater, which Takahashi also incorporated into his presentation by way of a dance performance choreographed by Suspiria's Damien Jalet.
The designer said of his inspiration: "I feel like the story of the self-destructing man fits with society today."
Watch on The Criterion Channel
Snow White and the Seven Dwarfs
Produced by: Walt Disney
Taking cues from Classical Hollywood once again, Disney's first animated feature served as the inspiration for UNDERCOVER's Fall/Winter 2014 womenswear collection, where regal designs fit for a queen were sent down the runway. In a genius reference to both the film's plot and the brand's history, some models carried UNDERCOVER's Gilapple light in a hint to Snow White's poisoning. The brand also used the film as inspiration for its collab with Uniqlo on the "UU" T-shirt collection.
Star Wars
Director: George Lucas
Considering Jun Takahashi's affinity for the dark side, it's no surprise to see Star Wars references crop up in his work more than once. Alongside a Uniqlo T-shirt collaboration and his own diffusion line JohnUNDERCOVER, the main line's Spring/Summer 2016 menswear collection featured a bevy of Star Wars motifs. This translated to allover prints and words such as "Jedi" and "Sith" emblazoned across items, and even bag straps that resembled lightsabers.
Alice
Director: Jan Švankmajer
Titled "But Beautiful II: Homage to Jan Švankmajer," UNDERCOVER's Spring/Summer 2005 women's collection took inspiration from the surrealist Czech filmmaker, specifically his 1988 film Alice. A dark and twisted take on Alice's Adventures In Wonderland, Alice is a mix of live-action and Švankmajer's signature stop-motion animation.
When Jun Takahashi veers into grotesque imagery (which he does often), for example with the eerie Grace doll and other off-kilter Medicom Toy offerings, the correlation between his work and Švankmajer's is clearer than ever.
Dracula
Director: Tod Browning
Before taking inspiration from Nosferatu, Takahashi incorporated another famous vampire into his work. For UNDERCOVER's collaboration with French brand Carne Bollente, the designer immortalized several horror villains with illustrated silhouettes on streetwear staples.
The 1931 film Dracula is necessary viewing for both UNDERCOVER stans and fans of horror – Bela Lugosi's iconic Count Dracula introduced the now ubiquitous image of a gentlemanly vampire who wrapped his satin-lined cape around his victims and was modeled on a bat. In the collection, his unmistakable silhouette appears embroidered alongside a naked victim and "Draculass" text, providing a comical touch.
Frankenstein
Director: James Whale
It's not only Dracula who got to indulge in a little carnal pleasure with the Carne Bollente collab, but also his buddy Frankenstein, who incidentally was the star of 1931's other major Hollywood horror release. Like Dracula before it, Frankenstein was a major box office success that cemented Frankenstein's monster, played by Boris Karloff, as a major player in Universal Classic Monsters' horror repertoire for decades after.
The Hand
Director: Oliver Stone
Fast forward 50 years after Dracula and Frankenstein's film debuts and we come to The Hand, or specifically Michael Caine's murderous extremity. It also features in the Carne Bollente collab, rounding out a fine selection of horror villains. If anyone doubted Jun Takahashi's commitment to the morbid side of life, this collection could silence those critics. A camp horror classic, The Hand received mixed reviews from audiences and critics alike, but is a must-see for fans of horror.
Isle of Dogs
Director: Wes Anderson
Wes Anderson's Isle of Dogs is a stop-motion animated film about a fictional, near-future Japan where all dogs are banished due to an outbreak of canine flu. Alongside his group of regular collaborators, Anderson also worked with none other than Jun Takahashi, who contributed voice work for a minor character. Following that, Takahashi commemorated the film's release with a limited edition UNDERCOVER tee illustrated by Akira-creator Katsuhiro Otomo, whose design features multiple characters from the film.
Anything by Shingo Wakagi
Films to see: Asleep, Hoshikageno Waltz, Tōtemu: Song For Home
Photographer and filmmaker Shingo Wakagi might not have the name that other directors on this list do, but his work has nonetheless been honored by Jun Takahashi. Back in 2009 the designer paid tribute to Wakagi with an UNDERCOVER T-shirt emblazoned with "The Rebel God" alongside a series of black-and-white images, created for the New Year Rock festival. Alongside his photographic work, Wakagi has a short filmography consisting of three feature films, the latest of which, Asleep, was critically acclaimed.