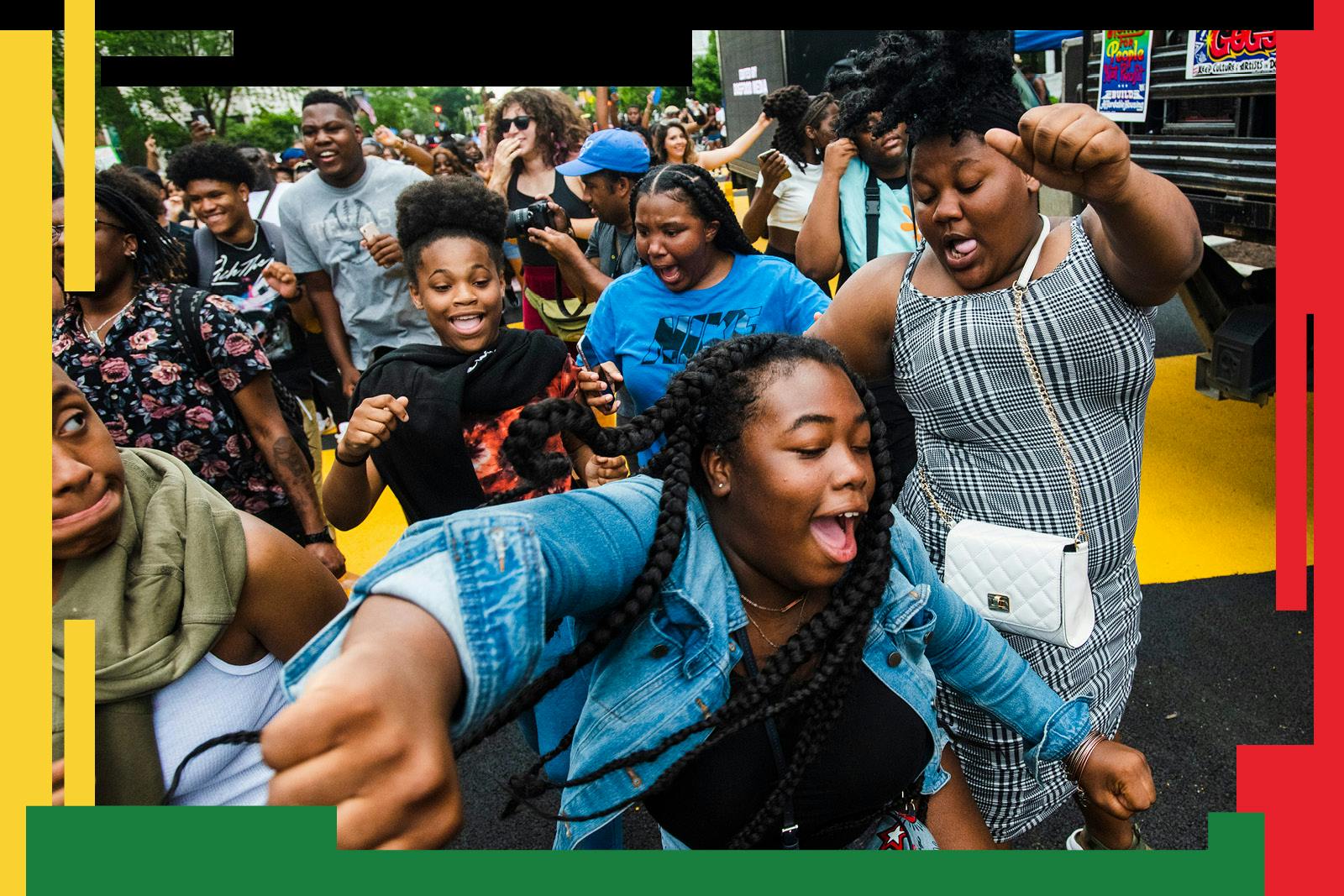 In honor of Juneteenth 2022, Highsnobiety is has organized a selection of books by Black authors, content to watch and stream, and a Black-owned brands to shop and support.
Juneteenth itself marks a sobering moment in American history but the holiday has grown to represent a period of Black celebration. Anniversary celebrations have been underway for decades and, in 2021, Juneteenth was finally recognized as a federal holiday. 2022 is as good a time as any to join the party.
June 19, 1865 represents the end of slavery in the United States, though the Emancipation Proclamation was signed nearly three years prior. Officially, it's recognized as the day that soldiers arrived in Texas city Galveston to ensure that all enslaved people were freed.
Less than two centuries later, Juneteenth has become a moment to recognize Black achievements and plan for future advancement. It's a day worthy of solemn contemplation and joyous commemoration alike, and it invites plenty of activities across a sunny summer weekend.
Atlanta
Georgia's capital city is observing the statewide Juneteenth holiday by ringing in the 10th Anniversary Juneteenth Festival with music, local sellers, and a massive parade.
Baltimore
Much to do in the heart of Maryland, as the Juneteenth Father's Day Soul Marathon brings smooth tunes and a Black business marketplace unites local vendors in the name of the holiday weekend.
Brooklyn
As the 13th Juneteenth NY festival kicks into high gear, the Brooklyn Museum is hosting "Honoring Juneteenth," with all-inclusive activities scheduled all day long. Meanwhile, at The Annex on June 18, SNIPES is hosting a two-part event with artists Kendall Bessent, Yolanda Hoskey, Nazeer Sabree, and Desiree Vaniecia that includes an unveiling of pre-commissioned works.
Dallas
Alongside a myriad of local events, the city of Dallas is coming together for a Juneteenth 3k walk that leads up to a community festival, with live entertainment, vendors, food, and family-friendly fun all in store along the way.
DC
Washington's Juneteenth Foundation has one again organized the Freedom Festival for 2022, offering a virtual concert, golf tournament, and block party. But, this being America's capital, some of the programming goes beyond merely being a good time: for instance, there's a career fair and scholarships, and a call to action for Juneteenth to become a federally recognized holiday.
Durham
A weekend-long Juneteenth Celebration is going down in Durham and dancers, games, local fashion, and exhibits are all coming together. Perhaps the highlight, though, is the day-long barbeque cook-off on Juneteenth itself, demonstrating North Carolina's aptitude for succulent grilled goods.
Galveston
Being the de factor origin point of Juneteenth, Galveston is suitably rich with things to do for the holiday and parades, tours, picnics, and festivities are all planned citywide.
Houston
A stacked lineup of performers — including the Isley Brothers and Kool & the Gang — rings in the "Celebration" at Emancipation Park's Juneteenth celebration, accompanied by gospel singers, public talks, and designated play areas for kids.
Los Angeles
Ample markets, concerts, and family-friendly events are scheduled for Juneteenth weekend in Los Angeles, covering ground that includes local parks and the Hollywood Bowl, but everyone can get in on the weekend's action by tuning into the virtual Liberation Festival, now in its second year.
Memphis
The Memphis Juneteenth Festival offers plenty of musical sets, comedians, and even a spiritual celebration, with the activities spilling into the street for a 2.5k run/walk and even into the legendary Orpheum Theatre for a screening of Miss Juneteenth.
New Orleans
It's appropriate that New Orleans' third annual Juneteenth Festival is packed with soulful tunes, dynamic dance troupes, community-conscious panels, and more Louisiana cuisine than one could ever hope to eat in a single weekend.
New York City
Of course, the compact island of Manhattan is rife with events both big and small, including the Juneteenth NY Festival, Black Arts & Ideas Festival, and special Juneteenth screenings at The Museum of the Moving Image.
Tulsa
Oklahoma's largest Juneteenth celebration is the Tulsa Juneteenth Festival, which hosts everything from live music to art exhibits in a sweeping, multi-day event suitable for entire families.