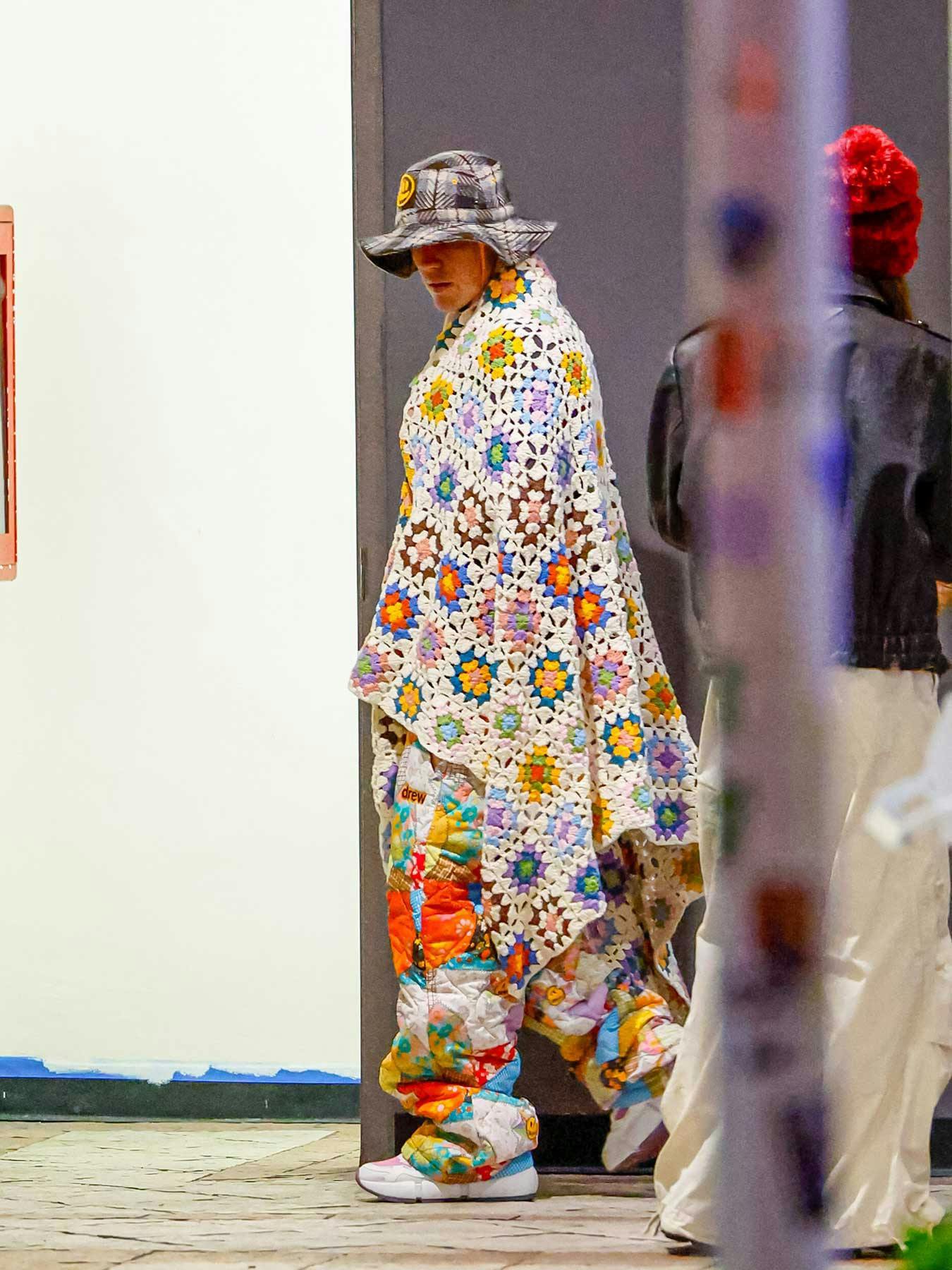 It happens to the best of us: sometimes you just gotta go blanky mode. That's exactly what Justin Bieber did on January 5, when he shrouded himself in granny's crocheted blanket and quilted Drew House pants to match.
For a guy whose style has been rather uneven since losing access to his favorite brand, Bieber kinda had a stylistic glow-up here.
Bieber's colorful quilted look is actually pretty sick in a louche, slouchy way and way more interesting than his typical oversized hoodie and baggy jeans.
Blanky mode, for reference, is exactly what it sounds like. It started as a semi-ironic twist to the rage comics of yore and is now a way of life.
When you're so cold that you'd bring your comforter on the go, when you're too hungover to care about looking cool, when you're snuggling on the red carpet, you're going blanky mode.
Bieber also appears to be wearing Jaden Smith's signature New Balance sneaker, the Vision Racer. Pretty unusual, as he rarely strays from Nike or luxury shoes.
But we haven't even discussed the crocheted throw itself, which is a shame. It's a pretty attractive number, quintessential of the trend that peaked in 2022.
Funnily enough, blanky mode Bieber is basically a hybrid of two big, cozy moments of 2022: the rise of crochet and A$AP Rocky's Met Gala quilt.
If this is the 2023 version of blanky mode, so be it.
Given that Bieber is wearing a sort of boonie hat and thus-unreleased quilted pants from Drew House, the clothing line overseen by his pal Ryan Good, it must be pondered whether his blankey is of Drew vintage or if it's actual vintage.
Probably the latter, but who knows? Bieber is basically all Drew'd out these days so wouldn't be much of a surprise to learn that Drew is dipping into crochet.
The whole look is giving Story MFG., which is a pretty sizeable compliment given that Bieber's usual stylistic inclinations lean middle school.
Oh well, better than his wife's nepo baby-core.
Shop our favorite products