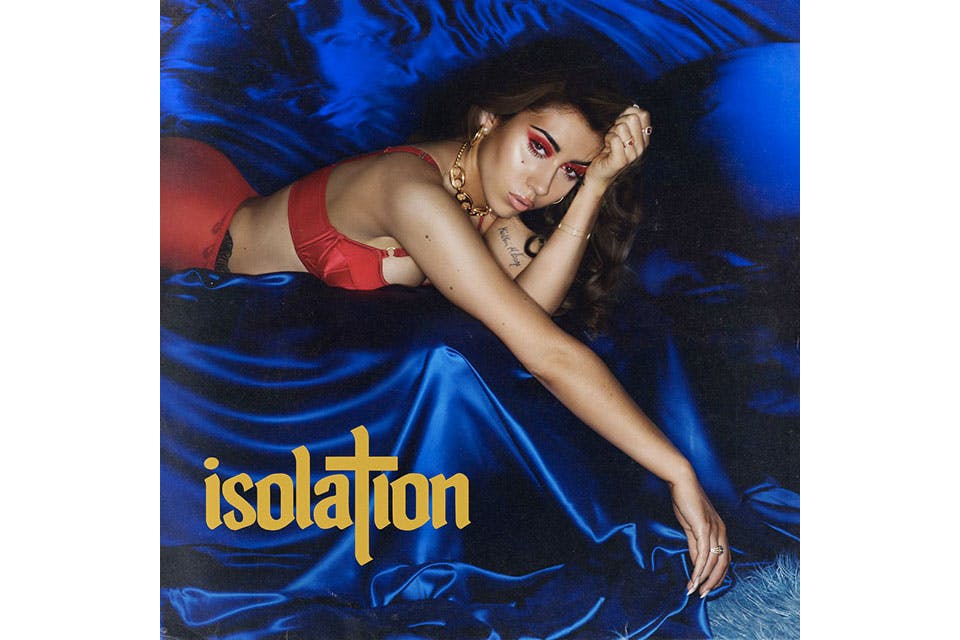 4.0/5.0
Kali Uchis is one of those slow-burn pop stars who started off with rumblings in the underground, then proceeded to come up with slick features and acclaimed singles until —BAM — she became an unstoppable phenomenon, the name on everyone's lips with the chops to match the hype. Since dropping her first mixtape, the eclectic Drunken Babble, in 2012, it's been a steady build towards Uchis' first full-length album.
And it turns out that the record's languid mix of R&B, pop, jazz, Latin fusion, reggae and hip-hop doesn't disappoint in the slightest. All her other efforts - including her EP Por Vida and multiple high-profile collaborations with the likes of Snoop Dogg, Gorillaz, Kaytranada, Tyler, the Creator, Major Lazer and others — seem to have been, in retrospect, stepping stones to Isolation, where Kali's talent, personality and heritage are able to shine through completely unencumbered.
Kali, the stage name of Colombian-America singer and songwriter Karly-Marina Loaiza, arguably broke through to the mainstream last year when she was featured on Tyler, The Creator's sleeper-hit record Flower Boy on the track "See You Again", a bittersweet love song that the pair performed on The Tonight Show Starring Jimmy Fallon. During that broadcast, Kali completely eats the screen, and she continues her show of dominance on new single "After the Storm", which also features Tyler as well as cosmic funk legend Bootsy Collins.
"Whatever goes around / Eventually comes back to you," coos Bootsy's unmistakable baritone in the song's spoken-word intro, "So you gotta be careful, baby / And look both ways / Before you cross my mind." The intro is an obvious lyrical mirror to the hook on "See You Again", but this time, Kali is in the driver's seat, speeding down the highway of Tyler's continued infatuation. The addition of Bootsy is an inkling that Isolation is more than just a hyped-up R&B debut, but a truly cross-genre effort. The track was also produced by the Canadian instrumental group BADBADNOTGOOD, who have become increasingly known for their hip-hop collaborations and give "After the Storm" an organic, vintage '70s feel with slinky keyboards and elastic basslines.
In 2017, Kali was nominated for a Latin Grammy for "El Ratico", her collaboration with Colombian superstar Juanes. It felt like a passing of the baton, and Isolation revels in Kali's Latin background, to its great benefit. An early highlight on the record is "Miami", which sees Kali inhabit the languorous and tropical environment of one of the American cities with the most ties to Latinx culture. "When I was just a little girl / Had my sight set on a bigger world / Got myself a visa / And started catching flights / To where the grass is greener," she sings in the song's first verse, making her immigration to America seem both confident and nonchalant at the same time, the perfect foil to the xenophobia that surrounds the issue in America today.
"Why would I be Kim / When I could be Kanye?" she cheekily posits, which is true — why settle for second-best just because you were born somewhere else? There may be vicious people who still oppose the multicultural backdrop of a city like Miami, but Kali has made sure to get the last laugh, in the form of an undeniably catchy, sun-drenched pop song. But never does Isolation's Latin influence feel like a gimmick or a marketing angle, just a rightfully inalienable part of Kali's artistic expression. Like the mid-album Spanish-language track "Nuestro Planeta", which features a verse from Colombian reggeaton artist Reykon, she uses that genre's signature shuffling percussion to create a sound that is both dancefloor and poolside-ready.
Isolation also takes considerable risks to ensure it's more than your run-of-the-mill, post-Channel Orange, retro-futuristic R&B record. "In My Dreams", which Kali co-wrote with Damon Albarn, is a surprising take on indie and electro-pop that picks up the pace considerably amidst the album's many laidback moments. Unabashedly bouncy, "In My Dreams" sounds less like something that was retrieved from the cutting room floor during Kali's sessions for Gorillaz' most recent album Humanz and more like something that could peacefully coexist on any one of that band's albums. It's joyous and upbeat in a way that makes the rest of the album seem even more chilled-out, even with Albarn's trademark lackadaisical vocal delivery.
Throughout Isolation, Kali manages to channel Amy Winehouse, Lauryn Hill, Anti-era Rihanna, Donna Summer and scores of other grand divas, all while remaining true to her own indelible voice. While Isolation might be chock-full of features and collaborations that bring undeniable color and depth to the album, there is an aspect to the record in which the title rings true; on top of it all, alone and in control, sits Kali Uchis, and when the chips fall, she'll know that her debut album will be sure to launch her career into the stratosphere.
Revisit our editorial with Kali Uchis, head here for more of our reviews.