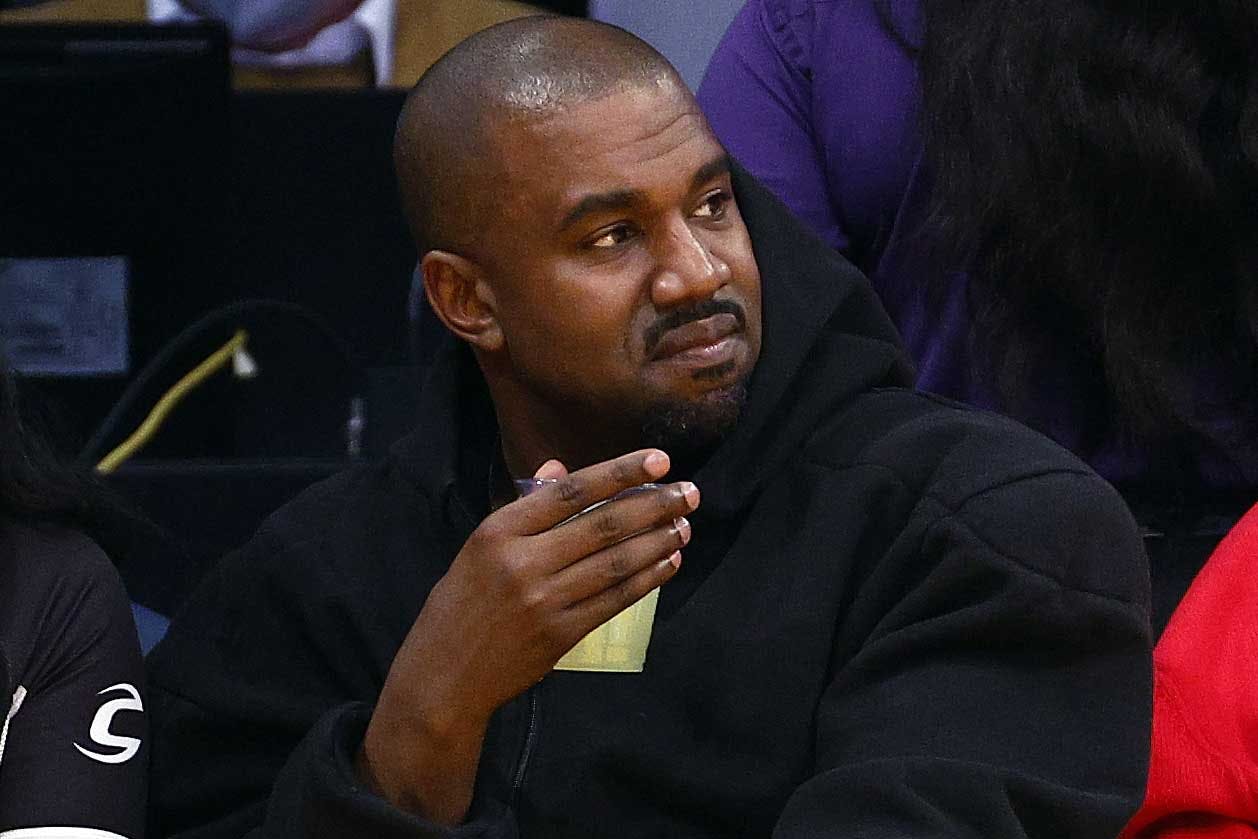 The news that Pete Davidson and Kim Kardashian had broken up has rocked the internet since rumors broke on Friday, August 6. Surprisingly, it took all weekend for Kanye West, Kim's ex-husband, to wake up and choose violence.
Indeed, on August 8, Kanye was apparently having a normal one.
Just prior to 8 a.m. EST, Kanye uploaded a fake New York Times newspaper headline to his otherwise barren Instagram page, a clunkily revised image that doesn't exactly inspire confidence in the DONDA rapper's Photoshop skills.
Yep, "SKETE DAVIDSON DEAD AT 28." Classy! Kanye deleted the post a couple hours later, as usual.
Kanye has referred to Pete as "Skete" since the comedian began dating Kim, give or take a few months, which is definitely a funny ha-ha and not further proof of Kanye's Jokerfication.
Dude is nearly two decades older than Pete and has four kids — it's time to grow up and stop bashing the dude your ex is dating for the sake of impressing your gleeful fans.
Remember, Kanye and The Game's "EAZY" music video saw a claymation figure dressed in Ye's clothing "killing" a character who resembled Pete only a few months ago. So, this is Kanye's second time proclaiming Pete's death in about six months.
Kanye's unrelenting harassment of Pete got Ye banned from Instagram earlier this year, so his embarrassing newspaper edit is risking additional blowback from the social media platform. Or not, since Instagram has historically had plenty of problems moderating abuse.
I can't see Kanye coming out of this situation looking anything but utterly deranged, unless you're one of those aforementioned followers of Yeezus.
In that case, Ye never does anything wrong.
Look once again at Ye's edited newspaper. Read the fine print at the bottom.
There, you'll see a tiny diss lobbed towards former friend Kid Cudi, whom Kanye cut ties from earlier this year.
It's a little joke about how Cudi was pelted with bottles while filling Kanye's slot at Rolling Loud in July, a cruel jab at a longtime friend whose wellbeing was threatened by Kanye's IRL unruly fans.
So much for good Christian behavior. Crazy that Kanye can simultaneously act like this and demand for everyone else to treat him with respect.
It's hard to tell whether Kanye's ceaseless whining is itself a marketing campaign — there is no such thing as bad press, after all — or of it's a sincere expression of Ye's puerile angst against those who seemingly wrong him.
This kind of behavior innately draws headlines either way and inspires writeups like the one you're reading now.
So, if Kanye's intent is simply a cry for attention, mission accomplished.
On the other hand, if Kanye is actually attempting to get to Pete, it's pretty insipid.
Pete is in Australia filming a new movie and, despite being pretty young, has already developed the thick skin necessary for most famous folk to take a few lumps in the public eye without giving in to cringeworthy breakdowns and callouts.
Pete doesn't even have any known social media accounts since deleting his Instagram, which Kanye's disciples used as an additional platform for harassment.
In comparison, Ye recently lashed out at adidas over, among other things, YEEZY DAY 2022 and even called out GAP for some slight or another.
Like I said, it's not exactly clear if these kinds of overt tantrums actually get things done for Kanye or if this is simply his modus operandi.
He can apparently do lots of stuff without blasting the news into the public sphere — we didn't hear about the DONDA car until imagery leaked — so Kanye seems to pick his battles. His Twitter account remains unused since 2020, for instance.
Kim, meanwhile, hasn't had much to say about either Kanye's ongoing harassment or even her breakup with Pete. At least, nothing that wasn't private.
She continues to wear her ex-husband's clothing and even recently sported a pair of sample YEEZY sunglasses, presumably provided to her by Kanye himself.
A source close to the socialite reported that Kim is actually pretty pissed about Kanye's latest stunt.
"Kim won't stand for this. She is demanding that Kanye take the post down, but he won't," the anonymous person said, just an hour before Kanye relented and emptied his Instagram again.
"She has been vigorously defending Pete. She'll never get back together with Kanye over the way he's treated the people she loves and respects."
"Kim has been very sad about the breakup with Pete – it's not where she thought it would be and that's been hard for her. She will always care for him and have his back."
Pretty even-handed, especially considering that Kim's ex-husband has now wished death upon her short-term boyfriend multiple times.
Say what you will about Kim Kardashian, who ain't perfect by any means, but you gotta give that to her.