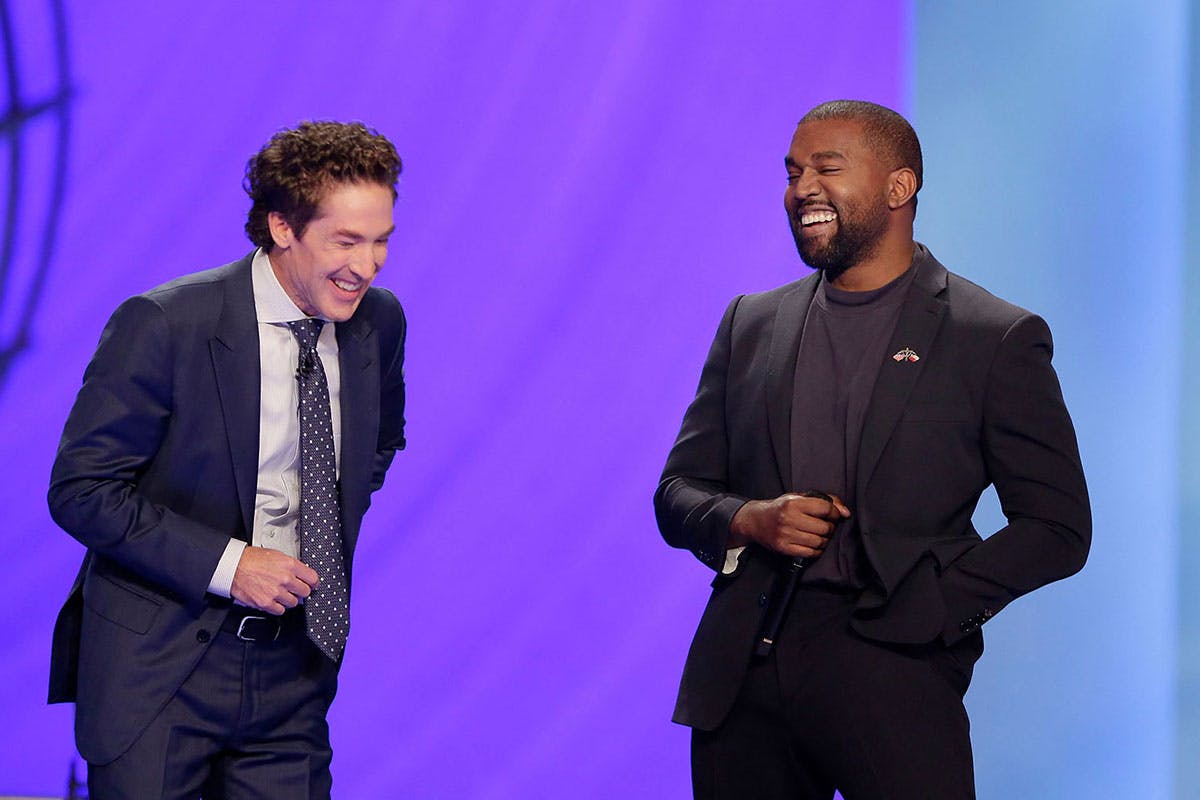 Kanye West and Joel Osteen are facing fresh criticism for their latest Sunday Service double-act. Videos shared by Kim Kardashian yesterday showed the pair engaging in some sort of biblical Jesus walking-on-water trickery — an illusion set up to reference the miracle penned in the New Testament.
The footage, which looks like it was lifted straight out of A24's Midsommar, is not being met with applause. Rather, many on Twitter are pointing out that instead of preaching a mantra of "living for God," Kanye and Osteen appear to be peddling a "we are God" narrative. And that isn't sitting so well.
Of course, this isn't the first time that the pair's unity has been met with disdain. In April this year, shortly before they announced an Easter Sunday Service, we published an op-ed on why their link-up is a bit (very) grim. While some of the content below is now a little dated, the message stays the same — here's why the relationship between Kanye & Osteen has sinister undertones.
With its empty platitudes around Christianity, Kanye West's disappointing Jesus Is King album felt like a televangelist trying to inspire his followers to drink the Kool-Aid. The fact that the release was underpinned by $170 Jesus T-shirts and claims the rapper was creating a church purely for the tax exemptions made it feel less about salvation and more about West finding an inventive way to fund his business empire.
Therefore, West linking up with one of America's richest and most famous televangelists, pastor Joel Osteen, won't come as a huge surprise, both being experts at turning the communion table into a merch stand. Osteen has already hosted Kanye at his mega Lakewood church — which is thought to generate revenues of $70 million annually — in Houston, and now (after initial reports suggesting the two will go on a lucrative tour across America in order to spread the gospel), the pair are linking up for a virtual Easter Sunday service.
Up to 50,000 people attend Osteen's services every week, with his sermons seen by more than seven million people across both TV and online services. Meanwhile, his 2004 book, Your Best Life Now, was on the New York Times bestseller list for over 200 weeks. If Kanye wants to amplify his faith to an even bigger audience and, as some critics would argue, find a way to channel Christianity into a lucrative revenue stream, then teaming up with Osteen (who is also a fervent Trump supporter) makes a whole lot of sense.
Yet there's also a nagging feeling that Kanye, a recognized workaholic with a well-documented history of mental health issues, could be the one that's being played here, as Osteen uses his relationship with the controversial artist to create an illusion of progressiveness, particularly around issues such as race. While interviewing Kanye as part of his church service, Osteen tellingly said, "When you've got Kanye defending you, you've made it, man," a quote that hints at something a lot more sinister going on here.
You see – Osteen is hardly holier than thou. When Hurricane Harvey tore through Houston, his 16,000-seater church refused to open its doors to the public, only doing so after facing widespread criticism for taking so long to help those that were displaced by the storm. He has also repeatedly called homosexuality a sin, while his reaction to the alt-right racism that fueled the deadly riots in Charlottesville was a tone-deaf statement that asked Christians to "accept everyone is different" and "not to engage" with those condemning white supremacy.
A white evangelical preacher getting one of the biggest black hip-hop artists in the world to boost his brand could certainly create a false impression of progressiveness, allowing Osteen to divert attention away from many of the toxic views he holds, and actively pushes. After all, if Kanye, the man who once bravely accused George W. Bush of not caring about black people, is a fan of the Lakewood Church, then it can't be all that bad, surely? "White evangelicals are showering Kanye West with attention because they've been criticized for years for their racism," author and historian Ibram X. Kendi claimed in an interview with the Washington Post. "Anytime they can embrace a person of color, it allows them to present themselves as not racist."
One of Osteen's fundamental teachings is that God grants health and wealth to his followers, and he has repeatedly claimed Kanye is one of the biggest benefactors of this. This kind of prosperity-based faith is something Kanye has obviously taken to heart — in recent interviews, West has bizarrely said that since "working for God," he's received a $68m tax return. This is a clever strategy by Osteen, designed to convince the rich that their wealth is a result of becoming closer to God – presumedly, he knows that the more elites he can convince, the bigger the opportunity to turn them into propaganda tools and increase his church's bottom line.
For years, Kanye has refused to play by the rules or be a follower, even rapping: "I'd rather be a dick than a swallower." Yet it would appear he's now the one being led, and is seemingly being used by white evangelicals to further their cause. Kanye is creating widespread media attention that will give Osteen a vast new audience to spread a reading of Christianity that arguably cares more about solidifying the place of the rich in society than elevating the poor.
If 10 years ago you were to have suggested Ye would become a tool for white evangelicals, many would have laughed. But now, it's par for the course for an artist desperately trying to prove black people aren't a monolith, even if it means supporting causes that do absolutely nothing to uplift black people and standing with men who believe we should be more accepting of racists.
Osteen must be aware that, as long as Kanye is by his side, he can shake and rattle that donations box to deafening levels. On the intro of Late Registration, Kanye was famously implored to "wake up," but Osteen will be hoping he stays in this slumber for as long as possible.