In 1986, artist Keith Haring opened the Pop Shop in SoHo, New York. It was an extension of his idea that art should be accessible to everyone, rather than locked away in exclusive museums or galleries.
"Art is nothing if you don't reach every segment of the people," said Haring, addressing the commercialization of his work. "My shop is an extension of what I was doing in subway stations, breaking down the barriers between high and low art."
Among the first products sold at the Pop Shop was a collection of four Swatch watches, which Haring designed himself. In a similar vein to Haring's art, Swatch was conceived by the Swiss watch industry in the 1980s as a way to make watches accessible, affordable, and fun. This came as the rise of battery-powered (quartz) watches threatened to render traditional high-end, Swiss-made mechanical timepieces obsolete. Nowadays the Swiss mechanical watch industry is thriving, yet the impact of Haring and Swatch is still seen everywhere.
Watches and art had come together long before the 1980s. You can find intricate, hand-painted cloisonne enamel dials on vintage Rolex and Patek Philippe timepieces from nearly 100 hundred years prior. But these pieces were reserved for only the ultra-wealthy and most important clients, much like art in the museums and galleries that Haring disdained. When Swatch and Haring teamed up, it was the first time watches and art became cool. Here was the famous pop artist of his generation mashing up the trendiest watch of the decade.
At the time, both art and watches were undergoing a fundamental transformation. No longer were they meant to be the exclusive provenance of the affluent to be enjoyed only at black-tie events in white-walled galleries. Haring placed his graffiti art on subways and streets; Swatch produced cheap quartz watches.
Below, we see how Haring's lives on in the best art watch crossover releases of 2021 so far. Some are obvious, others not so much.
When Watches & Art Collide, 2021 Edition
Zenith Defy El Primero, Felipe Pantone Edition
While Haring's Swatch watches began as cheap quartz pieces that anyone could pick up at his Soho Pop Shop, modern artist-inspired watch collaborations are often the opposite. They're expensive, limited-edition mechanical watches designed to appeal to the hardcore collector.
A shining example is the new Zenith Defy El Primero, Felipe Pantone Edition. Like Haring, Pantone started as a graffiti artist, eventually developing his signature dynamic style that uses bold colors and geometric patterns to turn anything he touches into an optical illusion of melting colors and shapes.
But unlike Haring's Swatch collaborations, this Zenith Defy is more avant-garde than mass-market pop art. First, there's the watch itself, open-worked to let you see the entire mechanical movement through the dial, with only Pantone's signature chromatic choices and lightning bolt turned into hands to break up an otherwise all-black ceramic case.
Then there's the movement: The center chronograph hand zips all the way around the dial once per second (most chronograph hands simply make their way around the dial once every 60 seconds as you'd expect). It's an innovative and daring mechanical achievement, perfectly complemented by Pantone's audacious aesthetic.
Even better, the artist's collaboration went beyond the timepiece and into the streets of Zenith's quiet home of Le Locle, Switzerland. Before the release, Pantone dumped vibrant colors all over Zenith's previously staid grey office building. Not only was it a fun way to shake up the conservative watch industry, but it also harkens back to Pantone's roots as a street artist, creating something anyone can enjoy as they walk down the silent streets of Le Locle.
Price: $19,100 For more, visit Zenith Watches
MoMa x Swatch
While brands like Zenith are pushing watch-meets-art collaborations to their experimental limit, Swatch is carrying on the principles that inspired its first collaboration with Haring.
Most recently, this has been through their collaboration with New York's Museum of Modern Art. The collection brings six of the most famous pieces from MoMA's collection to the wrist, including Vincent Van Gogh's The Starry Night (1899) and Tadanori Yokoo's New York (1966). While these might be seven or eight figure paintings, the Swatch interpretations come in at a mere $100. Much like Haring and the pop art movement, it challenges the traditional perception that collectible watches have to be expensive, or even mechanical.
These are designed for the watch-curious; those who might not care about the difference between mechanical and quartz, much less the pesky distinctions between a vertical clutch and column-wheel chronograph.
Price: $80-$100 For more, visit MoMA Store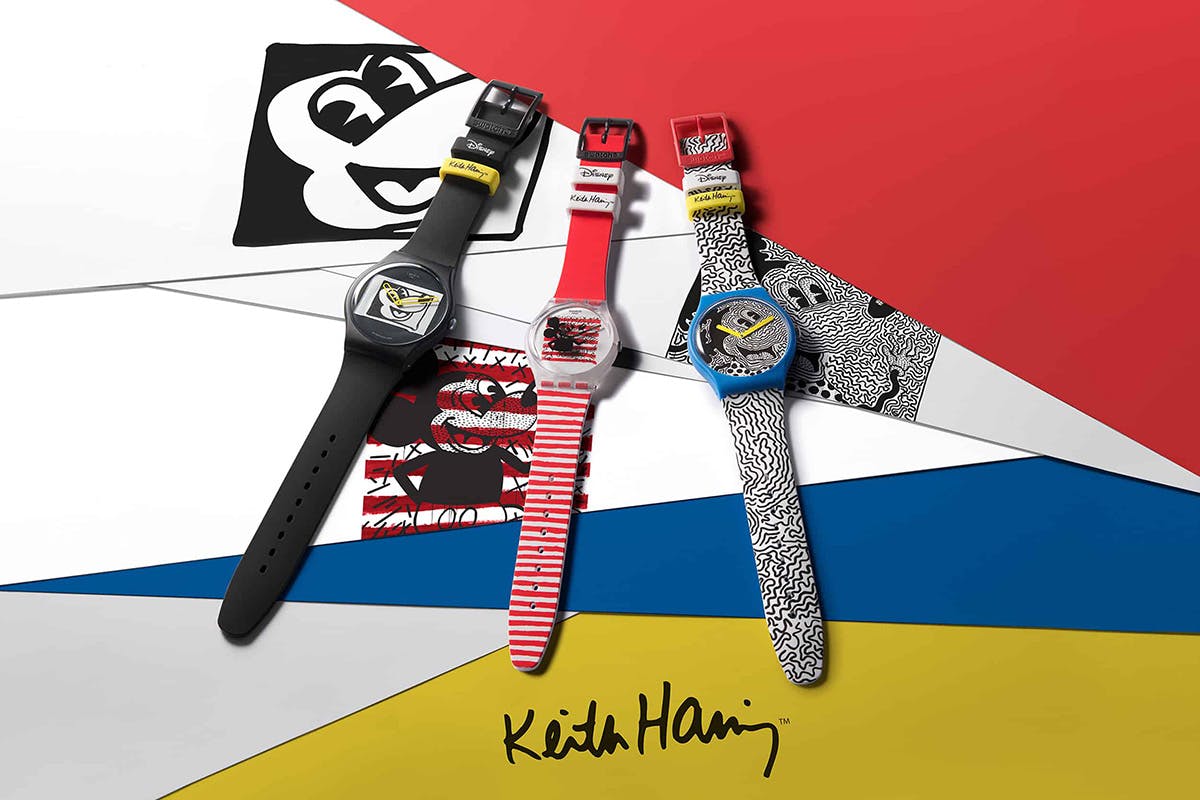 Mickey Mouse x Keith Haring Swatch
Even Haring's own art continues to live on through Swatch. One of his most popular series of works is his Mickey Mouse drawings, now found on everything from Uniqlo T-shirts to Coach bags.
In perhaps the most faithful rendition of the famous mouse, this recently expanded to a Mickey Mouse x Keith Haring Swatch collection. The wild "Eclectic Mickey" with black squiggles quickly sold out, but the two other editions of the collection remain available, a true extension of Haring and Swatch's original 1980s collaboration.
Price: $100 - $125 For more, visit Swatch
H. Moser x seconde/seconde/
While many watch-meets-art collaborations bring together two otherwise disparate creators from their distinct fields, sometimes watches inspire a new art form all its own. Such is the case with seconde/seconde/ and H. Moser.
Paris-based design studio seconde/seconde/ has been at the forefront of this movement, poking fun at purists by taking vintage watches and swapping out their original hands with emoji-like pixelated icons.
It's fun, subversive, and, if you look just beyond the surface, meaningful. Not unlike the work of the most cherished pop artists.
In fact, seconde/seconde/ founder Romaric Andre has even compared his work to other contemporary art forms: "It's like street art: there are walls, but let's put spray paint on them. I saw walls where nobody saw them. There are millions of walls — those watch dials and vintage watches — let's have fun with them and consider them as a canvas."
Most recently, he took a watch from Haute horology brand H. Moser as his canvas. This meant swapping in an eraser for the hour hand, a tongue-in-cheek play on Moser's Concept dials, which completely forgo (ahem, erase) Moser's name or logo on the dial. Surely, Haring would be proud of the high-meets-low art of a high-end wristwatch featuring an emoji-like icon, paying no attention to the barriers that might have previously existed.
If the H. Moser Endeavour x seconde/seconde/ isn't enough, some of Moser's other releases have also forced us to ask questions. Take the Swiss Alp Watch Final Upgrade, the final release of its series of watches designed to troll the Apple Watch. But, as we wrote upon its release, beyond the trolling and parody, Moser's efforts force us to ask questions about ourselves and the products we consume. It's pure art.
In that way, watches have come full circle in taking inspiration from art, developing a unique art form all their own.
Price: $21,000 (approx) For more, visit H. Moser
Breaking Down Barriers
No one needs Warhol's or Haring's signature to identify a work is by Warhol or Haring — the aesthetic and color choices are instantly recognizable. The most well-known watch brands strive for the same sort of ubiquity as these famous artists, reaching iconic status without so much as a logo or name in sight. Some of the most recognizable and desirable watches on the planet can be spotted from across the street, with only a distinct silhouette to give them away — the Patek Philippe Nautilus, the Audemars Piguet Royal Oak, even the Rolex Daytona.
Unfortunately, too often these modern icons are as inaccessible as those old art galleries and museums, defined by years-long waitlists and resale prices.
Sometimes the best watches are those that stay true to the original ethos of Swatch and Haring, breaking down barriers. Affordable and available to all, but no less thoughtful or worthy of appreciation.
Tony writes at Rescapement, a weekly newsletter about watches.