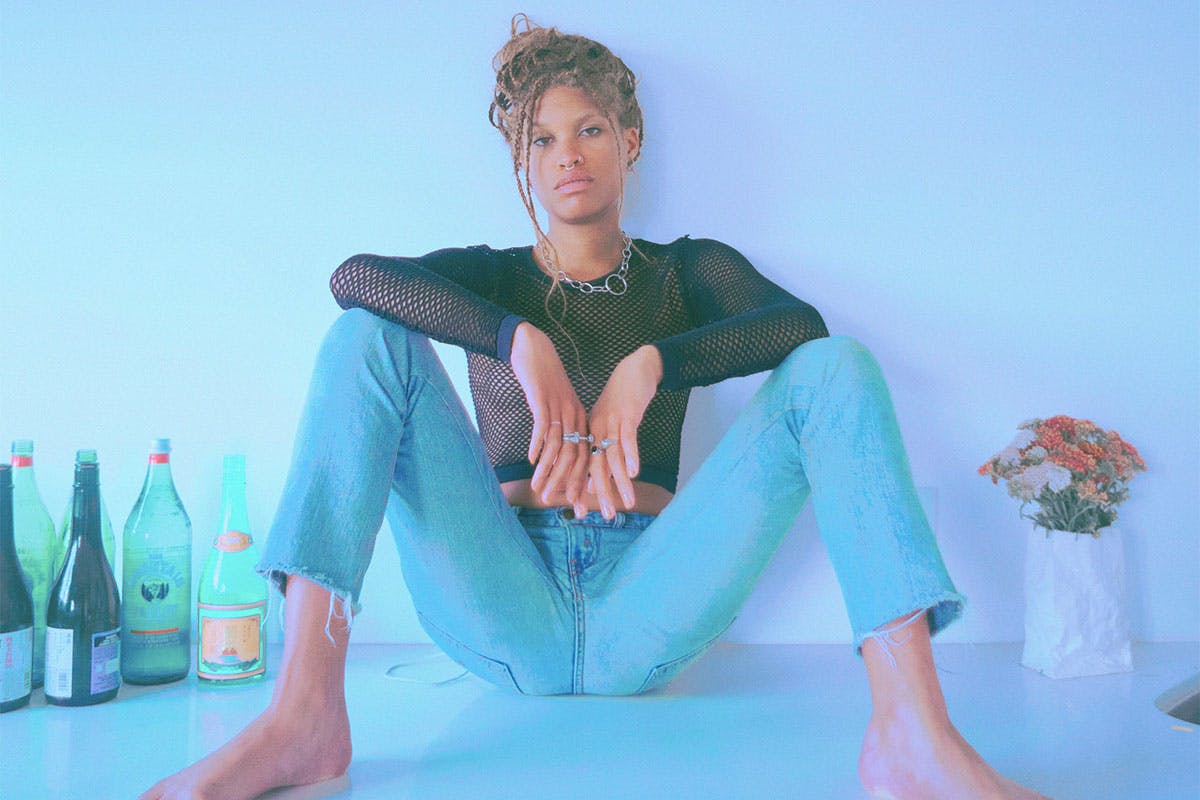 Under the Radar is Highsnobiety's celebration of upcoming talent. Each week, we're spotlighting a rising artist who is bringing something new to the world of music and is capturing our hearts and minds (and ears). This week, we're featuring Kenzie, a mysterious singer bringing a healthy dose of futurism to her alt R&B.
You might not think Kenzie is even real until she's there, in the flesh, right in front of you. In the photos spattered across her Instagram feed, the singer's wide eyes are piercing to the point of looking like they've been plucked from a factory shelf; an intoxicating, dangerous shade of amber. Her lips, bee-stung and brilliant, are the kind of thing heartbroken musicians write songs about – one in a million material.
The 26-year-old singer, born Mackenzie Gill Bryant, has a strange online aura that suggests she was born to have people know her name. But when Highsnobiety meet her in a music studio in North London, it becomes clear that there's more to this artist than that killer aesthetic, one that's graced billboards across Los Angeles and the British capital promoting her debut EP Dark July for the past month. She's an artist with a fascinating sound and personality strong enough to match it.
In a sea of new artists taking stabs in the dark, trying to pinpoint some kind of creative identity, it's hard not to marvel at someone who seems to have their shit sorted. Kenzie, a hustler, has spent years falling in to (and back out of) label deals, as well as writing for superstars like Dua Lipa, to get where she is today. The Boston-born artist is now dropping her brand of morose, memorable pop nearly a decade after she first set out to do this.
But there has been one constant in Kenzie's life: her refusal to follow the crowd. Ever since she moved from the US to London as a kid, growing up in the International School system ("where everyone has this weird, army brat background… but somehow speak like they're on an [American] sitcom"), she's always considered herself something of an outcast. "I was definitely the weirdo of my friend group," she grins, lounging back on the couch in the studio she recorded Dark July in, sipping on black coffee. "I wasn't super goth [and reclusive], but I was like the black sheep. In terms of wanting to do something really creative anyway. Most of my friends in high school weren't on that trip with me; I just found all of my weirdos afterwards!"
The throughline of Kenzie's work is a discomforting hyperreality. Dark July proves she has a knack for taking overdone aspects of the pop songbook – nights out and fractured relationships, mainly – and creating a familiar narratives that somehow feels slightly otherworldly in her hands. On "Funeral," for example, Kenzie jumps from telling people at a party that if they "wanna get on [her] level… [they're] cups gon' need to be fuller" on the song's bridge, to revealing she's showed up to the function solo, dressed for her own burial service. And that shot that graces the record's cover? It's Kenzie alright, she's just Facetuned herself (no, really, she took that photo on her iPhone) to the point where her eyes looked like she was on the verge of crying.
"Hype music for sad people!" – that's what she calls it. "I think that's the vibe anyway. We always joke about it being gothcore which it obviously isn't." We suggest 'potion pop,' alluding to her murky lyrics, paired with her love for a good hook. She's a fan: "I think it is pop music. Maybe it's those melodic sensibilities mixed with R&B and electronic. It's a weird amalgamation."
The truth is, Kenzie doesn't have to decide. It might've taken her a while to reach this point, dropping her first EP after years of dipping her toe in different elements of the craft, but the reward she gets for that patience is the freedom to release music independently. For Dark July's release, she launched 'BBYTTH,' or 'Babyteeth,' her own label, which ensured there was no higher power to toy with her sound. As the head of her own label, she's not waiting for any old, white dudes to sign her shit off. "Or, you know, any fucking man!" she laughs. "I like being able to be like 'If I fuck this up, it's on my own back.'"
Produced and mixed by young R&B genius Tev'n as well as Blue May, who's worked with Kano and Blood Orange in the past, Kenzie's spent the past year with people who only expect excellence. "Thank god there are still people in my circle who I can turn to and will be like: 'That is a fucking awful idea'," she says; her mannerisms are never as subdued as her music might suggest. "I'll just be like [she mimics a sarcastic thumbs up], 'Okay cool! Let me let that idea bake a little longer!'"
She's needed that support sometimes. We talk about the state of London as a creative city, and how the concept of collaboration is something artists in this city sometimes struggle to grasp. "There's this idea that creativity is so liberal and free but I think in London it's really fucking hard to find your people," she admits. "After being in places like LA, where everybody is so collaborative, it's a little more closed off."
That hostility can be off-putting, but Kenzie's keen to be seen as the exception in that respect. "Maybe people are like 'There's just not enough room for all of us.' The idea of collaboration is so important. It would be really nice if it felt a little more like this" – she links her two index fingers, before unlocking them, spreading her arms as far apart as they can stretch – "instead of that."
I ask her if there's a mantra she's lived by through the making of an EP that will inevitably shape the way the music world, on the brink of catching on to Kenzie's brilliance, will see her. "I don't even know if this means anything, but the first thing that came to mind was 'feel your feelings,'" she says, shying away slightly as if it might sound corny.
The rise of emo-trap artists like the late Lil Peep and Lil Uzi Vert was part of her motivation to make this record now: one that basks in melancholy, but still knows how to pull itself back out of its own sadness with a winking lyric or melodic switch-up. In a time when some of our favorite stars are slipping so far into depression that they feel they can't get back out of it, music like Kenzie's doesn't shy away from something we need to hear about. Importantly, it doesn't glorify it either.
"We also need to be comfortable with that: to be sad but when you're all cried out, to be able to find a space to heal. It's important not to romanticize the idea of depression and sadness," she says. "We should let it out." On Dark July – a brooding and impressive body of work – that's exactly what Kenzie does.
Be sure to check out the previous edition of our Under the Radar series with Okay Kaya.