"Good people should know each other," Stash tells Highsnobiety about the three-part collaboration between himself, A-BATHING-APE, and Leica Camera AG. "It was nice seeing two friends from different parts of the globe come together, from Germany to Japan to New York."
A combination of creative forces in different fields and different continents, they have come together to create a limited-edition version of Leica's D-Lux 7 that touches the interconnected worlds of street art, streetwear, and street photography.
Guided by its mantra of 'Das Wesentliche' which means 'the essential' in German, Leica has been perfecting the art of camera making since 1869, while BAPE is an OG in the streetwear scene, having seen its signature APE HEAD and camo print reach legendary status. Meanwhile, the third party in this collaboration is certified graffiti royalty.
At just 14, the Brooklyn-raised artist began tagging New York's vast subway network adding his hidden ('stashed away') messages and now-iconic signature to any surface that he saw fit.
"When I started doing graffiti in the early 1980s, the term 'street art' didn't exist. It was only later, when we emerged from the tunnels and train stations, that we became much more visible," STASH says.
It's a scene in which he soon gained prominence, leading him to exhibit alongside Keith Haring and Jean-Michel Basquiat at the age of 17 before exposing his art far beyond the borders of the American city, landing in places such as Paris, Stockholm, and Kyoto with both his street art and his paintings.
As his practice expanded, STASH developed an unrivaled ability to blend his creative practice with commercial products, creating grails that shine a light on graffiti culture. Case-in-point, his now-legendary Nike collaborations.
Beginning with the STASH x Nike Air Classic BW in 2003, a shoe considered to be a masterpiece by Air Max enthusiasts, only 1,000 were ever made and they were followed up by an even more exclusive Nike Dunk sneaker. Initially on display at the now-closed colette, only 50 were ever made — and number 1/50 is currently on sale for $99,999.00.
But whether it be sneakers, paintings, or a camera, STASH's background as a pioneer of street art remains an integral element of the work.
"There's something about graffiti that has had my attention since I was first exposed to subway graffiti and, to this day, I am still trying to hone my skills, with either my lettering or my can control," the artist says. "The growth of the movement and the current landscape is nothing short of amazing."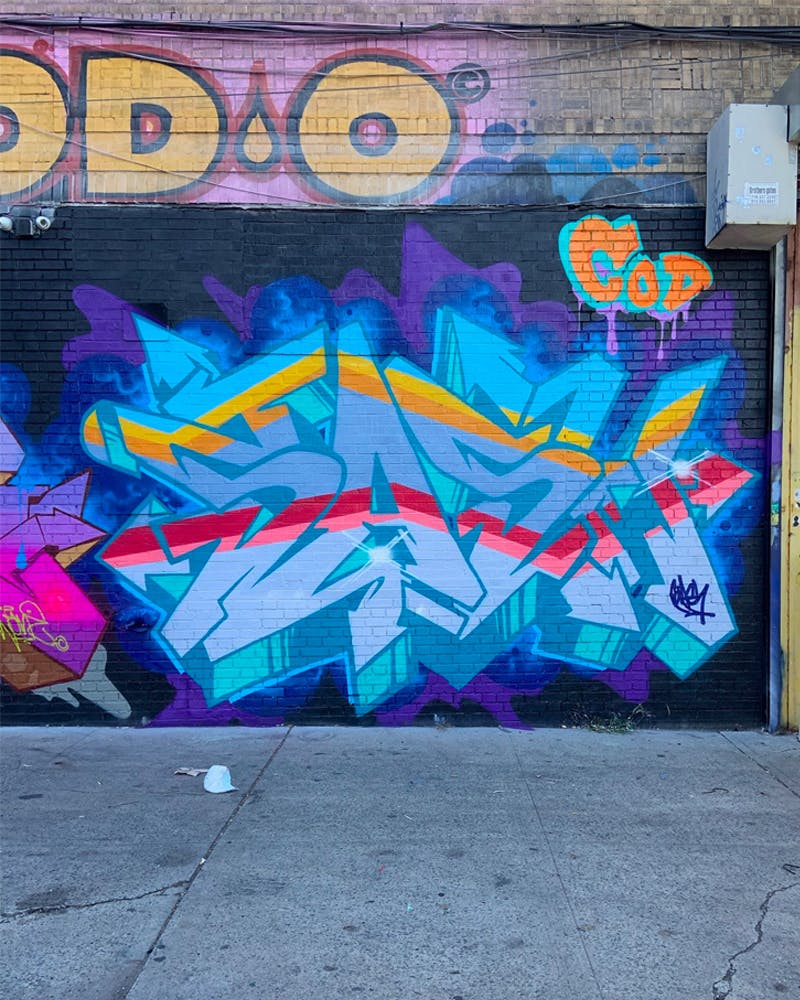 His role in the street art scene is part of what inspired Leica to tap him for this collaboration. The two have worked together in the past, with the artist even having presented a series of black and white photos at its Los Angeles store to celebrate its 100th anniversary.
"Documenting my art through photography has always been part of my creativity." Says STASH. "With the advent of digital cameras, I got my first Leica. They are visual, based on color, form, and expressive freedom."
This time around, he has his longtime friends at A-BATHING-APE in the mix. The graffiti artist and BAPE have had a close relationship since the '90s. First, collaborating on co-branded T-shirts and an exhibition at the BAPE gallery. Then, on his own BAPE STA™ sneaker and limited edition Be@rbrick model with the Japanese streetwear giant.
"When you talk about contemporary graffiti, art, and street fashion culture, it's no wonder that STASH and BAPE come to mind," says David Suh, Senior Industrial Designer at Leica Design Studio. "We make different products, however, share certain principles — We all create symbolic, authentic, and desirable values. That's why this three-party collaboration was so exciting for us."
Poised as the ideal pocket camera, they came together to work on the Leica D-Lux 7, a compact camera with a 17-megapixel sensor, a fast autofocus system, and a post-focus function that makes it suited for street photography. An immediate style of reportage, the attitude and creative style which is shared between streetwear, street art, and street photography are all brought together in this collaboration.
The Leica D-Lux 7 "A BATHING APE® x STASH" is available from August 18 at the Highsnobiety Shop, Leica Stores worldwide, and www.leica-camera.com.