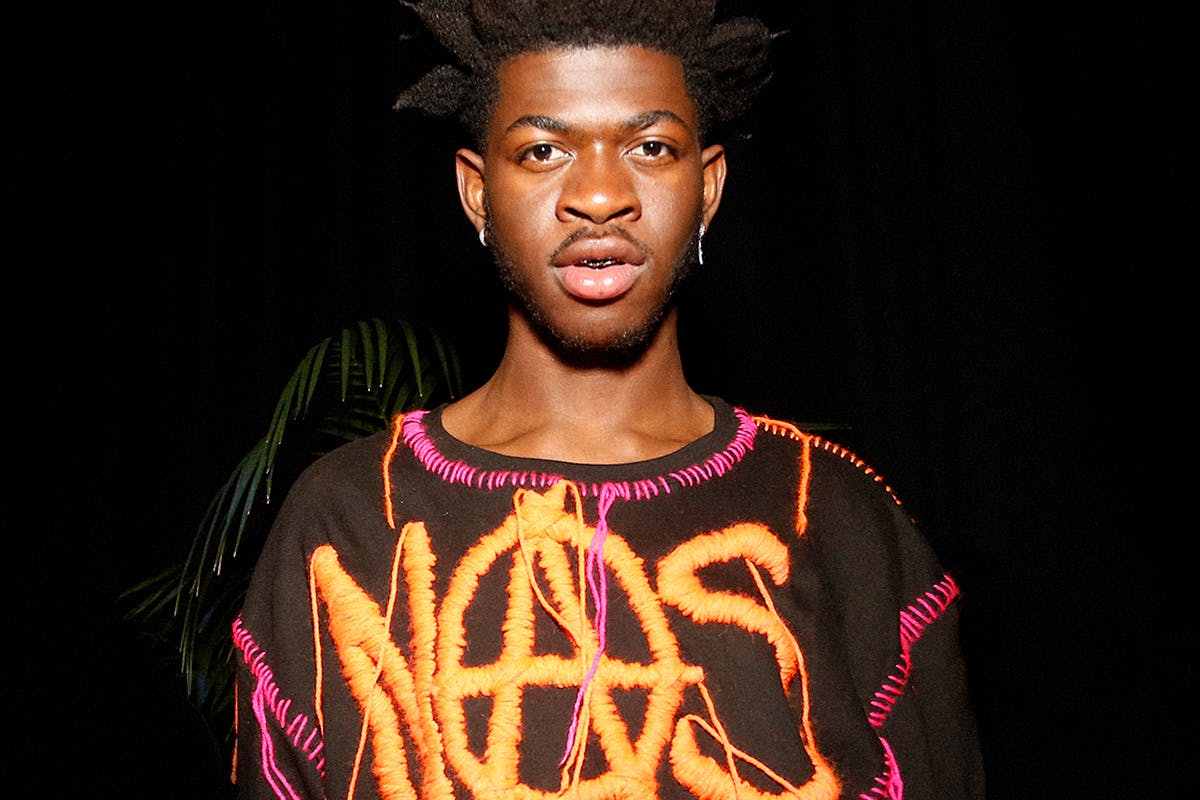 And just like that, we found ourselves in the midst of one of 2021's more unexpected quarrels — the church vs Lil Nas X.
First, the 21-year-old artist teams up with controversy courters MSCHF and drops an unofficial (and since halted) Nike Air Max 97 featuring a drop of actual human blood in the Air bubble midsole and pentagram symbol to boot. While the cries of "think of the children" were still ringing out, he releases the video to "Montero: Call By Your Name".
In it, Nas X literally dances with the devil. In fact, he lap dances for the devil. Cue moral outrage.
Laughing loudly in the face of his infantile critics (we see you, Fox News), the video has Lil Nas X flaunting some bold style moments. And they're brilliant. Before the aforementioned rendezvous with the devil, Nas slides down a very long pole in nothing but a pair of boxer shorts, thigh-high PVC boots, and a strong ensemble of silver chokers and chains. A big summer look, in my opinion.
It's not just Lil Nas X steering the hip hop style ship into darker waters, either. We recently wrote about Playboi Carti's new take on punk style, with the artist making more than a few uses of blood red, black, and demonic symbols in what he wears.
With the grip of goth dressing appearing to get tighter, and the "Montero: Call By Your Name" video fixed firmly in the mind (refresh your memory below), we got to thinking what a summer of satanic style could look like this year. All hail Lil Nas X.
Scroll to the depths of satanic summer style, à la Lil Nas X.
Our Legacy Tee
An unusually dark turn for Our Leg, who went all Chucky on us with this tee from last year's fall collection. Real goths don't pay attention to seasons, though.
Dries Van Noten Mesh Vest
Mesh is a must for any keen heathen. Fitting the bill, Dries Van Noten provides a vest that offers some great styling options for spring and summer.
Ann Demeulemeester Jeans
If you're the type for whom the mere mention of shorts sends shudders through your black heart, we'll let you suffer through the summer in style in this pair of slim-leg jeans by Antwerp Six alumni Ann Demeulemeester.
System Faux Leather Shorts
But hold on, you may be persuaded to let go of the jeans and PVC pants in favor of these fire faux-leather shorts by South Korea's System.
COMME des GARÇONS Vinyl Trousers
If the Lil Nas X video had you dyeing your hair red, here's that matching pair of pants that you've been searching for. One hot summer ahead.
New Balance ML200RK
Look, we're not all natural Wednesday Adams and, sometimes, gateway gear is needed. Enter — the blacked-out sneaker.
Eytys Rei Trainers
Because even goths enjoy a day at the beach.
Boots & Braces Creeper
These come from a store called Vampyres Onlineshop. Take a look around the dark corners of this site and you'll see it's the perfect outfitter for your satanic summer looks.
Marine Serre Gunmetal Necklace
We've arrived at every goth's favorite part of the shopping trip — accessories. This one isn't far off the beaded choker Lil Nas X sports while dancing for the devil.
Gucci Studded Choker
It's been a while since the glory days of studded belts and chokers but with Gucci supplying new goods, we're betting on a sharp return.
Yohji Yamamoto Eye Necklace
The "Montero: Call By Your Name" video makes several references to eyes with magical properties and we hope this necklace by Yohji bears some of the all-seeing variety. "Necklace — will I be able to go on vacation this year?"
Want to keep browsing? Head to the Highsnobiety Shop for more products that we love. Highsnobiety has affiliate marketing partnerships, which means we may receive a commission from your purchase.