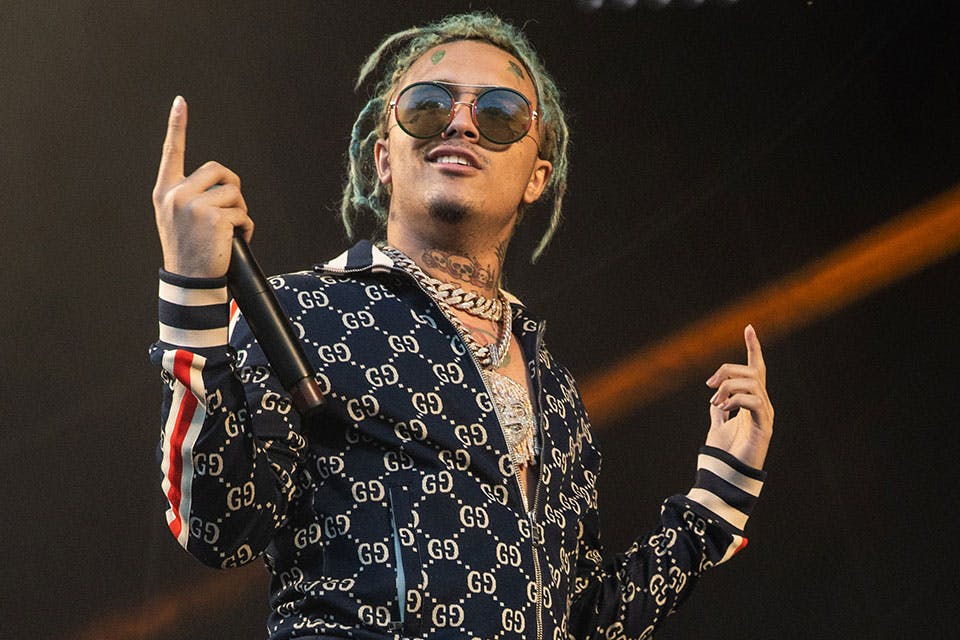 If you're of a certain demographic, especially one that consumes music on SoundCloud, it's hard to hear the word "Gucci" without picturing rapper Lil Pump. His Platinum-certified hit "Gucci Gang" was one of the biggest songs of 2017, and his self-titled debut mixtape which dropped back in October also made huge waves. Fans have been anxiously awaiting his new mixtape Harvard Dropout ever since he first announced it back in January.
Now that we're more than halfway through 2018, the hype for Lil Pump's Harvard Dropout mixtape is at an all-time high, especially since he released the Charlie Sheen-featuring music video for "Drug Addicts." When will Lil Pump release his new album? Who will feature on it? Will it live up to the expectations of clout rap fanatics worldwide? We did our best to answer all these questions about Lil Pump's Harvard Dropout mixtape below.
Release Date:
On August 30, 2018, Lil Pump published his official mugshot via Instagram after being arrested for driving without a valid license, with a caption that reads, "B***H IM BACK HARVERD DROPOUT DROPS SEPTEMBER 14th."
Then on Wednesday, September 4, the Floridian rapper told fans that he's heading to prison for violating his probation. Pump took to Instagram to share the news, explaining in a short clip that his recent arrest in Miami violated his probation in Los Angeles.
On July 27, 2018, Lil Pump announced that Harvard Dropout will arrive on August 17 - his eighteenth birthday.
However, early morning on August 17, Lil Pump shared a video clip claiming that he "lost" the album.
Previously, on January 27, 2018, Lil Pump tweeted that his Harvard Dropout mixtape was "coming soon."
Then, in April, Pump took to Instagram to say the mixtape was officially done.
Now, Genius has listed the expected release date for the album as August 2018 on their Harvard Dropout hubpage, but nothing has been officially confirmed, so stay tuned.
Album Title:
Lil Pump's mixtape name Harvard Dropout comes from his now famous tweet from August 2017 where he wrote, "I REALLY DID DROP OUT OF HARVARD TO SAVE THE RAP GAME." The rapper was only seventeen when he wrote this (he still is), so it's unlikely he ever enrolled at the university. He did, however, allegedly drop out of high school when he was a freshman.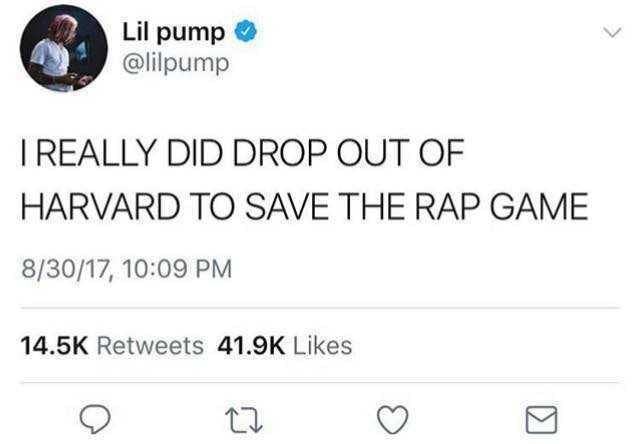 Album Artwork:
TBA
Tracklist:
While no official tracklist has been revealed, some of Lil Pump's latest songs that could be included on the mixtape include "Drug Addicts," "ESKEEDIT," and "Designer." Revisit them below.
Editor's Notes:
Details on Lil Pump's Harvard Dropout mixtape are scant. However, since he signed an $8 million record deal with Warner Brothers in March, we're expecting he'll be able to pull out all the stops on his upcoming release, recruiting only the best producers and feature artists.
He recently expressed interest in working with Kanye West in a now-deleted tweet from June 9, and has been spotted with Quavo, Chief Keef, Lil Uzi Vert, and Rich the Kid.
Before Pump's Warner Brothers deal was inked, Both Gucci Mane and DJ Khaled expressed interest in signing Pump to their respective labels, so perhaps they'll come through with some features as well. It would also make sense if his friend and close collaborator Smokepurpp appears on Harvard Dropout, since he featured heavily on his 2017 self-titled mixtape.
Keep checking back for more details on Lil Pump's Harvard Dropout as they come in.
Next, read everything we know so far about Travis Scott's 'AstroWorld' right here.