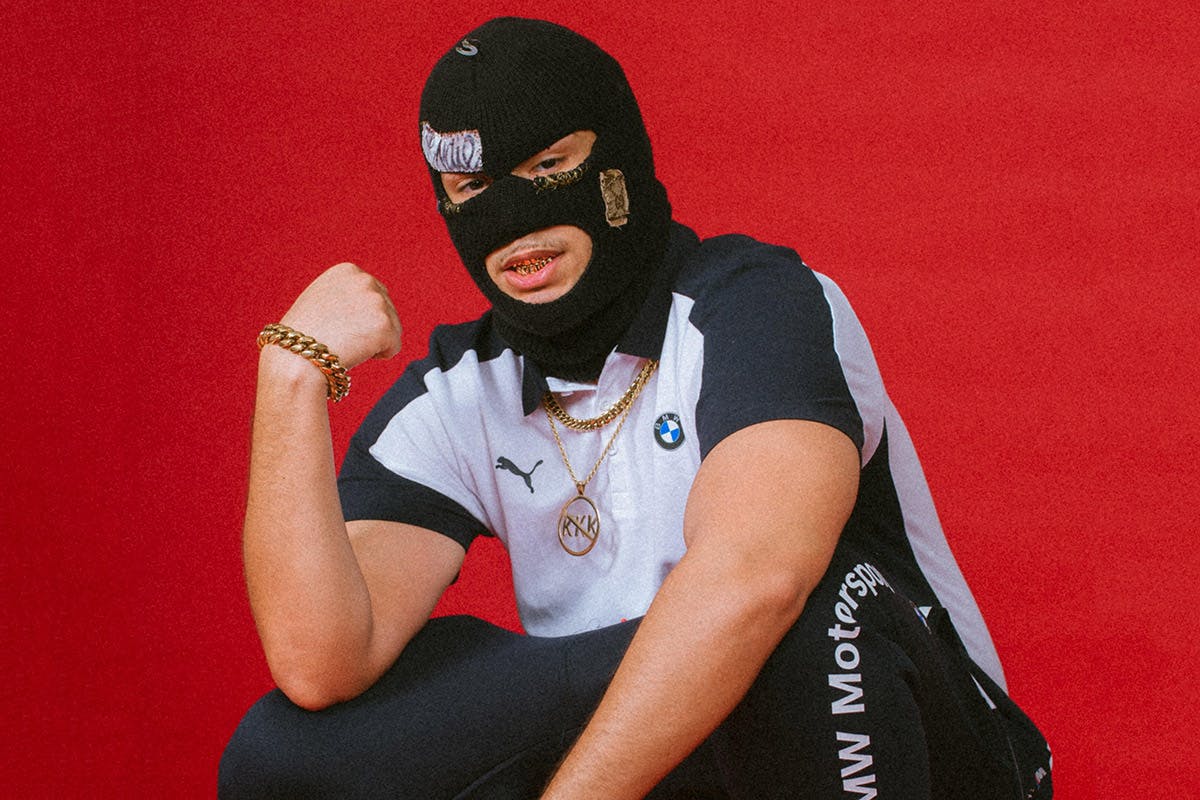 When Lil Toenail wears his customized Rasta Impasta Big Foot Adult costume, a corona of toes, complete with French tips and knuckle hairs, radiates from his head like the crown on the Statue of Liberty. His name scrawled in graffiti on the costume's mid-section, Louis Vuitton panels running down its sides – this is his signature look.
And then there's the face-engulfing ski mask, which, unlike the foot costume, Lil Toe (allegedly) never takes off – not for sex, not for showers, not for trips to the beach. The mask is in place to preserve his anonymity. Little is known about Lil Toe's identity other than the fact that he hails from West Palm Beach; he is reluctant to divulge the most basic of personal details. He won't reveal his age, let alone his government name. In a recent phone conversation with Highsnobiety, he deflected most questions and made it apparent that he is determined to keep himself enshrouded in mystery at all costs and for as long as possible.
In many ways, Lil Toe fits the mould of a prototypical SoundCloud rapper. One Instagram post he's menacing the camera with a rifle, the next he's basking in the presence of a young woman's wobbling derriere. He prefers the friendly confines of hyper-distorted low ends and sub-3-minute tracks. When he raps, he toggles between an ominous moan and a vocal cord-shredding howl. His meditations on his unquenchable horniness, such as "Suck My Nutz," have racked up millions of plays.
What distinguishes Lil Toe from his peers is the way he alternately fulfills and subverts these SoundCloud rap tropes. Most often, he fulfills them with his abrasive, womanizing music and subverts them with moments of vulnerability and self-deprecation on social media. He has the range – to constantly boast about the frequency with which he has sex and then go and let everyone know he has chlamydia and a micropenis, to simultaneously tote guns and position himself as an anti-drug crusader. Like all the great internet rappers – Soulja Boy, Lil B, iLoveMakonnen – Lil Toe contains multitudes. His enigmatic persona has already made him an online cult hero. Before long, it likely will have made him a full-blown internet sensation.
Artists like The Weeknd, Bryson Tiller, Goldlink, and H.E.R. all leveraged anonymity to manufacture intrigue early in their careers; Lil Toe makes this tactic look quaint by comparison. He completely subsumes the identity of the young man who presumably came before him – if you ask him about his past, it's as if that young man never existed. He claims no family, though he suspects Lil B may be his biological father. He frames the genesis of Lil Toe as a sort of immaculate conception. In one version of this origin story, he was having sex with a girl one evening and woke up the next day wearing a foot costume. His commitment to guarding his identity goes even beyond that of masked rappers like MF Doom and Leikeli47 and is probably closest in spirit to Daft Punk, who once explained their iconic robot helmets like this: "We're interested in the line between fiction and reality, creating these fictional personas that exist in real life." The same can be said of Lil Toe's outward appearance, which colors his every movement with an absurdist veneer.
One of Lil Toe's defining qualities is his hardline stance against drug use. He himself has never tried alcohol, weed, or any other drug; rather, he has been known to literally light up a french fry and take imaginary pulls as though it were a joint. His song "PotaToe Pack" is a celebration of this lifestyle choice ("Bitch, I got the pack/ That potato sack"). One of his favorite pastimes is shooting bongs and beer cans into smithereens. "I want to do everything in my power to motivate people to get up and do great things in this world and within themselves," he wrote on Instagram in November. "One of my biggest goals is to open free rehab centers across the country to help people with drug addictions. Who cares if i carry guns and fuck bitches in the throat? The goal is to prevent everybody from abusing drugs."
Indeed, Lil Toe views himself in part as a role model who uses his platform to impart to his fans a specific set of messages. It's okay to say no to drugs. It's okay to cry. (He cries all the time; the girl alluded to in "Suck My Nutz" caused him to shed tears for three weeks straight). It's okay to have a small penis. It's okay to dance to Sade. At times, he has fashioned himself as a rap game Tony Robbins, dispensing advice via his #ToeTruthTuesdays series or preaching the "4 Ps of Success: positivity, passion, persistence, and patience."
That Lil Toe delivers his impromptu life sermons in either a conversational tone or a preposterous howl (it's usually the latter) speaks to his level of self-awareness; having tested the limits of turning one's entire life into an elaborate piece of performance art, he consciously and freely operates along the spectrum from human to sentient foot. Liberated from social mores, he has afforded himself the ability to lead an unusually playful existence, to be at once inscrutable and an open book, to terrorize New Yorkers riding the subway with an a capella rendition of "Suck My Nutz," and to pursue his loftiest goal – "to be a diverse epochal icon and bellwether." This is Lil Toenail's world. We just live in it.
For more like this, read how Murda Beatz became the most essential producer of 2018.