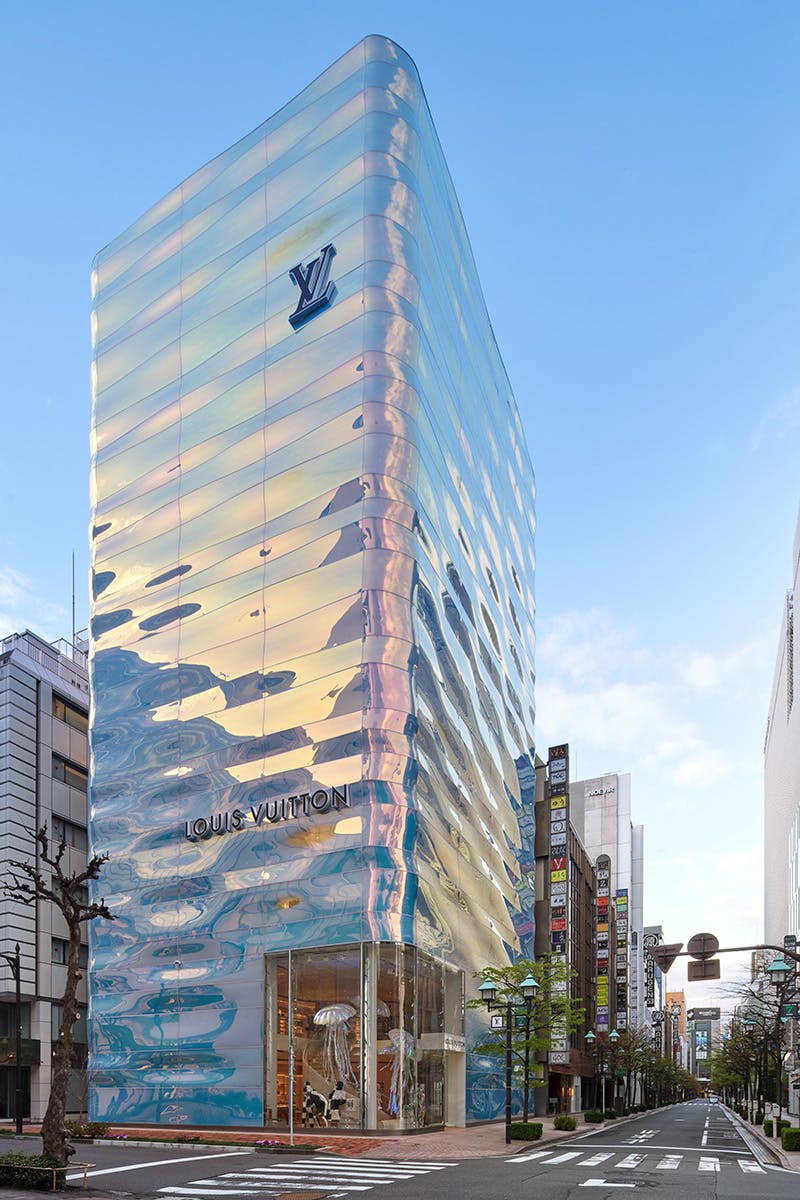 Is that a colossal column of water in Tokyo or is it just Louis Vuitton's new store? The Maison is transforming its store in Tokyo's Ginza district with a stunning facade that literally reflects the elements.
The corner store occupied by Louis Vuitton since 1981 is getting a completely new look by way of virtuoso architects Jun Aoki and Peter Marino. The most stunning aspect of the renovation, the shifting glass front that curves around the street corner and gives the illusion of rippling water. At once monolithic and fluid, Aoki's kaleidoscopic facade gives a refreshing relief to the surrounding stern cityscape.
However, the transformation isn't solely about the signature Louis Vuitton window displays. Behind the smooth, undulating surface of water, the retail space inside, which spans across four floors, also gets a full revision by Peter Marino. The glass facade transmits shifting colors to the feature staircase, which unfurls like a sculpture of oak, giving the space a sense of flow that is continued in the curving counters and ceiling panels. Meanwhile, color is used throughout as an uplifting theme. Leading the way is a four-story feature wall showcasing a reinterpretation of a Kimiko Fujimura painting.
The retail experience culminates in a permanent pop-in space that allows the brand to showcase seasonal animation for new arrivals. Then on the upper levels, a dedicated private salon for VIP clients is available, as well as a culinary experience Le Café V, which celebrates chef Yosuke Suga's second collaboration with the Maison. Furthermore, Louis Vuitton's first in-house chocolates will also be making their debut at the store at the end of April.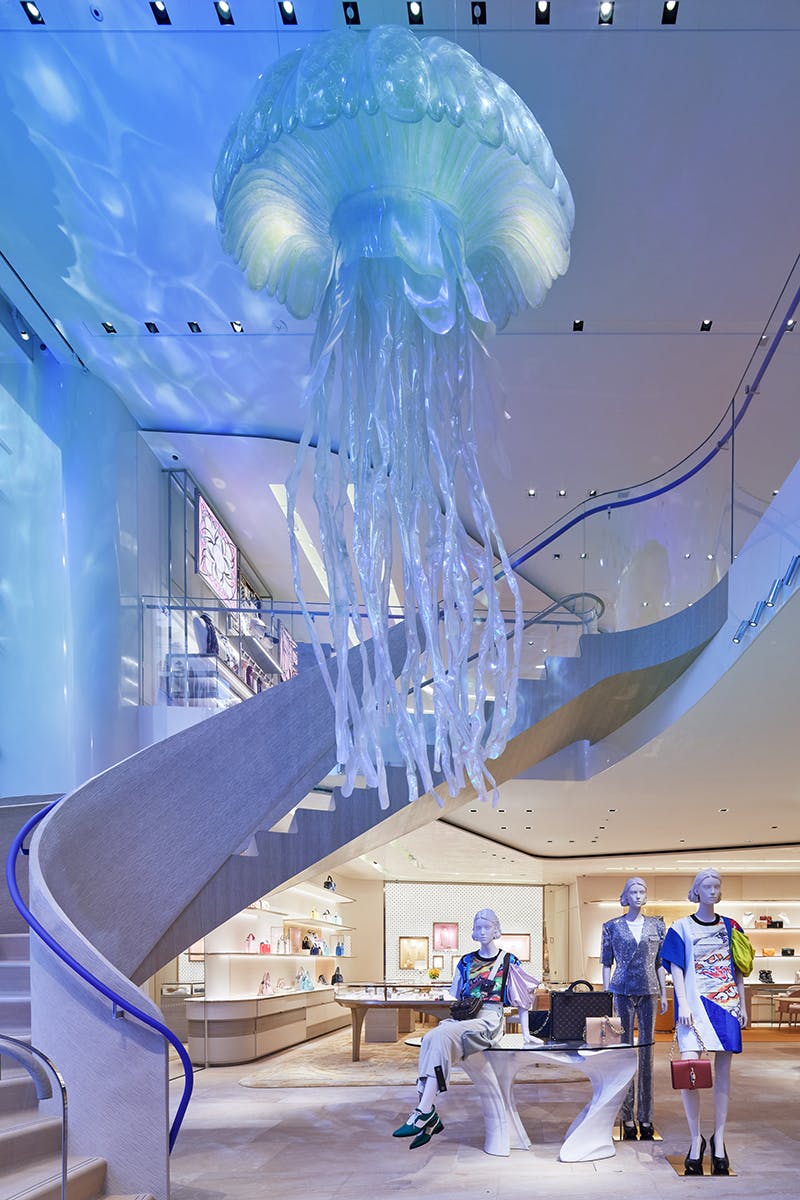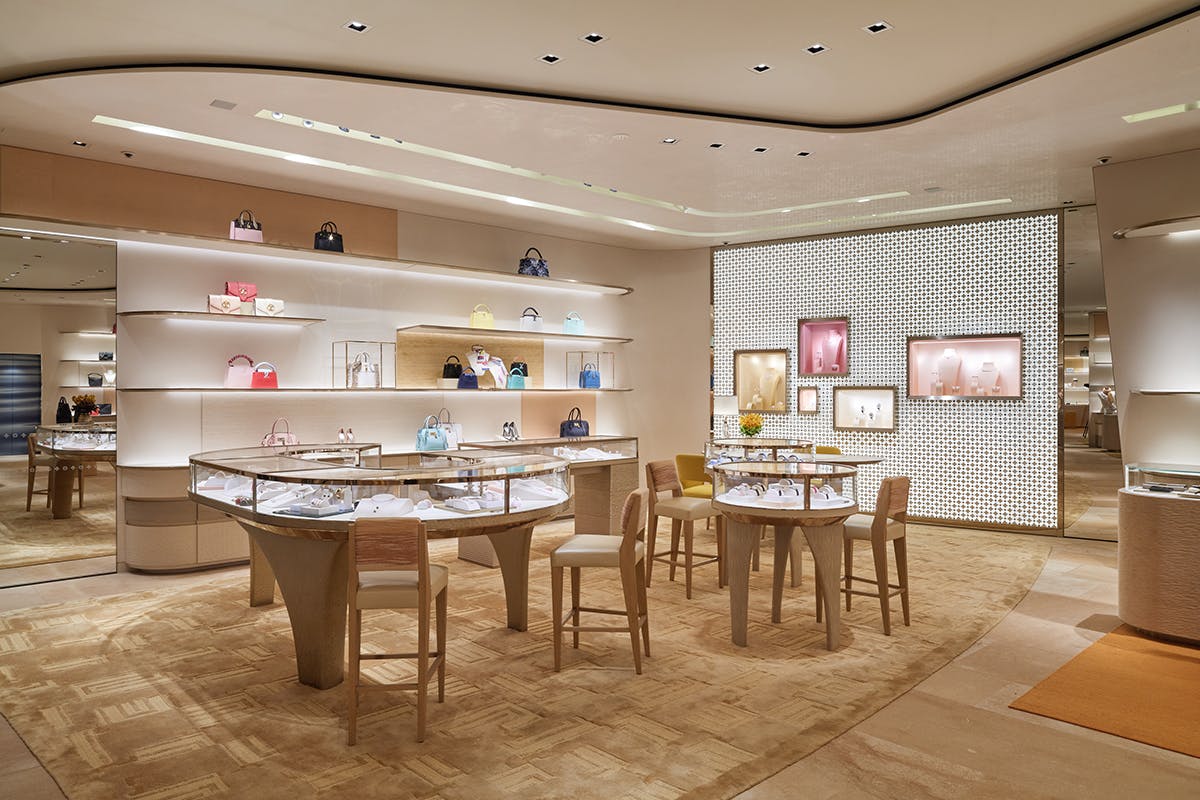 Louis Vuitton's Tokyo flagship store opens today 20th March, take a look inside via the gallery above. And if you're in Tokyo, you can find the address below.
Louis Vuitton Ginza Namiki-dori Store 7-6-1 Ginza Chuo-ku, Tokyo Japan