Experience this story and others in the new issue of Highsnobiety Magazine, available from retailers around the world and our online store.
I'm dying to know about Lyra Pramuk's organization. I imagine her hovered over her laptop, poring over thousands and thousands of files – which, it turns out, is not that far from the truth: It's "a really boring thing to say," but she agrees that it's one of "the best pieces of advice" to have "everything in a place." Well, mostly. "I'm super unorganized in other aspects," she quickly adds. "My desktop had 200 files on it at one point. Einstein said if your desk is organized, then you're not doing anything."
It seems contrite to want to know the details of her workflow, but Pramuk's compositional style is among the most complex of any musician working right now. Her 2020 debut album, Fountain, is a rich, deeply moving tapestry of sound that contemporary reviewers described as "future folk music." It is also comprised entirely of her own voice — sampled, stretched, and distorted beyond all recognition, from the throbbing techno beats to the luscious hum of strings to the ululating lines of synth. It's an astonishing feat of sonic magic; I still haven't been able to convince certain friends that the record is solely Pramuk.
When we connect for her interview, Pramuk is fresh off the release of Delta, a pseudo-remix album which reinterprets and drastically expands the world of Fountain. As both the titles and the deconstructionist approach to her catalog imply, her work courses with a sense of fluidity. Her songs are largely wordless, as she wanted to "strip the declamation of language away… to feel more collective and communal." And her composition constantly bridges the divide between the corporeal and the artificial: "You don't need to be like, 'Oh, that's technological or this is fleshy.' This is fleshy-technological. It all kind of blends into each other. It's being a part of the world and saying yes to everything, because everything is human."
Pramuk discusses music with a cerebral reverence only her upbringing could have produced. Raised in a small town in rural Pennsylvania, she "didn't even have a choice" when it came to getting involved in music: "My grandmother was a pianist and a choir director at her church in a town 20 minutes away, and she would not have been okay if her grandchildren couldn't read music. She believed more than anything that we all had to be involved in music as kids. We were in church choirs, private choirs, orchestra, musical theater, we did everything."
Her family's religious affiliations meant that Pramuk spent her formative years in the acoustically rich spaces of houses of worship. Her parents' differing denominations resulted in an "11 year battle" of ultra-devotional Sundays: "It was four and a half hours every Sunday, waking up at 6:00 AM, singing at my mom's Presbyterian church, then walking 10 minutes down the street for my father's Catholic church. It was not the most fun – I was fully playing Tetris on a mobile phone during all the services."
A lifetime of musical practice secured Pramuk a place at New York's Eastman School of Music, a highly selective and competitive college that ranks as one of the foremost conservatories in the country. The school's unrelenting program instilled a bedrock of formalism into her practice, but it was her lifelong affinity for electronic music that proved to be equally – if not more – critical to developing her sound. Growing up listening to the "avant-garde" production in songs from Ludacris, Lil Kim, and Missy Elliott inspired her to spend her free time messing around with production software Fruity Loops, while the journey of Björk from songstress to rave queen was a template she "romanticized."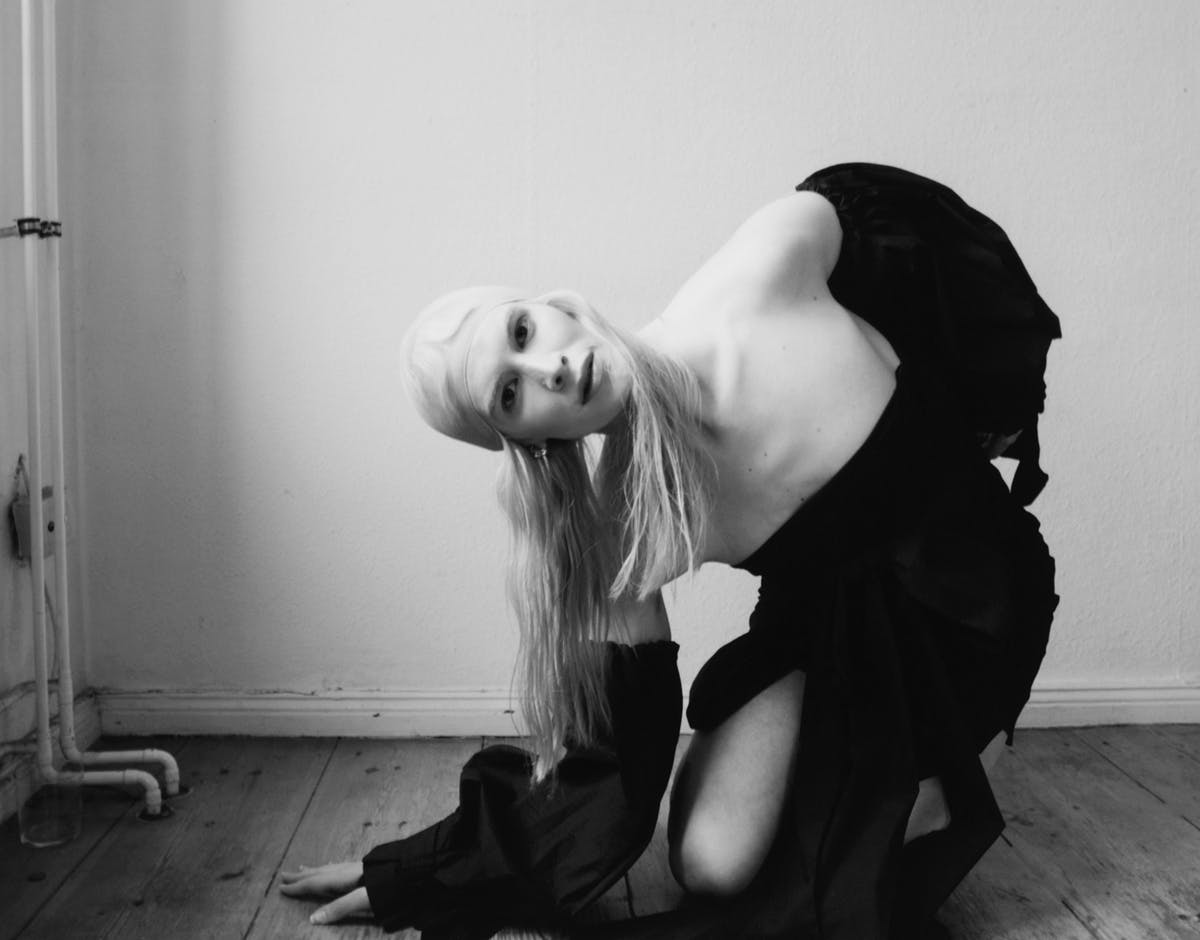 So much so that it moved Pramuk to begin spending time in Berlin, where she would eventually relocate to full time after school. "I felt like I needed to dip into something else," she explains. "I got an education from life, because I'd just been in school for a while, right? But that was academic. So I was like, I need to live – live the questions or gain spiritual knowledge by embodied experience."
Though she began "cautiously," Pramuk delved with an open heart into the strobe-lit world of Berlin's club scene. Therein was an entirely different form of musical education – "Oh my God," she effuses breathlessly of the quality of the German capital's DJ sets – but more importantly, the spaces themselves proved to be a transformational learning experience. "It's like a prototyping space," she describes. "Queer raving is a workshop for otherness and for other possibilities. Through the conversations, through the music, through the vast variety of people in the space, everything becomes potentiality. People's exteriors don't matter as much. The specifics don't matter as much. Everyone kind of melts together. Once you go back out into the daylight, you can put the specifics back together and people will know what to do. 'This is my mission, this is my character.' You lose yourself and then you find yourself."
This journey would come to be as challenging as it was rewarding. "On one hand, I felt the love there and loved being in these spaces," Pramuk says. "And on the other hand, I felt more and more foreign to myself, and to people who I was around. There was a lot of darkness in it, and I felt myself grappling with a lot of questions and not understanding things. I felt a lot of pain and confusion before I realized that I was trans."
It was at this point that Pramuk's musical practice became intertwined with her process of transitioning, each affecting the other in profound ways. Scrapping the demos she had posted thus far – where her beats and basslines felt "too masculine" – she began work on what would become Fountain with a clean slate. "I was like, 'Okay, enough, I've had enough of masculine.' So I just started with the voice and ethereal sounds. It was like a creative limitation, too, just to see what I could do. And then this whole world started emerging out of that. I've become obsessed with that in general, what I am able to produce with just my voice as a sonic material."
Freeing herself from constraints of the body allowed Pramuk's music to exist as freely: "I like to play with the border land of the perception of what is vocal and what is not. Psychedelic, psycho-acoustic, kind of another world. I started to just build it like that, really instinctively just from vocal improvisations, capturing a mood that I was feeling and improvising it. Improvising and then kind of collecting materials, listening to them back, building compositions."
There is a sincerity and generosity which flows out of both Fountain and Delta that feels inextricably linked to Pramuk's process and intention. It doesn't so much inform her art as it does reflect one into the other, dual paths of the same journey that have allowed her to blossom. "There is a primal, nonverbal, joyful survival that exists inside each of us," she says. "We're usually stuck in our heads according to a false paradigm of this mind-body divide, but I hope everyone finds joy. To find the spirit of 'I am going to live my life and I'm going to enjoy it.' I want to champion a space where as many different kinds of people can exist and thrive as possible. That's the world I want to live in."