Just last month, Kanye West announced a new grant for young creatives, allowing mentorship and financial assistance to budding designers. The first recipient is Maisie Schloss, a fellow Chicagoan, Parsons design graduate, and a member of the YEEZY team who worked on the label's womenswear offering.
"YEEZY is a really special environment for growing and developing a career. When I started I was just an assistant, but the highly creative and unconventional atmosphere allowed for me to have visibility and input in a wide variety of projects," says Schloss to Vogue. "Kanye very generously offered to support me; he truly cares about sharing resources, creating opportunities for creatives to grow and be recognized."
The fruits of Schloss' labor manifests in Maisie Wilen, a womenswear label that plays with materials, colors, and a distinct aesthetic inspired by rhythmic gymnastics. The brand launched last month in Los Angeles, showing its Pre-Spring 2020 collection at an event attended by key creatives in LA alongside Kanye West himself.
Since then, the label has already made appearances on the likes of Kim Kardashian, Kendall Jenner, and Rowan Blanchard, who have been spotted wearing the brand's printed dresses and ruched miniskirts out in the wild. Schloss' emphasis on prints makes the clothing even more recognizable, and by manufacturing in Los Angeles and Paris, it was only natural to follow-up her LA debut with a similar event during the men's shows in France.
With most of the focus going to next season's menswear collections, Schloss and company opted for an intimate presentation at Paris Fashion Week, taking over a room at the ritzy Hotel Le Meurice in Paris' 1st Arrondissement. The low-key event showed the Pre-Spring collection in a cozier environment, with attendees ranging from Jerry Lorenzo, Don C., and Tremaine Emory, all of whom came to celebrate the up-and-coming designer.
While there, we took some time to speak with Schloss about her inaugural collection, the perils facing independent designers today, and the lessons she's learned under the wing of Kanye West.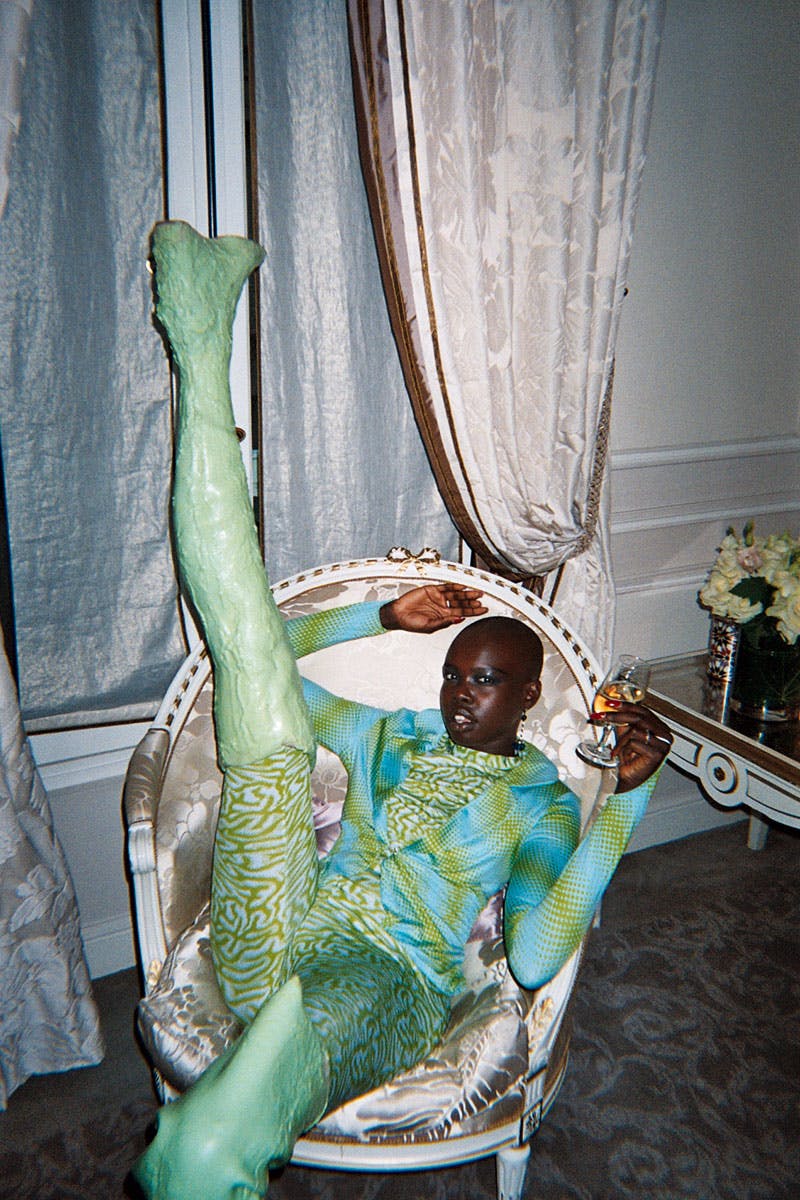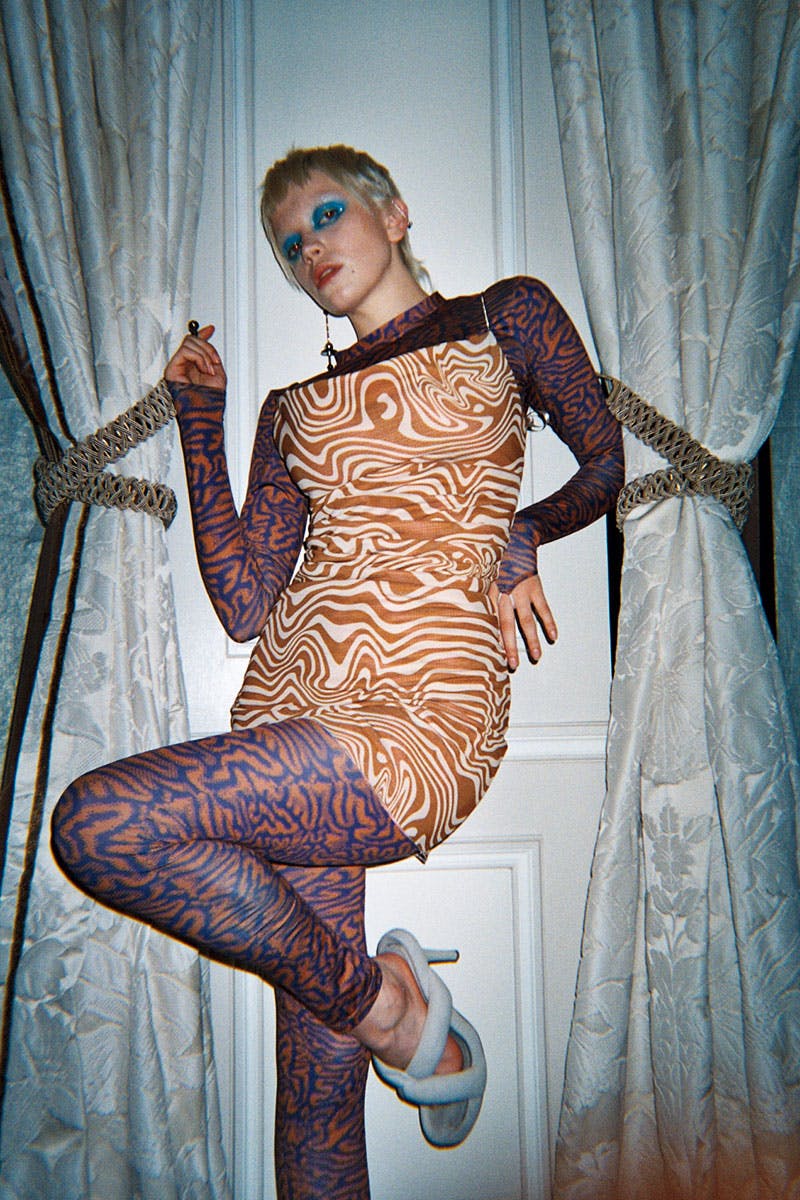 Congrats on the launch! It's been big news and you've gotten a lot of coverage around it. I understand the desire to launch your own collection has been a long time coming?
Yeah, it's been really exciting. I was always wanting to start my own line, but it was so daunting. And then about a year ago when Kanye offered to back me, it was such a dream come true. Just the most amazing opportunity. So it's been really exciting. I've worn a lot of hats I've never worn in my past. I've learned a lot of new things. Just being able to have full creative control is so exciting to me.
It's not the easiest thing to be an independent designer, but I feel like in LA in particular, you've had this really nice revolution in creativity where a lot of these independent labels are making an impact on a global scale. What's your plan for future seasons and growing the label based on the positive initial reaction? Are you taking things day-by-day, or do you have a master plan?
It's a bit of both. I'm definitely taking things slow, step-by-step, really seeing what happens organically and just what makes sense as details develop. That said, I am really eager to continue to grow it. Maybe some accessories, new categories as we move along, and continuing to expand what's available.
Who is the Maisie Wilen woman, and what inspired the first collection? I see a bit of LA in some of the patterns and louche silhouettes.
So this collection in particular, I was really inspired by rhythmic gymnastics and robotics. Aesthetically, I was just really drawn to them. Additionally, I am also very regimented, systematic, and hyper-organized in how I work, but I still make these very carefree, free-flowing, easygoing garments—which I feel really appeared out of my aesthetic inspiration. I don't know how conscious the west coast inspiration was, but I'm definitely so influenced by living in LA.
Rhythmic gymnastics and robotics are quite the contrast. So how did you stumble upon those two things?
A lot of it was just me doing official research and that is what I was aesthetically drawn to, but once it really made sense, I made this conceptual parallel. That's when I really loved it.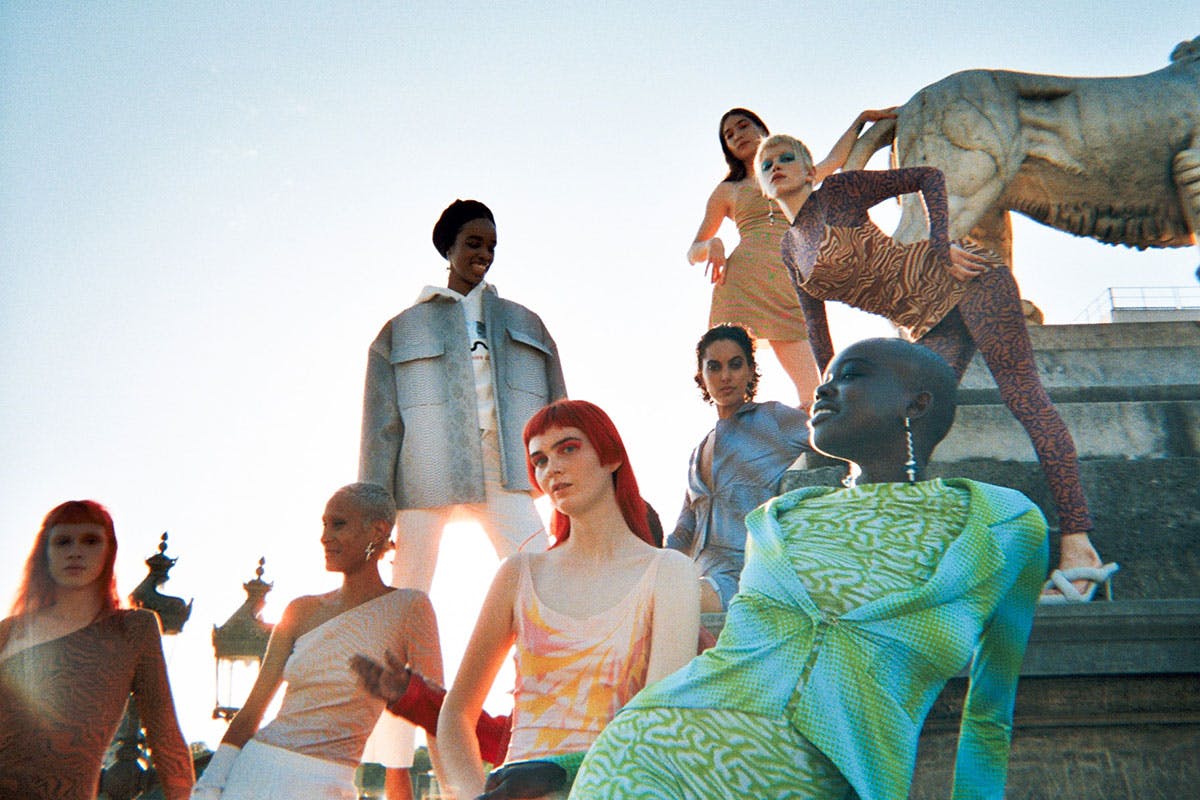 Is there a special connection you have with rhythmic gymnastics?
I think that rhythmic gymnastics was just me looking at images. I think that maybe it came from a bit of weird Etsy searches--like strange Ukrainian shops that sell the gear. Also, I've always loved it. I've never been a part of that world, but whenever the Olympics roll around and I see their costumes, I'm just so drawn to it.
Maybe it was a bit because I was a figure skater—and it's a really similar costume. Actually—my pointed finger details are directly from my figure skating days. My costumes had these a lot. I always thought it was so elegant.