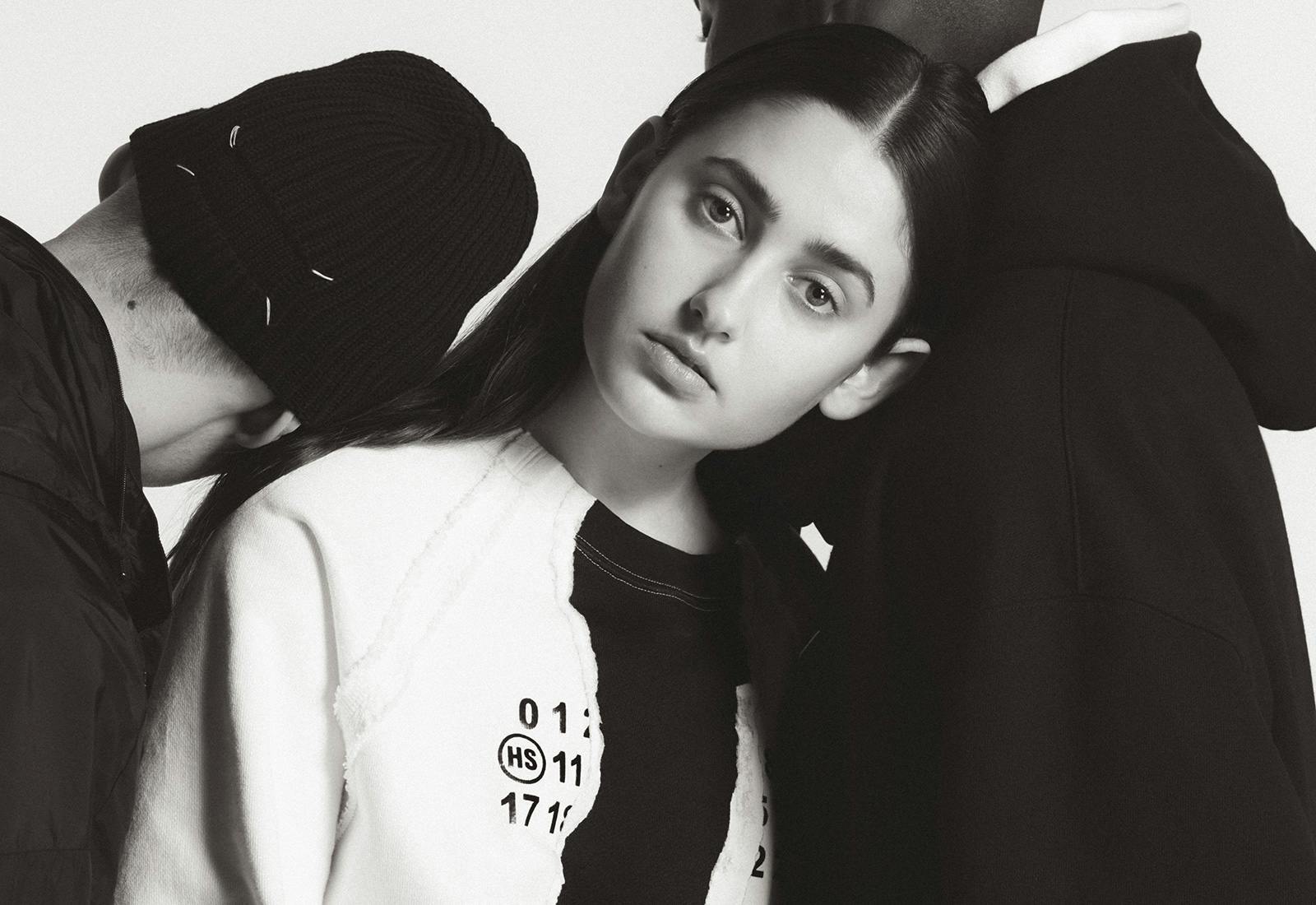 At times, it feels as though our quest to tell a fitting story about Martin Margiela's life and career has no definitive end. Apart from boilerplate snippets like his birthday, or the seasonal fashion benchmarks his career is seemingly measured by, there are few known facts.
When looking to describe fashion's invisible man, we, the press, carefully dissect what little information is public, shape it into something new and exciting, with the only variable separating us being our own, unique styles. Perhaps by doing so, we all become a little more like Martin, a man who ultimately refused to let material limit his expression. Could he have foreseen this? Did he knowingly lay the groundwork for a narrative so compelling that it would span decades, and live far beyond his exit from fashion? Quite possibly, yes.
Most adjectives used to construe a vision of the Maison Martin Margiela seem verbose... garish, even, oftentimes failing to summarize the brand's abjection to conformity and the graceful manner in which it did so. Perhaps the single word doesn't exist yet. After all, Martin himself was a spectrum of expressions, neither of which were mutually exclusive. Profound and delicate, daring and reserved, all rolled into one.
He is one of the rare contemporary creators to fully question the fashion system, from its conception [...] to its presentation, through its uses.

Alexandre Samson, curator of "Margiela / Galliera," 1989-2009
Following the release of our highlight collaboration with Maison Margiela, we look back at what it took to found a project so unapologetically unique, so avant-garde, that it held fashion by its ankles, and shook it around until all convention fell from its pockets.
Building on core brand themes of anonymity and invisibility, Highsnobiety has sought to usher in a merger of the all-important "blank space" — an ideal meticulously crafted by Meirens and Margiela during their tenures — with the newer, more expressive codes created by John Galliano. The capsule features a selection of ready-to-wear garments, shoes, and accessories, all presented across a palette of black and white. In addition to this, a first-of-its-kind co-branding element has been introduced, showing Highsnobiety's typographic "HS" logo inserted into the numerical branding popularized by Margiela in the early 1990s. Replacing the number 10, the signifier for Maison Margiela's menswear line, the capsule furthers luxury's foothold in a market increasingly dominated by streetwear.
"Absence equals presence."

Patrick Scallon, Maison Martin Margiela's communications team, 1993 - 2008
Like most of Belgium's premier designers, Martin got his start at the Royal Academy of Fine Arts Antwerp. Contrary to popular belief, however, he was not a part of the famous "Antwerp Six" — a collective made up of Ann Demeulemeester, Dries Van Noten, Dirk Bikkembergs, Marina Yee, Walter Van Beirendonck, and Dirk Van Saene — but was nevertheless regarded as its honorary seventh member. Martin had already moved to Paris to begin working for Jean Paul Gaultier a year before the collective's breakthrough 1986 London Fashion Week presentation. Kaat Debo, director and chief curator of the Antwerp Fashion Museum MoMu, is noted as having said that the "Antwerp Six" and people like Martin Margiela were among "[the] first generation to break through on an international level."
Following his tenure at Jean Paul Gaultier, Martin went on to found Maison Martin Margiela in 1989 together with his late business partner, Jenny Meirens. The brand presented its debut collection in Paris the very same year. With its first-come-first-serve seating plan, stumbling models, and uneven "runway" — which was more of a cratered surface — the house cemented fashion at large as the new public spectacle. Designer Raf Simons has even credited Margiela's debut show as "the reason [he] became a fashion designer." What happened in that derelict playground, in 1989, in a forgotten corner of the French capital, would go on to criticize all presentation models of the time, singlehandedly reshaping fashion's stale paradigm.
I remember, [...] he showed in a broken down ruin of a house in the suburbs of Paris; he let everyone in, all the children ran on to the runway. When it started, all of the hairs on your body stood up — and when it ended, you knew you had lived.

Geert Bruloot
It was during this show that Martin showcased a porcelain waistcoat — a medley of disparate forms, sewn together with remarkable delicacy — serving to popularize the idea of "la mode Destroy;" a style which would later go on to be categorized under deconstructionism. From this followed 1991's graffitied Tabi boots, born out of having no budget to create new footwear styles, but loaned a guise of newness thanks to Martin's unwavering ingenuity. We can credit this move as one of fashion's earliest experimentations with the incorporation of readymades. For Martin, the Tabi was to be what he called "an invisible shoe," alluding to the idea of someone walking barefoot on nothing more than a heel. Despite this idea having taken on many forms since then, notions of invisibility are still evident in today's iterations.
However, beyond these enigmatic, zeitgeist-defining moments, sat Martin; the physical emancipation of a rags-to-riches/riches-to-rags mentality, transforming the most-overlooked fabrics into individualistic works of art. He made "la mode Destroy" his own derelict playground, forging a believable and legitimate narrative for this purist form of reconstruction. Yet, seeing the man beyond such achievements was nearly impossible. He was notoriously press-shy, instead reflecting his personality and beliefs through his house and its outputs. He told Reiner Holzemer that such anonymity was a way of protecting his person. Fast forward to today, in an age of the ever-present internet designer, and anonymity has become a rare commodity.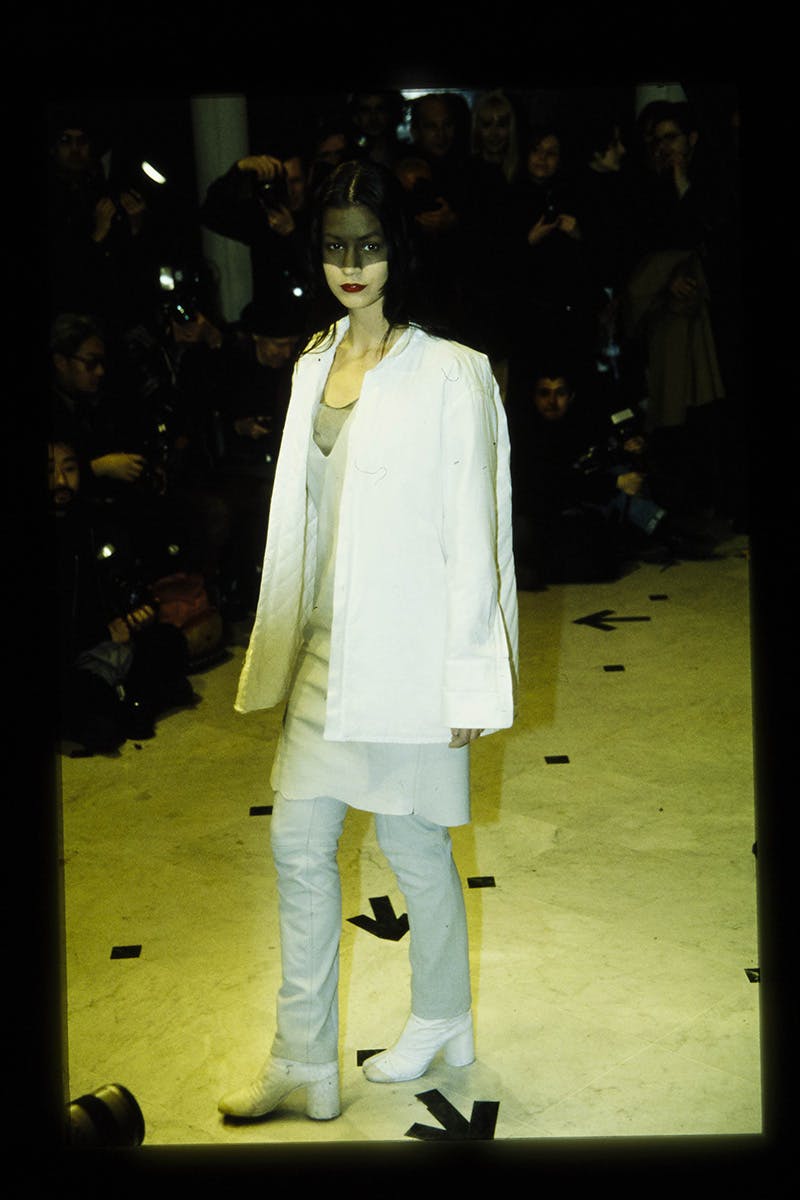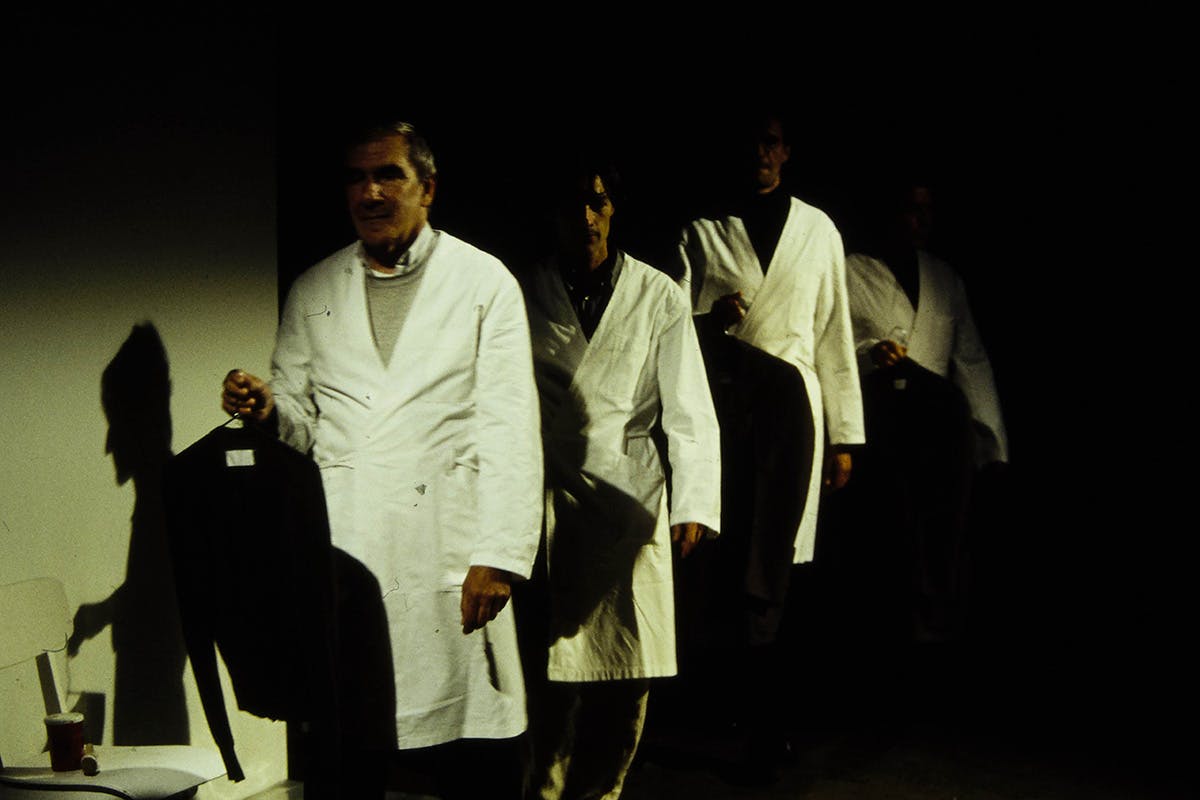 Throughout his time at the house, Martin refused to conform, denying all prerequisites with the same grace and charm he and Meirens would apply to the branding of their clothes. Having presented its work in a variety of off-kilter locations, Maison Martin Margiela's SS93 show in the Montmartre Cemetery is of particular relevance to our collaboration. It was here that the brand presented two separate shows, in separate corners of the space. One side was all-white, the other all-black. Paying homage to this pivotal moment, Highsnobiety and Maison Margiela present sweaters made from roughly-stitched, black-and-white layers, alongside belted outerwear referencing the cinched and buckled waist awed over some 27 years ago. With the following quote, we also understand that the brand's affinity for black and white ran far, far deeper than its clothes — it was a guiding principle:
If she saw the world in black, I saw the world in white. It became a full symbiosis.

Martin Margiela on Jenny Meirens
Martin established himself as the antithesis to anything labelled "acceptable" in the mainstream aesthetic, bringing all of the elements fashion would often try and conceal — signs of process, loose thread, wear, etc. — into the brightest of lights; Meirens described it as "the turning of clothes literally upside down and inside out" in an interview with The New York Times. The duo then went a step further when they opted to label their products with an untreated piece of fabric, held in place by four simple stitches. Made to be easily removed, leaving no trace of the maker, MMM's now-iconic branding was, among other things, an incredibly intelligent act of fashion anarchy. It was "all about being free," said Meirens in the same interview, seeing this piece of white fabric — Margiela's so-called "blank space" — as the ultimate expression of "courage and conviction."
Despite its critical acclaim, Margiela and Meirens remained mostly anonymous, refusing to be photographed or talk to the press throughout the entirety of their 16-year partnership. They were testament to the ideals of the brand they had built. In 2006, a majority stake in the company was acquired by Diesel founder and president, Renzo Rosso, before Martin exited in 2009 after showing his swan song 20th Birthday Show the same year. Martin's decision to exit only made his anonymity "louder than ever," says Patrick Scallon.
Approximately five years after Martin's exit, John Galliano was appointed creative director, dropping the middle "M" to become simply "Maison Margiela." Given Galliano's very obvious affinity for flamboyance and excess — the very ideals Martin himself rejected — many saw his appointment as a blunder. Yet, what the critics failed to recognize was that this perceived "mismatch" was a result of Galliano being the polar opposite to an established aesthetic. But, isn't this the very philosophy Martin himself lived by... to be so poetically anti the industry's many preconceptions? With that being said, John Galliano could in fact be the very personification of the brand's founding ideals, albeit disguised under the same confusion Martin's earliest creations were met with.
Click the button below to shop the full Maison Margiela x Highsnobiety collection now.