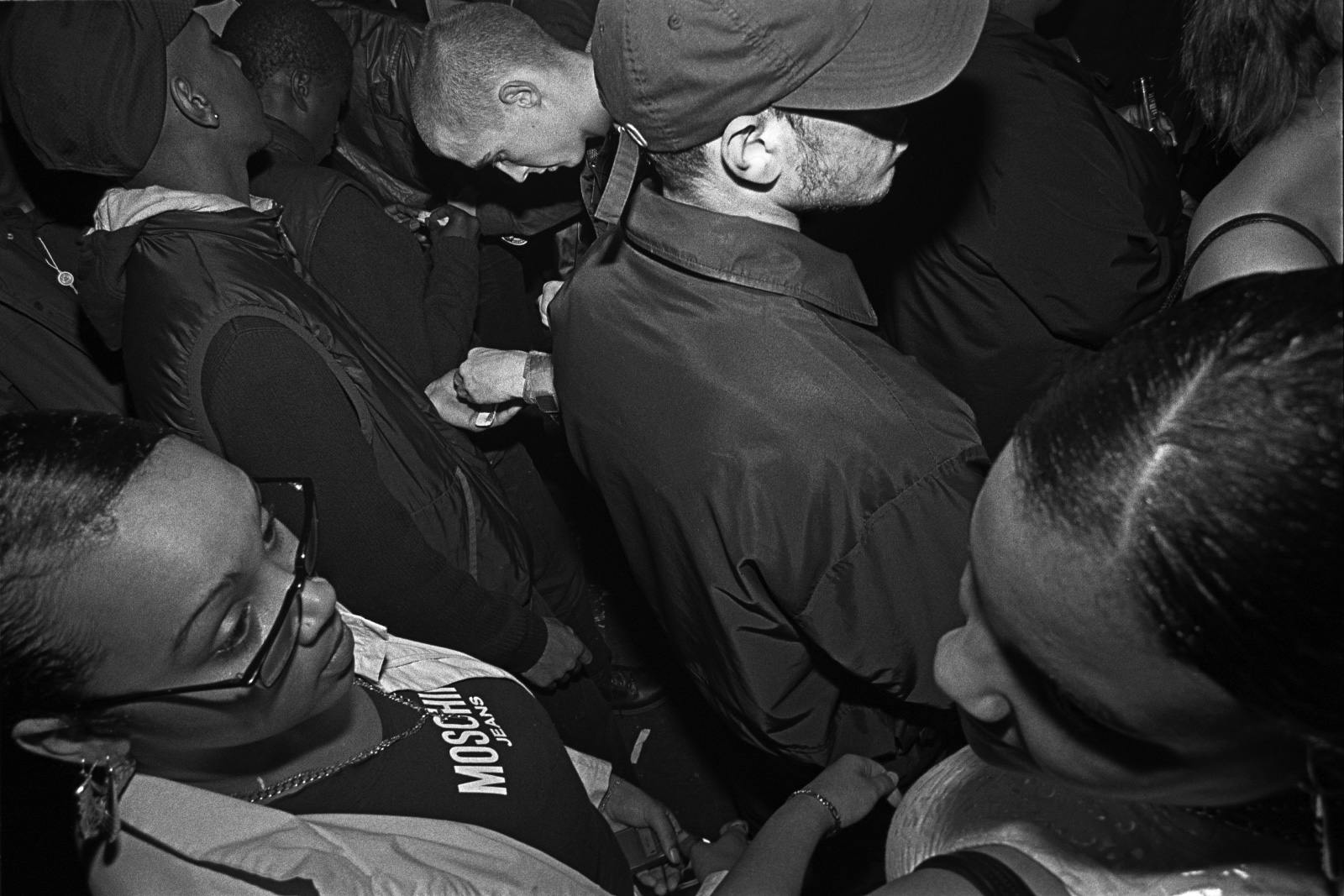 For decades, communities within the realms of club music have adopted specific footwear brands or even in some cases, singular sneaker models. Manchester nightlife is a perfect example of this mutual relationship, and the city's rave culture has been at the forefront of many trends via the city's eclectic taste, both in sound and in sneakers.
Manchester's club-goers are dedicated to the night. They are people who not only like the same music, but also tend to wear the same sneakers as a token and representation of their firmly-held sense of cultural and geographical belonging. Early this December, we teamed up with Sweet Harmony Productions, The Warehouse Project and size? to bring Sweet Harmony Warehouse / Art Edit to Manchester: An art and photography show that took an inward look at the scene that sparked a global fascination for British underground culture.
From the warmth of an ecstacy-fuelled embrace, to the muddied Reebok Classics of a solo two-stepper, the exhibition was not just about rave in Manchester and the surrounding towns, but about the emotion, the memories and the stylistic tribalism which defined it.
Oftentimes, rave in the UK would explode in reclaimed factory or warehouse spaces in former industrial towns: not the kind of places where one would dance bare-footed. Sneakers, or trainers as they're known locally, played a crucial if understated role in the culture, and so Highsnobiety spoke to exhibitor Thomas Watts, and size? buyers Luke Matthews and Chris Binns on the iconic silhouettes that are embedded in Manchester's nightlife history.
Manchester and the Three Stripes adidas is important to Manchester. Not only is the brand the current kit manufacturer for Manchester United, but also the city's sneaker scene has been driven by the three stripes for years. "For Manchester specifically, you see the majority being an 'archival' consumer, favouring products (predominantly adidas) from the '70s and '80s - products they remember from their original launch," said Luke Matthews.
When size? celebrated their first decade on the sneaker market in 2010, they launched, in collaboration with Adidas, a 'City Series' of sneakers dedicated to Manchester, Dublin, Cardiff, Birmingham, London and Glasgow. The Manchester shoe? A limited-edition of 500 pale blue Adidas sneakers with red accents. "It's essentially an amalgamation of the two Manchester football teams – combining both colours with a view of not alienating any of the fans," explains Matthews.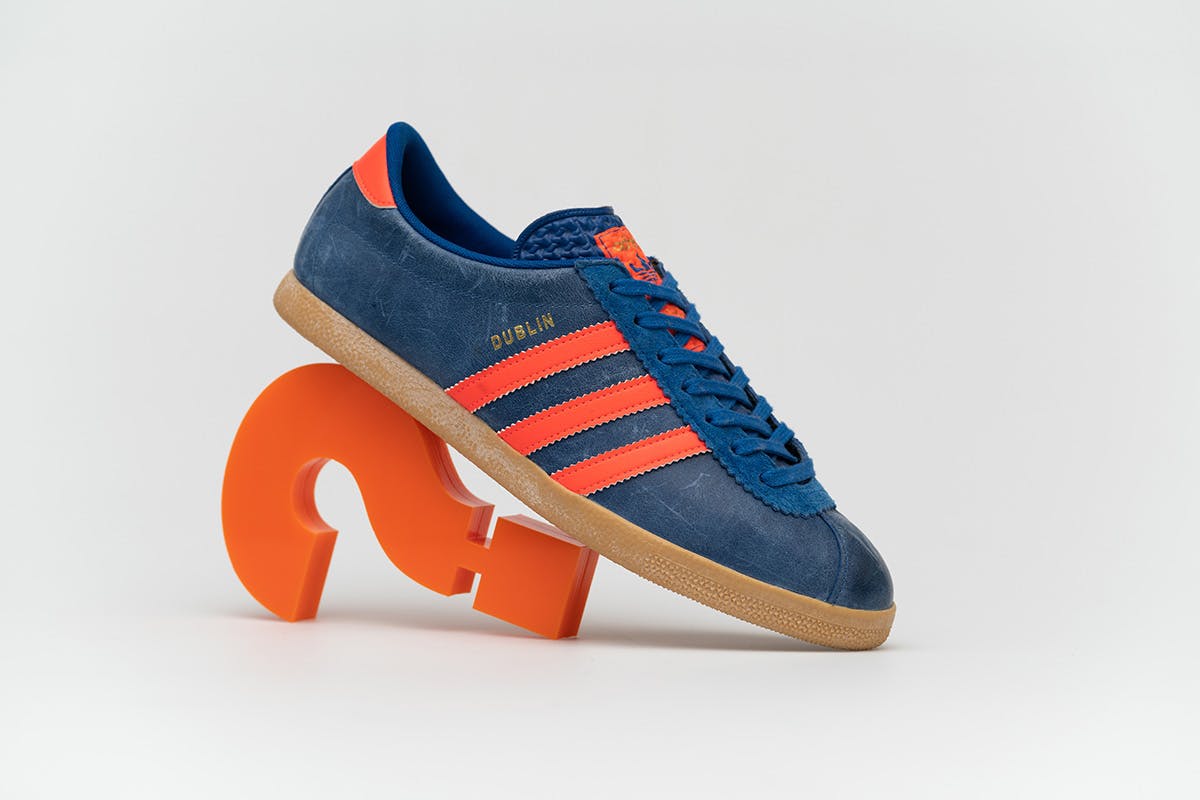 The three stripes undeniably reign in the north of England, and for Chris Binns, it's something he sees through his work. "Historically, Manchester is a city that will always resonate towards the three stripes. Most Northern cities and the satellite towns that surround them have always had an affinity with adidas and we don't see that changing any time soon."
How Y-3 Immortalised the Hacienda The year 2007 marked the 25th anniversary of the infamous Hacienda nightclub in Manchester, as well as the opening of Y-3's first UK based store. Together with Factory Records, Gary Aspden and Peter Saville they created a sneaker and sneaker box in honour of what is easily one of the world's most famous nightclubs and iconic record labels.
The Hacienda meets Y-3 sneaker box came with a small chip of the original flooring from the club and was shaped like the dancefloor of the venue itself. Each part of the Factory Records empire was given a unique codename back in the Manchester rave heyday, and The Hacienda was dubbed 'FAC51', which also became the name of the model. The sneaker offered a new take on the Y-3 Sprint model in a colour palette of silver, black, orange and yellow. "The Hacienda is regarded as one of the most iconic nightclubs of all time and the epicentre of a whole musical movement. How could you not be inspired by that?" said Binns.
Music as The Influence Binns explains that the music scene in Manchester has always been somewhat eclectic and open to the merging of different genres. "You'll see a lot of house music and indie music, but also a fusing of them both together. Even to this day house music is still a massive part of the city - albeit a lot more underground these days."
Manchester's openness to merging genres of music, is reflected in their versatile selection of footwear. Shoes like Prada America's Cup and Clarks Wallabees often made appearances in nightlife settings throughout the city, stepping away from the sportswear stereotypes. "Garage was huge. The super-clubs were thriving. Prada was worn alongside the likes of Moschino, Maharishi and Burberry as a show of wealth. The benefit with Clarks was that it was a shoe, not a sneaker. It crossed boundaries and genres, was affordable and could be worn with most brands," said Binns.
The Nike Air Max was also slowly, but surely making an appearance in the Manchester club scene, "It wasn't like it is now from an Air Max perspective, it was literally just what was available from a catalogue or your local sports store. The majority of colours in the market are what people would now refer to as OG; sporty colour-blocking and a blend of nubuck and mesh," explains Matthews.
The Rainbow of Trainers Thomas Watts moved to Manchester to study at the local Polytechnic University, but was quickly drawn into the world of rave culture during his nominal 'study' days. Through that time, he collected an extensive physical archive of his nights out, and days spent exploring the city. It consists of student cards, flyers, his favourite pair of 1992 Nikes and other rave-era ephemera.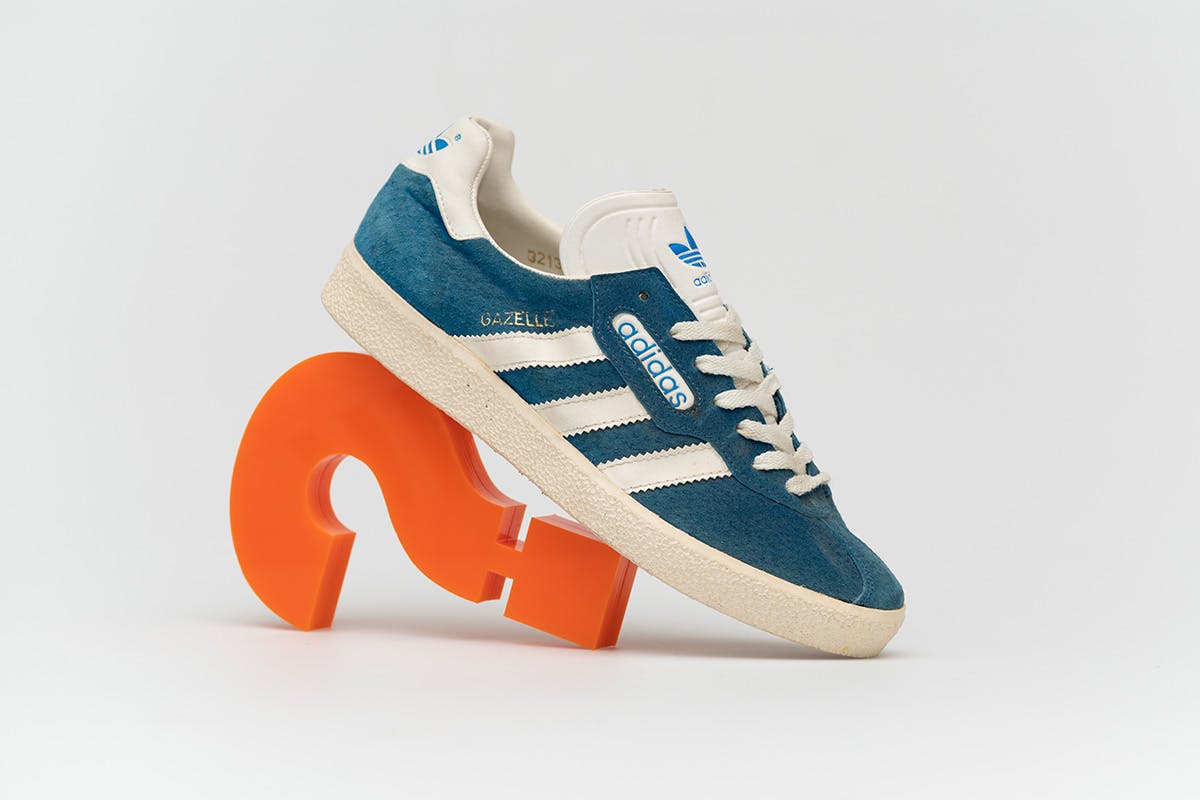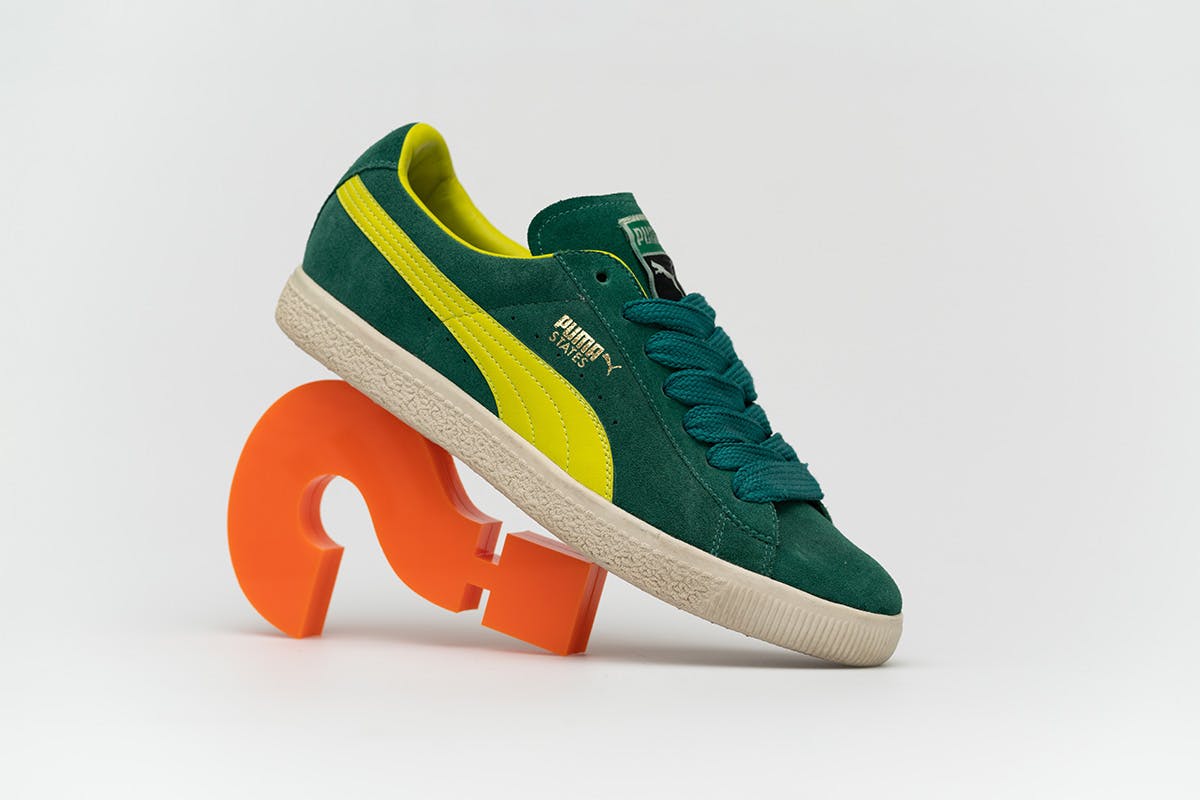 Watts has a near-perfect memory of what sneakers he would see at warehouse parties back then; "Adidas Gazelles or the Puma States would be the sneakers, Kickers and Fila Trailblazers would be the boots." Sneakers in club culture will inevitably get creased and beat up regardless of the brand, and Watts recalls being on the hunt for rare sneakers, even if that meant destroying them in the club. "Rumours would float around about some old sports shop in Bradford had dug up some Adidas Bolivia's or something else that was no longer in production. Basketball sneakers were big too, Travel Fox and British Knight."
Functionality in the footwear for club-goers and ravers in the countryside is also important when discussing Manchester rave culture, "there was an outdoor thing with Berghaus coats and stuff which were a pretty sensible choice if you're trundling around Lancashire trying to find the unheated warehouse that was tonight's venue. So the Fila Trailblazer went with that, suede trainers were less useful, but then again, suede was a big thing - I remember some people wearing Hi-Tec Squash sneakers with the baggy trousers and all you could see was the suede toe."
The Rave Grails
"For the exhibition, you will see the blue Gazelles I got from a friend in 1988, then the purple ones I got from another mate in 1991, the Puma States, and then my favourites - the Nike Grail."
Watts explains that if he could he would have gotten more Nike Grails, but like any other student, he couldn't afford to splurge on shoes. They would trade shoes in Manchester too, but to Watts, the Nike Grail is the number one rave shoe he could not let go off. "I constantly regret not buying five or six pairs but I was skint like everyone else, I loved them so much I would take photos of the new ones."
Check out a few more highlights of Footwork: A size? Retrospective below, and find out more about the Sweet Harmony Warehouse / Art Edit exhibition here.