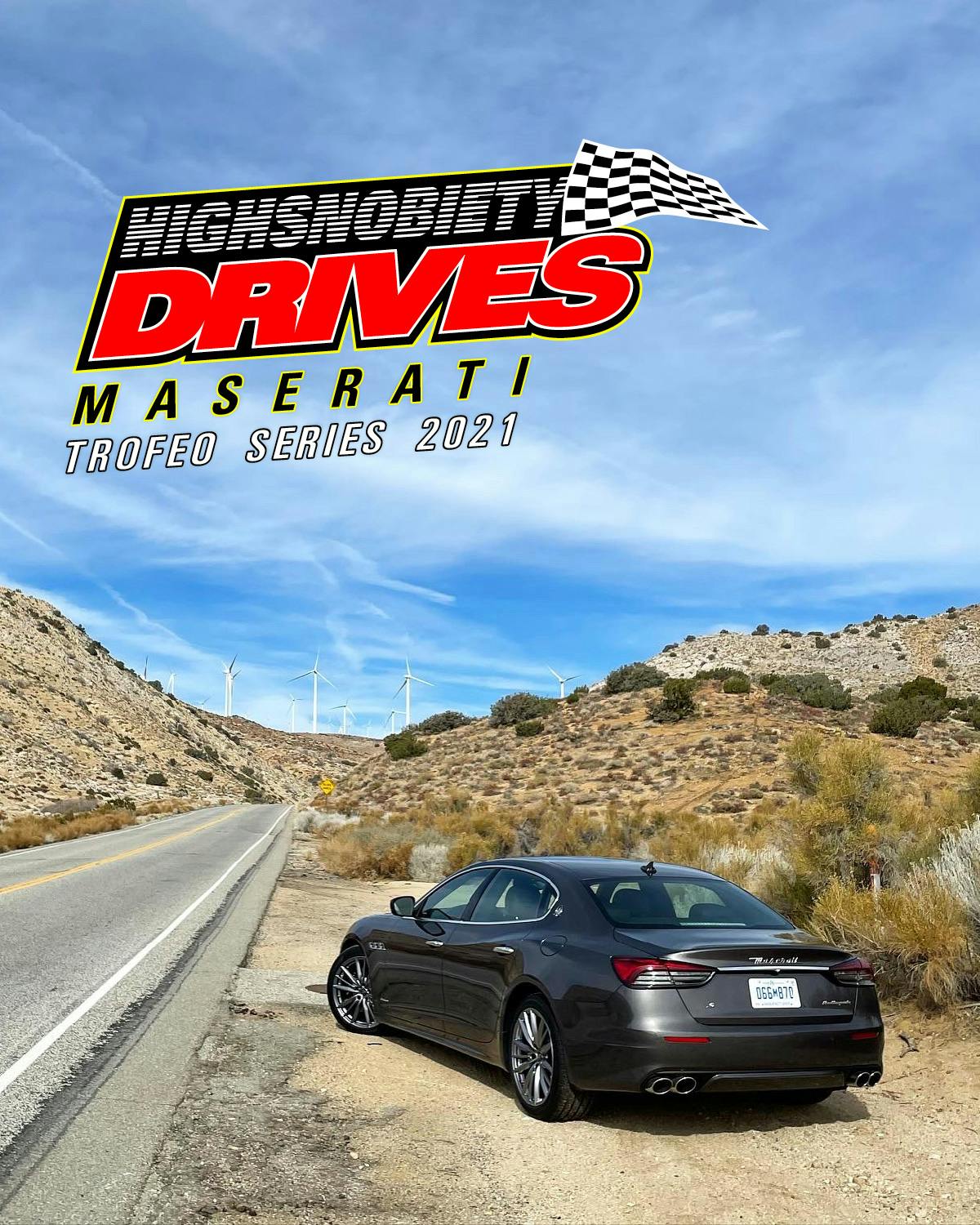 "Highsnobiety Drives" is a new series where we take some of the newest, fastest, and most fascinating vehicles on Planet Earth for a spin. For our inaugural column, Car Correspondent Jonathan Schley hits the track in Maserati's 2021 Trofeo line, which comprises three luxury cars outfitted with Ferrari engines and optional Zegna interiors.
Willow Springs International Raceway is a place of automotive lore due to its unchanged configuration since 1953. The "Fastest Road in the West" has rough and uneven pavement, and is an unforgiving stretch that will push any street car to the limit. So when Maserati invited Highsnobiety to put its new 2021 Trofeo line through the wringer, I jumped on it.
For those unfamiliar with Maserati nomenclature, "Trofeo" is basically what the brand calls it when they put a V8 Ferrari engine in one of their cars. The line launched last year with a suped-up version of Maserati's Levante SUV, and in 2021 the Ghibli and Quattroporte sedans are now also getting the option of having a 3.8L twin-turbo V8 that produces 580 horsepower, 538 lbs/ft. of torque. This means the Ghibli and Quattroporte are the fastest four-door models Maserati has ever produced: 203 MPH, to be exact.
The day started with a demonstration of Maserati's Launch Control in the Ghibli Trofeo, a feature of the new "Corsa Mode" (read: fast mode), as well as a brief slalom test to get comfortable. I then headed for Big Willow with my professional driver coach for the day, Emile Bouret.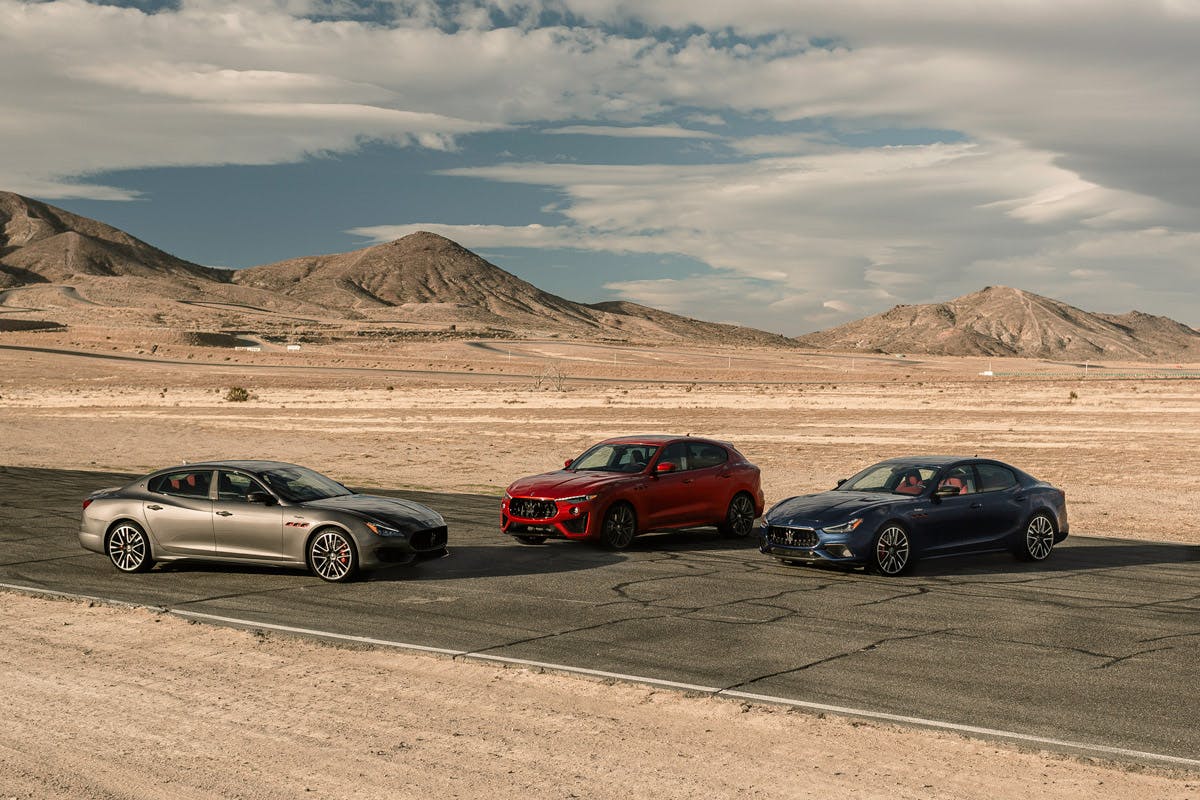 I'll preface my following driving impressions with a reality check: These aren't supercars (or even focused sports cars, for that matter) so I won't hold the laws of physics against Maserati's engineers. No two-ton plus car is going to fully conceal its mass on a racetrack. Caveat aside, the Maseratis do so very well: Composed, balanced, predictable. No drama. Everything just works.
I had huge expectations for the engine given its Maranello origin (there's virtually no situation in which you will find yourself driving any of the Trofeo models where you'd require more power). The downside? The aforementioned "no drama" applies to the engine as well. Perhaps it's a little too smooth. The noise, or lack thereof, left me wanting a significantly more emotional experience. It's a Maserati… with a Ferrari engine! When the Maserati GranTurismo was launched in 2007, every car enthusiast in the world would stop in their tracks on whatever sidewalk they were on to experience that symphony on wheels. That era of Maserati was about sound above all else. The shift to forced induction engines means lessened aural rewards, but it feels like these cars deserve more in the noise department. A bit more dynamic drama would serve the Trofeo models well.
The ZF 8-Speed gearbox used in the Trofeo models is basically the Rolex Submariner of car transmissions. If you drive any modern luxury car, there's a good chance you're using it without knowing. In manual mode, the Trofeo models will hold a gear and won't shift for you at any point. This is good for the track or great mountain road, but this box doesn't shine on the racetrack. In this setting, it felt like the transmission and engine weren't really communicating. This isn't something you'd notice in regular driving, and operating the shift paddles has a very satisfying, solid shotgun metallic action (I found myself wanting to shift just to engage with them).
After the session in the Ghibli Trofeo, I jumped into the Levante Trofeo. It's the same kit as the Ghibli, but with two extra wheels doing the work. Ghibli versus Levante, the latter simply performed everything better: speed, stability, traction, braking. Even my gripe about a lack of exhaust noise, the Levante served up better. To enter turn eight at Willow Springs at circa 110 MPH in a nearly 2.5 ton SUV is something to behold, like a prizefighter performing swan lake.
To whatever degree beauty can be defined as objective, Maserati produces it. The familiar Maserati exterior design is supremely elegant, introducing aesthetic details that distinguish the Trofeo models from your neighbor's Maserati. They remind me of early-2000 era Mercedes AMG and BMW M cars with their trim details: You're making a point, but you don't need to shout about it.
The interiors of the MY21 Maseratis are immensely beautiful, satisfying places to be. Maserati has introduced the entirely updated infotainment system dubbed Maserati Intelligent Assistant (MIA), inclusive of all the standard fare you'd expect: Wireless Apple CarPlay, Wireless Charging, and more modern active safety and autonomous assistance systems like Adaptive Cruise Control and Active Driving Assist which worked flawlessly on the desert roads surrounding Willow Springs.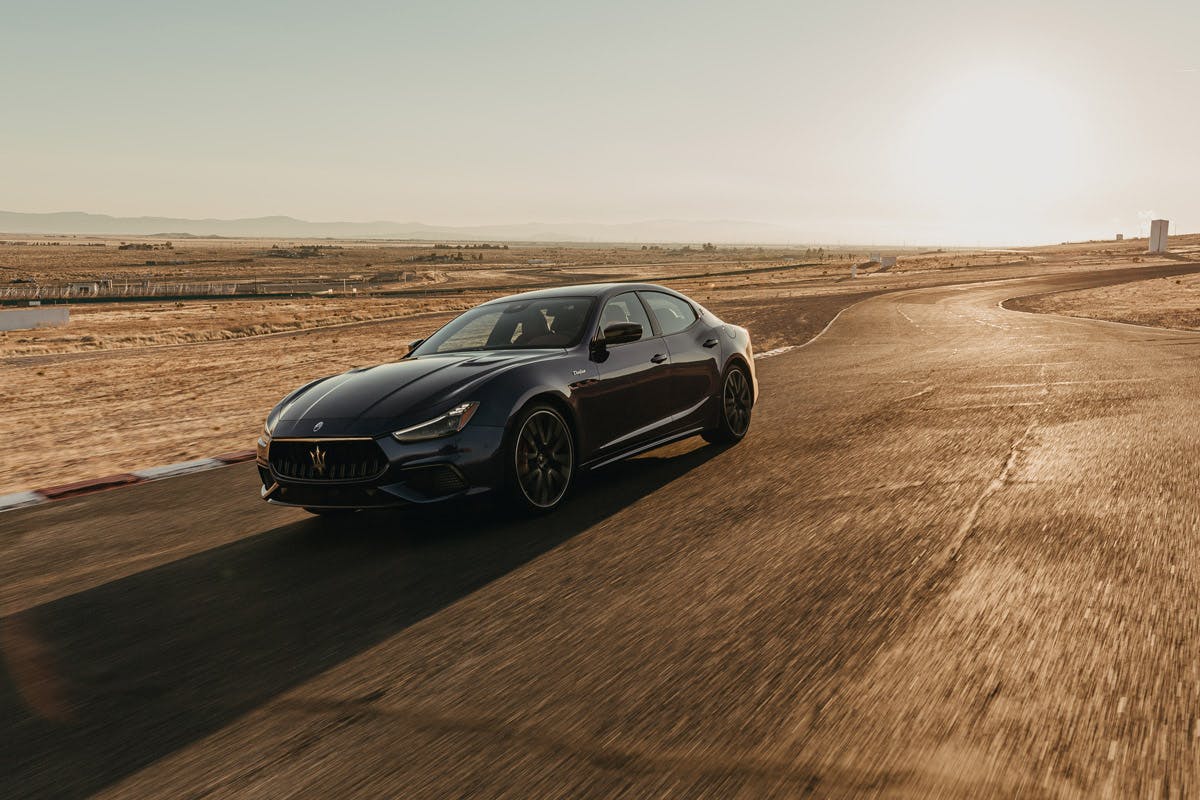 The highlight of the (non-Trofeo spec) MY21 Maserati interiors is the collaboration with Zegna on two interior trim options. The Zegna Pelletessuta trim is a woven leather interior that utilizes thin strips of Nappa leather in place of fabric yarns. These are woven together and interlaced, replicating the traditional method of weaving cloth to obtain a real "fabric" from leather. The Zegna Mulberry Silk interior has leather outer seat bolsters with a worsted wool-like seat center. Both were tasteful and felt as though they would age well, without being gimmicky.
It's refreshing to see Maserati place a new emphasis on performance models across its product range, especially in the lead-up to the new MC20 which was on display at Willow Springs and is expected to launch later this year. It also represents the platform upon which Maserati says they will re-enter racing, although they haven't said which series.
So who are these cars for? That's a tough question to answer. They are very expensive, significantly more so than most of their direct competitors. That's a key point considering there's a lot they objectively do not do as well as other options on the market. But if you're someone who doesn't want to get lost in a sea of German rivals — someone who doesn't care what people in the comments section think and aren't deluded enough to think you're buying a track monster, then it's worth a look. With some of the most beautiful interiors and seemingly limitless power, the Maserati Trofeos are perfect for gobbling up continents in style.