Earlier this year when I visited the McLaren Technology Centre in the UK, I spent some time chatting off the record with McLaren's Director of Motorsport Ian Morgan. I was headed to Goodwood Festival of Speed the following week where they were planning to run the recently announced 720S GT3X up the Hillclimb, and at some point in the conversation, Ian described the 720S GT3X as "what GT3 racing should be." That following week, Rob Bell won the Goodwood Hill Climb in the 720S GT3X, and four months later at the Circuit of the Americas (COTA) in Austin, Texas, I found myself sitting in its driver seat, making Highsnobiety the only media in the US to take on GT3X.
So what exactly is 720S GT3X? You've probably heard of a 720S and may even be familiar with the internet fame of its straight line speed. You may even be familiar with GT3 racing, so let's focus on the 'X'. Simply put, as Ian said, it's the "should be" part of motor racing development — the engineers putting on their dreamer hats for a single product that only 15 people will be lucky enough to own. The full scope of what a race car platform could theoretically be developed to do if it didn't have one hand tied behind its back by rules and balance of performance restrictions such as reduced power and minimum weight requirements.
The "X" means engineering unhinged: extreme power, weight reduction, and aerodynamic optimization. Cynics have said that it's a race car you can't race. That's half true, but it's not really the point either. And in reality, it can still be run (and win) in various formats of competitive motorsport, as we learned at Goodwood. More importantly though, what it really functions as is a driver development tool at the highest level. But we'll come back to that.
Admittedly, I built this opportunity up in my head. I trained both physically and practically on professional racing simulators in advance of this drive. I even made a race track hype playlist. I had never driven COTA before, nor had I ever driven a GT3 class race car before, much less a GT3 class race car with 230 more horsepower (with it's push-to-pass system utilized), not to mention one only weighing in at a diminutive 2,668 pounds. For context, that's about one SMART ForTwo car lighter than your average road car in 2022. It also happens to be only one-of-one of an automobile that costs nearly a million dollars and looks like a batmobile-cum-spaceship. It's the first car I've ever felt intimidated by… until I drove it.
In reality, the most difficult part about piloting the GT3X is getting into first gear. The seat is fixed in place to the floor, and instead, the steering wheel and pedals are adjustable toward the driver, which means your pedal engagement requires pushing forward from the floor, as opposed to pressing down like in a road car. The clutch is only needed to get the sequential gearbox from neutral to first gear, or back into neutral in the pits, but the sheer weight of the clutch is immense, and its engagement point is exceptionally sensitive. And from that point of engagement forward, you better be absolutely on throttle, because the GT3X lives in a realm of speed that few people on earth will ever get to experience. Anything less and it will not be friendly to you.
Once you reach pace, you enter the eye of a storm. Suddenly, everything is airy: controlled, balanced, flowing. The noise fades away and the GT3X begins working for you, as if you've reached a natural equilibrium. Isolated from everything around you and enveloped by total focus and calm, time stands still at almost 180 mph. Individual corners cease to exist and the lap becomes a singular motion resulting in time rapidly decreasing on the steering wheel mounted display in front of you. I've written before that rhythm and consistency are what make you fast on a racetrack, and where I misjudged the GT3X was my assumption that the speed and power would be overwhelming. In reality, I never once thought about how fast it was while driving it. More than its speed, its faculties of allowing drivers to comfortably access and utilize speed, is its true strength. Don't get me wrong, if you were fabulously wealthy and decided you wanted to do your first track day and bought a GT3X to do it in, you would not have a breezy, relaxing day. But if you're reasonably experienced with driving on track and know how to use slick racing tires, you'd be utterly dumbfounded at how quickly you feel like a hero in this thing.
The most striking feature of driving the GT3X is its totality. Shifting the sequential gearbox? Like a baseball bat to your back. The experience of acceleration? There is literally nothing that doesn't require a FIA Super License that I could compare it to. The steering? Instant connective tissue. This is cyborg stuff. The millimetric exactness of positioning the steering allows you to achieve, and to correct mid-corner should it be required, will make you awestruck. The Brakes? They make normal road cars feel broken. There is no instinct in your non-professional racing driver brain that will allow you to brake as late as the GT3X will allow you to. Period. All these functions individually seem brutal and abusive, but together, they perform a mechanical ballet. Never has the notion of precision been this smile-inducing, or easy to achieve. Without even attempting a hot lap and being forced by my coach to brake about one-hundred feet earlier than GT3X is capable of, I turned lap times eight seconds faster than the McLaren GT4 race cars I was driving all day prior. That's an eternity on a race track.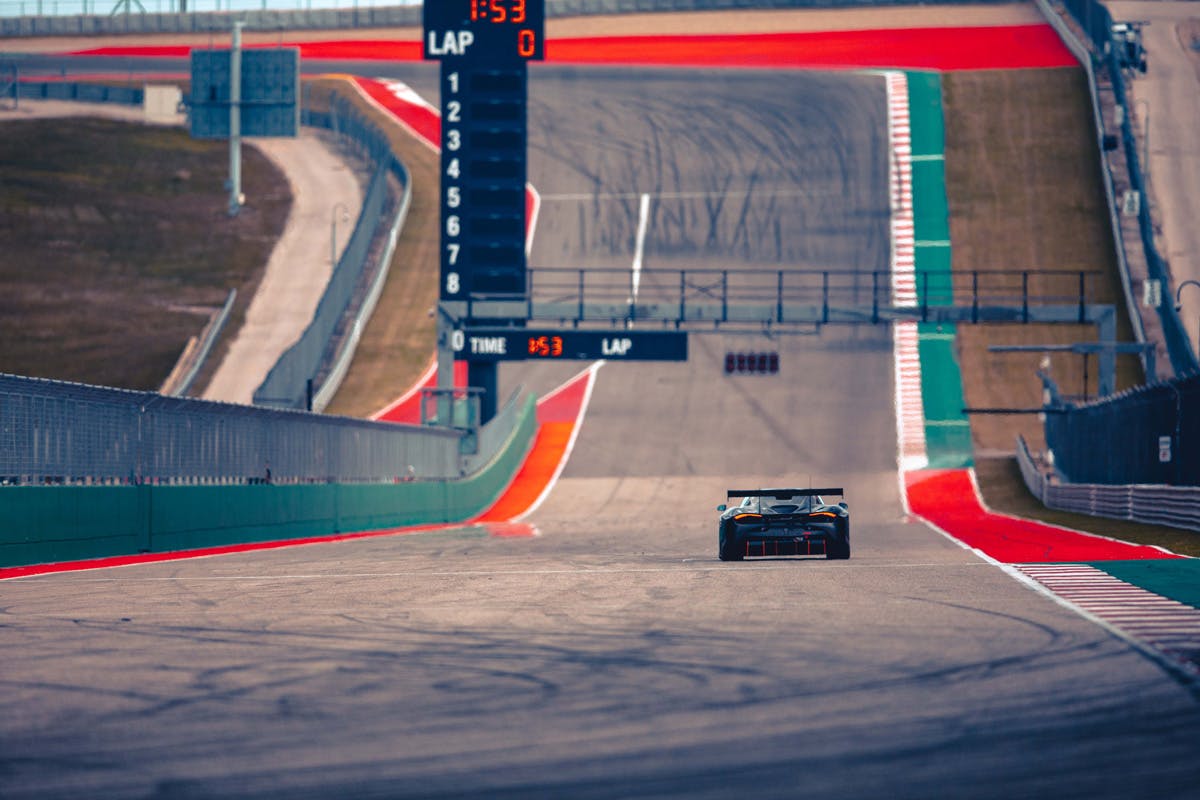 But that was the inherent flaw with my assumptions about the GT3X: It's not brutal. It's decisively graceful in its performance and coalescence with the driver. And this in turn is what allows it to destroy every other car on the racetrack that it shares a timing board with. But again. That's not the point. It allows you to explore limits you never thought possible in a car, which brings us back to the 'driver development tool' part. Only when you drive a car that's functioning truly mechanically, with physics and aerodynamics, and more importantly, absent of road going driver aids for safety can you really connect with a car and learn its limits. For the most part, today, this means race cars on race tracks. And what you'll find after the fact is that the distinction between natural behavior and electronic intervention is far more discernable in your everyday road car, and more importantly, how you can use it to your benefit both on and off the track, whether you drive a McLaren or that Smart ForTwo. If you can throw down a fast lap in a GT3X, a regular GT3 car will feel properly restrained… as Ian said. If I had $975,000 to spend on an object of pleasure, the 720S GT3X is the only thing I would care about owning. To riff on a common meme: money doesn't buy happiness, but it buys race cars, and that's basically the same thing.