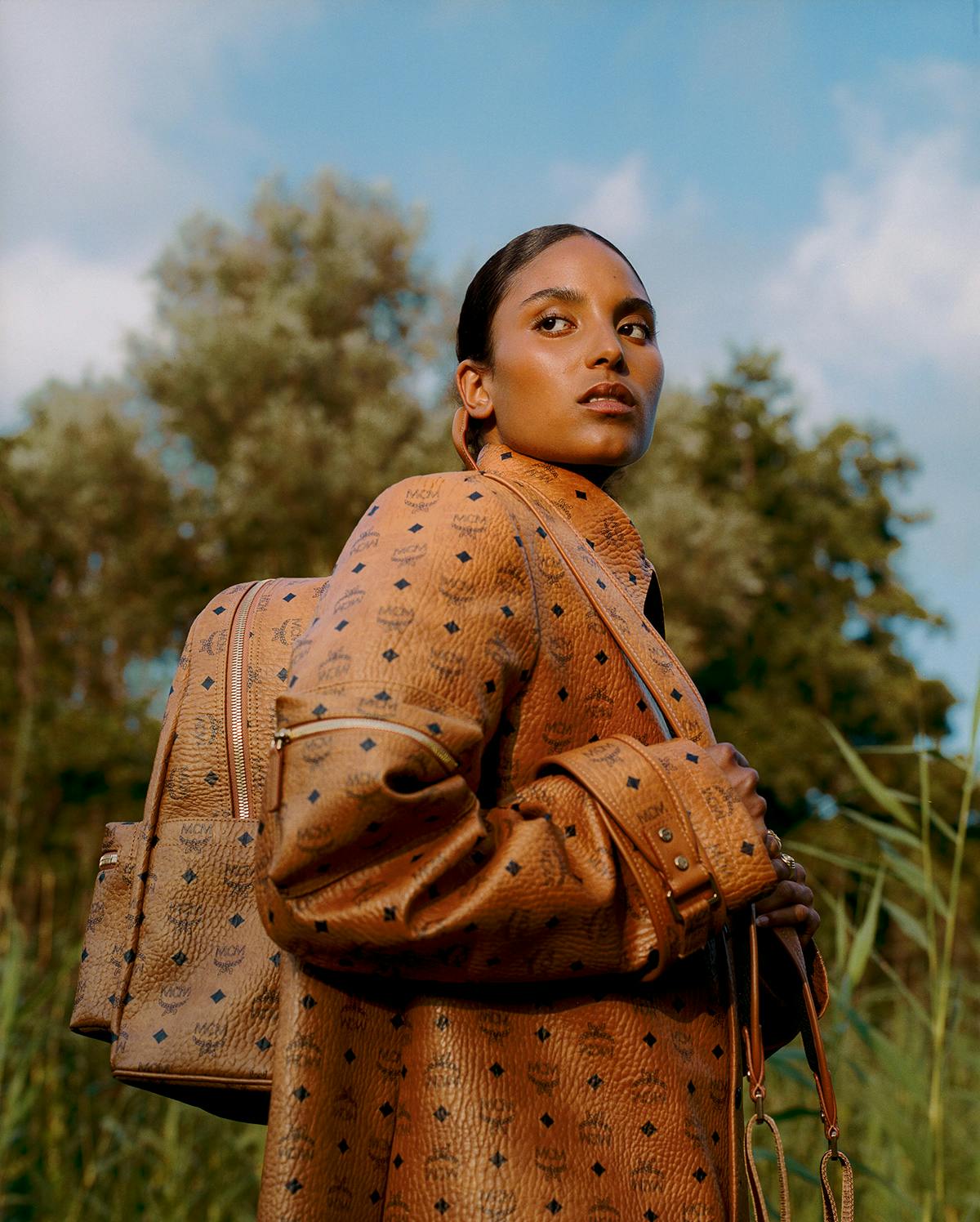 Probably one of MCM's most sought-after items is its backpack. You've most likely seen one in the flesh somewhere around the world, adorned with the brand's iconic cognac Visetos Monogram.
Whether it's for travel, day-to-day tasks, or social gatherings, everyone needs a backpack. The early 2000s saw a cultural and fashion wave spread from West to East, with the backpack becoming a sought-after item of everyday life. This rage exploded in Asia with more and more people realizing the importance and utilitarian advantages of this classic vessel. It was around 2005 that MCM invented its functional and bold version of the everyday essential after realizing how prominent the item's presence was in all communities across the globe - from lifestyle to sport, and music.
The German fashion house was one of the first to introduce the backpack to the luxury sector, presenting it to various department stores. It was on one occasion in London that MCM hit that lightbulb moment — a backpack can be a luxury, essential item. Even though it faced criticism for elevating the backpack, MCM fought against all odds with its pioneering attitude, staying firmly rooted in its backpack beliefs.
With MCM celebrating its 45th anniversary, one of the key highlights that undoubtedly is a large part of the brand's identity is the way in which it has revolutionized the way we look at backpacks. Liberating its own from any gender, age, or utilitarian boundaries, MCM's backpack stands for much more than it seems.
Inspired by the backpack's existence in street subcultures, hip-hop music, and sporting communities, MCM was always focused on merging this quintessential, cultural item with high fashion. After successfully integrating the backpack into this realm, MCM has been consistently transforming it into an essential fashion item that evolves around the ever-changing zeitgeist of 21st-century living.
For MCM, the backpack is a symbol of its legacy. A key philosophy for the brand is movement - in every sense of the word. Firstly, movement in terms of mobility which the backpack encourages thanks to its hands-free approach, but also when it comes to initiating a cultural movement among a new generation. The brand's awareness of shifting desires and modes of thinking allows it to adapt its pieces in a way that makes them relevant and functional all year round. We have seen MCM spark change and shifts in the fashion scene in Asia and the US with its backpack, and the brand is set on sustaining this boundary-pushing and pioneering attitude. The signature shape of the MCM backpack has since become one of the brand's most iconic silhouettes, standing as an emblem of its DNA.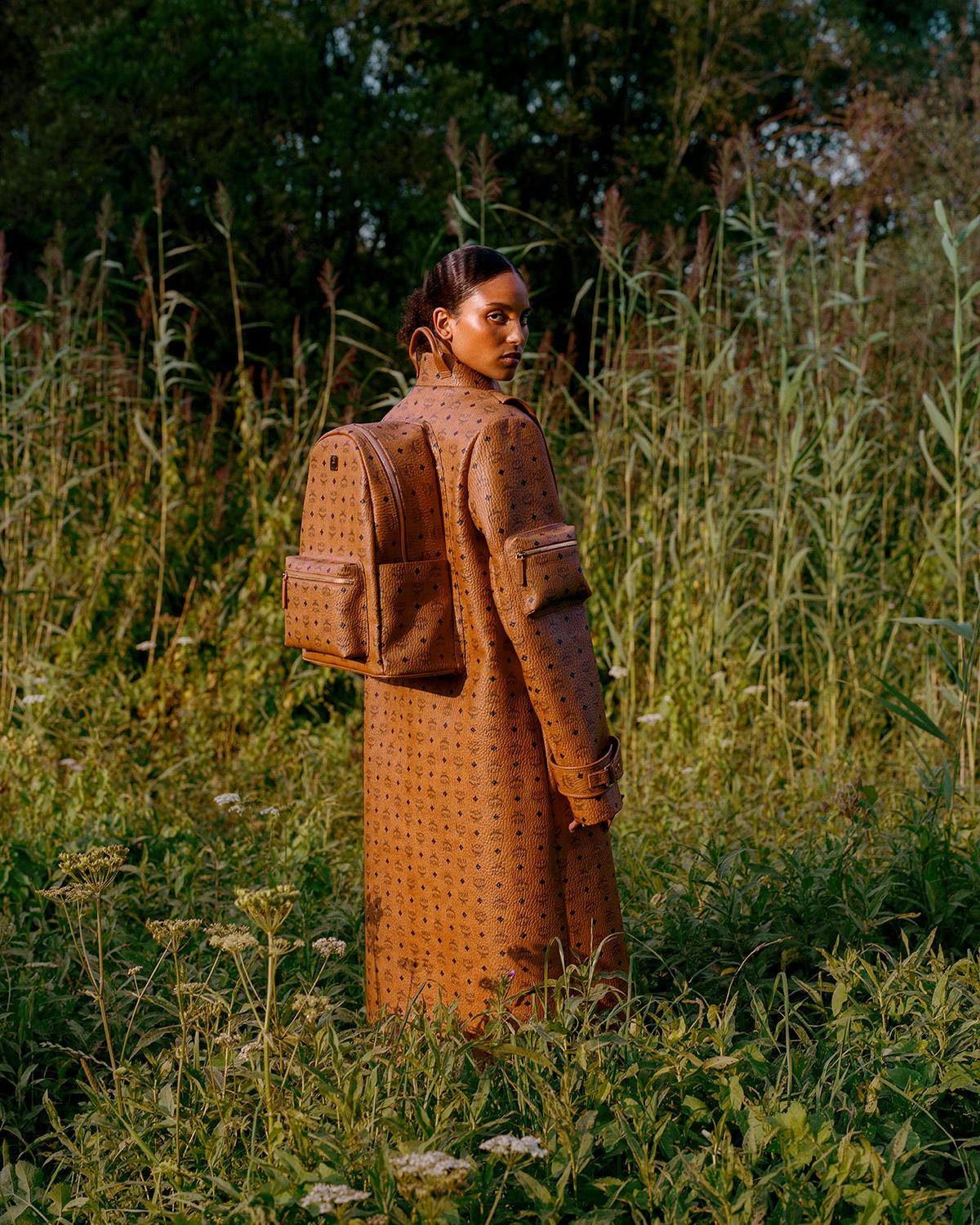 To celebrate its longstanding staple, the Stark backpack, MCM teamed up with Highsnobiety to give the bag an aesthetic revamp by calling upon fashion designer Duran Lantink. It's important to note that Lantink is on the more unconventional side of design, falling under the boundary-pushing category of bootleg fashion. The collaboration celebrates MCM's ethos of construction and deconstruction, as well as its approach to circularity.
"Bootleg is all about reimagination," says the Amsterdam-based designer. "My practice is focused on working with things I've found in the streets or in stores and repurposing dead stock - mixing up clothes and re-cutting pieces is the crux of it really. We all grew up with magazines where you had pages full of branded product campaigns, and you start wondering, why can't this be more mixed?" This ties in with MCM's unbridled efforts at always pushing itself and its designs to new peaks, reworking silhouettes, and building upon its all-time classics, like the backpack.
Bootleg designers focus on reappropriating images, logos, and patterns in new and exciting ways, drawing influences from what they see in their surrounding environments. "If you look in the streets, you see people combining second-hand pieces with designer clothing or mixing different brands to create their final outfit, so for me, bootlegging is really about freedom and forming your own identity," comments Lantink.
This movement within the fashion landscape isn't something new. Bootleg design stems back to the late '70s and '80s when bespoke icons like Dapper Dan decided to shift the paradigm of what was deemed cool and stylish. Through his provocative and unabashedly bold designs, Dapper Dan redefined what luxury was, specifically targeting the hip-hop and streetwear scenes in Harlem and the rest of New York. Dapper Dan played a pivotal role in the adoption of MCM as a signature brand of the underground scene by deconstructing and remaking the Cognac Visetos for stage and streetwear. "He did all of this without permission. He fought back against the system and elevated brands like MCM by playing with its monogram," explains Lantink, "it is so inspiring."
The current bootleg scene is just as boundary-breaking as it was a few decades ago, with designers like Imran Potato and stylist Misa Hylton spearheading the movement. A past campaign talent for MCM, Imran Potato has taken the fashion-music scene by storm, dressing the likes of Travis Scott, Billie Eilish, and Bad Bunny with his quirky and bright monogrammed revamps.
Hylton, who in 2020 was appointed Global Creative Partner for MCM, is no stranger to bootleg design, of course, mostly inspired by MCM's iconic Visetos monogram. Since the '90s, she's been a seminal stylist for classic hip hop artists, like Mary J. Blige, Missy Elliott, and Jodeci. In her formative years, she worked with Dapper Dan to style music videos and was known for introducing looks such as monochrome outfits with matching hair, or Lil Kim's infamous purple jumpsuit at the 1999 MTV VMAs. Having recently designed an MCM bustier-jacket-hat combination for Beyonce for her Apeshit video, Hylton uses her knowledge of the hip-hop and R&B scene to inspire her trendsetting statement pieces.
Lantink explains how recreating clothes and combining different materials and brands has always been at the forefront of his practice. "I've never really done anything else. When I was younger, house, acid, and electronic music really became ingrained in our culture. The way people dressed in the '90s has been my main inspiration since I was a child. My first design was in 2001 when I was 12. I created a skirt, which was part jeans and part my grandmother's tablecloth. This craft has always been in my DNA."
Bootleg fashion carries an anti-establishment air to it, "it's like fighting against wholesale culture," says Lantink, which overlaps with MCM's spurring energy to go against the status quo - 45 years later, and the brand is still looking at 'what next'.
When certain stores have pieces that don't get sold, Lantink collaborates with them, repurposing the garments in a way that gives them a new life and meaning - and these pieces end up becoming enduring grails of creativity. "You start forming a relationship with these pieces that you source. Sometimes we have pieces in the studio that are already so good, and you're confused about what to do with them because they're already so brilliant. It's difficult because you want to uplift the garments, but it's better to work with them than to see them end up discarded. I think the political stance for bootlegging is repurposing. Just not sourcing any new materials and using what is already there - it's like we're telling the industry that enough is enough."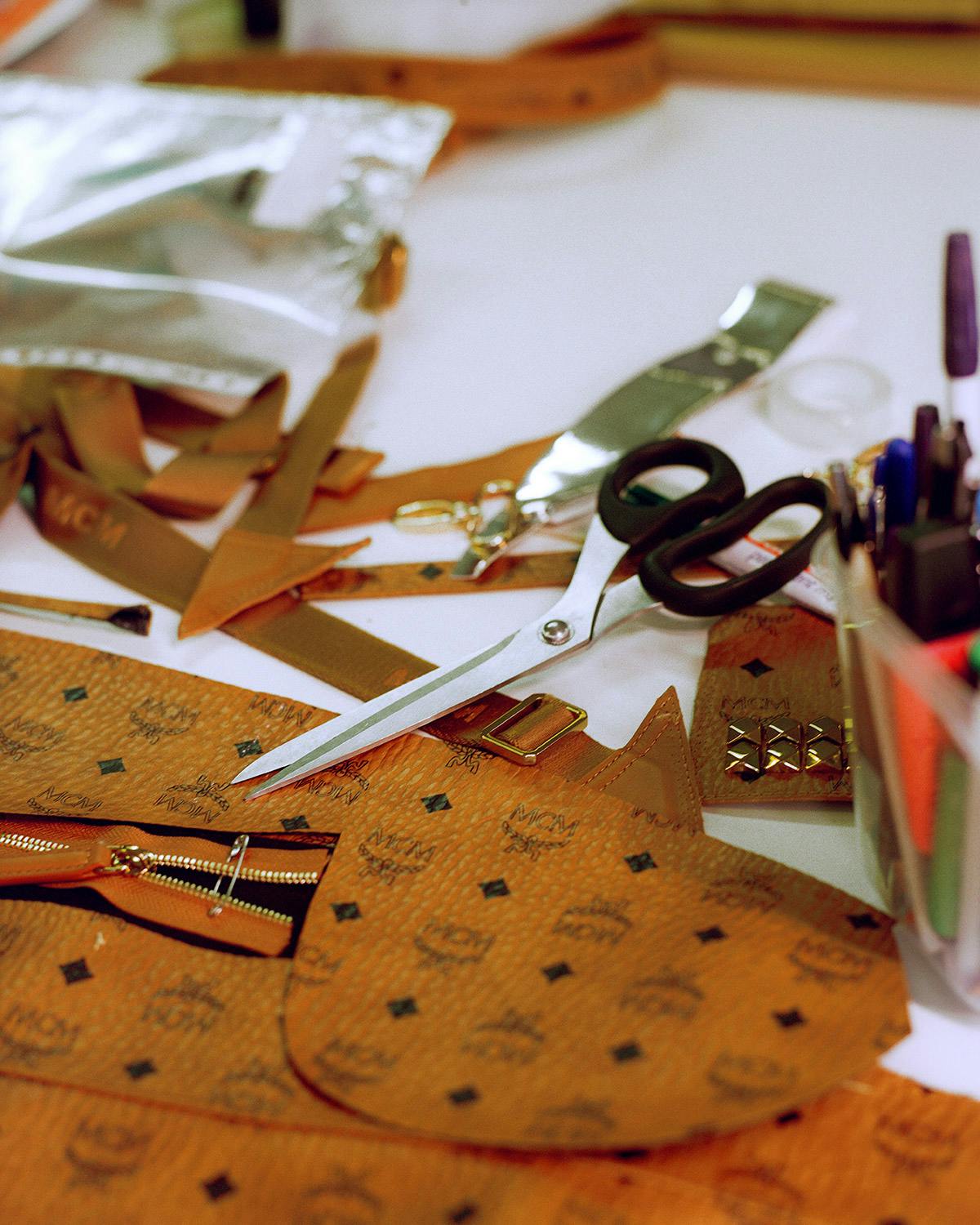 Similarly to how MCM is open to metamorphosing its symbolic backpack as a nod to its ability to stay in the present, Lantink comments on how the way he approaches creating pieces has shifted slightly, which can be seen in his redesign. "Rather than placing half a jacket with another half, I'm experimenting a lot with completely transforming things. Making pants out of a coat, for example, so you can't really tell where its original roots are," - or like with MCM, making a whole fit. "The whole process was super interesting because we normally don't work with fabric a lot. The coat is made from MCM fabrics and then all the pockets on the sleeve are made from the actual backpack. The backpacks themselves are very well made, so it took a little more time to take them apart, but everything went so smoothly."
Bootleg designers like Lantink, are undoubtedly making our ever-expanding fashion landscape more accessible and inclusive. Bootleg changes the way fashion is perceived and the value of real designer garments, and strong brands like MCM that support this movement are only adding to this growing sensation.
"High fashion trying to be more street sometimes doesn't make sense as people from these communities can't even afford that lifestyle. As bootleggers, we are waking people up to the fact that you don't have to be dressed in one brand or have just one style - it's all about freedom and mixing a bit of everything."
So what is the next step for the backpack? It seems at this rate, anything goes, and people like Lantink and enduring innovators like MCM are a testament to that creative sense of sartorial liberation.