Last night, I went to an event that didn't have a name. It was a "fashion show," a "presentation," or often just an "event." The official invite said "Summer 22 Red Carpet," but the majority of those in attendance dubbed it "The Balenciaga Thing."
When I arrived, there was a red carpet encampment that glowed like a 4k resolution screen in the middle of a rainy Parisian evening. Through the throngs of the curious and the paparazzi, guests were ushered across a step-and-repeat in front of a gang of DSLR-toting cameramen.
Inside is when they let you in on the joke: that the theater in which The Balenciaga Thing was taking place was actually a viewing room for the real show outside. Spectators watched as their friends and peers walked across the carpet, mostly unaware of the charade.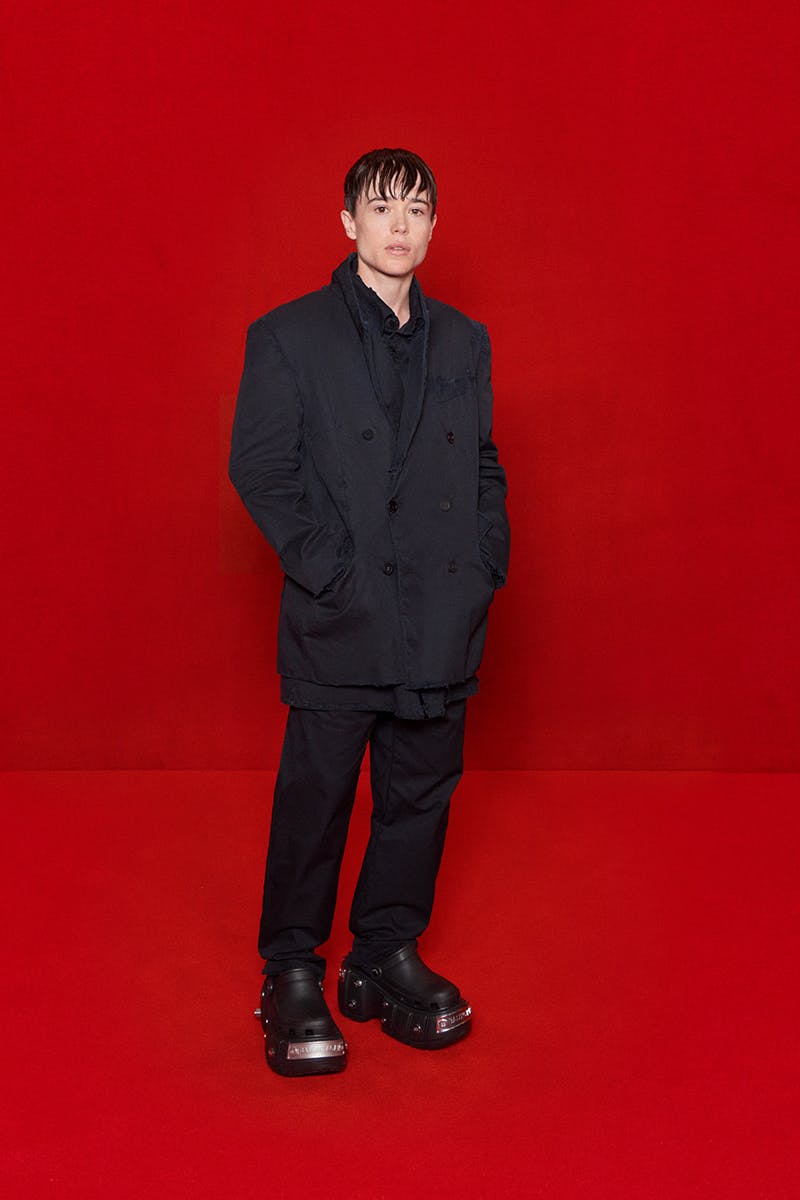 Then came the Balenciaga looks, worn by models, celebrities, Balenciaga staffers, and members of the European cognizanti, who all entered through the carpet like everyone else.
Cardi B and Offset arrived as ambassadors of the House of Atlanta, Dev Hynes and Ella Emhof from the House of Dimes, Naomi Campbell and Juergen Teller from House of 90s Fashion, as well as Anne Imhof and Karen Boros from House of German Art World.
Then, of course, there were the regular Balenciaga models that we've come to recognize like characters on a reality show. As they appeared on screen, the crowd cheered them on, until they entered the building and sat amongst our ranks. The energy in the room felt like a high school graduation ceremony.
But it was only when everyone was tucked inside that the real headline-making moment of The Balenciaga Thing happened. The red carpet live stream cut and queued up a special episode of The Simpsons made in collaboration with the brand. It had everything anyone could have asked for: bumbling Simpsons in Paris on the hunt for KFC, vampire-like fashion world operatives, and Smithers finally making it to models.com. 
As I watched the whole thing unfold, I couldn't help but be reminded of The Telfar Thing in New York about two weeks ago. There, attendees entered to the soundtrack of Gil Scott Heron's "The Revolution Will Not Be Televised" and were treated to a theatrical press conference by designer Telfar Clemens and his brain trust.
The gathering announced the launch of Telfar TV, a new live streaming channel through which the brand would begin hosting not only content, but its biggest drops. When asked at The Telfar Thing whether the channel would be the beginning of a media empire, its creative director Babak Radboy replied: "This is the end of a media empire." Days later, art-school grads around the world were scanning QR codes on Telfar TV to cop the brand's new it-bag.
The thing about events with no name is that they are usually a sign that we are entering a new era, one that the old era does not have the vocabulary for yet. Jazz, Social Media, Pop Art, Punk, and Reality Television all started happening before critics figured out what to call them. And if it's the job of writers to figure out how to name these things, then let's start right here. What we saw this past month at The Balenciaga Thing and The Telfar Thing is the season when Fashion became MerchTainment.
If what MerchTainment is feels fuzzy, allow me to unpack things a bit. MerchTainment is Kim Kardashian wearing Balenciaga bondage gear to her ex-husband's Balenciaga-styled listening event, and spinning that same outfit into an undisputed win at the Met Gala red carpet. The Met Gala itself might be MerchTainment's patient zero.
MerchTainment is the brand Instagram you actually like. Philipp Plein even knows how to make MerchTainment. Lil Nas X might have just mastered it. And Moncler and Alicia Keys know exactly what we're talking about.
 MerchTainment might be actually anything affiliated with Kanye West, Olympian God of both the music and merch industries, and if all goes to plan with Gap, that might be the moment when the whole world subscribes. MerchTainment is the fashion industry swallowing entertainment whole, at a time when no one could care less about a Grammy or an Oscar, and when many teenagers can name more creative directors than film directors. MerchTainment is how fashion spilled out of its designated weeks and into a year-round spectacle where consumers follow brands as much as they buy things from them. 
In Highsnobiety research we've done about Gen Z and Millennial luxury consumers in partnership with Boston Consulting Group, we've learned that early adopters make their purchase decisions in the inspiration phase rather than later on in their customer journey. To put it in non-marketing-speak: no one walks into a department store and says "Gee, that Balenciaga is really cool, I want some," they form that relationship over months on Instagram, in the pages of magazines, and by getting blown away by levitating Kanyes and branded Simpsons episodes.
As our Editorial Director Christopher Morency aptly wrote last year, modern brands aren't companies, they're universes, and those universes are composed of MerchTainment. 
When the world went into lockdown, and brands began making films and lookbooks instead of runway shows, it felt like an industry slapping bandaids on a public relations machine that was already broken. But this scenario has accelerated the path of those who know how to play the game, who understood that fashion could fill a void within an attention economy that was rabidly craving more content. And now that industry events are taking place IRL again, being in Paris feels like visiting the Internet in person more than it feels like being at the main event. That said, I'm ready for the next episode.