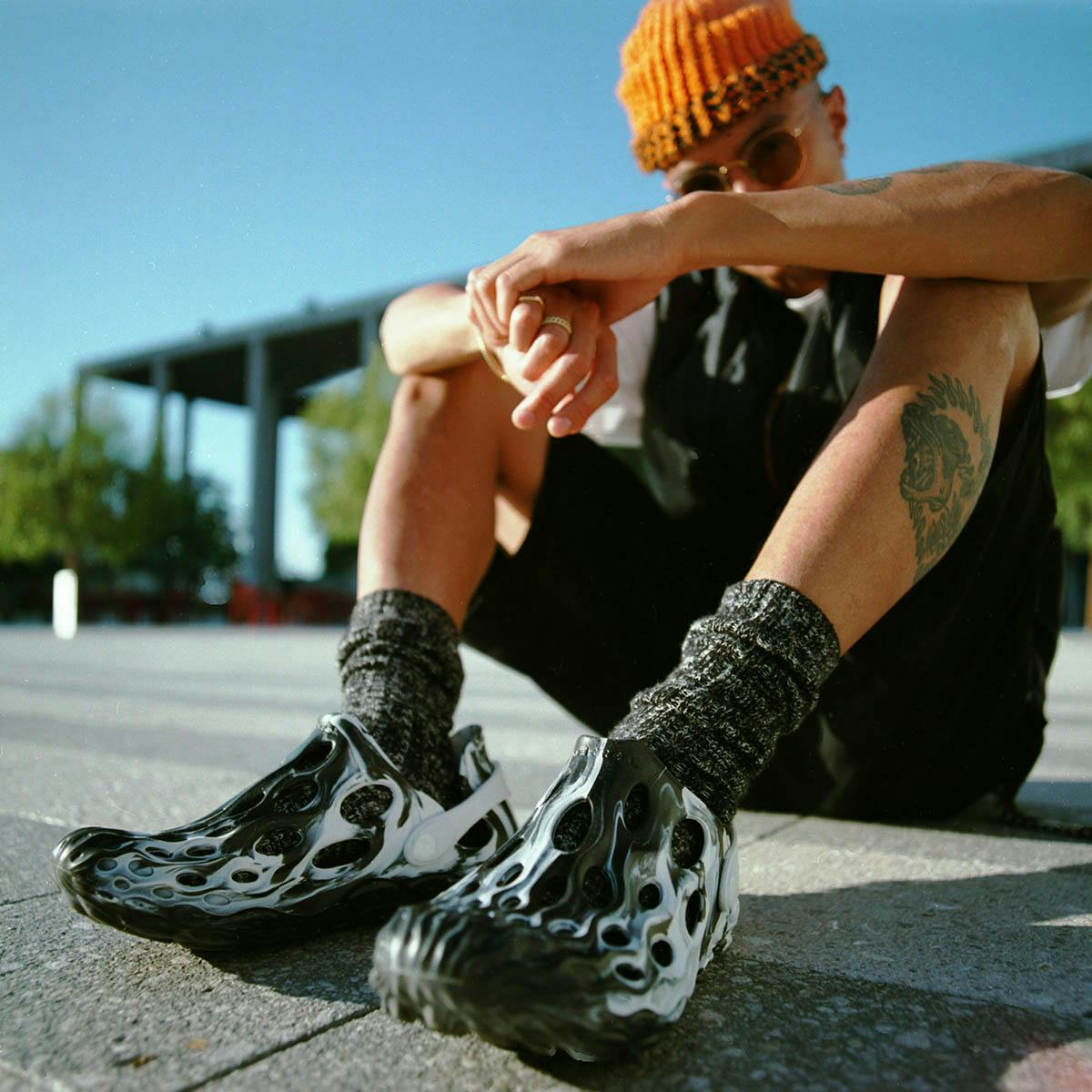 This was the summer that rubber water shoes came into their own, thanks in part to Merrell and their futuristic, marbled Hydro Moc which burst onto the scene in a plethora of color combinations. This summer alone, the Hydro Moc was seen at the lake, at the beach, at parties, at the supermarket. My friend bought a pair in blue and orange and took every opportunity to upload them to her Instagram story.
As fall settles into place, there's an updated Merrell shoe poised to take over as this season's favorite. Enter the Jungle Moc, a closed toe slip-on with a smooth suede upper in a whole collection of colors. The classic Merrell silhouette gets a spiffy update that brings the shoe into the modern era.
To welcome the reimagined Moc to the stage, and celebrate everyone's favorite rubber one, we asked some stylish folks from across the States to give them a spin. Take a peek below to see how the Merrell classics take to a bevy of different settings. It is #MerrellMoctober, after all....
Noah Thomas and Jian DeLeon of Mule Boyz took turns rocking the different shoes. Noah sports the Hydro Moc on a nature walk through LA, while Jian opts for the close toed Jungle Mocs in a subtle gray for an afternoon in NYC.
Kyle Kivijarvi went straight to the mountains in his Jungle Mocs. The built in air cushion and sturdy rubber sole make them an ideal option for a nature trek of any scale.
Yeek paired his green Hydro Mocs with a slick all white outfit and a pair of socks. He tied the whole look together with a matching green hat that proves the rubber shoes look just as good in the city as they do outside of it.
Dua Saleh took their Hydro Mocs for a jaunt around Minneapolis. Even though the shoes read summer, they feel appropriate with a more fall oriented outfit of pants and a sweatshirt.
For a trip to the woods Towfu rocks a pair of gray Jungle Mocs with some cargo pants and a utility vest. The Earth tones of his outfit come together to complement his surroundings.
Jenny paired her close toed Merrells with some biker shorts and a vest. Though she took this look for a walk in the woods, we can imagine it looking just as sharp in the city. "Dad shoes but make them cozier," she wrote in her caption. We happen to agree...
Both Jungle and Hydro Mocs are available for purchase online.