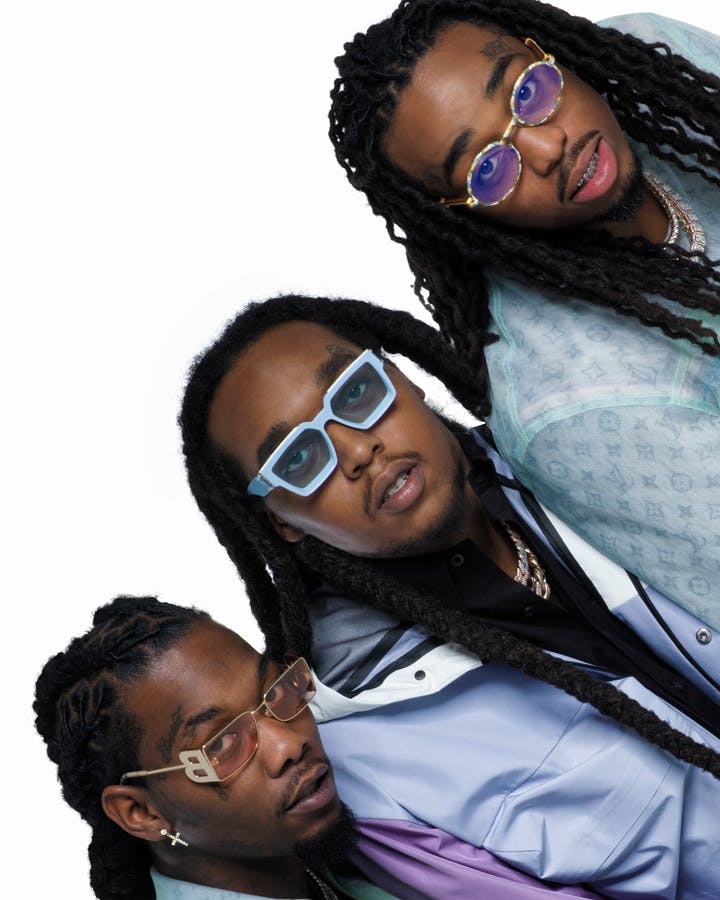 Spending a day with all three Migos is not unlike listening to one of the group's trap anthems. Energy runs high. Spirits run even higher. Then, as soon as you can say, "Skrrtt, skrrtt, skrrtt," things can completely change direction.
By hour eight of our photo shoot, the group has yet to appear in front of the camera. Quavo was the first to arrive, with done hair and a new puppy named Glacier. Offset rocked up a couple hours later with as much clothing and accessories in tow as the stylist. The group's youngest member, Takeoff, is the last to arrive, instantly taking umbrage at the prospect of color-coordinating with his bandmates' Louis Vuitton get-ups. He eventually opts for an electric-pastel Prada windbreaker. "When I go on the beat, I like to throw different colors on there," he later tells me. "If you go right, I gotta go left and make a U-turn."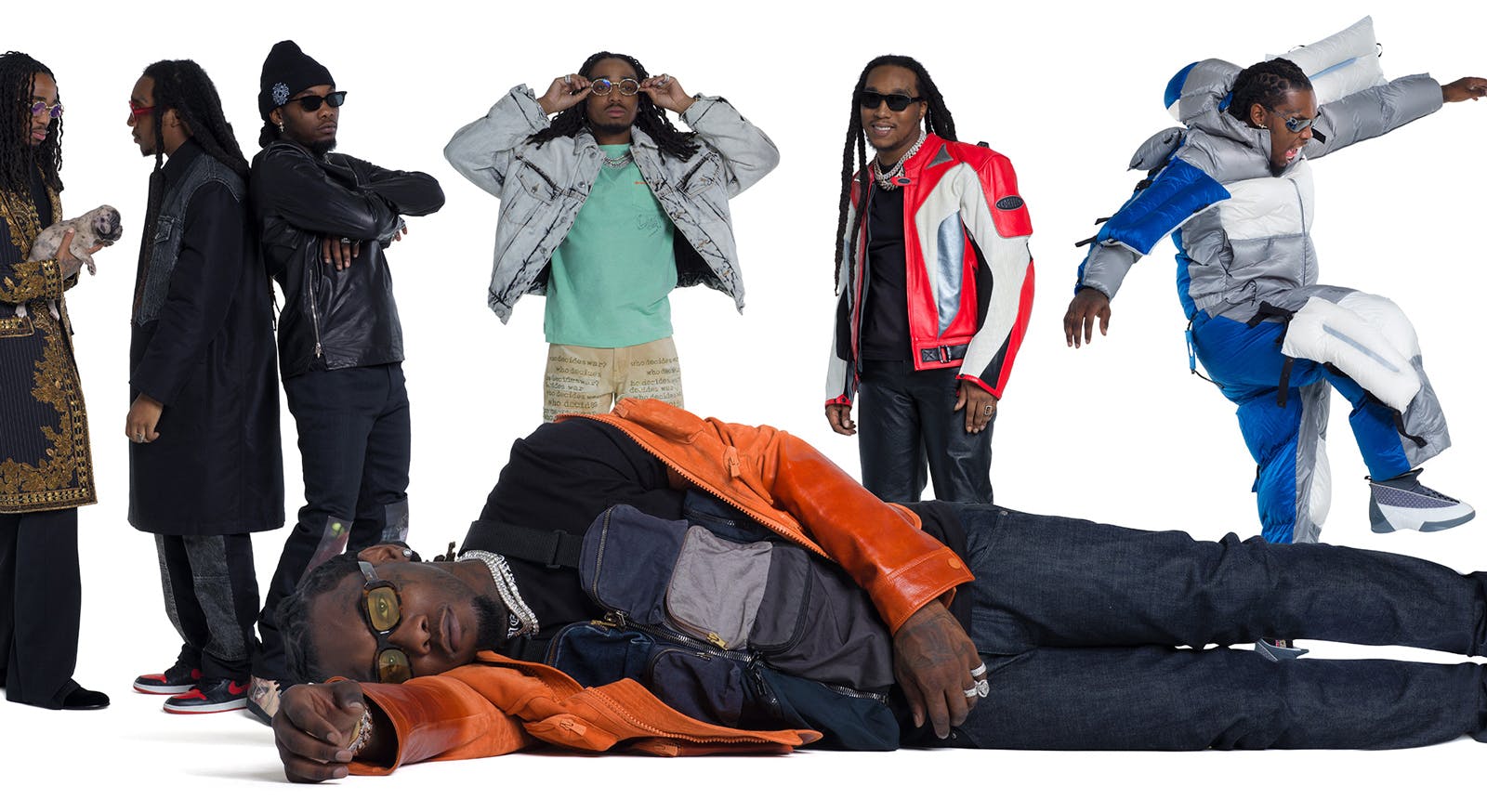 Click here to order the new issue of HIGHStyle, a Magazine by Highsnobiety
When mankind first met the Migos in 2013, we were introduced to a chaotic triplet flow that has been doing donuts in the world's subconscious ever since. The group's breakout hit "Versace" is a four-minute banger in which the brand's name is uttered 162 times, careening recklessly from hypnotic chants to staccato bursts akin to jazz vocals. From day one, the Migos' contribution to music was to elevate the rap ad lib into being a thing in and of itself — with every pow, yuuuh, splash, ehhh, rrrrah, and blaghh sending a lightning bolt directly into the listener's cerebellum.
"New sounds. New cadences. New hits. New bangers," Quavo says, sounding almost like one of his verses as he describes the group's upcoming album Culture III. In the years since they started their trilogy of studio LPs, the Migos have nonchalantly blazed through experiences that would normally capsize most groups: side projects, star spouses, rumors of in-fighting, solo albums, and car accidents. Yet, when the band finally makes it in front of the camera, immediately clicking into formation, it becomes clear how they've managed to swim above the fray. Their ability to push, pull, and build upon one another is powerful in a way that is difficult to describe. Not friends. Not business partners. Not brothers. Just Migos.
Quavo on upping your game: "You gotta upgrade your style just like you upgrade your whips and cars and houses. I'm most definitely rock with Prada, I'm rocking Moncler, Alyx, anything Virgil puts his hands on. I got a McLaren 720S. A 4x4 Mercedes Benz, the big truck. A Maybach. A couple four-wheelers. I keep it fresh."
Offset on Cardi B: "My wife's success is one of the biggest things I've ever been a part of. She didn't feel like she had it at one point. The world didn't think she could rap. But I can tell when somebody is going to last, and when I met her, I was already wanting to know her before I ever even heard a song by her. That's why she fucks with me and why our shit is so genuine. I did done some fucked up shit, but she knows that I fucked with her before I even knew she rapped. I knew she was a lost soul that was a superstar."
Takeoff on Versace: "Of course, Versace was popping before us, you feel me? Back in the day, with Biggie and Tupac. But when we dropped that, people was like, 'Okay, It's back in style now.' If you were old school and you had some Versace in your closet, you were pulling it out. If you ain't got none, now you got to go buy some."
Quavo on meeting Donatella Versace: "It was most definitely a dream come true to meet Donatella, to start creating something, and to just know it reached the masses. She ended up playing ["Versace"] on the runway, and that sparked something up, and we ended up having a good relationship with her. Then there was the Met Gala where she dripped us up, and it was like a dream come true. We appreciate the love that Versace shows us. It's much respect."
Takeoff on planning outfits as a group: "Quay and Set, they like to coordinate. They're both wearing Louis, and I come in with my Prada, and they're like, 'Where's the third Louis for him?' Sometime I think it might be a little corny [to match]. We're not the teletubbies, you feel me?"
Quavo on potential collabs: "A lot of people do collaborations because they're not a group. Sometimes you need support from others because they're solo, and with Migos we don't need that."
Offset on home security in Atlanta: "Ever since my house in Buckhead hit the internet, I've had weirdos in my backyard. I'm building a fort right now with an 18 foot wall, all around the house, then I'm going to build a 20 foot wall behind that. In between is where my dogs are going to be at. I got these pit bulls that I've been having since I was 23 — Bentley, Boujee, Fat Mama, and Bando. They love me, but they're not friendly to nobody. So if you find a way to jump my gate, as soon as you get over, it's the pits."
Offset on the struggles of fame and stardom: "I feel like a lot of group's failures was about the power and the fame and not being strong-minded. If someone tells you you're better than the others, you're the one, you're bigger than everybody.' And you carry yourself that way after being told that, you're a weak-minded person. People tell me all the time, 'You're married to Cardi B. You're the real star.' I shut that down immediately. And it kills them so much, and I can see the darkness in their face. By even telling me I'm the star, you're killing my memories. Period."
Click here to order the new issue of HIGHStyle, a Magazine by Highsnobiety
Fashion Credits (in order): Quavo: Coat DOLCE & GABBANA,Top TOM FORD, Pants VERSACE, Shoes DOLCE & GABBANA, Sunglasses VINTAGE from HALL OF FRAMES; Takeoff: Jacket ALEXANDER WANG, Pants ALEXANDER WANG, Shoes NIKE, Sunglasses HALL OF FRAMES; Offset: Top CHROME HEARTS, Jeans RAF SIMONS, Shoes NIKE; Quavo: Jacket ALEXANDER WANG, T-shirt CHROME HEARTS, Jeans EV BRAVADO, Shoes NIKE, Sunglasses VINTAGE from HALL OF FRAMES; Takeoff: Jacket VINTAGE, T-shirt CHROME HEARTS, Pants BALENCIAGA, Shoes NIKE; Offset: Jacket MONCLER X CRAIG GREEN, Pants MONCLER X CRAIG GREEN, T-shirt CHROME HEARTS, Shoes NIKE; Offset: Jacket BALLY, Vest MAISON MARGIELA, VINTAGE from ARTIFACT NYC, T-Shirt CHROME HEARTS, Jeans CHROME HEARTS, Shoes NIKE x UNDFTD, Sunglasses PRADA; Quavo (jumping): All clothing LOUIS VUITTON; Offset (jumping): Jacket and pants MONCLER X CRAIG GREEN, T-shirt CHROME HEARTS, Shoes NIKE, Sunglasses BURBERRY; Offset: Jacket, shirt, pants, and belt VERSACE, Shoes NIKE x CACTUS PLANT FLEA MARKET