Many would consider sneakers collectible items, like baseball cards or comic books.
Sneakers can become particularly valuable in the case of limited edition models or special collaborations, but the rarest of the rare are sneakers that are tied with particular sporting moments, like game-worn basketball shoes. However, the criteria for a collectible sneaker doesn't stop there. We've rounded up a comprehensive list of the 10 most expensive pairs ever sold, including sneakers from the silver screen, historic innovations, and a number of models that graced the feet of the most talented athletes we've ever known.
Dive into our ranking of the most expensive sneakers below.
Nike 1972 Waffle Racing Flat "Moon Shoe"
Sold via: Private auction Sale price: $437,500
Purchased by Canadian collector Miles Nadal, the most expensive sneaker on our list was provided by collector Jordan Michael Geller of Shoezeum, who described the sneakers as the "crown jewel" of Sotheby's x Stadium Goods auction. Only 12 "Moon Shoe" pairs were ever made and these are believed to be the only unworn pair. Prior to the sale, the sneaker was predicted to fetch between $110,000 and $160,000. In 2016, another pair sold for $11,200 on eBay.
Michael Jordan's Game-Worn Converse Fastbreaks
Sold via: Private auction Sale price: $190,373
Before Michael Jordan's eponymous footwear brand launched, the Jumpman himself regularly donned high-top Converse Fastbreaks while playing for University of North Carolina (and elsewhere) before joining the NBA. This particular pair was worn during the 1984 Olympics for a gold-medal-winning match against Spain. They were sold in 2017 via private auction and come complete with the star's autograph on the upper and his orthotic inserts inside.
At the time of the auction, Converse was also interested in procuring the shoes, until the auction price became too costly. "At first they were like, 'Whatever it takes,'" Converse archivist Sam Smallidge told Sole Collector, when detailing how he was instructed to acquire the shoes for Converse's archives. "For me, the shoe is super interesting to look at, but then I think I'd have a heart attack worrying about keeping it safe," he added.
"Flu-Game" Game-Worn Jordan 12
Sold via: Online auction Sale price: $104,765
Flu-like symptoms struck down Michael Jordan during game 5 of the 1997 NBA finals, in what would eventually become known as "flu-game." Whilst Jordan was visibly fatigued throughout, he went on to score 38 points and win the game for the Chicago Bulls. The pair of sneakers worn by the Jumpman during this epic sporting feat were sold by former ball boy Preston Truman via an online auction back in 2013, along with the accompanying game-worn socks. The black and red "Flu Game" colorway has also been treated to a number of retro releases of the Jordan 12, including in 2016, 2009 and 2003. Some Jordan fans prefer the version of the story where Jordan was not sick – instead, they believe he spent the previous night at a casino and was hungover the next day, though this remains just a rumor.
2016 Self-Lacing Nike MAG
Sold via: Private auction Sale price: $104,000
Although Marty McFly's original Nike Air Mags from Back to the Future Part II weren't self-lacing, in October 2016, Nike finally released 89 pairs of fully-functional Air Mags via a charity raffle. Tickets were $10 each, and all proceeds ($6.75 million) went towards the Michael J. Fox Foundation for Parkinson's research. Just two months after the sneakers were released, a pair sold via an auction house in Hong Kong for $104,000. The 2011 version was followed by the 2016 Nike MAG, before the auto-lacing technology was used in a more practical way for the Nike HyperAdapt and Nike BB Adapt sneakers.
Single Nike MAG from 1989 ("Back to the Future II")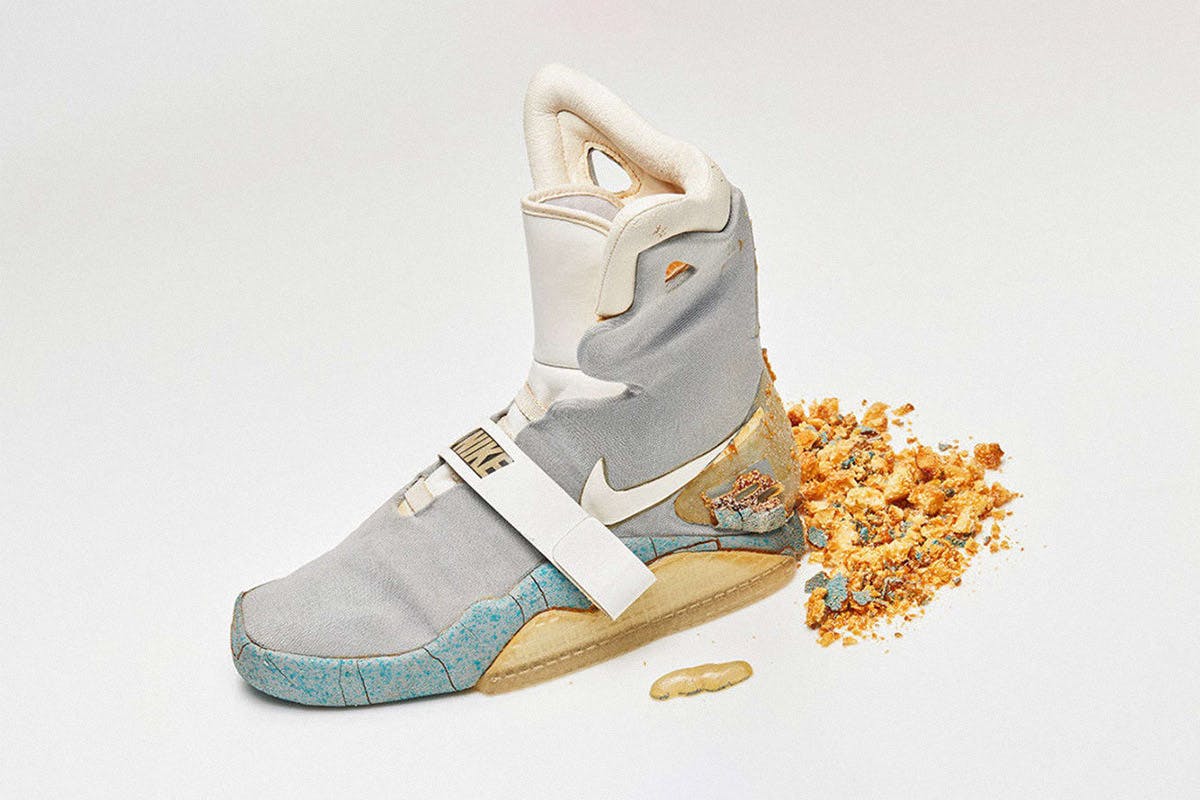 Sold via: Online auction Sale price: $92,100
While the 2016 Nike Air Mags are fully functional, this single shoe from 1989 is crumbled at the heel and severely yellowed. Despite this, it still sold for nearly $100,000, due to the fact that it was one of only a handful of original movie props produced for the actual movie. It's unconfirmed whether Michael J. Fox himself ever wore this pair, although multiple sources claim it came directly from the personal collection of a long-standing Nike employee.
Stephen Curry Game-Worn Under Armour 6 "Moon Landing"
Sold via: Online auction Sale price: $58,100
After Stephen Curry sparked heated debates online by claiming the 1959 moon landing was staged, the NBA star appeared on the court a few weeks later wearing a custom pair of Under Armour 6. The shoes depicted the moon's surface and were reminiscent of a certain Nike Air Max release. Curry later confirmed his initial statement was a joke and listed the signed pair on eBay, with all proceeds going towards scientific education initiatives.
Eminem X Carhartt X Nike Air Jordan 4 Retro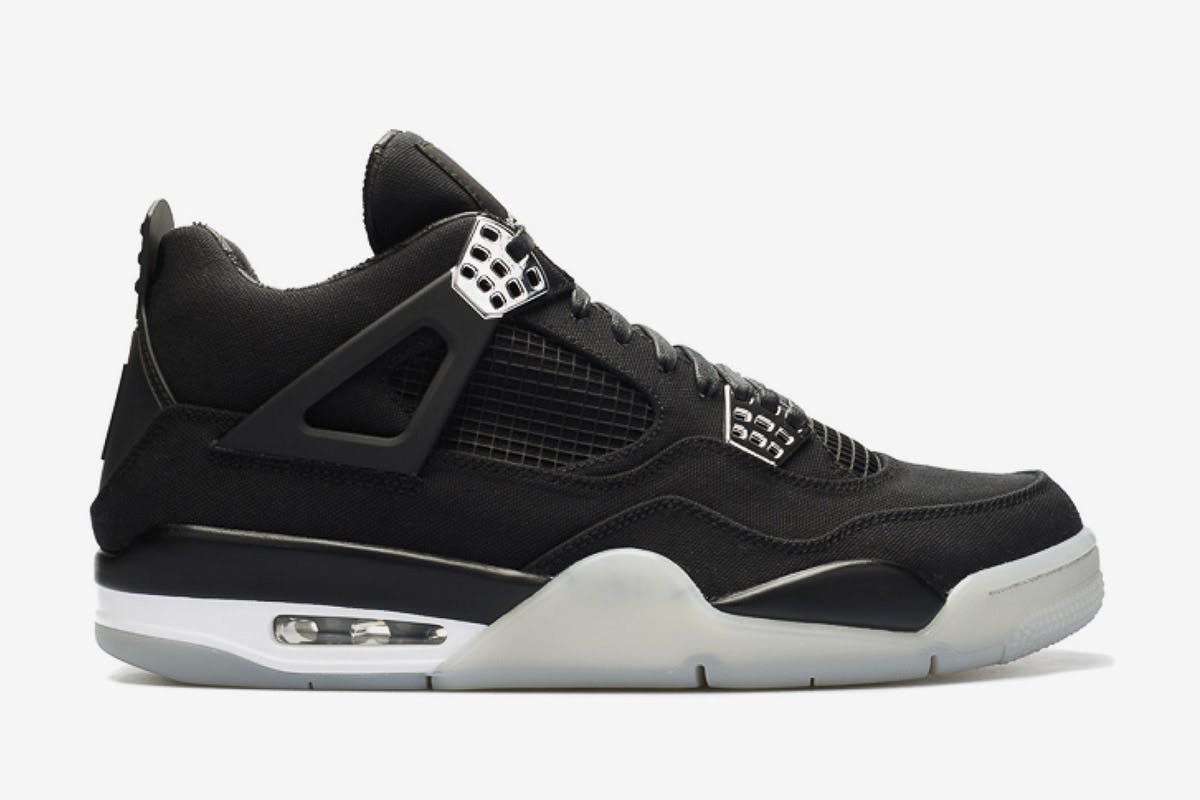 Sold via: Online auction Sale price: $30,100
Eminem has collaborated with Nike several times over the course of his career, creating a few models that could rank on a list of the most expensive sneakers, however none of the rapper's previous efforts have trumped the three-way collaboration between Slim Shady, Carhartt, and the Jordan Brand. The trio auctioned off an extremely limited amount of pairs to celebrate the 15th anniversary of Shady Records, with all proceeds going towards the Marshall Mathers foundation – $227,000 in total.
DJ Khaled Air Jordan 3 "Grateful"
Sold via: Stadium Goods Sale price: $20,000
It's certainly no secret that DJ Khaled is a well-versed sneakerhead, as well as being the man behind some of the most coveted tracks in popular music; in 2017, Nike gave him the opportunity to design his very own AJ3 'Grateful'. It featured iconic Nike cement patterning and a dual-branded "WE THE BEST" Jumpman hangtag. The laser-red pair quickly rose to grail-status for many Jordan fans around the world.
Nike Air Jordan 5 Retro Michigan Fab Five
Sold via: Stadium goods Sale price: $20,000
In 2017, Nike announced that Tinker Hatfield was set to design an Air Jordan V dedicated to the University of Michigan's 1991 recruiting class, otherwise known as the Fab Five. They were highly regarded as one of the greatest basketball squads of all time, so it was only right to immortalize their legacy in sneaker form. The pair is decked out in team colors and custom motifs and the sneakers were exclusively gifted to friends and family of the Jordan Brand. Eventually, several pairs sold on the resale market for sky-high prices.
UNDFTD X Nike Air Jordan 4 Retro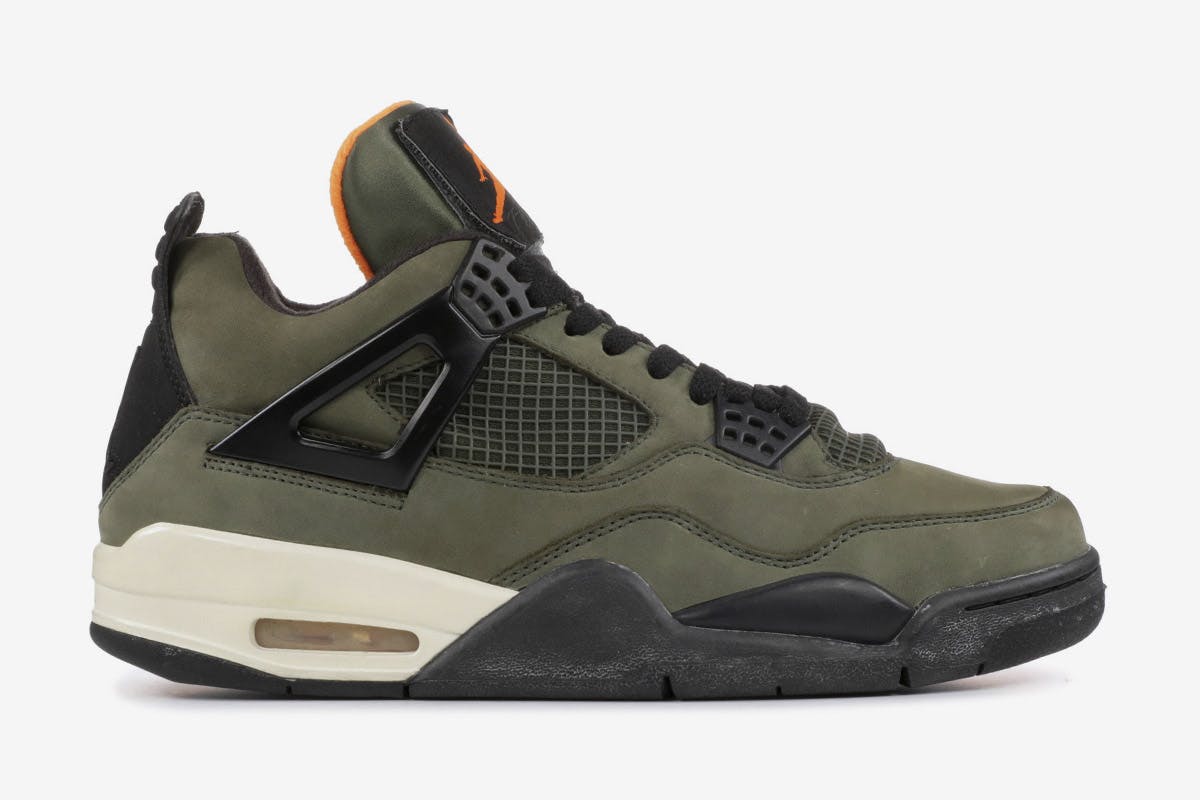 Sold via: Stadium Goods Sale price: $18,500
2005 saw LA-based sneaker boutique UNDFTD team up with Nike and Jordan Brand to work on an AJ4, rounding out our list of the most expensive sneakers. The collaboration came in a militaristic khaki-green colorway and was limited to just 72 pairs that were gifted to friends and family – a retail release never happened. When New York-based consignment retailer Stadium Goods first opened, this pair was the most expensive in the store, priced at $24,500 – eventually, someone managed to walk away paying "just" $18,500.