This article was published on October 5 and updated on October 11
AC Milan's fits looked quite different (extra stylish, even) on October 4 as the team made its way to London for the UEFA Champions League against Chelsea. It's because the Italian football club's new uniforms were courtesy of Virgil Abloh's Off-White™.
The team's pre-pitch 'fits — cream AC Milan x Off-White™ varsity jackets reminiscent of Abloh's Louis Vuitton outerwear — essentially confirmed Off-White™ and AC Milan's new partnership, in which the luxury streetwear brand serves as the team's Style and Culture Curator.
If the varsity jackets, which will be available for pre-order to the public starting on October 11, didn't scream partnership enough. In that case, there's always AC Milan's new team bus, which sports oversized Off-White™ and AC Milan's branding along with the words "Players Inside" in Virgil Abloh's signature quoted typeface.
As the Style and Culture Curator, Off-White™ will outfit AC Milan men's and women's teams during match days, with the varsity jacket 'fits posing as an appetizer of what's to come.
With Off-White™ and AC Milan's partnership also comes fresh team suits. Equipped with sleeve patches that read "I support sport for change," the formal uniform underscores the duo's "WEAR YOUR HEART ON YOUR SLEEVE" campaign, which encourages players and fans to speak up for their beliefs.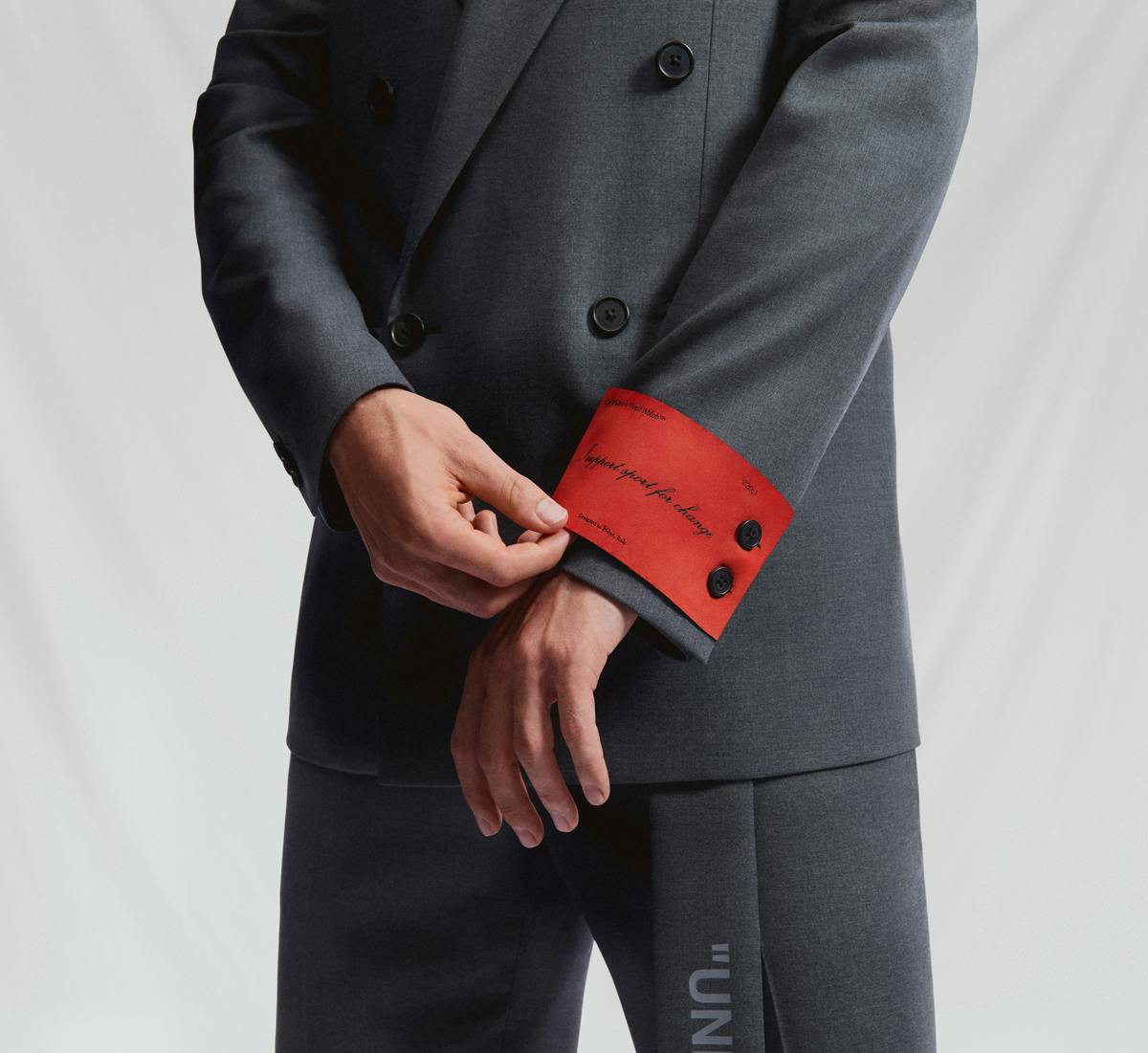 The partnership's patch also plays on Abloh's "I Support" initiatives. The recurring narrative often spotlights minority and underrepresented communities, evident with his "I Support Black Women" and "I Support All Forms of Love."
AC Milan and Off-White™'s partnership spans far beyond the world of clothes. Practicing the common ideals they preach regularly, the two will also host charitable projects and support community initiatives, starting with the varsity jacket release.
All proceeds from AC Milan's new Off-White™ varsity jacket sales will go toward AC Milan's charitable foundation Fondazione Milan.
With PUMA holding it down on the pitch and Off-White™ dictating pregame wardrobe, AC Milan has a pretty solid fashion dream team on its hands.
So, what can we expect from Off-White™ and AC Milan moving forward? I suspect zip-ties, arrows, and more quoted phrases will make their way into AC Milan's 'fits.
I'm just guessing, of course. But, here's a hint from AC Milan and Off-White™: "Expect the unexpected."