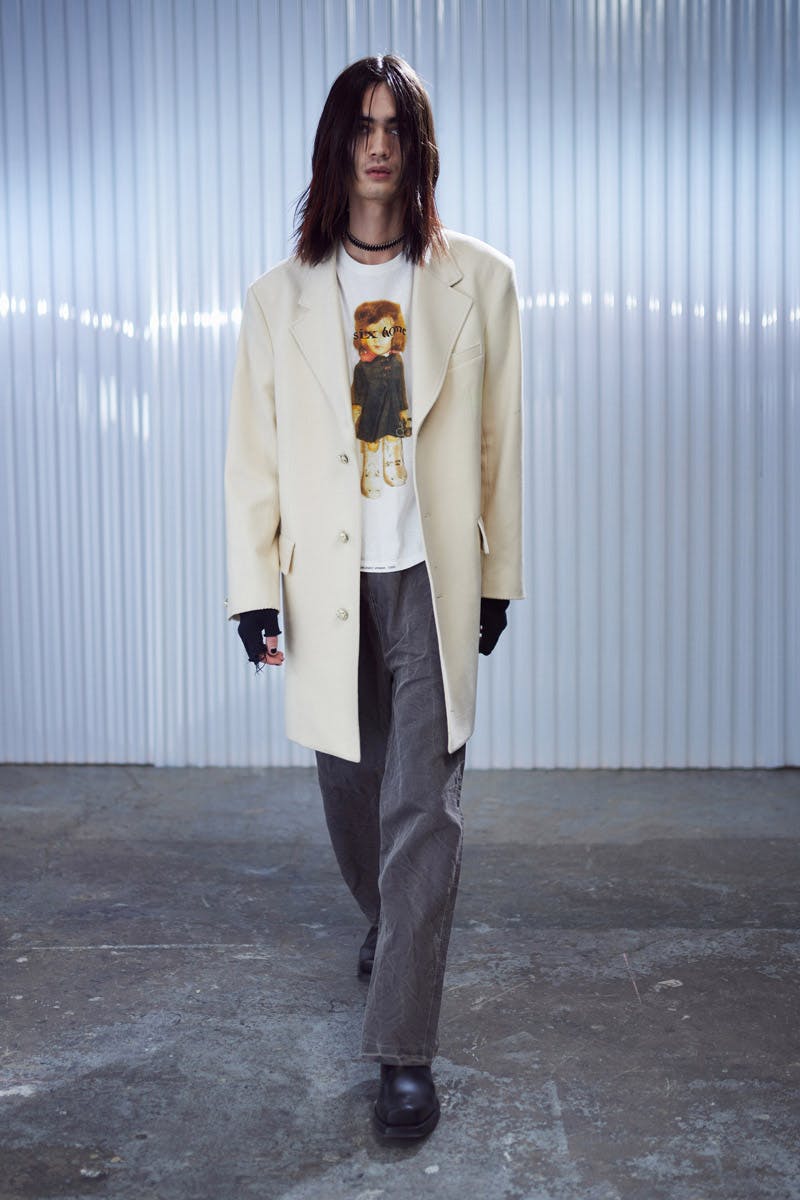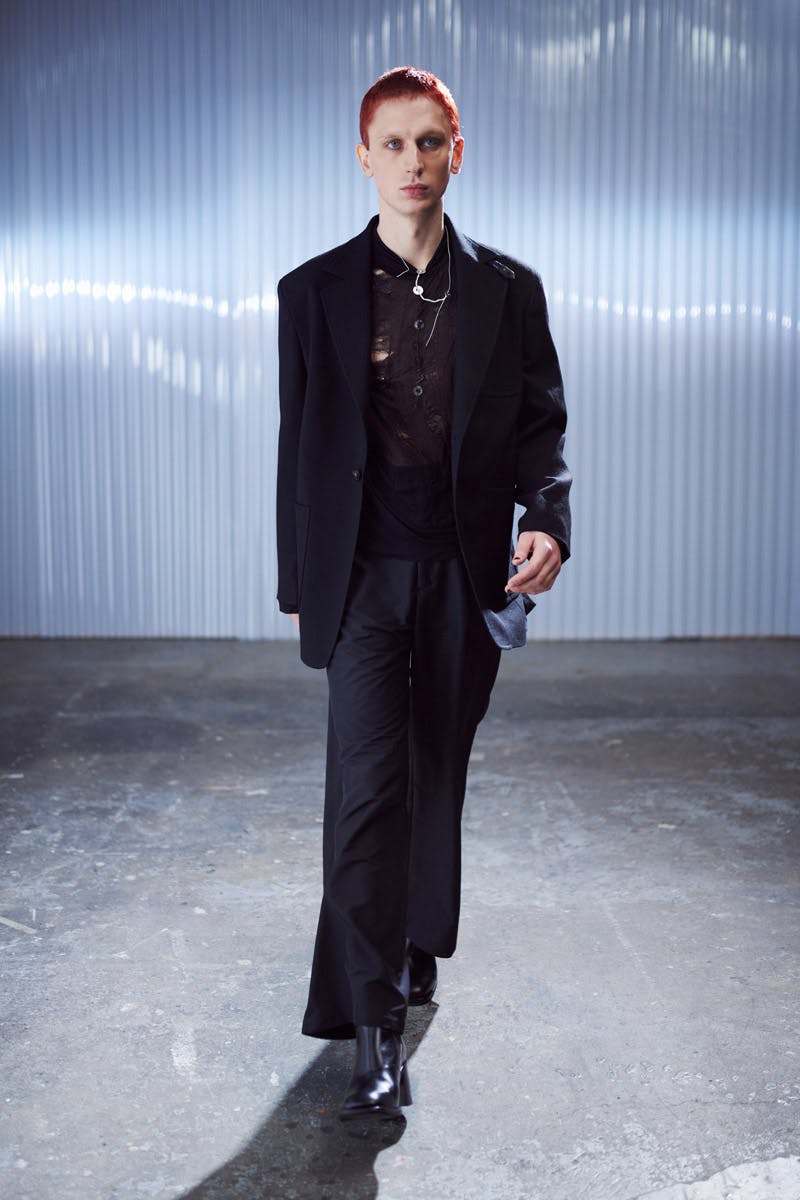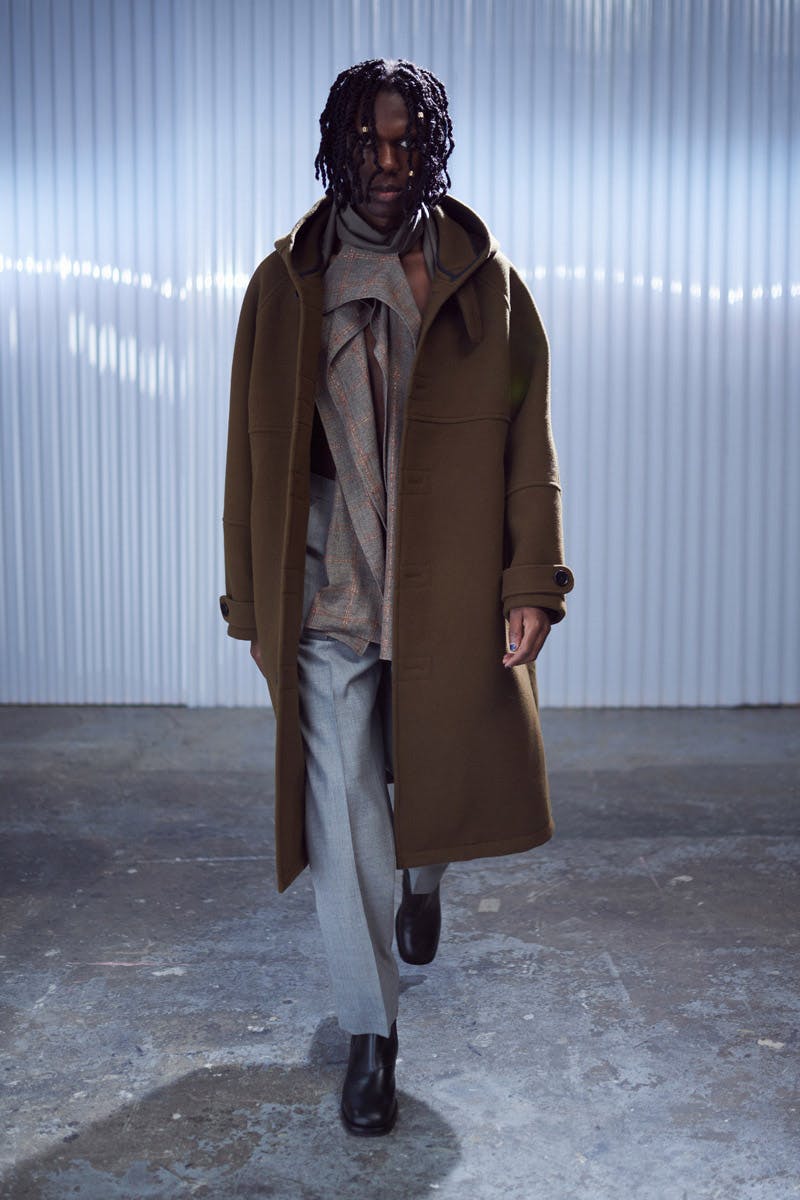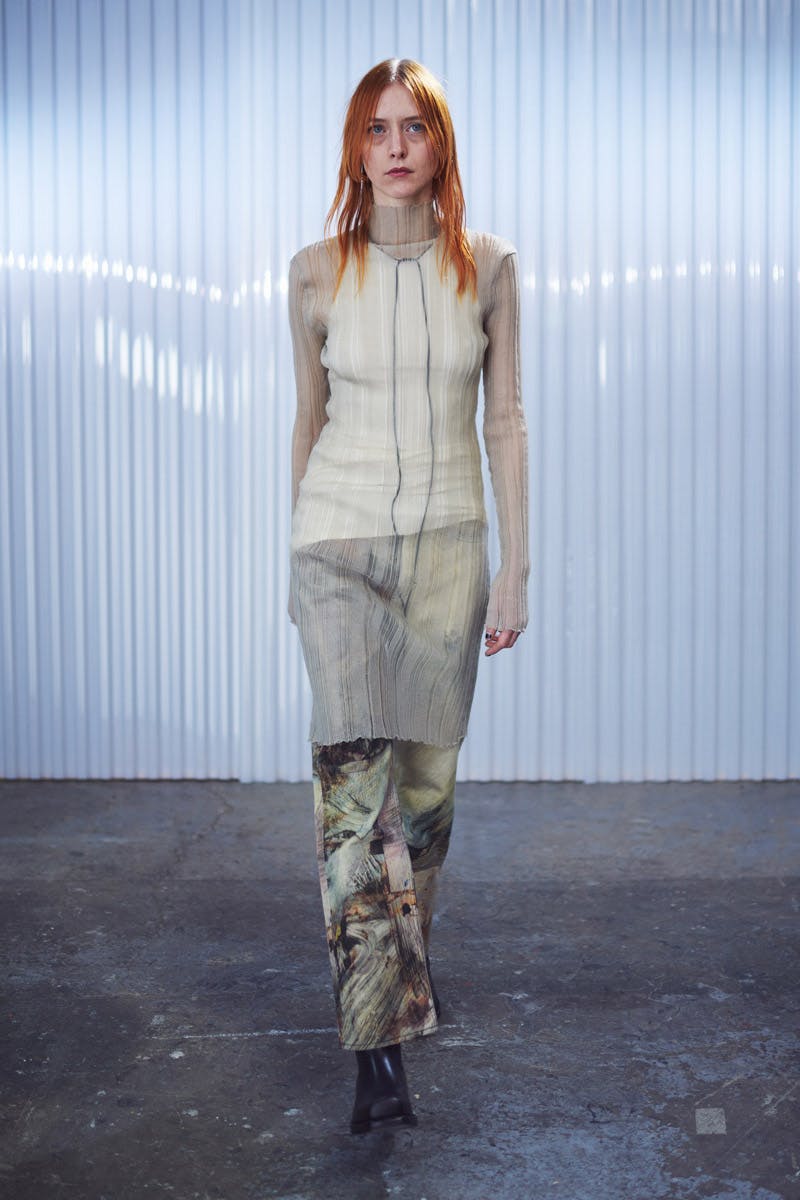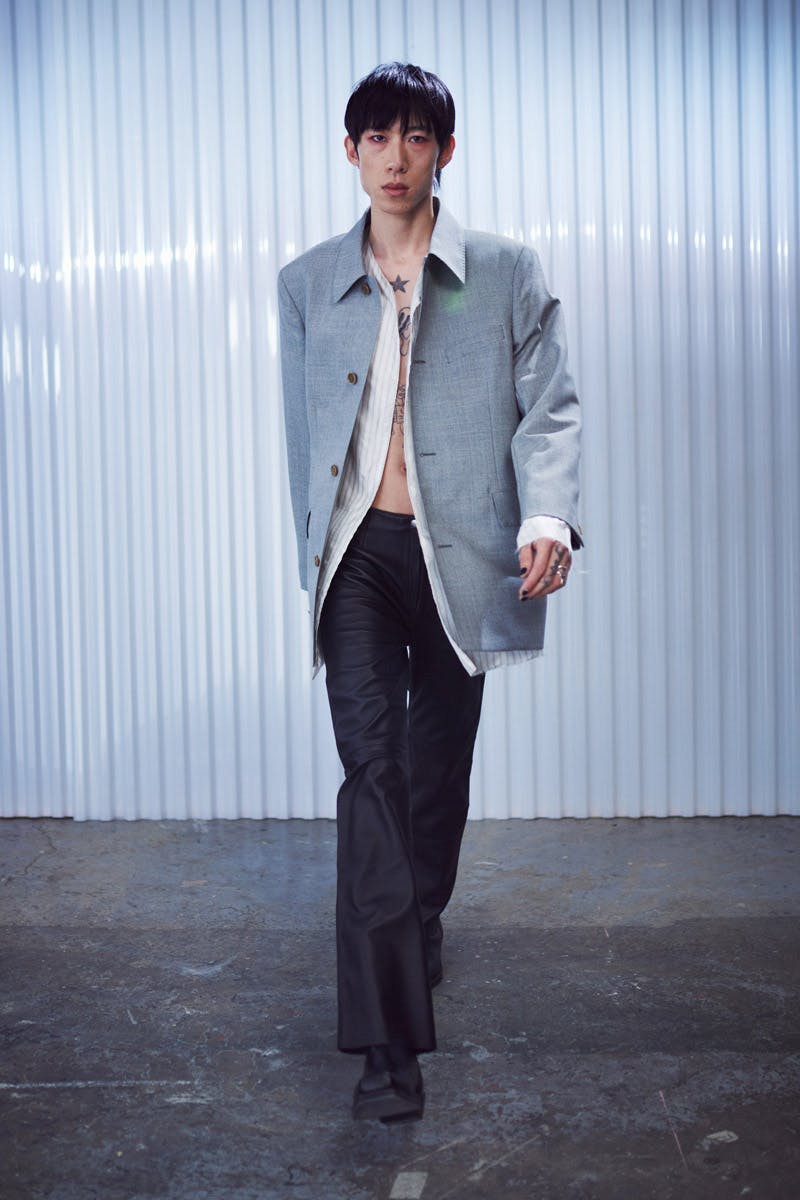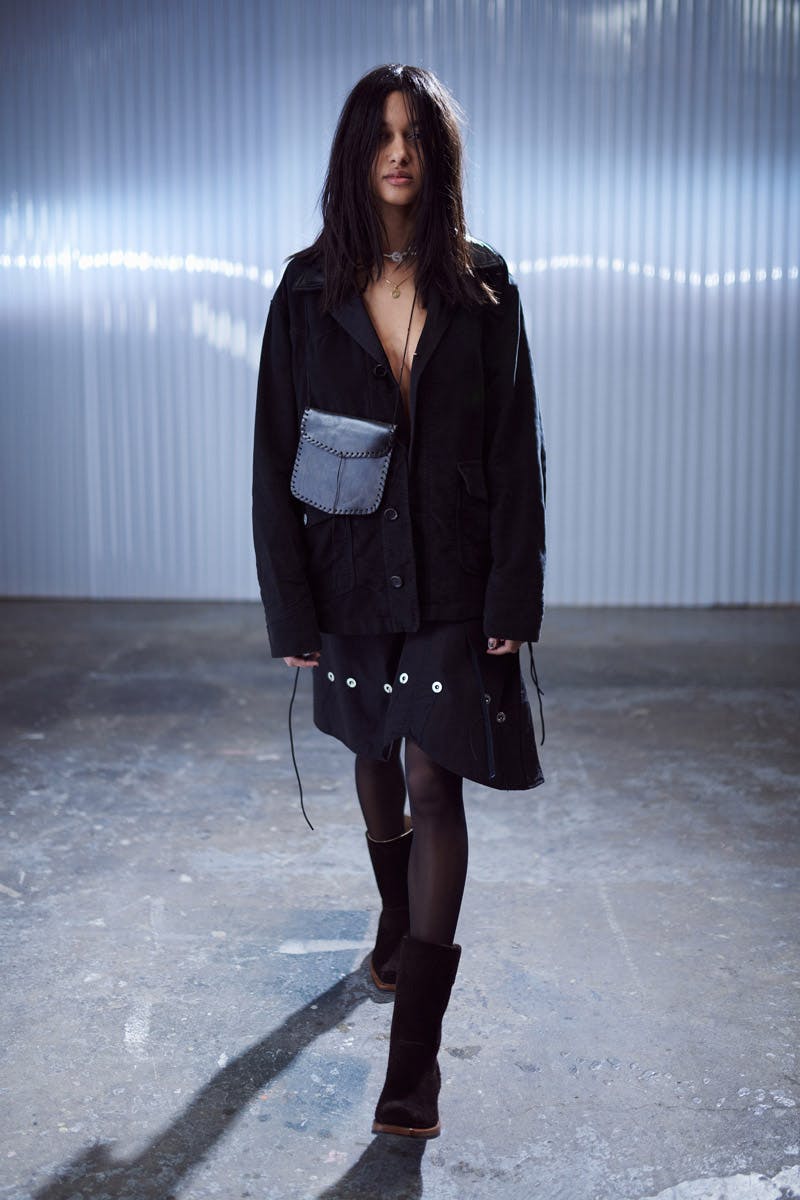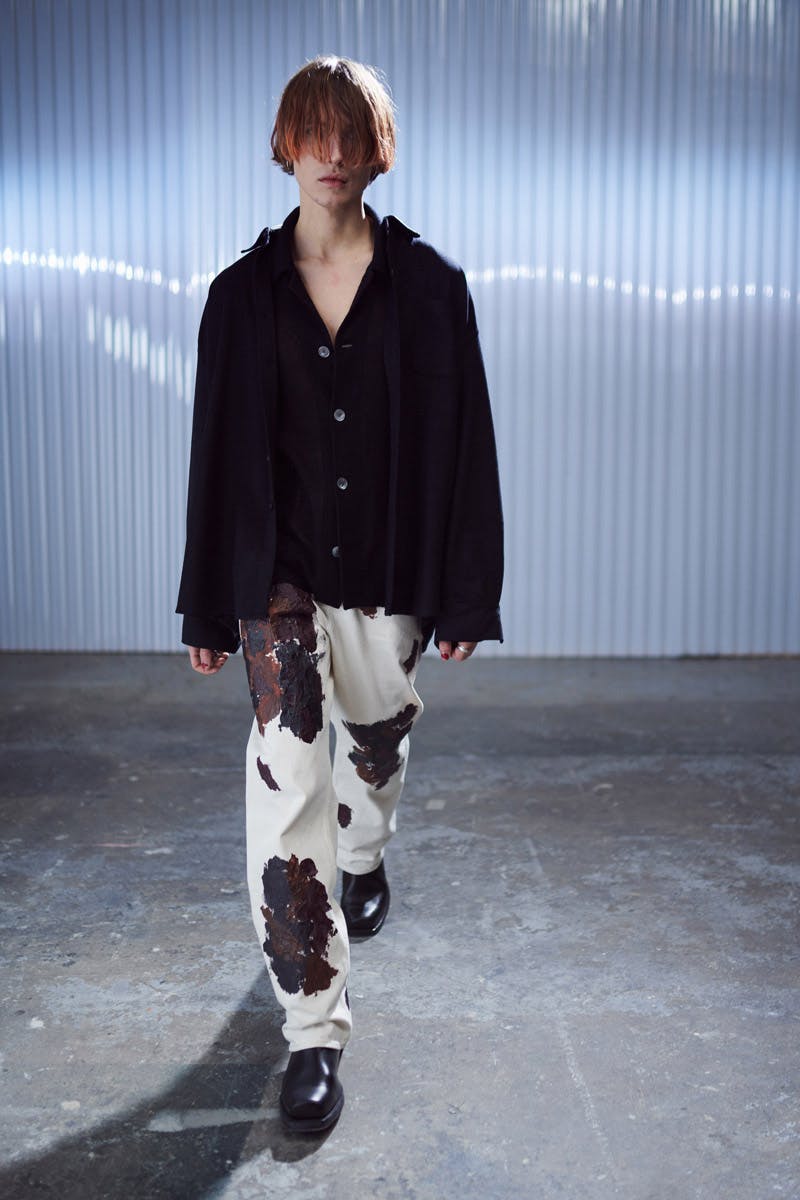 Our Legacy could never stand accused of playing it safe.
For FW20, the much-cherished Swedish label goes fluid by mixing male and female looks once more. The collection, dubbed "Artificial Violence," mines inspiration from psychedelic thrillers (see the demonic doll print that looks a bit like Chucky in slide #1), while harnessing the spirit of youthful rebellion. Disheveled, oversized suits; sheer shirts; and wide-leg pants account for some of the more eye-catching pieces, but as always, it's a solid effort across the board.
Yesterday in Paris, Highsnobiety editor-in-chief Thom Bettridge caught up with Our Legacy co-founder Jockum Hallin. Read what the pair chatted about below.
There's a conversation going on right now about streetwear versus tailoring, but I feel you guys exist in a third dimension. How do you see Our Legacy relative to the fashion conversation at large? Or do you even care about the fashion conversation at large?
We care and we don't care. As soon as we've felt squeezed into a corner with people expecting us to do a certain thing, we freak out a little bit. We started this because we wanted stuff we'd wear ourselves. We didn't have this grand design idea; we just wanted to make good stuff for ourselves. That's what keeps on pushing us. Now, of course, we've conceptualized the lines and the collections have a bigger idea, but we still don't want to be [put in a box].
We've been doing fashion stuff, kind of streetwear-y stuff, and we've been doing tailoring. We'll keep on doing what we do. We're not too concerned with what other people are talking about out there. That said, Cristopher [Nying, Our Legacy's co-founder] and I have been involved in fashion since we could work weekends in the local fashion store as 14-year-olds.
Who were your influences back then?
This was around '97, so Helmut Lang was god.
I was drawn to these Chucky-like T-shirts that you guys have. I feel like this kind of horror has been re-imagined a lot, in the context of fashion. What brought you guys to that symbolism?
Aside from the fact that it's aesthetically appealing, there are a lot of [disparate] elements going on in horror — the good and the bad, the scary — that you can puzzle together to make interesting stuff.
Horror is a scary place, but it's also a safe place. The world right now is not a safe place. So we tend to go for something that's challenging but safe. You know it's scary, but not for real. You can turn it off. We always tend to go back to our youth. It's when you find out that the world can also be a hard place; the first time you watch a horror flick, or peek into a door you shouldn't peek into, or come across your first antagonist.
I remember when I visited your studio a couple of years ago, you guys had these really amazing cassette tapes of the OutKast album, Aquemini, and a couple other really good hip-hop cassettes. 
Fugazi as well!
Fugazi was in there, of course. I feel like you have this really interesting outside take on American pop culture. Is that something that you talk about?
I mean, we've grown up with that stuff, and it's very far from Sweden. Back then, you couldn't just Google stuff. It was hard work to get to know stuff about your favorite culture, be it music, art, or whatever other subculture. It's our take; our fantasy of how it really was.
It's like you guys have a fantasy about this pop thing. And then I think, for an American kid, Our Legacy is this chic European thing. It goes back and forth. It's like a circle of desire.
It's funny. I mean, we're never too obvious. We try to hide [the influences] under layers. If you lived in it at the time, you can perhaps sense the references. Kids now maybe see it as fun, but refer to it in a different way. We're leaving it open for you to interpret.
Are there any other pieces that you feel sentimental about in the collection?
We have denim that is digitally printed with our favorite vintage denim. It looks like a really worn denim, but when you come close, it's just a print. That can feel a little tacky, but when you feel it [and] you have that illusion, it's interesting.
It's very conceptual, the memory printed on the real thing.
There's also the environmental aspect of not having to drain thousands of liters of water. But it's also a very visual kind of illusion that's nice.
You mentioned pushing yourselves — what is the most uncomfortable thing you guys have ever done?
Since there are a lot of different people involved in the process, it's different for everyone. But I think since launching womenswear a couple of seasons back, Cristopher sees it as a challenge to create an interesting tension, mixing the womenswear with the men's. Of course, putting menswear on women is not as challenging and is more accepted.
It's not genderless, because it's menswear and it's womenswear: A man's body is built in a special way and a woman's body is built in a special way. If we put a women's blouse on a guy, then it creates a [completely] different silhouette.