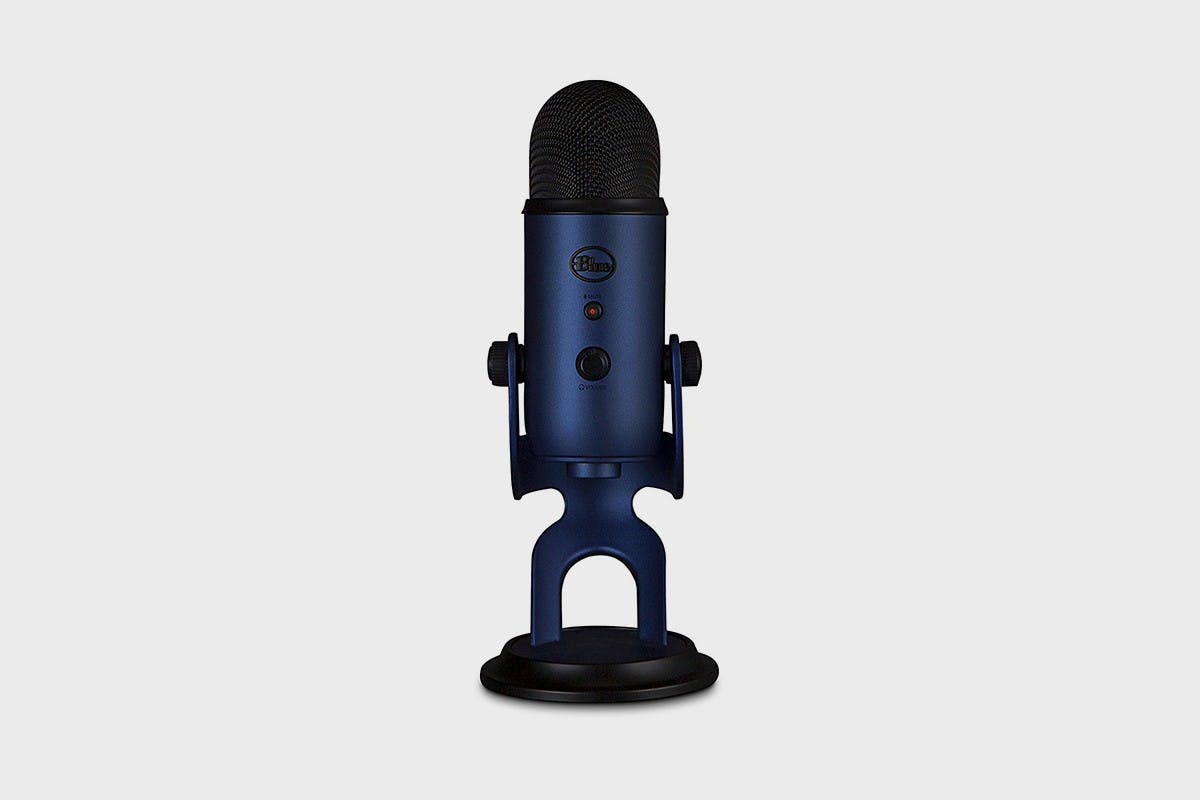 It seems like everyone is starting a podcast. And that's not far from the truth. There are currently more than 700,000 podcasts and more than 29 million episodes out there. Thinking about starting your own? Don't let the meteoric numbers put you off. If you have an idea, and the right equipment, starting your own podcast is pretty easy. First, you'll need a topic your passionate about, one that'll interest an audience too. Second, plan to spend a little money on some basic equipment. Some things, like microphones, are a necessity, but they won't cost you your month's rent.
Blue Yeti USB Desktop Microphone
If you don't have a massive budget, or a lot of room, this microphone from Yeti has everything you need. It's basic — you won't get insane sound quality at up to 16-bit, 48 kHz resolution, so audiophiles should look elsewhere — but it's easy to use, and has a tri-capsule design, meaning you can use it to record in multiple situations and settings. It's relatively light and easily portable, and also comes with a USB output for plug and play and a 3.5 mm headphone jack so you can listen while recording.
Electro Voice RE-20 Cardioid Microphone
This XLR mic isn't for beginners — the heavy-duty mic is for professional-grade podcast production. Yes, it's pricey, but this model has a frequency response of 45Hz to 18kHz and has blast and wind filters covering the acoustic openings. The kit comes with a shock mount, broadcast arm, and microphone cable — everything you need!
Audio Technica ATH-M50x
You'll need some headphones during recording so you can both hear other hosts or interviewees clearly, and cut out surround sound so you can focus. They don't need to be amazing quality, but these Audio-Technica AT-M50X studio headphones are affordable, good sound isolation, and can easily be used for all your other audio needs.
Primacoustic London 8 Room Kit
Sound-proofing your room is pretty important to get a crisp sound quality, especially if you're paying less for a mic — don't underestimate it, you won't want your neighbor's conversation with their mom in the background. The Broadway London 8 room kit is perfect for rooms up to 100 square feet and can be easily combined with other kits for bigger spaces. The panels are affordable, easy to install and look decent so you can leave them up in between recording sessions.
Rode NT2-A Microphone with Primacoustic VoxGuard and Tripod Mic Stand
We get it, you're impatient to start. If you don't want to spend a lot of time looking around for equipment and reading reviews, this kit has pretty much everything you need — a Rode NT2-A microphone, SM6 shock mount, XLR cable, dust cover, and a VoxGuard that significantly reduces noise pollution. The Rode NT2-A is a highly flexible mic, comes with a 10-year warranty, and has a frequency response of 20Hz to 20kHz. This kit has everything you need to create a mini sound studio — all you need to provide is the actual room.
Our designated Selects section features products that we love and want to share with you. Highsnobiety has affiliate marketing partnerships, which means we may receive a commission from your purchase.