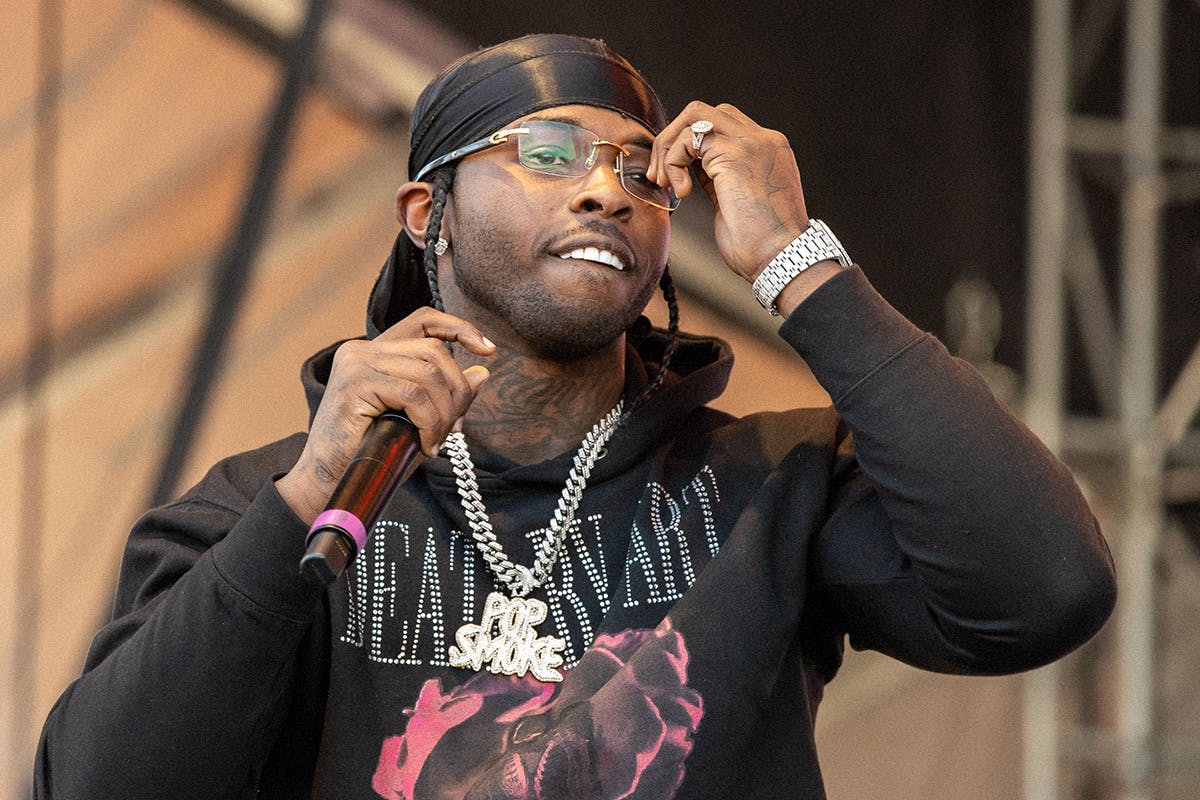 Pop Smoke was shot and killed in his Hollywood Hills home at 04:30 AM Wednesday morning in what TMZ now reports could have been a targeted hit. He was 20 years old. No arrests have been made at present but you can find the full story as it develops here.
Ever since news of Pop Smoke's passing broke earlier this week, heartfelt messages from his industry peers began flooding in. Lil Tjay is the latest to pay tribute to the late East Coast rapper. In a new track titled "Forever Pop," Tjay's lyrics explore Pop Smoke's legacy and attempt to make sense of the tragic event.
"Took you out your glory, who wanna see you lose? /  Woke up in the mornin', see my nigga on the news / And I'm still like "Damn," tryna put together screws ... / Said a lot, but still it feel like I ain't even speak yet / Tryna hit a pocket that I still ain't even reach yet / But I still can't comprehend this shit, it hit me in the heart."
"Forever Pop" samples Pop Smoke's track "Like Me." Listen below and keep scrolling for more tributes.
Pop Smoke's close friend, Mike Dee, took to Instagram to share an emotional message shortly after the news first broke. Posting a childhood picture with Smoke, Dee wrote, "CANT NOTHING EXPRESS THE PAIN IM FEELING...I JUST LOST MY FUCKING BROTHER."
Nicki Minaj, Chance the Rapper, 50 Cent, Kylie Jenner, and others are among those celebrities that have taken to social media to pay their respects to Pop Smoke, who was at the start of what promised to be a brilliant career.
Read the tributes below.
Nicki Minaj
Chance the Rapper
Snoop Dogg
50 Cent
Nas
Meek Mill
Megan Thee Stallion
Young M.A
Quavo
YG
Gunna
Tyga
Swae Lee
A Boogie Wit Da Hoodie
Kehlani
Kylie Jenner
Ybn Cordae
Freddie Gibbs
Juicy J
Dreezy
Lil Durk
G Herbo
Fat Joe
Lupe Fiasco
Ludacris
Quest Love
Ice T
The Breakfast Club
Mulatto
Shaun King