The concept of urban exploration ("urbex" or "urbexing") has arguably existed for as long as there have been urban centers to explore. At its heart, urbex is the act of exploring cities and metropolitan areas for lost, hidden, or long-forgotten spaces; a subversion of traditional exploration hobbies such as caving, spelunking, and deep sea diving, where instead of delving deeper into the wild, explorers turn inward and rediscover places that inevitably become buried as a city builds and rebuilds on top of itself.
But urbex first rose to prominence at the turn of the millennium with the emergence of popular cable TV shows exploring the phenomenon, as well as increased access to affordable digital cameras and camcorders allowing explorers to document their escapades.
In the nearly-two decades that have passed since then, the visual language of urban explorers has become a natural part of our vocabulary. You can see it in Instagram photos of feet dangling off a skyscraper's edge, GoPro videos granting access to spaces never documented on film before, abstract shots of architectural wonders, and atmospheric photos of derelict buildings, abandoned theme parks, and empty, deteriorating concert halls and theaters. Urban exploration is a fascination with the scope and scale of human endeavor, and how in even the most populated places on the planet, there are still places ready to be rediscovered and explored from a new perspective.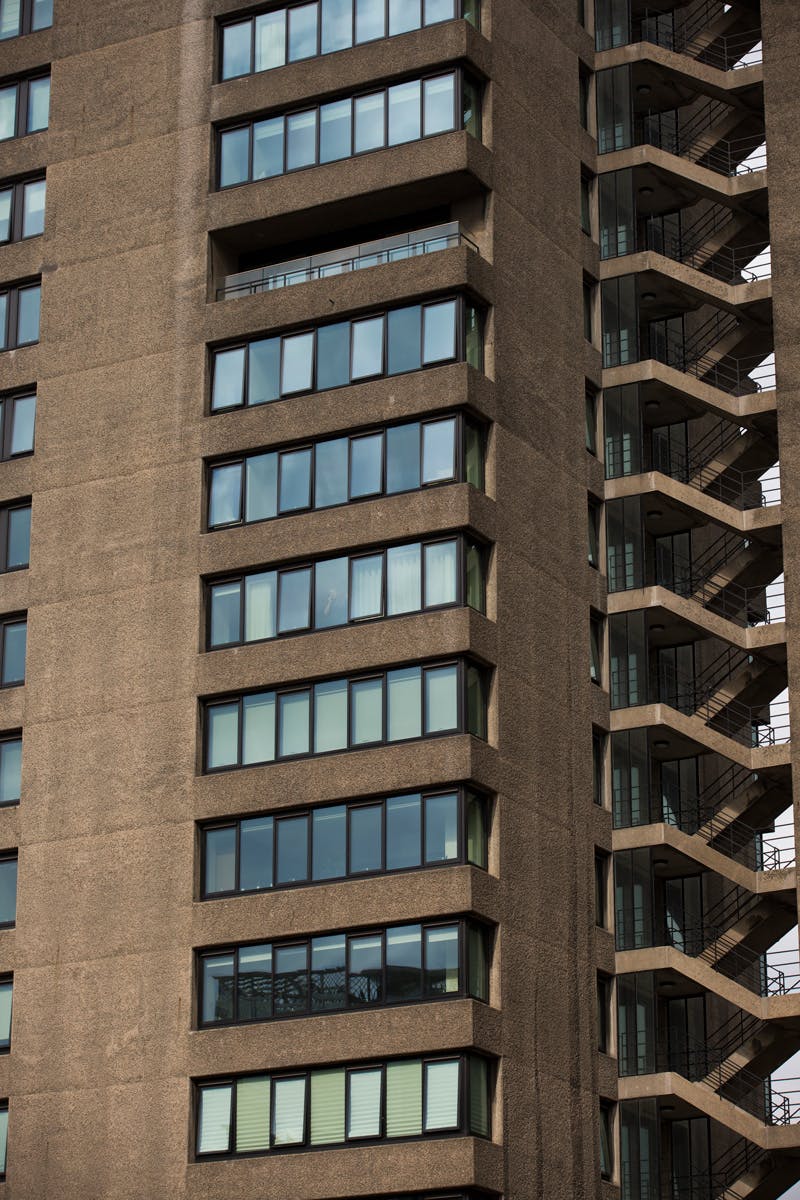 For the grand reveal of its new masculine fragrance Black, Prada has turned its attention to the phenomenon of urban exploration and how it evolved into its current form. Inspired by the sensation one feels discovering a new side of a familiar landscape and those moments of reflection we experience making our way through city centers, Black's minimalist bottle stands in contrast with Prada's typical vibrant color palettes, stripping away even the brand's signature red Linea Rossa bar, leaving just a white Prada logo against a stark black background.
To bring the spirit of the new fragrance to life, Prada teamed up with two photography talents in New York City and London whose work explores and elevates the phenomenon of urban exploration. Though their craft is informed by the contrasting elements of their two respective cities, each photographer's work communicates something universal and familiar about the nature of life in the city.
Steve Sweatpants, a photographer born-and-raised in NYC who first rose to prominence documenting the city's vibrant street culture and sprawling architecture, switched up his angle for this project, taking to the skies in a helicopter to document New York from above and discovering a whole new way of viewing the city.
Meanwhile, London-based street style photographer GarconJon, took the opportunity to document the English capital's broad array of historic and modern architecture, capturing familiar landmarks in abstract styles and, in the process, championing the lost art of slowing down, looking up, and taking in the finer details of the world around you as you pass through the city.
Cop Prada Black at prada.com or at Macys.com, and stay tuned for more updates from the Prada Black urban exploration project.