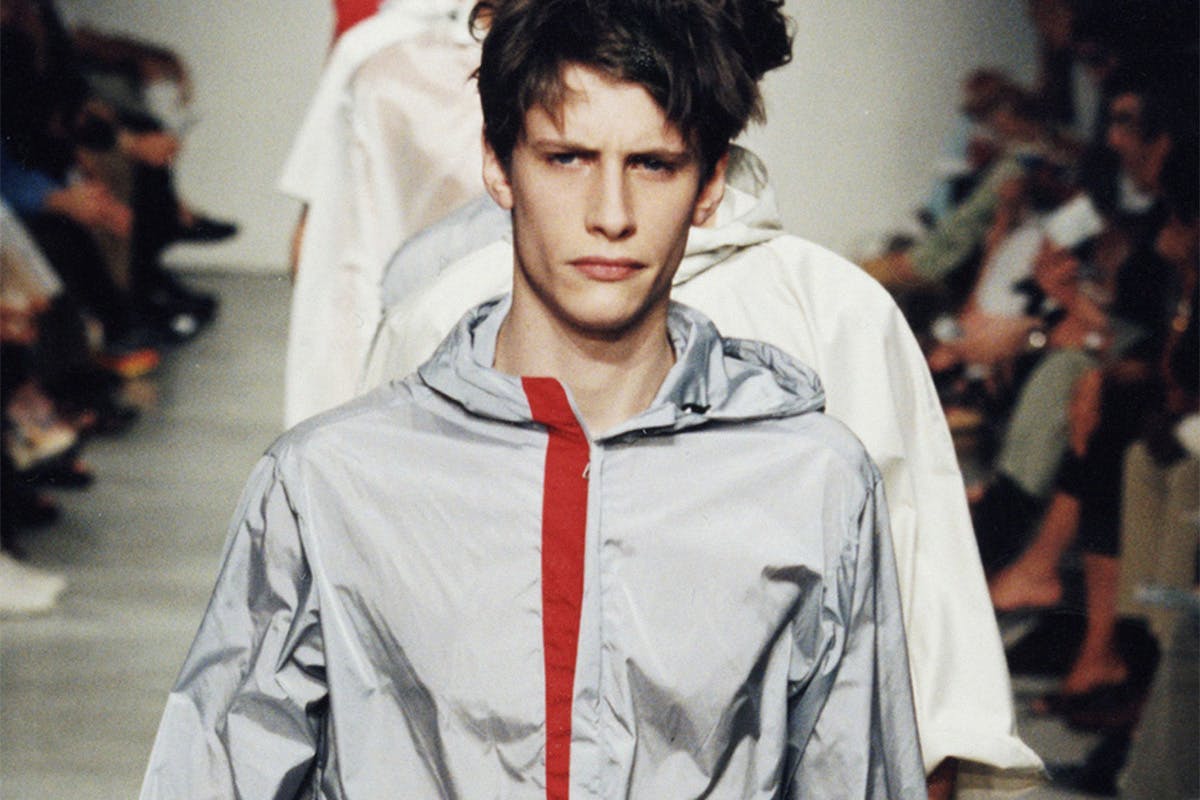 In 1984, Prada unveiled the now-legendary nylon backpack, a lightweight travel bag made from the same industrial-strength synthetics used for Italian army tents. It was priced like a luxury leather bag. It was marketed as a must-have accessory.
Reflecting on the bag in a 1990 interview for The New Yorker, Miuccia Prada said she wanted "to mix the industrial way of doing things, with the patrimonio of the past, with the artisanal tradition."
This fascination soon found a home on the runway. By the mid-90s, Prada's "wrong chic" collections grabbed attention through "the use of wrong materials," notably "the use of nylon no longer just for bags." Industrial nylon – that mass-produced plastic first used in stockings and parachutes — had not walked in high fashion collections before; its vulgarity, its utility, no matter how styled, was therefore wrong.
How times change.
In a world of Speed Trainers and Moncler Noir, this sort of fashion-function gatekeeping seems as stuffy as a luxury puffer. Yet, what was then heretical is now orthodoxy thanks to the vision – and distribution – of a different Prada breakthough: Prada Sport.
Barrett Goes High Caliber
Imagine, if you will, the world before jogger pants.
In the early '90s, designer Neil Barrett (then at Gucci) approached Prada CEO Patrizio Bertelli with the idea of a Prada Men's collection. Bertelli bit. The first season of Prada Men's launched Fall/Winter 1995, composed of minimalist menswear. Barrett, indeed, can claim credit for launching the "monochrome" look for men's fashion: from the maximalist power-tie '80s to a Matrix decade of matching shirts, suits, and ties.
Barrett, however, believed in more than just coordinating colors.
In the words of legendary fashion critic Tim Blanks: "Those first hugely influential collections he designed when he was at Prada in the mid-90s, where his concept – to take sports fabrications into tailoring, and tailoring fabrics into sport – radicalized menswear."
Barrett's first collections for Prada may have helped pioneer the socio-cultural phenomenon we now call "athleisure," but in hindsight, his innovative ready-to-wear appears a test case for something much bigger.
In 1998, Prada launched the house's first-ever sportswear line, the aptly named "Prada Sport." It was a common move, at the time, for a fashion house to launch athletic diffusion lines: Issey Sport, Dior Sport, Burberry Sport, and many others line the halls of haute couture history. What made Prada Sport uncommon was its sheer ambition.
"When Prada Sport sport came out in the late '90s I thought that it would be a failure," recalls Eugene Rabkin, editor of StyleZeitgeist magazine. "Needless to say that the joke was on me. So, in a way, Prada Sport was a visionary move, whether I liked it or not."
While the "Sports" of sports past typically dealt in the safety of high-margin logowear, Prada Sport – with Barrett at the helm – came out swinging. The line's first-ever collection included collaborations with Swiss textile hub Schoeller and other world leaders in performance fabrics. "With the Elkton, Md.-based W.L. Gore & Associates, makers of the high-performance fiber Gore-Tex, Prada developed a group of thermo-sealed items that are laboratory tested for severe weather conditions," boasts a 1998 Forbes feature on the line's debut.
Make no mistake: this was not merely survival gear with a Prada logo. Decades before GOLDWIN and Arc'teryx Veilance built reputations on performance made modish, Prada Sport introduced the world to – in the brand's own words — "metropolitan garments" with materials and shapes that assimilate the features of "technical mountain clothes."
The archetypal Prada Sport garment of this era contains the same clean lines and precise tailoring of a Prada  suit, dipped in the same monochrome color scheme, one broken only by the addition of a crimson logo flash. The tailored, all-black GORE-TEX said "I'm serious about style and substance." The red stripe on the wrist said "Prada."
The result was an understated, highly-functional fashion line unlike the world had ever seen.
"It really took the world by storm," Dean Cook, Menswear Buying Manager of Browns, tells Highsnobiety. "Fashion was so minimalist at the time, with Prada's ready-to-wear, Jil Sander, Helmut Lang. Introducing sportswear was such a different angle. It was so innovative, it was really outdoor — really Prada Sport."
"Why be purely functional?" Barrett asks in that same BoF interview. "When you're spending that money, have it look great too." That simple philosophy seems at the core of Prada Sport.
Sport Hits the Red Line
While Mr. Barrett left Prada in 1999 to start his eponymous line, Prada Sport continues to turn out season after season of high-fashion performance wear. Although its distribution has since shrunk, Prada Sport is still available new via retailers like YOOX, amongst others. And, even if its not sold under the "Sport" nameplate, it's impossible to not see garments like this Spring's "Rubber-Trimmed Shell Blouson" – a sleek, technical, minimalist bomber jacket — as descendants of the tidal shift that Sport created within both Prada and the industry at large.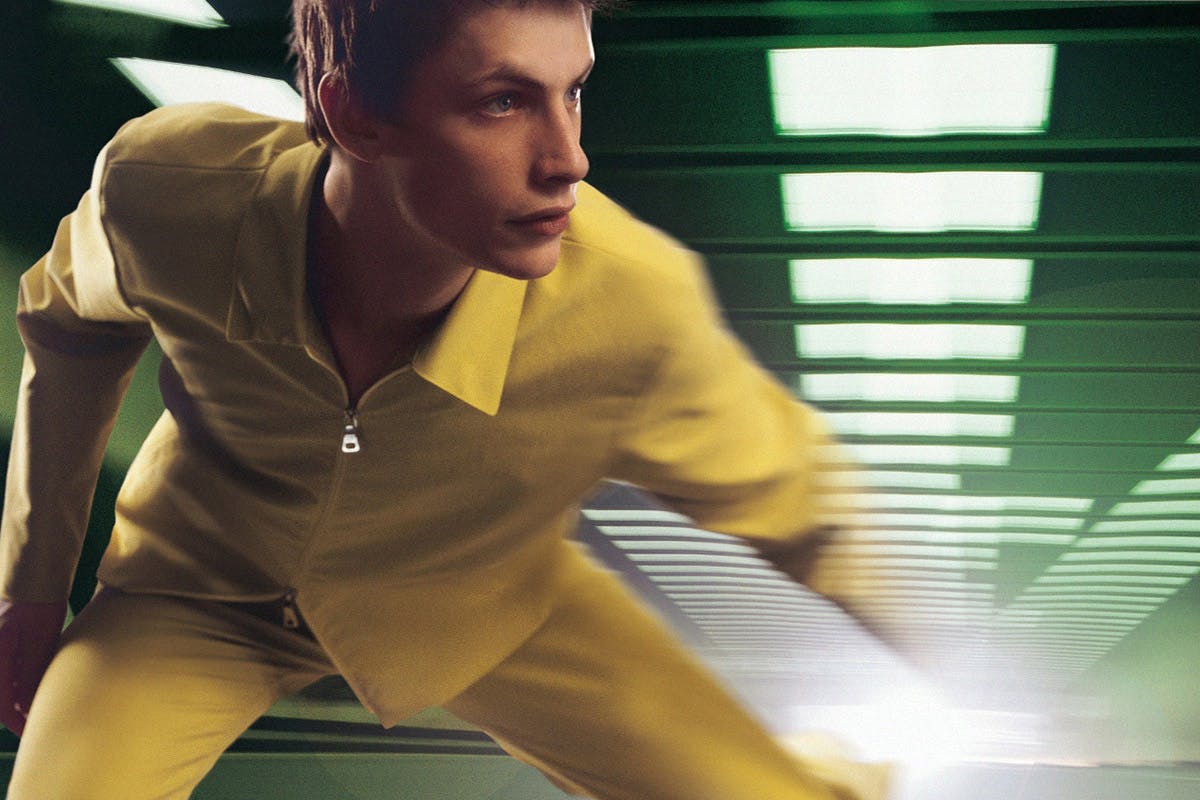 Reflects Tim Blanks: "In pioneering what he calls 'athletic leisure,' Barrett may, in fact, have been a little too ahead of his time to be fully recognised."
With Barrett's stand-alone label sales reported as high as €90 million during 2015, it's safe to say that his approach to the interplay between fashion and function has found a home in this Lulu Land world of designer sweatpants and The Ministry of Supply.
However, despite its inarguable aesthetic influence, it is important to mention that Sport's rise to fame is not simply the story of an idea whose time has come. Prada Sport was, like all other luxury diffusion lines, created as a way to acquire customers who may have been turned off by the main line's high prices and Byzantine designs.
"Prada Sport is being positioned as a stand-alone collection," reported The New York Times, in a 1998 feature article detailing Prada's expansionist ambitions. "The [new] SoHo [Prada] store, the first to sell Prada Sport exclusively, will appeal on the basis of lower prices and a lower fashion bar than Ms. Prada requires customers to hurl themselves over when buying her top line."
Too often, the fashion press forgets that trend adoption requires the visionary designer and the mass market to meet in the middle. An innovator in an ivory tower has no more power to shape and shift than Sleeping Beauty.
"I distinctly remember going to buy my first pair of America's Cup trainers from Prada on Bond Street around early 2000 and feeling completely at odds with their regular customers," remembers Ollie Evans, founder of Too Hot Limited, an online retailer that specializes in second-hand gems from the era. "I was wearing an ex-Army parka, a baseball cap, and Evisu jeans buying an orange/tan pair of Prada trainers."
"As I was trying them on, a couple of smartly-dressed guys more typical of Prada's traditional customer stood over me and said, 'Oh, didn't know they did them in a horrible orange.' That made me want them even more so I bought them then and there."
When a genius designer introduces breakthrough product at a more-accessible price point – and, it must be noted, at a time when other athleisure brands like Lululemon (also founded 1998) are taking their first steps – then the fairy tale may begin.
"The Pinnacle of Luxury Sportswear"
Prada Sport's pared-back performance wear introduced the fashion world to a design language for minimalist luxury performance wear, one that a whole lexicon of brands from Aether to Zegna lean on today.
"My first memories of discovering Prada Sport was around 2013 or 2014 when I was doing some outerwear research," recounts Greg Finch of Palace Skateboards and Life's A Beach. "I stumbled upon an image of a white Prada track jacket with red piping and the sports branding on the chest. Prada Sport, in my opinion, is the pinnacle of luxury sportswear."
It is perhaps the greatest tribute of all that Prada's January 2018 show at Milan Fashion Week featured mainline Prada garments drenched in the familiar red-flash-monochrome of Sport lines past: a mere twenty years after "wrong chic," Prada Sport's influence on contemporary fashion is immortalized on the very runways where performance fabrics once dared not tread.