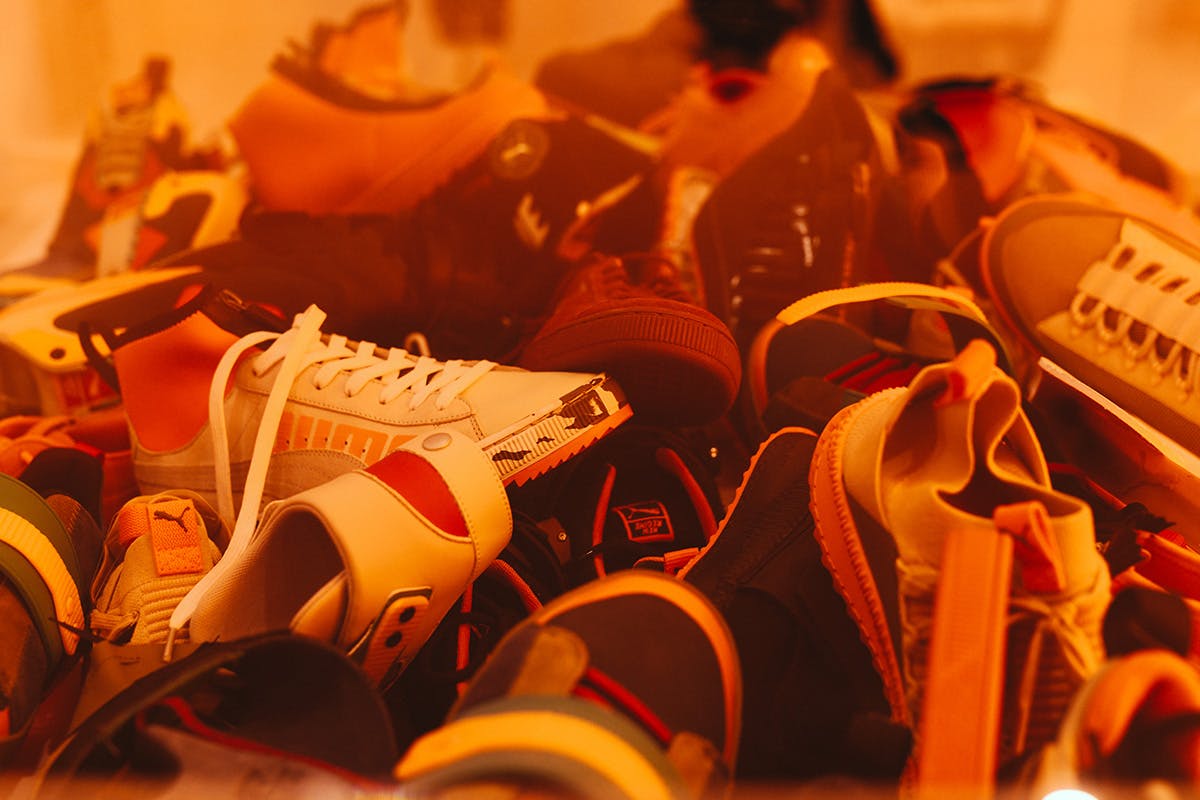 Following the drop of the PUMA x Han Kjøbenhavn collection, the next release in the PUMA Select series was with Montreal creative collective Atelier New Regime. The collection consists of sneakers, apparel, and accessories that are all winter-ready, fitting for a brand headquartered in Montreal, Canada. The guys behind the brand started the line as a passion project in 2009. Since then they've developed visually recognizable designs, many of which prominently feature the color orange. Naturally, they brought that vibrant color into its collaboration with PUMA, which includes pieces ranging from the classic Suede and Court Platform sneakers to the Thunder.
Highsnobiety was on the ground in Montreal to check out the collection's launch event and we spoke to Gildas Awuye of Atelier New Regime about its collaboration with PUMA.
How did Atelier New Regime come together?
Gildas Awuye (GA): It started in 2009 with a group of guys who printed graphic T-shirts as an outlet for self-expression. 2013 was the turning point: the project evolved from a side hustle to serious business. We saw the potential and started investing more time in the project. 
It's at this period that we decided that we would invest all our time and resources into building a real fashion brand. We started testing out cut-and-sew pieces, developing more comprehensive collections, and focusing more seriously on the brand's image and experiences.
Montreal must inspire your work. How would you describe the city's aesthetic?
GA: It would be hard to summarize Montreal into a single aesthetic, as it's such a diverse city. The city is a combination of so many things. This diversity is what inspires our work daily. Montreal impacts our approach to design. Living in such a culturally rich and artistic environment allows us to flourish. Art is a big part of the city, and there's a community of creatives that supports each other making it easier to design more fearlessly.
How did the collaboration with PUMA come together?
GA: We caught the eye of the head of PUMA Select after our first participation at ComplexCon in 2016. They had heard about us through various people in the industry. Shortly after, we were invited to our first meeting in LA where we were offered the chance to collaborate on a project. A few months later we were invited back to meet with the design team and create our collection.
What was it like combining Atelier New Regime's vision with PUMA's?
GA: The process was really smooth all-around. After presenting our mood board and sharing our ideas with the Puma team, they understood where we wanted to take the project. They embraced our vision for the collection and helped us bring it to life without any constraints. We had creative freedom from start to finish. It was a real collaborative project.
What inspired the winterized sports theme?
GA: We were tasked with creating a winterized collection. From there we chose to explore the theme of winterized motorsports. We had always been fascinated by motorsports. We were inspired by the aesthetics and materials, the people who practice them, and their philosophy. So we tackled that theme. One source of inspiration was the 12 O'Clock Boys documentary set in Baltimore. The documentary follows 12-year-old Pug, who, despite all obstacles faced on his journey, would never lose interest or hope to one day be what he aspired to be: a part of the legendary crew. His devotion was a driving force for this collection. The collection is out now. For more, check out PUMA.com and AtelierNewRegime.com.