The crowds outside menswear shows in Paris are always a good hint of what's going to be the talk of the industry in the months to come. At PFW19, we saw plenty of great 'fits, but Frank Ocean and his large green Celine bag were a particular show-stealer. As well as Frank, we spotted a host of men's bags carried down the runway, and now we're seeing them in our favorite stores (shopping tips included below).
Recent fashion weeks have shown how the attitude toward bags in menswear is changing. You don't have to look femme or overdressed to sport a sizable accessory traditionally associated with women's fashion. In recent years, bags for men have gone from something almost taboo to one of the hottest trends, and the biggest industry players are keen to jump on board.
In Milan, Fendi presented men's versions of the label's signature Baguette and Peekaboo bags, and a collaboration with Japanese luggage expert PORTER. A hybrid of a side bag and handbag in red, blue, and champagne-colored nylon with a golden F clasp, the Baguette is certain to be a sought-after model.
At Kim Jones' Dior in Paris, almost every outfit was complemented by a bag: the new cross-body men's version of Dior's Saddle bag in silky nylon; neck wallets and small hard-case tube-shaped bags; soft fur bags; and more understated messenger-style numbers with metal buckles by Matthew Williams of ALYX.
At Prada, meanwhile, there were already covetable black nylon backpacks, and Loewe had sleek crocodile clutch bags, large leather totes, and variations of the label's hit Puzzle bag.
For Fall/Winter 2019, almost every major fashion house has an updated it-bag for men, but few have worked on theirs as thoroughly as Virgil Abloh. In less than a year at Louis Vuitton, he has given us numerous versions of the Keepall: glow-in-the-dark; iridescent; semi-transparent neon pink and yellow; soft gray, and oversized black monogram-embossed in puffer material. This season also brings us medium and purse-like mini versions of Louis Vuitton's signature retro travel trunks.
Historically, men and bags have had a complicated relationship. Google the two words together and you'll find anxiety-laden questions along the lines of "Are man bags acceptable?" "Can a man carry a purse?" "How to wear a man bag?" and "What do you put in a man bag?" In the past, the rigid idea of masculinity allowed a backpack, a briefcase, or ideally nothing at all, stuffing your essentials into one's pockets. In fact, the very term "man bag" is an awkward attempt at emasculation.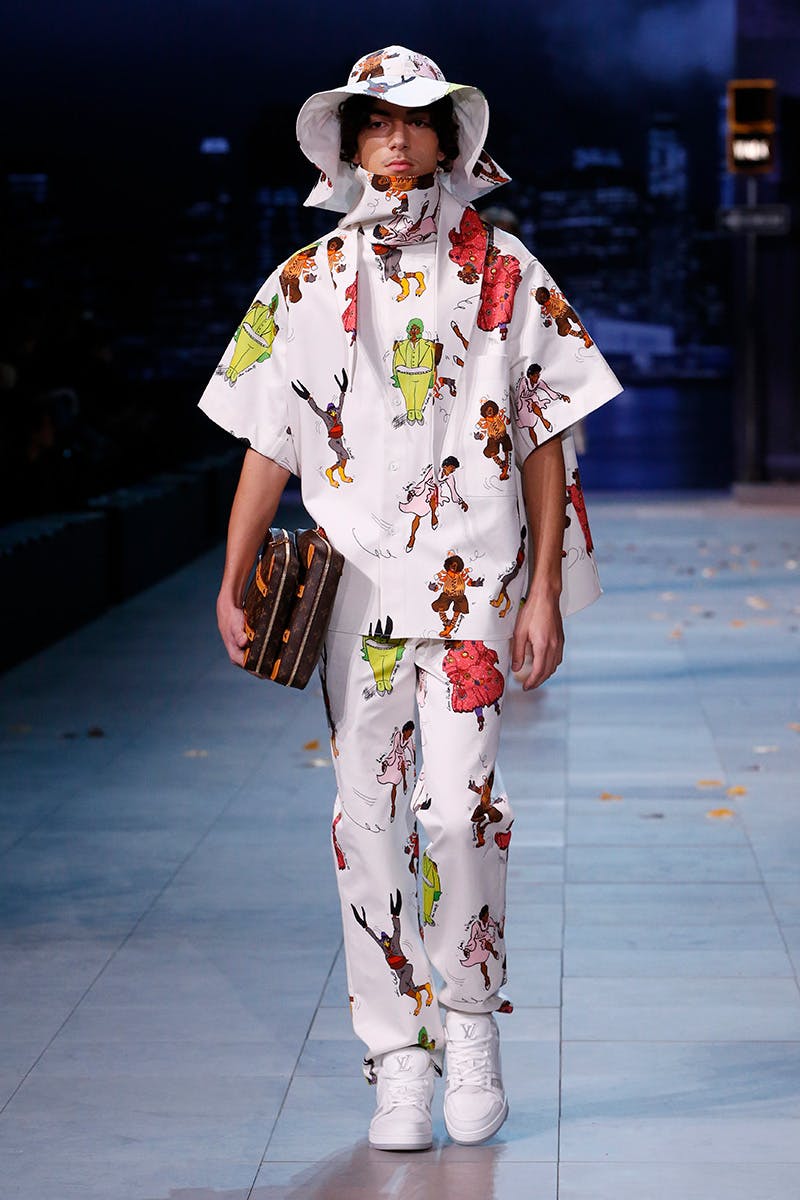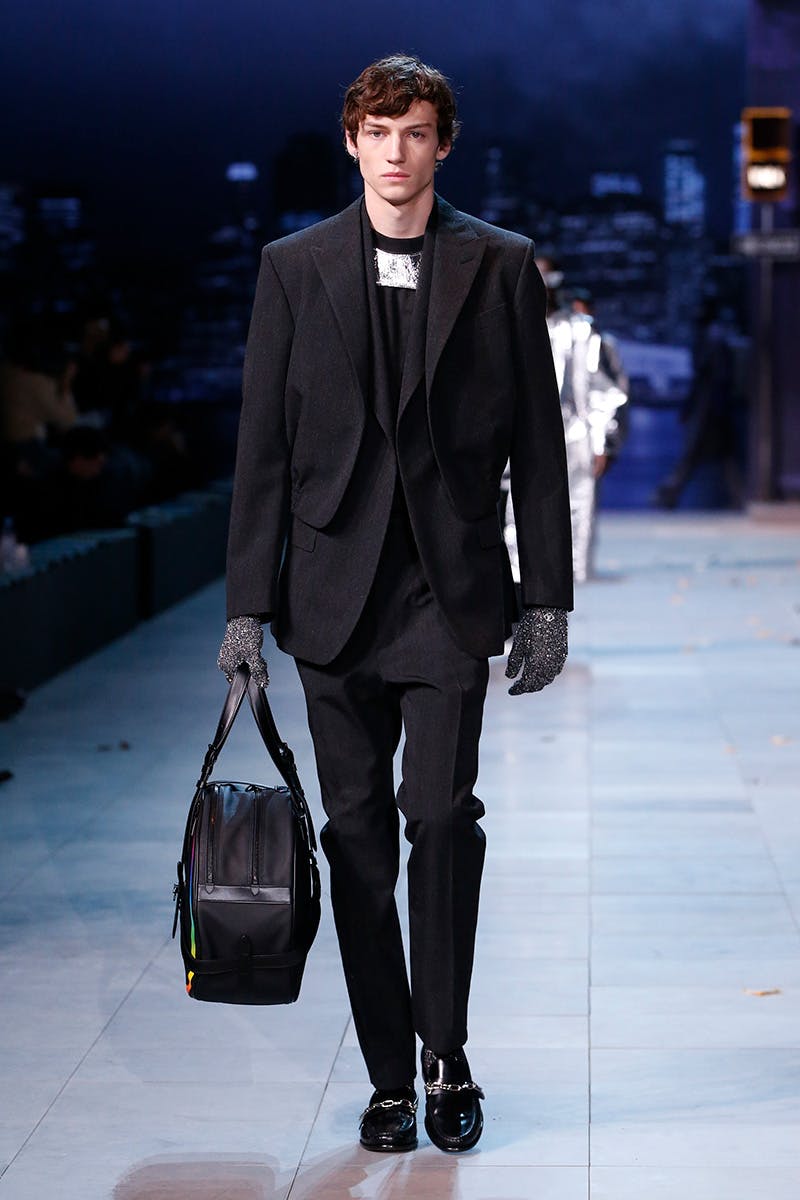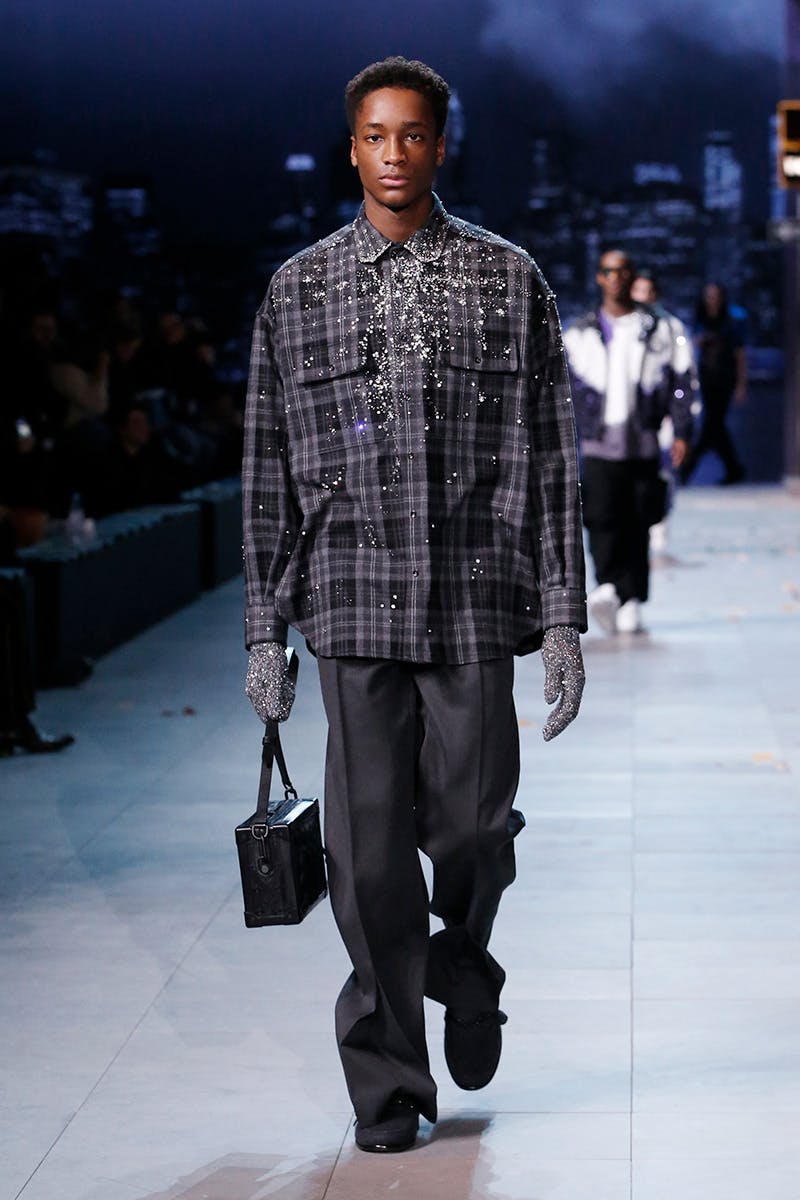 Attitudes started to shift a few years ago. That went hand in hand with the rise of streetwear and was influenced by street culture references and '90s fashion. First fanny packs and then side bags became a menswear staple. It was a no-brainer, a combination of simple utilitarian design and practicality.
The overwhelming success of outdoor and skate brands' versions were perhaps a turning point — think Patagonia, The North Face, Supreme, and Palace. It proved that in the menswear and streetwear markets, a bag can be a token of hype and obsession as much as the Birkin bag was for the Sex and the City generation of women. The side bag trend is still going strong, with the likes of Gucci, A-COLD-WALL*, and Burberry continuing to expand the range.
The popularity of side bags was followed by the growing influence of even more masculine workwear and military designs: chest rigs (pioneered by ALYX), harnesses, and belt bags. The designs often played with fetish elements and added a bit of structure to relaxed sportswear silhouettes.
Previously, men's bags were worn mostly as yet another garment and left hands-free, but now we're talking handbags and shoulder bags, styled and worn exactly as women do. As seen with Ocean's Celine tote, women's bags and purses are becoming more acceptable in men's wardrobes.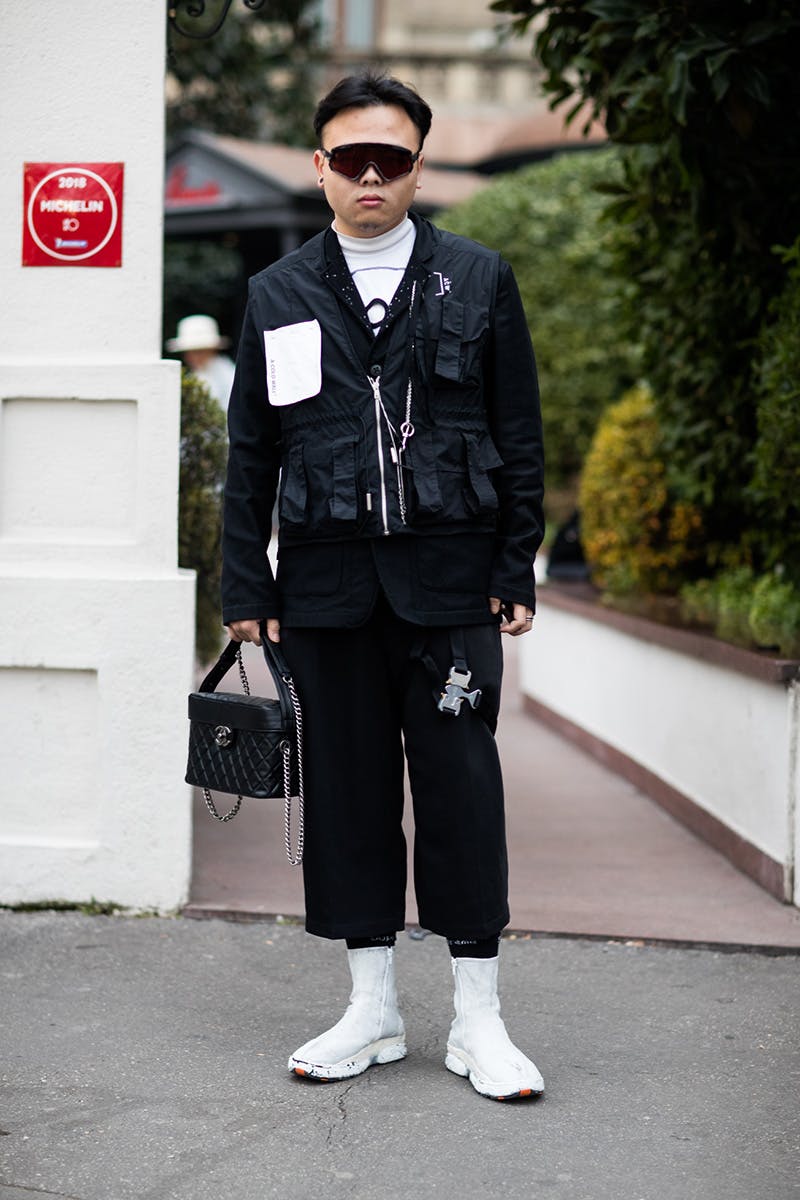 As a major driving force in contemporary fashion expression, hip-hop culture plays an integral part in this process. Tyler, the Creator has been rocking classic Chanel purses for a couple of years (check out dusty pink here or pale blue here). It feeds into the broader gender-bending fashion experimentation happening in hip-hop right now.
Hip-hop culture has come a long way in challenging toxic masculinity while continuously incorporating an obsession with luxury fashion labels. If rappers are carrying Chanel purses, it's going to end up on the street soon enough.
At the same time, the rise of the men's it-bag is also simply business. Bags are one of the largest sources of revenue for global luxury labels, so the math is simple: get men to buys bags and you'll sell twice as many bags. With consumption habits increasingly shaped by the more gender-neutral space of streetwear, the younger generation is becoming more comfortable with genderless shopping when it comes to accessories.
Today, labels are trying to grasp the shifting meaning of luxury. The gender binaries of luxury fashion are blurring, but that can mean a curious migration of status symbols from womenswear to menswear and back again.
"Last year, we argued that sneakers had replaced handbags as the biggest status symbol in women's fashion," wrote Highsnobiety senior staff writer Lia McGarrigle. "Looking to flex? A hard-to-get pair of kicks will impress a lot more than an off-the-rack Alexander Wang bag. It's not crazy to think the opposite could soon become true for men."
In these uncertain times, luxury is a fluid business. Sometimes it's about inventing something new, sometimes it's about picking up something old like a classic Chanel purse and giving it a new spin. It seems the only thing that's left is deciding what to call it.
Related Shopping Tips

(Available at 3 Merchants)
(Available at 3 Merchants)

(Available at 2 Merchants)
(Available at 2 Merchants)