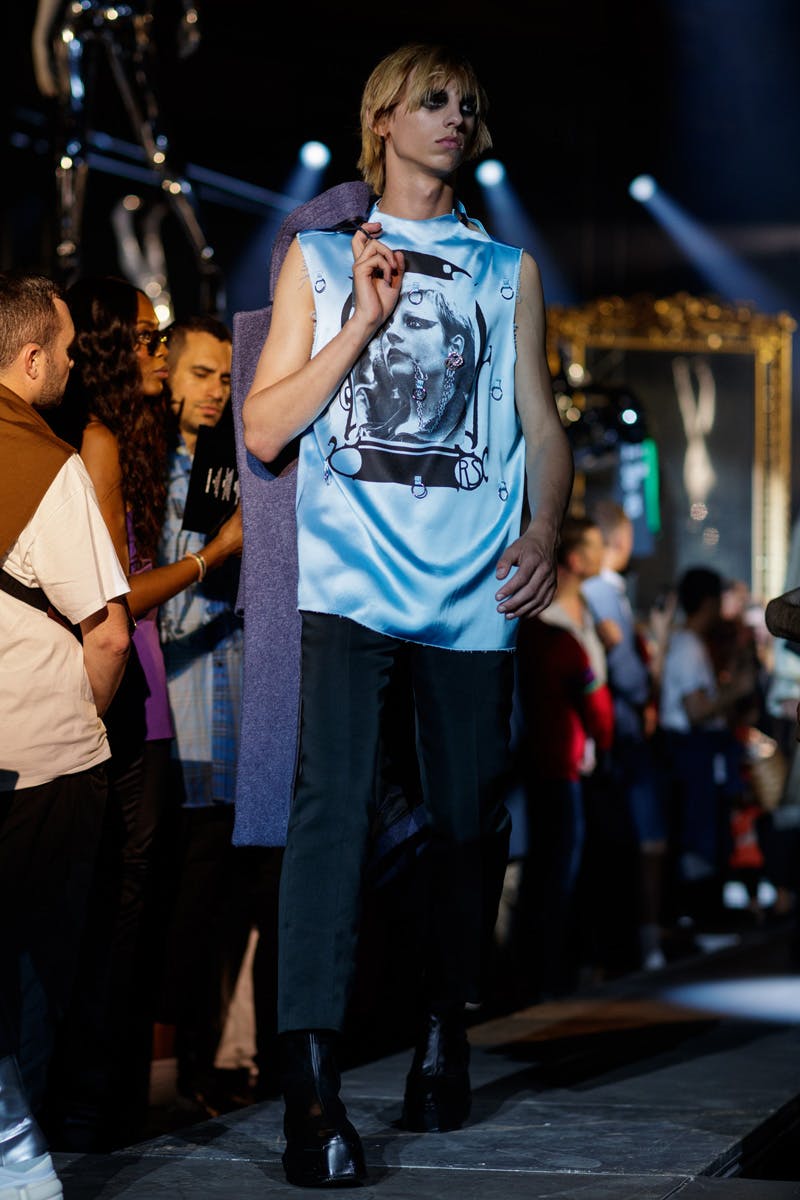 Raf Simons, your favorite designer's favorite designer, doesn't need to prove himself. After decades in the game, Simons' work is adored both in and outside of the fashion week set, which probably explains why ASAP Rocky casually rubbed shoulders with editors and PRs at last night's show in Paris.
Simons didn't break the mold for SS19. His boys were young even by model standards, their clothes ill-fitting. He forwent the usual seating hierarchy, and turned an abandoned warehouse on the outskirts of Paris into a club, squeezing guests together underneath dangling mannequins, an extravagant light show and a thumping Bauhaus soundtrack. What Simons did step away from, though, was streetwear. To the journalists gathered backstage, the designer said he was looking for a new look, and that he was tired of simply putting graphics on hoodies. In place of jersey and fleece, Simons used couture-grade Duchesse satin and sparkly, metallic knitwear. He unearthed old photos of London's punk scene, and blew them up on the few tees that did walk out, as well as bags, scarves and shirting.
Save for the teasers of Simons' next adidas shoes, which dangled from the ceiling, there was not a single sneaker in sight.
Luxury streetwear is inescapable at fashion week. Houses with zero connections to the scene that birthed Highsnobiety are looking to streetwear's uniform of tees, hoodies and sneakers as a way of cashing in on younger customers. It's become tedious and predictable. With one of the world's most influential designers taking a sharp left turn, there's a chance we may be in for a change in direction.