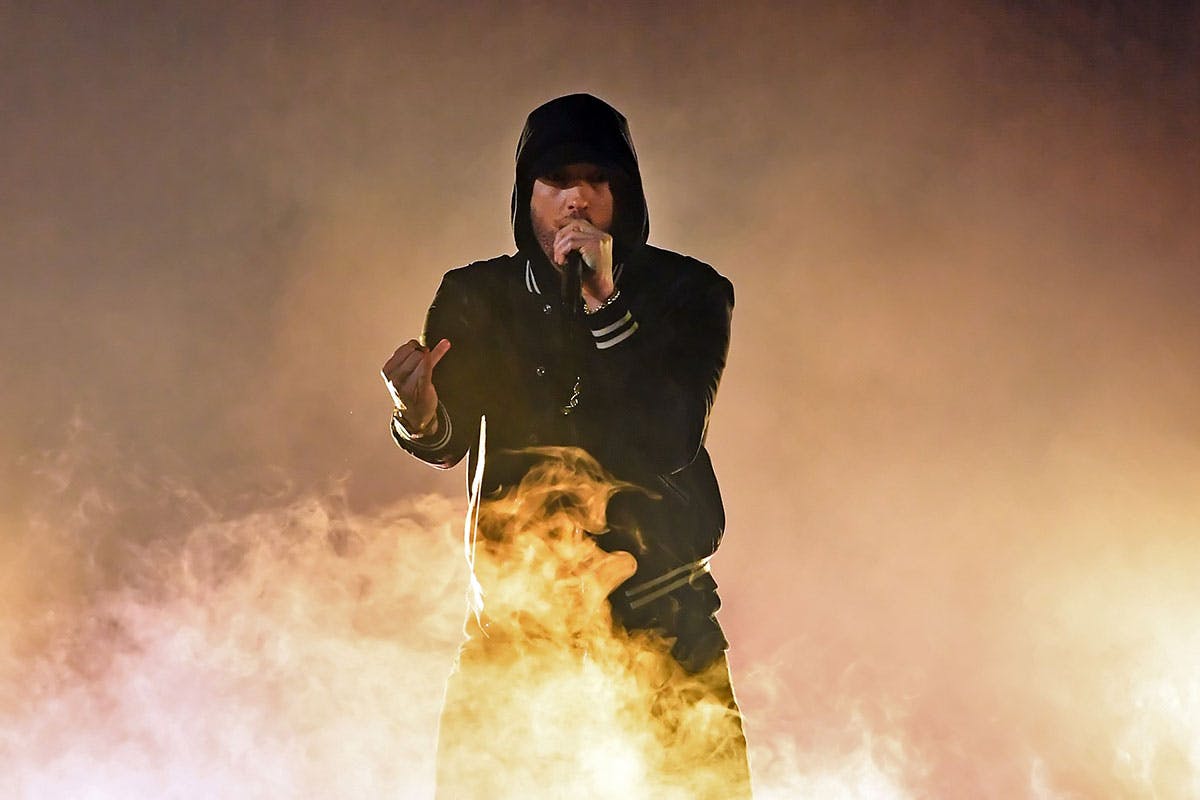 The last few weeks have seen a series of rap feuds make international headlines. First came Eminem's surprise album Kamikaze, which saw the seasoned battle rapper take aim at everyone from Vince Staples and Drake to Machine Gun Kelly and Tyler, The Creator (with a homophobic slur thrown in for good measure, naturally); days later, Meek Mill and Drake finally squashed their long-running beef (just days after Kanye apologised for his role in Pusha-T's diss tracks); then, after ignoring what many perceived to be a series of sneak disses, Cardi B escalated her feud with Nicki Minaj by throwing a shoe at her during New York Fashion Week and then launching an Instagram attack.
It's been a whirlwind week to say the least, but all of these stories seem to indicate that hip-hop's long culture of rap beefs – as well as the diss tracks and battles which have made them so legendary – are going nowhere. Pusha himself recently doubted this, arguing that they just aren't fun any more, but the public appetite for these news stories seems to suggest otherwise.
So it's worth exploring: how and when did the lyrical low blows and savage diss tracks become a rap staple? And how has the role of these beefs shifted in today's increasingly digital age?
To understand the answer fully requires a journey back into hip-hop history. Although there are a handful of early precursors – Harlem's pioneering jazz poets, the West African griots and the work of 'Grandfather of Rap' Gil Scott-Heron are just a few examples – the origins of hip-hop music as know it are usually traced back to an unassuming apartment block (1520 Sedgwick Avenue, to be exact) in the Bronx.
It was in the summer of 1973 that Cindy Campbell's desire to earn cash for a few new wardrobe additions drove her to throw a 'back to school' block party. Campbell was low on funds but determined to make it work, so she drew up some graffiti-inspired invitations and looked within her own family when it came to hiring everything from catering to entertainment. Food and drinks were provided by her parents, and her brother – a 16-year-old known first as Hercules and then DJ Kool Herc, both due to his height and physique – took to the turntables. More than 40 years later this fateful night has been retrospectively dubbed the first ever hip-hop party.
There was something different about DJ Kool Herc. He pioneered a DJ technique which soon became a staple of hip-hop music; he played funk records but extended their instrumental segments, shouting out his friends over the beats and quickly switching to breaks in other tracks. Like many other MCs, he would also rap lines to the crowd who, in signature call and response style, would rap them back; over time these lines gradually grew more complex, branching out into verses and then developing into rap as know it today.
It's more difficult to trace the origins of battle rap, as these rapid-fire trade-offs usually took place on the streets with the winner earning a small victory prize. Again, some of the earliest examples can be traced back to New York. In 1981, rapper Busy Bee Starski – known mainly for his comedy rhymes – was playing a set at the Harlem World Christmas celebration which featured some shit-talking; little did he know that one of artists he named, Kool Moe Dee, was also in the venue, and he wasn't about to let the diss slide. A respected lyricist and a member of the Treacherous Three, Dee slid on-stage to deliver a freestyle response which became one of the most famous moments in rap battle history.
In terms of rap beef which relied on recorded disses as opposed to street battles, one of the first major examples is often accredited to Roxanne Shanté. The criminally overlooked star spent her formative years in Queensbridge, a New York public housing complex which also spawned legends like Nas and Mobb Deep; it was within these walls that she would hone her skills in impromptu rap battles, developing a reputation as one of the most ferocious lyricists in the building.
It wasn't until she was asked by Marley Marl – a denim factory worker who occasionally produced beats – to freestyle over a beat that she truly entered the annals of rap. The beat in question was initially lifted from a track by rap group U.T.F.O., "Roxanne, Roxanne," whose lyrics were dedicated to an unknown woman who resisted their advances. In 1984 they made the mistake of angering Marl by canceling a radio promo show so, in retaliation, he enlisted a then-14-year-old Shanté to freestyle a scathing response in which she role-played as the Roxanne in question. The track blew up almost immediately, and although legal action led to new beats being created and some curses being removed, the resulting "Roxanne's Revenge" single sold more than 250,000 copies.
A slew of answer tracks were recorded – the feud is now known as the 'Roxanne Wars' – but Shanté's burgeoning career was essentially halted by male managers who would go on to mistreat her. "Male rappers felt like I was throwing things off," she explained in a Billboard interview released in the wake of her 2018 Netflix biopic."If the best in the game is a little girl, then rap is no longer going to be seen as this masculine thing."
This success led to an explosion in the popularity of diss tracks throughout the 1980s. Some of the best-known diss tracks came from within the Juice Crew – of which Shanté was also a member – but another legendary rivalry involved Kool Moe Dee and a then-emerging lyricist named LL Cool J. In 1987, Dee first accused LL of biting his flow (an accusation also made by MC Shan on "Beat Biter") and took aim at his brag-heavy lyrics on "How Ya Like Me Now;" LL responded with "Jack the Ripper," sparking a series of back-and-forth tracks which have since become iconic.
The majority of early high-profile rap beefs – and plenty of more recent feuds – were sparked by accusations of 'biting,' or in other words, heavily borrowing from or just straight-up copying, another artist's style, flow, or beat. Some view it as homage and others see it as theft – to this day it's a debate which is still ongoing. It's also worth remembering that beef can turn ugly. Although some feuds undeniably get personal, rap battles and diss tracks are an integral part of hip-hop culture, which are largely done either for prize money or respect. It's competitive, but it's ultimately about skill. Unfortunately, things don't always end here.
The murders of both Notorious B.I.G. and 2Pac remain unsolved, but it's been argued on countless occasions that their long-running beef – part of the East/West Coast feud which dominated the heyday of gangster rap – caused their untimely deaths. In a documentary released last year, Ice-T described their story as "a tragedy that didn't have to happen," and admits that he never thought their lyrical jabs (he explained that competition is part of "what built hip-hop") would materialize into real danger. The two rappers may be responsible for some of the most industry's most iconic diss tracks ("Hit Em Up" and "Who Shot Ya?" are often hailed as the best in history) but their rivalry serves as a reminder that these feuds don't always end in the studio, to the detriment of all.
Other beefs have similarly turned dangerous – see the attack of Lil B, Styles P's comments on the Beanie Siegel feud and, of course, Cardi's heel-throwing as examples. One artist with a stack of feuds under his belt is 50 Cent, whose long rivalries with everyone from Ja Rule (still ongoing) to several former members of G-Unit (largely still ongoing) have landed him a reputation as one of the most-contested men in rap. They may have since squashed the drama, but his beef with The Game also turned ugly in 2005; a shootout ensued outside of New York's Hot 97 radio studio after 50 formally kicked him out of the group on-air, leaving one person injured.
Despite the legal and financial troubles often involved, the vast majority of feuds do get resolved. Even Ice Cube's famous beef with his former crew N.W.A. – which started over unpaid royalties as well as Cube's claims that the political rappers had sold out – came to an end after five years, although its legacy lives on in the form of "No Vaseline," one of the hardest-hitting disses ever recorded.
Then there's the almost decade-long feud between Nas and JAY-Z, which was finally squashed on-stage in 2005. Tension first began to mount between the two titans way back in 1996, when Nas reportedly failed to show up for a recording session; we recently broke down exactly what unfolded in the decade after Nas first dropped a subliminal on "The Message." Incidentally, Jay played up to rumors that his 'I Declare War' show would air a few high-profile names, but on the night he changed the face of hip-hop history by bringing Nas on stage. "All that beef shit is done," he explained. "We had our fun."
But shots aren't always fired over recorded tracks. Although plenty of disses are entirely freestyled in the studio, the purest musical distillation of rap genius can be found in battle tournaments. The back-and-forth competitions tend to operate with strict rules and come with a cash prize, but they're also responsible for discovering some of the most talented rappers in musical history. Kendrick Lamar – then known as K Dot – famously stole the show as an audience member in this 2009 battle, whereas Eminem's own experiences on the circuit inspired 2002's 8 Mile and helped him develop the rapid-fire technique and quick putdowns he's now known for.
In terms of venues, they don't come much more famous than New York's Fight Klub. Established at some point in the mid-noughties, it played host to an iconic, relentless battle between Lady Luck and Remy Ma (who, even after her jail release, has been no stranger to high-profile beefs) and even became the first league to be aired on television. Although MTV2's airing of Fight Klub was short-lived, it spawned a series of impressive battles and even featured rap vets like Murda Mook and French Montana. Auditions re-opened in 2016, but its mainstream history has largely been forgotten – with the exception of a few archive clips which remain online.
The role of women in rap beef history is also too often ignored. Shanté basically wrote the blueprint, and her influence inspired plenty of other women to clap back; in a 2017 i-D interview Salt-N-Pepa revealed that she was their "role model", and that she was a large part of the reason they also teamed up with Marley Marl to fire a response track at Slick Rick and Doug E Fresh which essentially launched their career.
Decades later, women in rap started to come for one another on a regular basis – partially because beef is such an integral part of hip-hop culture, but also because women are all too often pitted against each other for the one (and only one) 'female rapper' spot in the industry. This idea is obviously rooted in sexism; Funkmaster Flex even admitted in a recent, lengthy interview with Nicki Minaj that one of the primary reasons he believed ghostwriting accusations leveled against her was the fact that she was a woman.
The stigma might still exist, but some of the most influential women in the game have also spawned some of the most notable feuds. Lil' Kim and Foxy Brown's longstanding rivalry (still not squashed, despite an ill-advised attempt to make them share a stage in 2013) started for seemingly unknown reasons; their debut albums were released within weeks of one another, and they shared a 1997 cover of The Source. Perhaps they were just too similar and felt pressure to feud – Foxy admitted in 2001, after a shootout which eventually saw Kim jailed for lying to protect her crew Junior M.A.F.I.A., that she had no idea how it began – but their endless subliminals and well-documented dislike for one another set the tone for other beefs.
Foxy and Nicki might be close allies – the two even teamed up recently on Nicki's "Coco Chanel" – but Foxy has had beef with just about everybody else; from Queen Latifah and Remy Ma to Jacki-O (whose ferocious "TKO" remains one of the most underrated disses in rap history) and Queen Pen, Foxy has a reputation for rivalry.
There are also rumors circulating that beef between women can be particularly lucrative. Both CupcakKe and Lady Leshurr have claimed in the past that Atlantic Records have offered them $250,000 of money to start a feud with Nicki Minaj, an offer which both of them declined. It's also worth noting that Cardi is signed to Atlantic, a fact which could call into question just how legitimate her beef with Nicki really is. (Nicki has liked tweets denying that she ever came for Cardi's daughter, and has also said that her 'sneak disses' were more general than reports suggesting they were aimed at Cardi would suggest.)
All of this brings us to the ongoing relevance of rap beefs and battle today. The last few months have seen various beefs broken down in meticulous detail, and in a world ruled by social media, all it takes is one misguided Instagram like to kick a feud into overdrive. Accounts like The Shade Room have become legendary pot-stirrers, whereas serial beefers like Azealia Banks (who, despite her generally stellar musical output, hasn't released a decent diss track since 2012's "Succubi") pop off at just about everyone without actually committing their insults to wax.
Beef is a staple of hip-hop culture because it pushes artists to step their game up. From "Ether" to "shETHER" and "Takeover" to "Back Down," some of the most acclaimed bars in rap history have emerged as the result of high-profile rivalries. This is occasionally still the case – "shETHER" is fairly recent, and Pusha-T's "The Story of Adidon" proves that a solid track can still galvanize fans – but it's worth questioning just how relevant these feuds are if they don't result in actual music. On the other hand battle rap leagues are still going strong, and they're arguably reaching a much wider audience online than they ever could have in underground circuits.
Some articles have claimed a cultural fatigue which has resulted in lack of demand, both driven largely with the use of beef as a marketing strategy. At various points over the last decade this has undeniably rung true; the argument that rivalries became a transparent marketing tool during the mid-noughties in particular is hard to dispute. Arguably the most depressing example was 50 Cent's questionable 2007 beef with Kanye, which saw him threaten to quit if Graduation outsold Curtis in its first week.
Spoiler alert: it did, and 50 is still here.
These publicity stunts might get tiring (see the lukewarm reaction to Eminem's Kamikaze as proof) but the never-ending stream of headlines, Reddit threads, and Twitter debates prove that we're all, on some level, messy bitches who live for drama. You could agree with Pusha and claim that beef isn't fun any more, or that social media has destroyed the art of the diss, or even that its cultural relevancy is fading. But then, seemingly out of nowhere, a new freestyle drops to remind you that hip-hop is still basically the most exciting genre that the music industry has to offer, and that more defining diss tracks will likely never stop coming.
For more like this, read our op-ed on why rap beef is actually good for hip-hop right here.