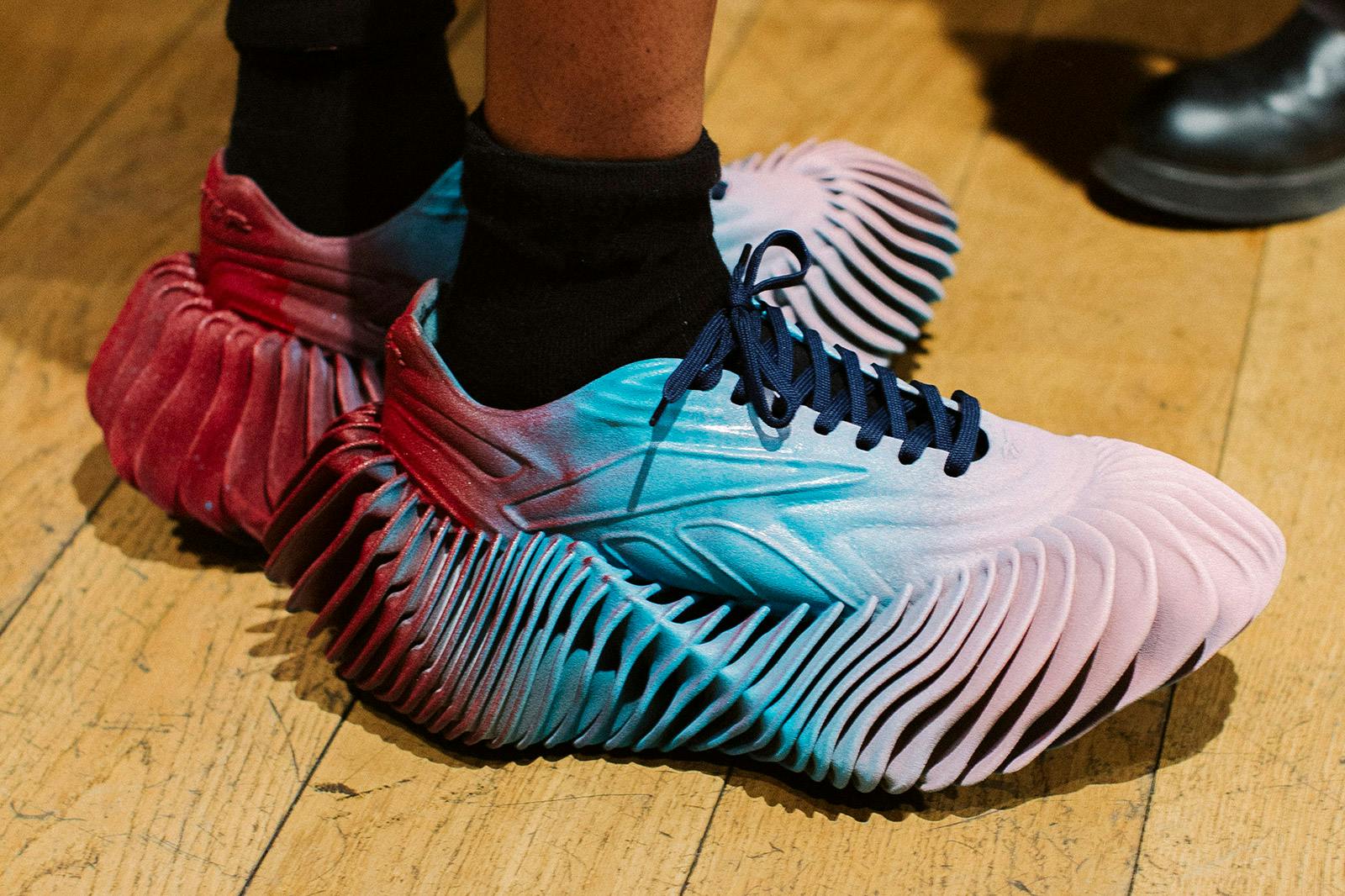 Last week during Men's Paris Fashion Week, at the BOTTER show, Lisi Herrebrugh and Rushemy Botter sent out another unusual sneaker onto the runway. There was as an air of familiarity about it. Is it another BOTTER Banker? Is that a football shoe? Can I see a Reebok Vector? But encapsulating that was a strange yet dreamlike form. Is it something dreamt up by AI feeders? A memory from a hallucinogenic trip on a Caribbean beach? A vision read about in a Greek epic? In fact, it was a concept sneaker created between minds from Reebok, BOTTER and HP 3D Printing. Coined the "Venus Comb Murex Shell" the sneaker uses a vintage Reebok Football silhouette as its core design whilst its unique form is inspired by the Murex seashell which in legend was used by the Greek Goddess Venus to comb her hair.
The Venus Comb Murex Shell was created and engineered with the HP 3D Printing team based in Barcelona using a process called HP Multi Jet Fusion Technology. This is not just any 3D printing technique but a function designed to reinvent manufacturing, unlocking the full potential of 3D printing and exploring more energy-efficient and sustainable techniques.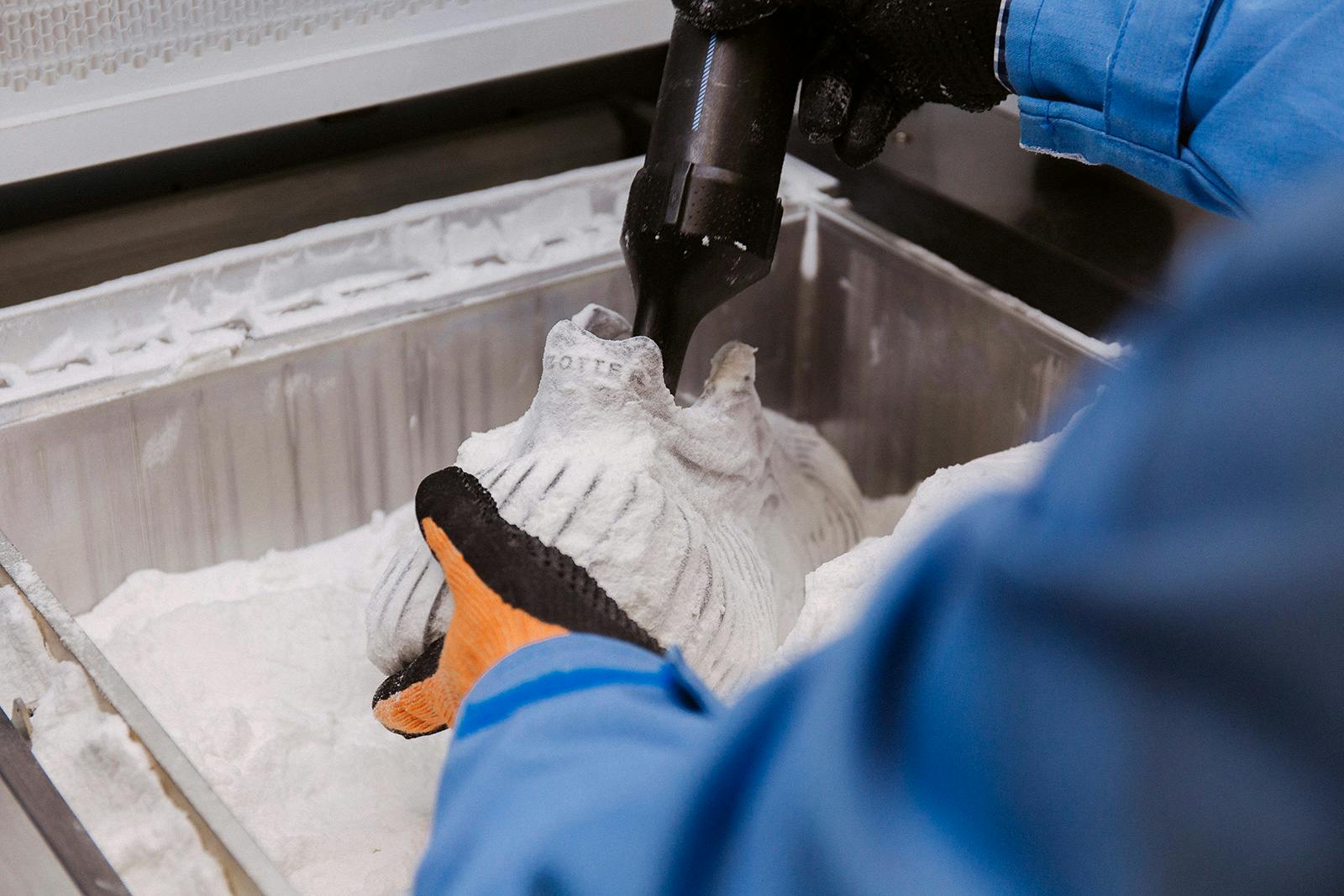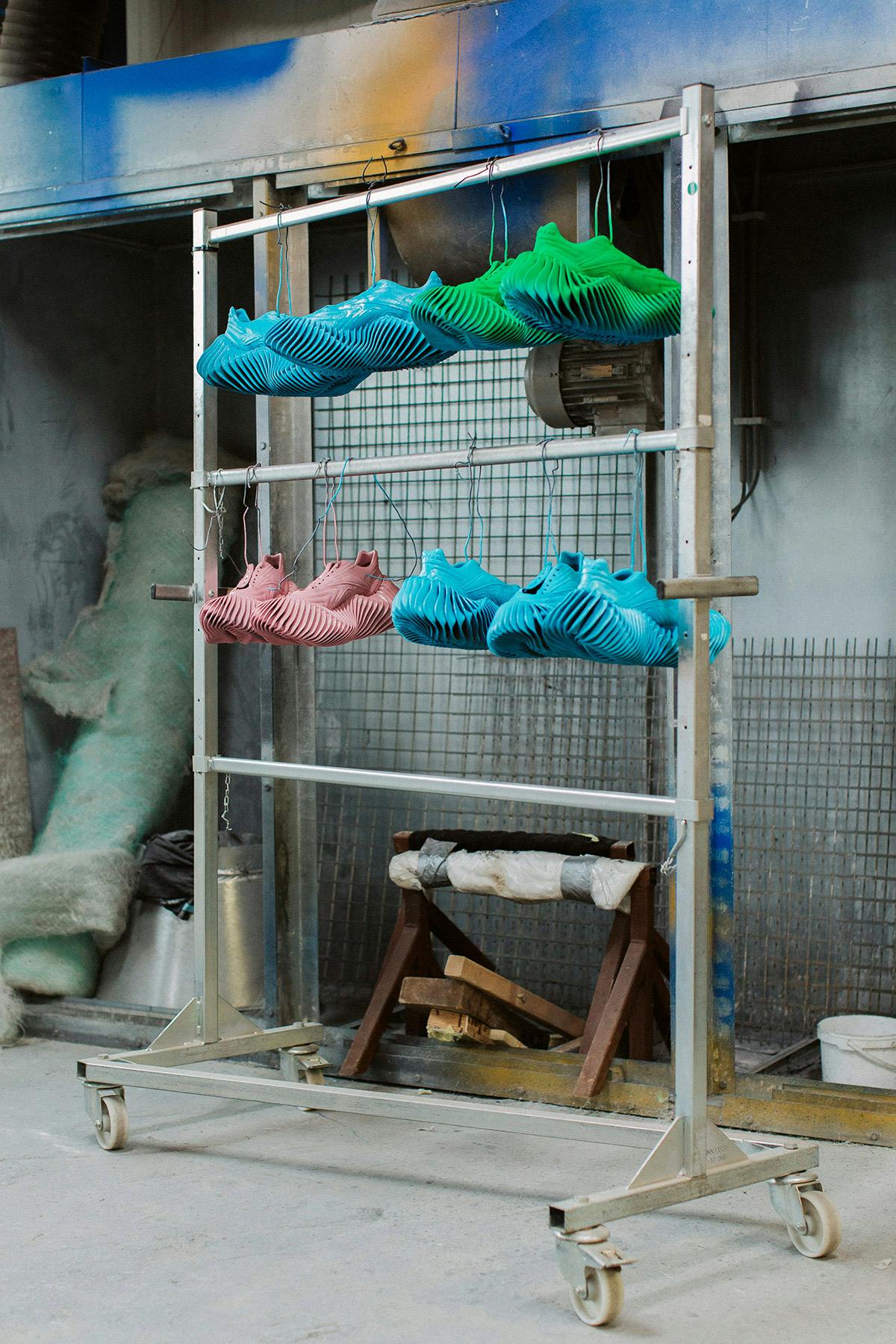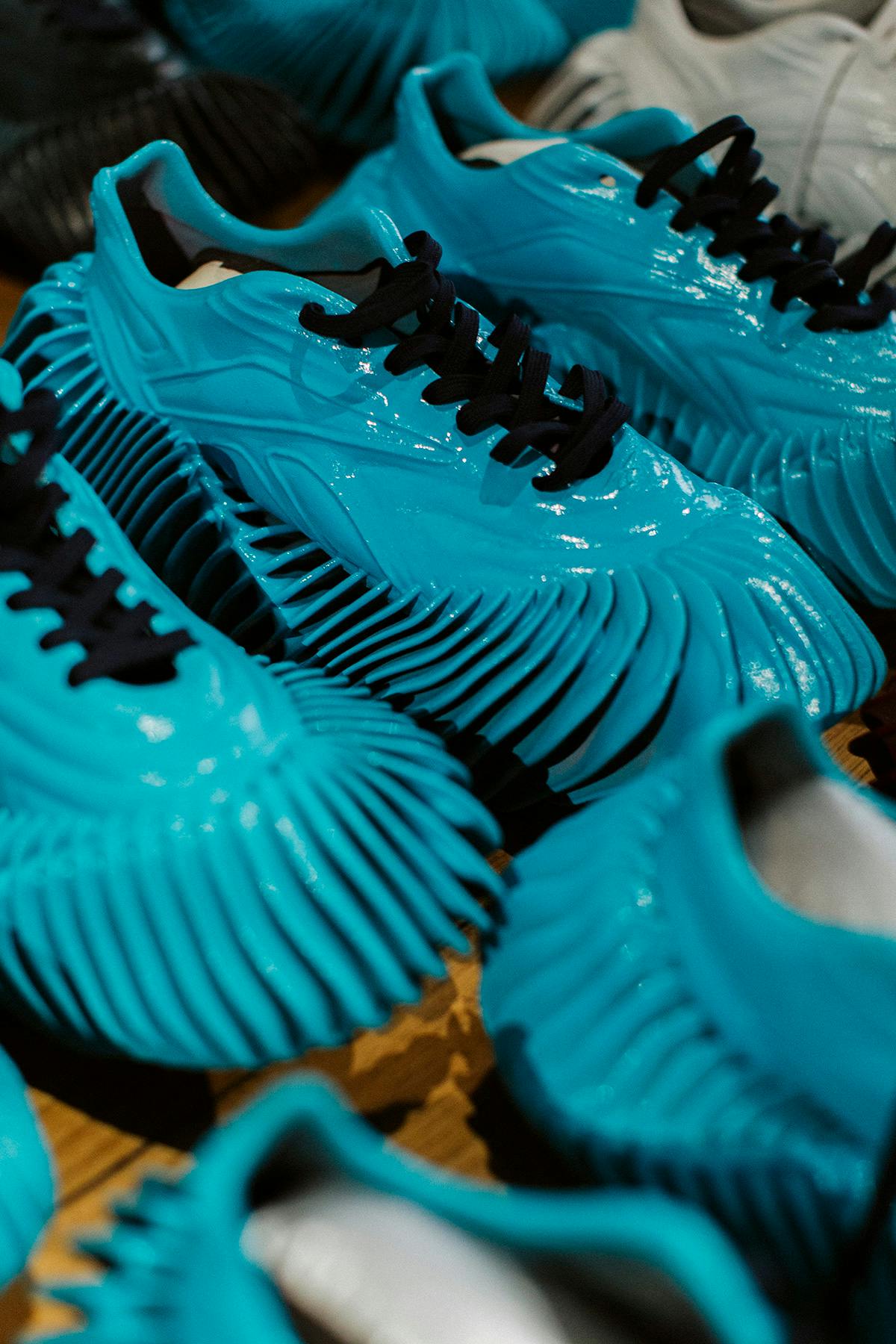 We visited Barcelona to see the process in action. HP Printing claims to be able to make footwear designers' dreams come true, and well, that much is true. Its technology and manufacturing techniques push the limitations of design to realms unexplored, but with that usually comes a cost. But with HP, not so much. Its main goal is to develop products that provide solutions, not problems, to the long, costly, and unsustainable current footwear manufacturing process. A process that revolves around having no waste, and is nimble too. Whilst the studio we visited was in Barcelona they have the ability to manufacture from anywhere and to order post-sale which certainly solves excessive production. The sneakers are engineered to last too, using a material called TPU (which is also highly re-useable when recycled) and a specific post-processing technique that enhances durability and performance. This is a concept sneaker designed for function. The design started with a structure that mimicked seashell growth. Then this concept was taken and developed through advanced computational techniques that met BOTTER's vision, while enhancing mechanical cushioning enabled by HP's Multi Jet Fusion Technology.
Once printed in their original grey form, the sneakers made their way to Amsterdam to get colored up by the Dynamic Polyester Center BV with help from the BOTTER and Reebok teams. As this is a concept, sneaker spray painting was the process here, but also meant the teams could do a lot of trial and error to find the perfect shades to match the emerald, turquoise, and Caribbean Sea tones of the collection.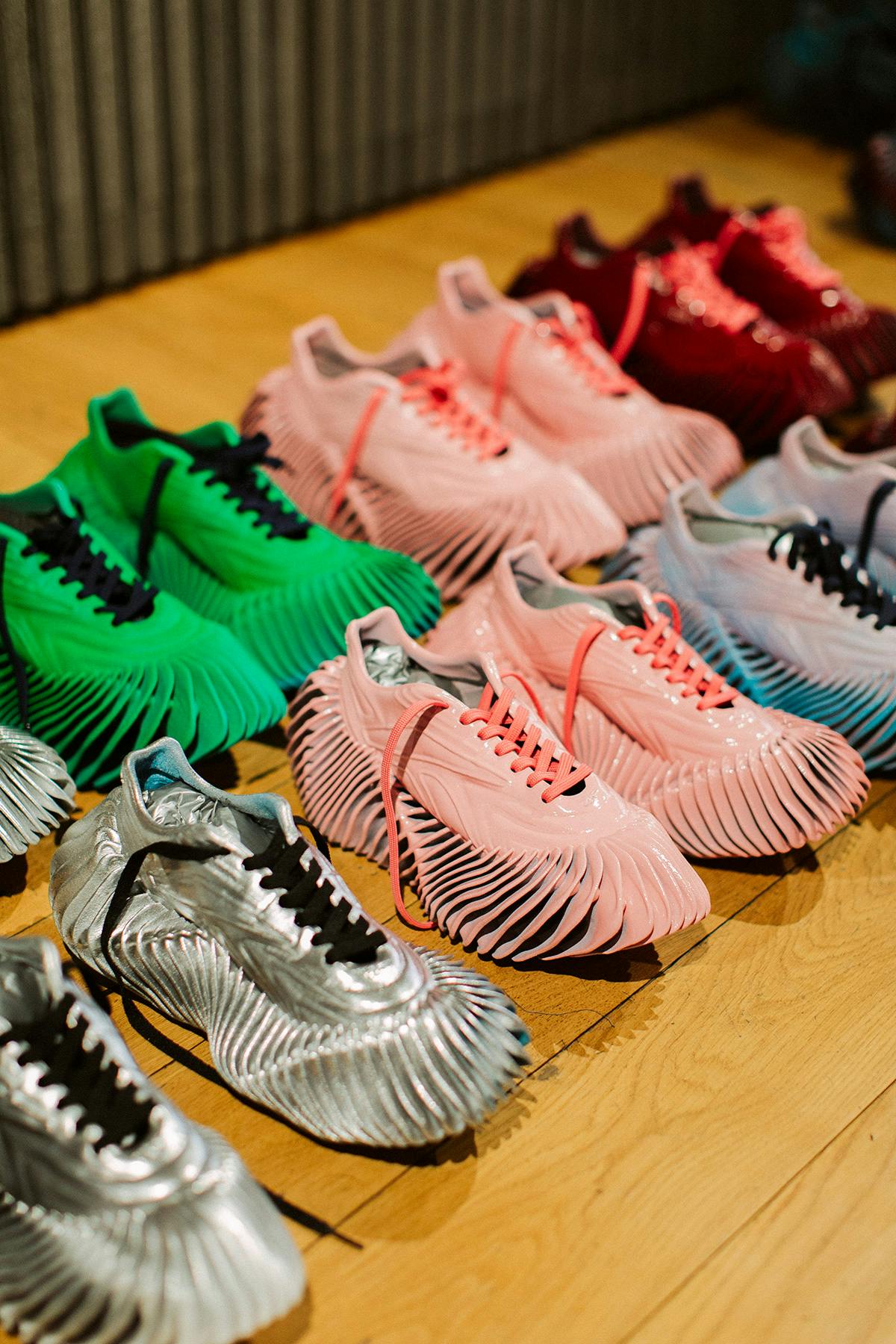 The Venus Comb Murex Shell sneaker is a project that represents the first leap into innovation, sustainability, and fashion Reebok is taking with the New Guards Group since the company's acquisition by the Authentic Brands Group (ABG). Last month we spoke of Reebok's expected defining moment and a shift in form. This combination of great minds from the New Guards Group, Reebok, HP and BOTTER for The Venus Comb Murex Shell is not just a step but a leap in the right direction.
Watch the video above for a behind-the-scenes look into the making of the sneaker.