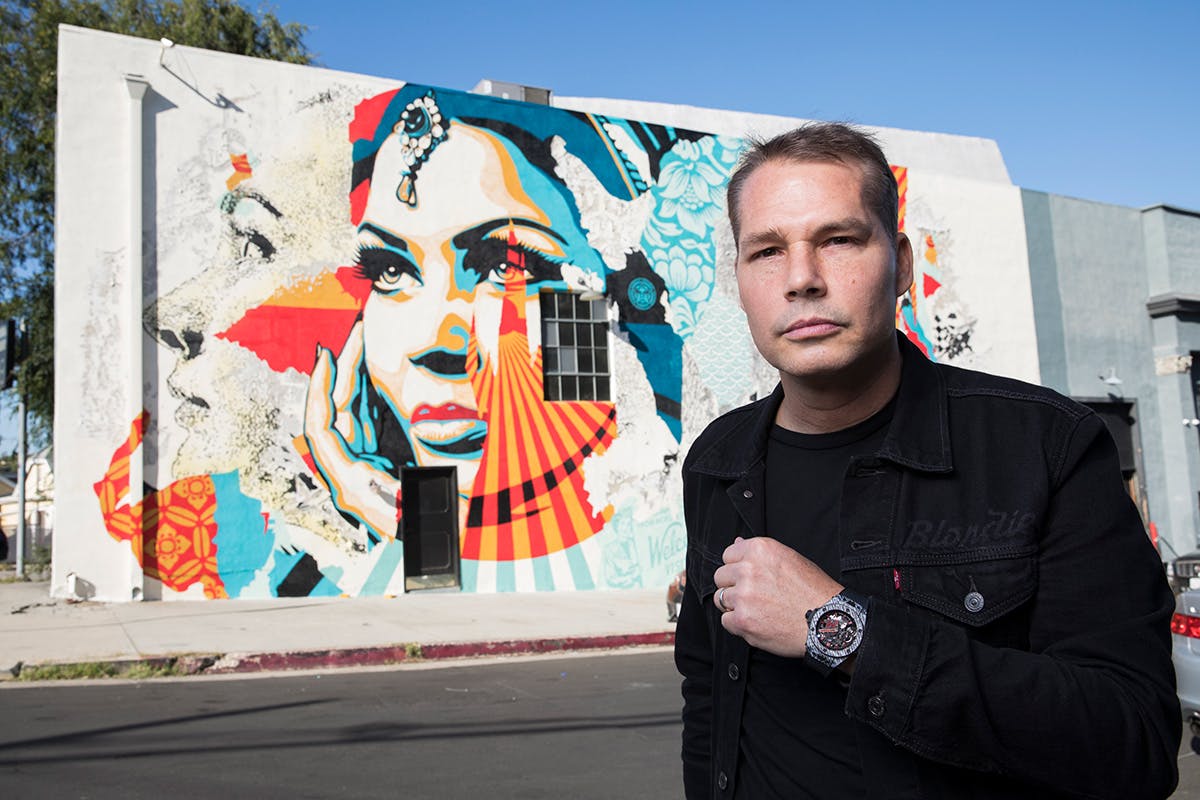 Swiss watchmaker, Hublot, has attempted to make inroads in the lifestyle arena by collaborating with contemporary artists as part of their Hublot Loves Art series. In the past, this has included people like Tristan Eaton, HUSH, Richard Orlinski, Maxime Buchi, Romero Britto, and Chen Man.
Shepard Fairey is the latest artist to join the growing list - having recently unveiled his 223-part Big Bang Meca-10 Shepard Fairey which took two years to construct - and boasts technical attributes like the brand's signature in-house movement, 10-day power reserve, a cogwheel system with two rakes sliding along a horizontal axis, a one-click mechanism which allows for a quick strap change, and a "STAR GEAR" logo at three o'clock.
We recently caught up with Fairey to discuss the collaboration, the similarities between the watch and street art worlds, and the biggest challenges he faced during the two-year journey towards completion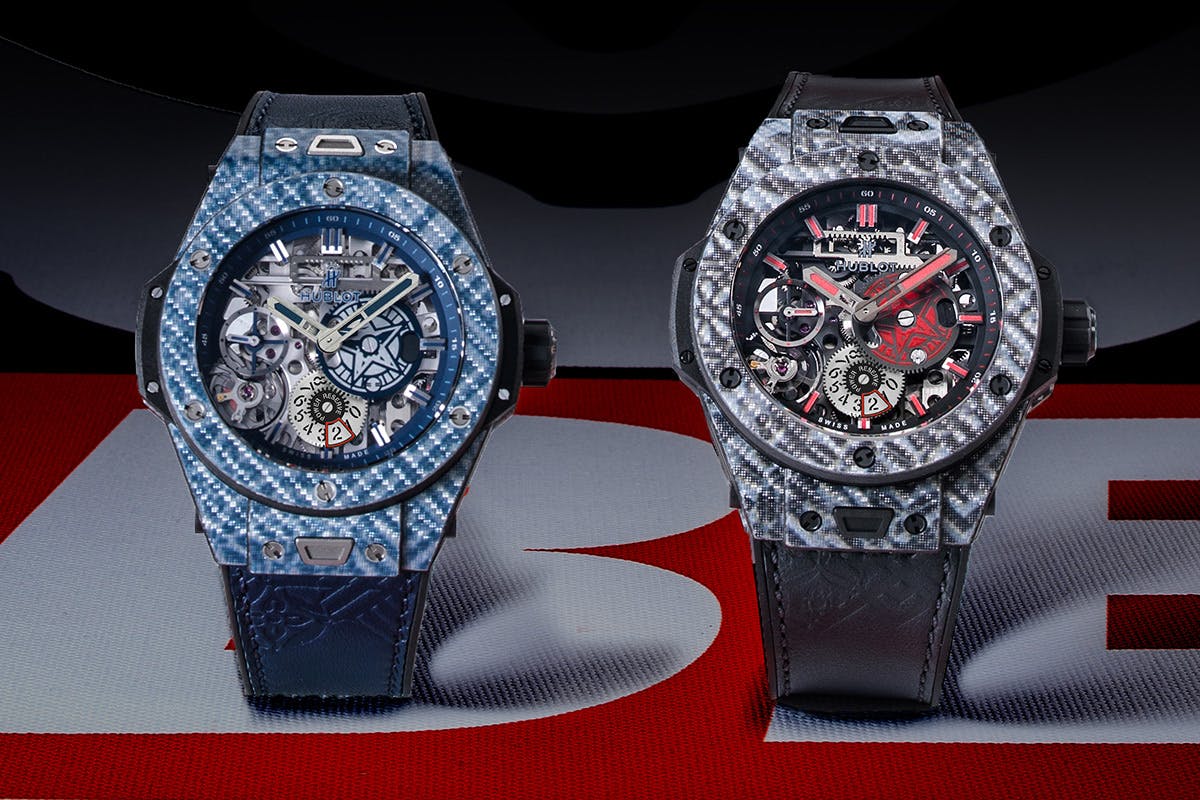 With Beyond The Streets having just opened and now the release of this collaboration, could you have ever imagined these two worlds colliding at the same time?
Everything for me has always been about just building on what I've done in the past and I started off with very little money, and I learned how to screen print. I learned how to make T-shirts, make stickers, make posters and then I've learned more and built an audience. So, everything is a gradual build and I never wanted to be narrow minded or fearful about where my art could eventually go. So, no, I didn't. I thought I might be living poor and in obscurity forever, but my ambition was always to push things as far as I could.
The great thing about Beyond The Streets is that it's a show that is historical. It shows a lot of people who have really helped to build what we now see as important in street art and graffiti. But there's also a demonstration of evolution in the show. It's not just a historical survey. It has brand new works from artists who have been creating work for 30+ years and newer artists who are standing on the shoulders of what's already been built in the genre but are pushing it forward.
Something I'm always trying to do with my work is to demonstrate the humble roots of it but also make it bigger and better and more sophisticated and more powerful. So doing something with Hublot, it's another amazing opportunity creatively for me. It's another platform for me and I think that when people call me a "street artist," yes, I am a street artist, I do things on the street, but I'm not exclusivity a street artist. I think that a great artist can make canvases, can make murals, can work in a number of different ways, and I think it's very limiting to try to confine an artist to just one area.
I'm happy to be able to do something with Hublot that's so premium, so well designed, so respected and have my work go in front of their audience, which is now going to maybe find out about everything else that I do as an artist. So yeah, even though I wouldn't have expected it.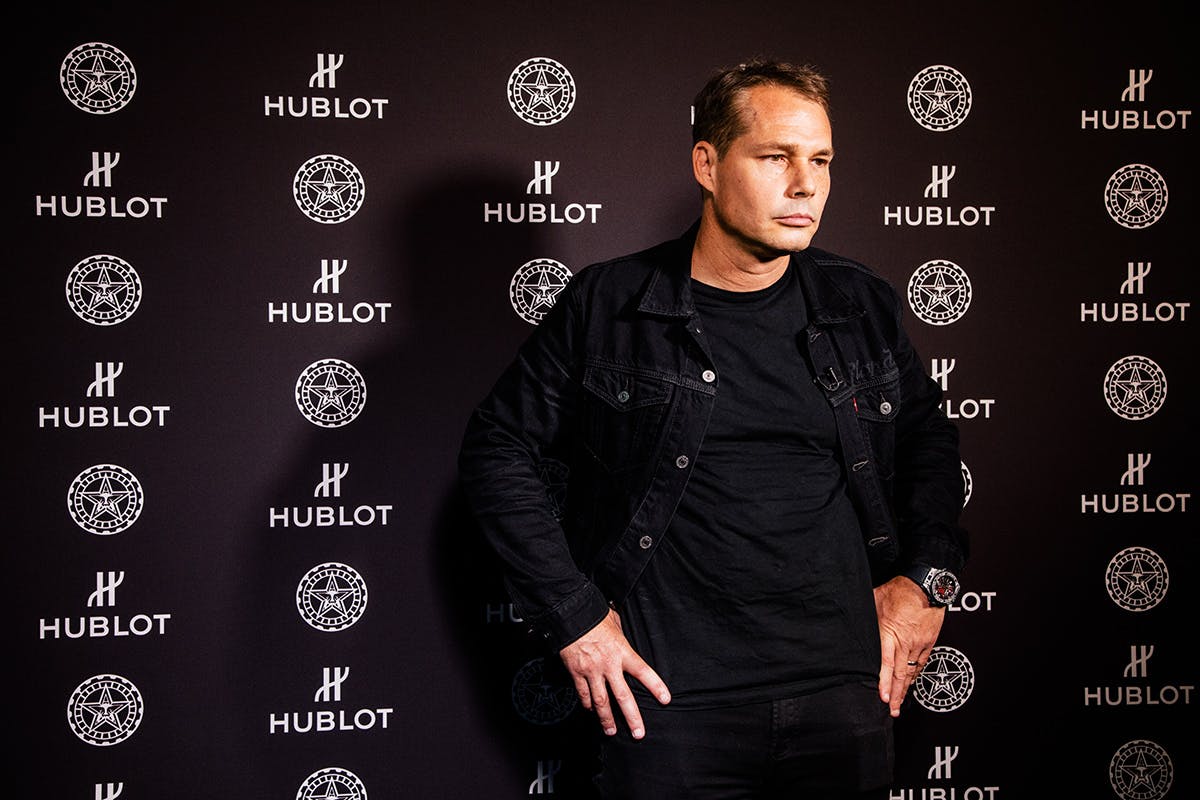 Luxury brands have gotten into hot water for reappropriating street artists and graffiti artists without their permission. There were artists like REVOK, RIME, etc, who all brought suits against these brands. Obviously, Hublot is doing it in a much better way, how did this whole thing come together?
Hublot had worked with Tristan Eaton whose work I really like and who's been a friend for many years. Tristan spoke very highly of how the collaboration worked and introduced me to Jean-Francois from Hublot and I liked him. He knew a lot about my work, he really seemed to understand it and when we were talking about the possibility of a collaboration he mentioned a lot of different techniques I hadn't even considered as possibilities to explore.
I liked the respect for art and the willingness to make a true collaboration that's a partnership rather than just saying "can you give us a few of your logos for us to throw on." Which is, unfortunately, how some collaborations go, but I always want to do things that I think really bring something special to that particular application. A lot of my work has versatility but I still make important choices when I'm applying something to...a watch. It's very different than when I'm doing a wall or when I'm doing a painting, even though there can be some continuity in some of the content.
That was how I was introduced and then we worked with a process of back and forth looking at how my vision could be realized, what limitations needed to be worked around. I'm a problem solver, working as a graphic designer and a street artist where I have to adapt to unconventional spaces, working on the watch was a similar thing and Hublot was supportive of trying things and if they failed, trying something else.
Both the street art/graffiti community and the watch community can be intimidating to those that may not know much about either. Do you hope that this collaboration will entice more people who don't consider themselves watch people to explore horological culture?
Yeah I do. I think that when you get into the world of luxury watches, it can be intimidating. It's just like [how] going into a gallery can be intimidating. But, one of the things I like about Hublot is, I feel like the brand, even though it's a luxury brand, does not feel as intimidating or as ostentatious. I think that it's got the right balance of making a statement but not coming across as too stuck up. There's an embrace of art, of fashion, of sports. That's something that makes it approachable.
From a design perspective what did you know you wanted to achieve going into the process and what was the biggest challenge you faced?
The thing I wanted to achieve was designing a watch that I would want to wear. The biggest challenge is that it's a small amount of area to work with and what is inherently beautiful and powerful about the watch is seeing the internal workings, seeing the mechanical side of the watch. So, I didn't want to obscure that in anyway so I had to find ways to integrate my work. And using my star gear in the mechanics of the watch, which the star gear is a symbol I've used to talk about the empowerment of mechanical reproduction because I'm printing and disseminating my images.
To be able to put that icon into the actual gear structure of the watch was a very harmonious marriage. There was a lot of trial and error to get the contrast right, the scale right, to see how that would work. Yeah, I think that any artist would probably have seen things the same way in terms of the challenges. It's not a lot of space to work with and yeah, you don't want to compromise the beauty of the watch itself.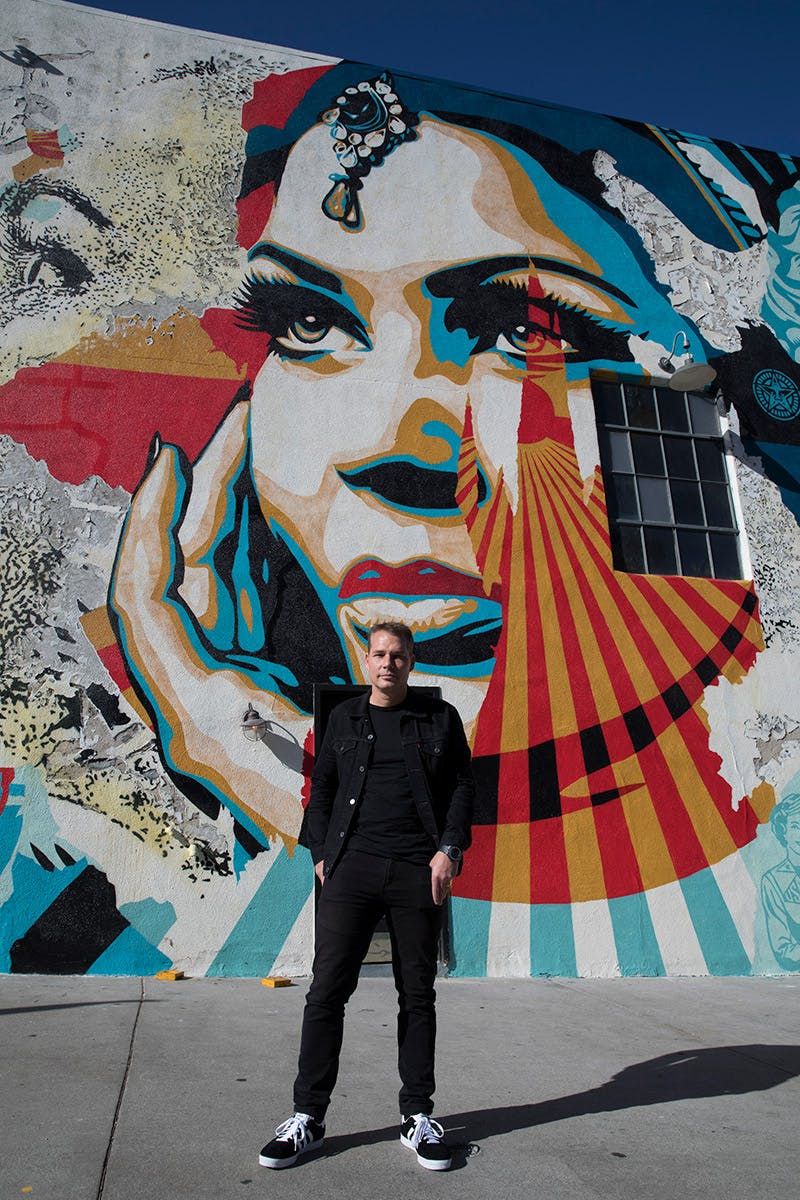 Time is often a graffiti artist/street artist's worst enemy. Was there anything particularly gratifying about taking a tangible power over it?
Well yeah, of course. I've used the phrase "seize the time" in my work. I've used it talking to people, it's something that is symbolically meaningful and for years I had to work quickly and look over my shoulder for the police. I love watches, especially now that everyone's looking at their cell phones constantly, that at least I don't have to pull my cell phone out to look at the time, I can look at my watch and I think that it's maybe, not that I'm particularly nostalgic, but, maybe it's a symbol of better manners as well.
Because I can be very outspoken and when it's necessary to be impolite, I'm okay with being impolite, but I was also raised in the South with good manners and I think that somehow I associate the watch with social grace.
For more watch content, read about the many factors that make them so expensive.