Following the untimely death of Slipknot drummer Joey Jordison, we revisit a piece exploring why Slipknot's masks matter and the wider impact they've had on fashion.
Germans have a word for everything. One of my favorites, Maskenfreiheit, refers to the freedom that comes from wearing masks. It's a concept embodied by fashion: we apply layers, improvise new selves, manipulate the surface in order to signal hidden depths. "I got a version of this mask when I was 14," Slipknot drummer Shawn Crahan, aka Clown, told the BBC. "It was that moment of clarity, deciding what I wanted to project. I'm being taught something and I haven't even figured it out yet. This thing has no fucking limits."
When Slipknot's self-titled debut album was released 20 years ago in 1999, it unleashed an aesthetic meme so powerful it continues to echo and refract through contemporary culture. Forget the influencer-lust for vintage metal tees or the multimillion-dollar merchandising operation sanctioned by the band itself – the visual elixir of furnace-red boiler suits, rural iconography, and half-human headwear is politically charged and infectiously alluring. At a march through downtown Manhattan in 2002, Clown referred to Slipknot as a "vision," a premonition from the future, preaching Bane-like to the fans who had traveled to the city by bus: "This is the new way. Look around at each other. Anybody who isn't the new way can get the fuck out."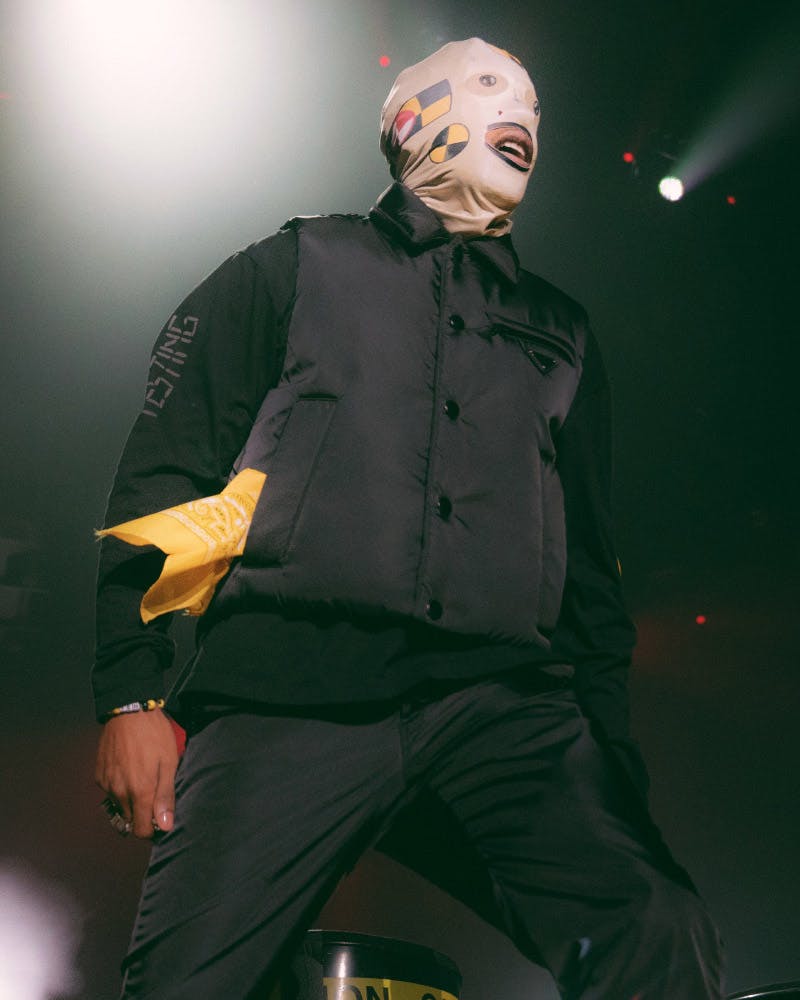 Here in the future, A$AP Rocky wears a dummy mask inspired by Slipknot drummer Joey Jordison as he bangs a pair of steel barrel drums on his "Injured Generation" tour while Brockhampton tried to symbolize a new political mood by repurposing the band's red jumpsuits for the North Hollywood "factory" where they work. Oh, and Rihanna loves them, too. But Slipknot's influence isn't always obvious. It comes coded, as much a subtext or an instinct as a recognizable trend. After 1999, it spread through Hollywood and high fashion before bubbling up through the SoundCloud underground of the 2010s; moving with the force of revelation, like finding worms under a fallen tree, confirming something you already knew.
Metal as a genre was always about the search for identity. It developed in the rust belts of Europe and the United States in response to the recession of the 1970s, adapting the theatricality of glam rock and twisting it to darker themes. Suicide, addiction, unemployment, and alienation are lyrical touchstones for music primarily popular among communities whose sense of purpose – which had previously cohered around industrial work – had evaporated, replaced by declining living standards, nihilism, crumbling infrastructure, and decay.
Slipknot formed in the mid-western city of Des Moines in 1995, a place frontman Corey Taylor described in a 2001 Telegraph interview as defined by "ennui, complete banality, no culture, no hope, nothing for a hungry mind." The band transmuted eerie windswept prairies, roaming cattle, junkyards, and rail tracks into nine distinct personalities, numbered 0-8 and unified by "S"-branded boiler suits, a defining workwear garment originally designed so that hot soot couldn't slip into an opening and burn the skin.
Among their number was a perverted scarecrow, a plump pink pig (last year, a Slipknot-themed haunted house opened in a former slaughterhouse in Des Moines), and a shell-shocked miner in a gas mask, all of whom appeared to have recently surfaced from the depths smeared in blood, oil, bandages, and dirt.
The aim was to reflect the culture that existed around them. Crahan, the multidisciplinary artist who creative-directs all aspects of the band's visual output from videos to stage sets to makeup, explained to GQ: "In the Iowa [2001] album case, I had put a mirror inside. So when parents or whoever opened it, they would see themselves first… I wanted people to reflect on themselves and think about how they were also a kid once, going through these same issues of navigating their own social scenes, gaining cultural awareness, and figuring out who they were."
It's the spirit that pulses through Raf Simons' SS02 collection, in which masked boys dressed in monotone red, black, and white (the same colors as Slipknot's boiler suits) became body-sized canvases for slogans like "Ready to Ignite" and "Born Too Late." On screens at the time, A.J. Soprano sought to distance himself from his family's suburban Italian-New Jersey traditions by outfitting himself in a bright red shirt and Slipknot tee, plus a burgundy Slipknot windbreaker in The Sopranos season 3 (2001). Formed in the early 2000s, the hackers of Anonymous saw their Guy Fawkes avatar reimagined in an adaptation of Alan Moore's V for Vendetta (2006), while the sadistic psychologist Dr. Crane asked his "patients" if they'd like to see his scarecrow mask in Christopher Nolan's franchise reboot Batman Begins (2005).
Across pop culture as a whole, faces were being obscured. Daft Punk donned their now-iconic helmets for the first time in 2001. Bjork started wearing elaborate headpieces crafted by embroidery artist James Merry, and Dutch art house designers Viktor Horsting and Rolf Snoeren sent a range of fishnet and fencing-inspired masks down the Paris Fashion Week runway in early 2006. The climate demanded cover. Surveillance increased dramatically after 9/11, initially encouraged by states citing defense against a hidden enemy, and later by Silicon Valley corporations who harvested and sold private data to advertisers and governments when asked.
Visual artists used fashion as part of their response to being watched. Artist and researcher Adam Harvey created open-source camouflage to guard against facial recognition algorithms, plus a chic, Abloh-style phone wallet named OFF Pocket™ designed to block wireless signals that could be used for tracking. German artist Martin Backes created Pixelhead, a satin balaclava printed with the distorted face of former German Secretary of the Interior Thomas de Maizière. It was a provocation against surveillance, though its hollow eyes and humanoid skull would sit comfortably beside the pin cushion bondage mask worn by Slipknot sampler and keyboardist Craig Jones.
Slipknot's own mask designs were never so explicitly topical. They gesture towards something more personal, more difficult to name – something homemade. The studs, zips, pins, and stitches that hold the metal plates, bandages, and gauze together channel the uncanny thrill of a half-dressed manikin, an ambiguous being existing somewhere between life and death.
Masks are a fashion mainstay. In fact, it was an enameled crucifix, stuck to a black eye mask, which stole the show at Alexander McQueen's "Dante" FW96 presentation, launching the designer to global fame. In 2015, after McQueen's death, Rihanna appeared on the cover of AnOther magazine wearing a tribute black lacquer mask. Rick Owens produced a series of web-like "brutalist veils" for his FW12 Ready-to-Wear collection, while Maison Martin Margiela has embraced the collective-forming power of covering up. Margiela himself is hardly ever seen in public. A 2000s trope of hiding models' faces with hair or makeup later developed into diamond-covered mesh masks, several of which Kanye wore on his 2014 YEEZUS tour.
But for me, nothing hits the mark like Jun Takahashi's FW06 collection for Undercover. In her runway recap, Vogue's Nicole Phelps wrote: "chain-covered headdresses evoke medieval armor (as well as – a shade more sinisterly – prisoners' hoods)," but even this downplays the line's effect. This is the figure of man as matter – unveiled the same year images of torture at the Abu Ghraib prison in Iraq were released – a statement that stretches to fashion's material core.
Anonymous beings are presented as an assemblage of stuff: key chains, dangling sleeves, and bird feathers (heads will remember that Clown kept a decomposing crow in a jar to help him vomit on command). It's psychological, hitting the same vein Slipknot aims at by being constructed out of byproducts and waste, a bit like the Oogie Boogie man from Tim Burton's The Nightmare Before Christmas (1993), a demon in the shape of a potato sack who is (literally) undone when Jack pulls a seam loose and all the worms and insects inside fall out.
In 2008, Slipknot released All Hope Is Gone, their first number-one album, recorded at home in Iowa. The cover art depicts the band waist-high in a wheat field and the music saw them pushing further towards groove metal, hip-hop, and emo vocal styles, a playful palette for which they were sometimes criticized.
Meanwhile, in the cities, a new craze for one-piece suits was taking over as fast fashion megaliths ASOS and Primark began producing adult onesies, ushering in a new era of infantilization that lives on in the ice cream museums, Harry Potter cocktail bars, and London's ball pit cocktail bar Ballie Ballerson. Symbols of devilry and rural occultism transfixed viewers in season one of True Detective in 2014, the same year Nicolas Ghesquière's Balenciaga and Demna Gvasalia's Vetements became the delivery system bringing barely-dead nu-metal graphics to their feeds, from which they trickled down onto a million vintage T-shirts.
We entered the social media age. Sampling and genre experimentation accelerated via platforms such as SoundCloud, out of which emerged Lil Peep, Ski Mask the Slump God and XXXTentacion, all of whom cited Slipknot as an influence (the latter even named a song after them). The primary use of masks in contemporary culture moved from resisting surveillance to an interactive digital art project, for which we voluntarily handed over biometric data in exchange for seeing ourselves made into fantastical beings.
In 2011, Saatchi & Saatchi created an app called "Wear the Mask," which used multiple-choice questions to match users with Slipknot members and take selfies looking like their match. On Instagram, we constantly surveil each other and are coerced into projecting bodies and lives in perfect working order. Still, the unsettling truth makes itself known. Alongside the late-2010's dedication to self-care and the application of cosmetic face masks came "scary selfies," the moment when a hydrating sheet mask – a second, augmented skin – begins to peel away, revealing us for the puppets we've become.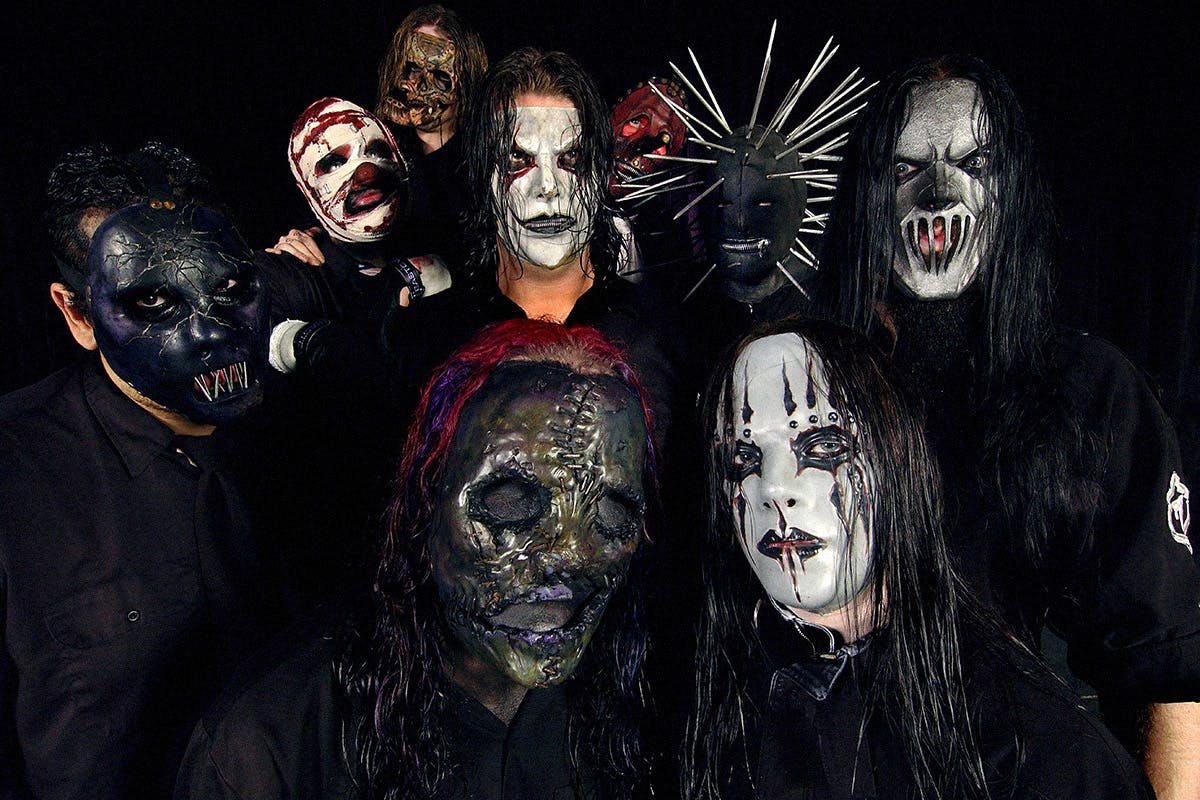 Slipknot bassist Paul Gray passed away in 2010, from a lethal mixture of fentanyl-laced opioids (as did Lil Peep, seven years later). The opioid epidemic is a tragic symptom of a larger structural problem. Beyond the prescription of painkillers encouraged by big pharma marketers, the drug fills a hole across large swathes of the U.S., where meaning and purpose has been eroded – not necessarily among Trump fanatics, who are statistically more likely to be business owners, but among non-voters for whom the entirety of the political-media discourse is an irrelevance. Slipknot, though financially successful, have remained part of the culture that produced them, what Corey Taylor called "completely white-trash poor" in his Telegraph interview.
In a review of Slipknot's latest album, We Are Not Your Kind, titled "How Slipknot's 'Revolting,' Class-Conscious Rage Became the Perfect Soundtrack for 2019," Daily Beast reporter Tarpley Hitt notes how the album loops back on the band's earliest themes: "An unspoken awareness of political unrest, a frustrated premonition of what the future might hold, and a cathartic, revolting release."
This is what the mask was always for: to present the shit that will not go away, put it on the runway, smuggle it onto a T-shirt worn by A.J. Soprano or Billie Eilish, to remind a broader audience that people are nothing but matter – and that they matter.