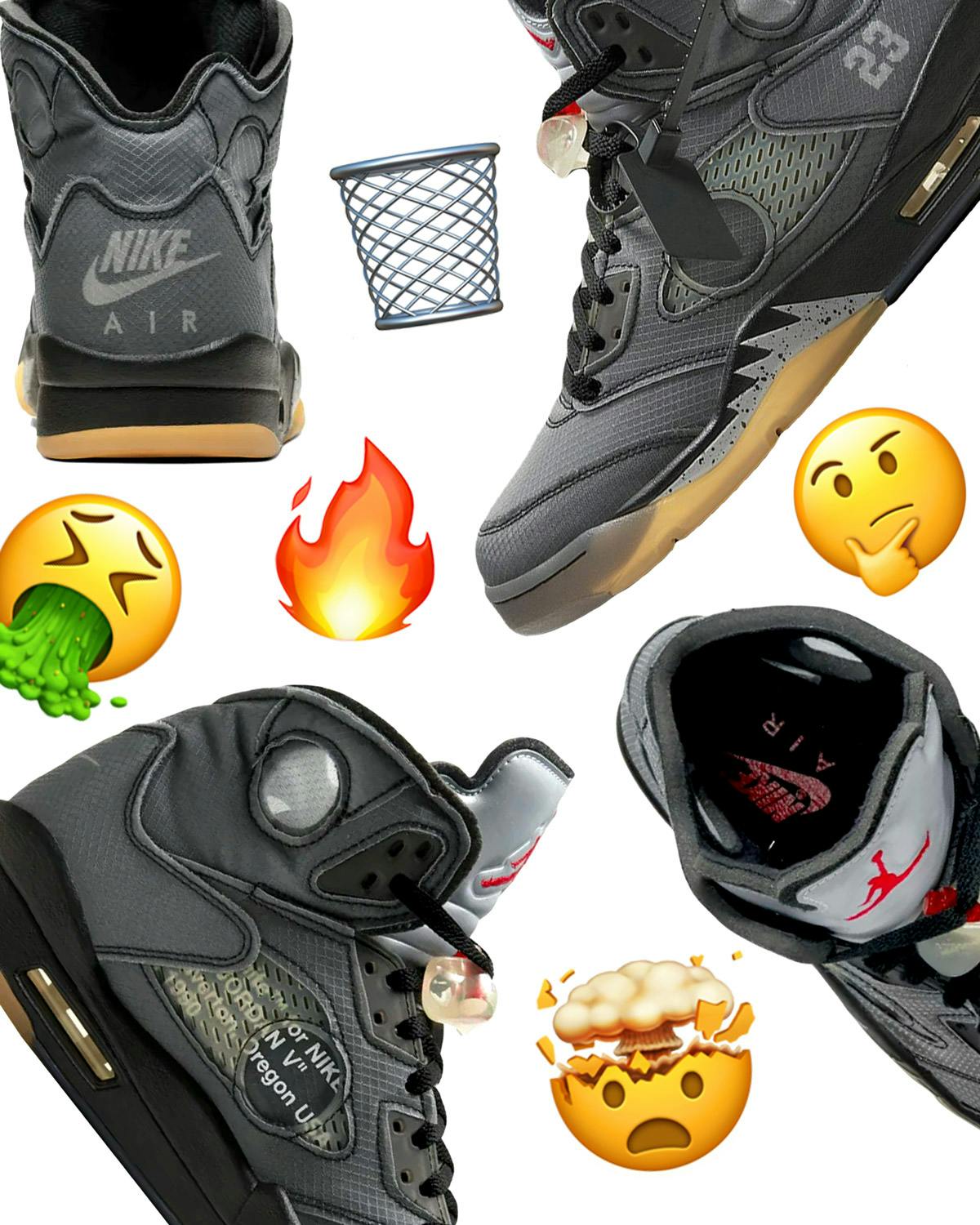 Highsnobiety's sneaker jury is tasked with bringing sneakers to trial by delivering a verdict on key releases. Our recurring jury will convene for the most pivotal sneaker drops to serve up analysis and commentary. This week, the defendant is the Off-White™ x Nike Air Jordan 5.
Stay posted for upcoming editions, when a new jury will weigh in with their verdict on the next big release.
The jury is now in session.
"I love them. It's been a while since I've seen an Off-White Jordan that I thought was instantly wearable. I know Virgil has since explained that the holes are meant to re-imagine Nike Air, but my first thought was that it's a tribute to the Jordan 2010, which is one of those Jordans that no one talks about any more. For the 5, I think the materials are great — I haven't worn a 5 in a while but I think I would wear this one."
Verdict: Cop
"The Off-White™ x Jordan 5 is arguably one of Virgil's most understated collaborations with Nike; no wild color pops, no metallic silver swoosh, few (if any) unfinished edges... this is really just a nice and relatively easy-to-wear shoe. Knowing that one of the original inspirations for the 5 was a fighter jet, I find that the Off White™ iteration does a good job of holding true to the ethos — the dark gray coloring with the slight wash, to be precise — while still tying in Virgil's current look and feel, i.e. the circular voids seen in his recent benches, Off-White™ bags, and now these shoes. Although I have a ton of trouble wearing high-tops in general, I have to say these are most definitely a cop in my books."
Verdict: Cop
"I honestly hadn't taken a good look at these until you asked, and have not read anything about Virgil's intentions with the design. So, these really are my first impressions. The holes are weird, but I appreciate design that makes me uncomfortable and question [things]. Isn't that the point? To make me think differently? Interpret differently? I like the charcoal patina. I gravitate towards black and dark sneakers, so that's an easy one for me. I'm technically a purist when it comes to re-appropriations, so I love that it's strongly reminiscent of a black 5. But there's just enough added nuance and twist to it, to where — from a distance — you can immediately tell that they are special. That they are Virgil's. 100 percent COP."
Verdict: Cop
Sara Gourlay, Creative Director of Frankie Collective
"My pet-peeve is wet socks. So the thought of these air bubble cut-outs, as a person living in rainy Vancouver, sends me over the edge. Air bubbles aside, I'm a fan of the vintage feel of the faded gray, and almost pre-yellowed sole — like a pair of shoes that have been worn and loved. For me, that's what sneakers are all about. I would wear these every day with faded, vintage black denim, so these are most definitely a cop."
Verdict: Cop
"I'm not sure if Virgil intended to do this or not, but to me, I'm intrigued by the magnifying glass-type circles featured on the Off-White™ AJ 5. The original AJ 5 released February 1990. Twenty years later, the Air Jordan 25 (which also featured prominent circles) released in February of 2010. Ten years later, Virgil's interpretation of the AJ 5 is releasing. To me, the magnifying glasses encourage us to pay attention to certain aspects of the 5 that were revolutionary and important for that silhouette. I think it's a brilliant move by Jordan Brand, and also makes me appreciate the moments when MJ rocked the black 5 with white laces."
Verdict: Cop
Chris Danforth, Features Editor at Highsnobiety
"There are aspects I like, and aspects I really don't. The reflective tongue, yellowed sole, and the upper material are all nice details, but I don't feel the hole effect actually elevates the design as much as Virgil's previous work with Nike acted to elevate and interpret models like the Blazer or Jordan 1. I'm a bit surprised to be the only member of our sneaker jury dropping these. I'll take the New Beginnings pack instead, please."
Verdict: Drop