Reselling as we know it is changing. Fast.
Driven by brands generating artificial scarcity by keeping supply below demand, as well as by a burgeoning celebrity-driven endorsement culture, the global sneaker resale market — currently valued at $6 billion according to data provided by StockX (significantly bigger than the $1 billion widely reported) — is experiencing a meteoric rise.
We've come a long way since the early days of trading rare and limited sneakers and streetwear on forums, through online auction sites such as eBay, and peer-to-peer transactions via decentralized social media groups, all of which often left shoppers frustrated by the user experience and small inventory.
Fast forward to today and the secondary sneaker market has evolved into one with professionalized online marketplaces, including Stadium Goods, Grailed, StockX, GOAT, and KLEKT. These provide a digital-native audience with a more formalized process and a plethora of choice. With the sites taking a percentage of every sale, customer loyalty has become a priority.
"If you go back five or 10 years, people didn't really trust what they were buying from an aftermarket. Transactions were messy and there wasn't a clean experience," says John McPheters, co-CEO of Stadium Goods, the New York City-based sneaker and apparel resale marketplace founded in 2015.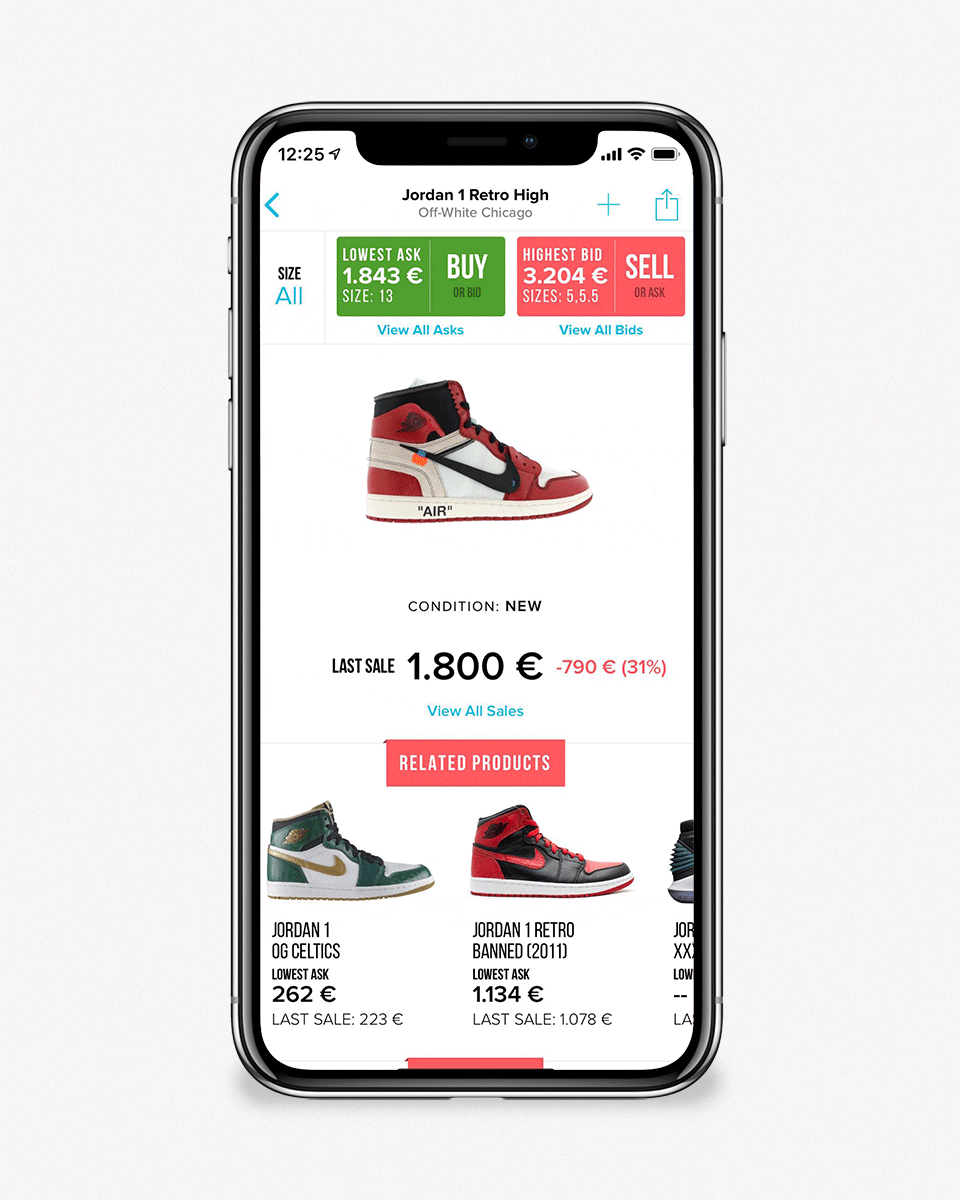 "When Jed [Stiller] and I set out to build Stadium Goods, a huge part of our focus was about building Stadium Goods as a brand — clean up [the market] and present the best front-of-house experience. We've helped drive consumer adoption of what the aftermarket means."
In 2017, Stadium Goods turned over $100 million in gross merchandise volume (GMV), and in December it reached a major milestone when London-based fashion marketplace Farfetch acquired the business for an impressive $250 million. The deal will allow Stadium Goods to leverage Farfetch's rich tech expertise, cross-border logistical experience, and giant customer base.
The game-changing seal of approval follows the sneaker resale market's biggest year to date. With cult labels Supreme, A-COLD-WALL*, and HUF selling parts of their companies to investors, it makes sense that sneaker resale marketplaces would be next up on the auction block.
In February 2018, Stadium Goods sold a minority stake to LVMH Luxury Ventures for an undisclosed sum. That same month, mobile-focused marketplace GOAT acquired sneaker consignment store Flight Club while also raising a $60 million investment round led by venture capital firm Index Ventures, bringing GOAT's total funding to $97.6 million.
In June, Grailed, the peer-to-peer streetwear marketplace co-founded in 2013 by Jake Metzger, Arun Gupta, and Julian Connor, also closed a $15 million Series A investment round with Index Ventures, Thrive Capital, and Simon Ventures.
Three months later, StockX, the self-proclaimed "stock market of things," secured $44 million in its second funding round. The company, which has more than 80,000 products listed on its website and in the fourth quarter of 2018 passed a $1 billion GMV run rate — up roughly seven times on 2017 — now boasts a roster of celebrity investors, including Eminem, Mark Wahlberg, Don C, Steve Aoki, Karlie Kloss, and Scooter Braun.
"Fashion is becoming a social lubricant of today, in some ways overtaking music and other forms of creative expression," says Index Ventures partner Danny Rimer, the guy behind the GOAT and Grailed deals. "[GOAT and Grailed] operate in specific niches, but it turns out these niches are much bigger than we ever expected, have a global appeal, and are growing rapidly. We're still in the early days of the sneaker phenomenon."
Today, with millions of dollars in backing and new investors to report to, platforms are expected to grow faster than ever. Yet while the market is expanding, sneaker and streetwear brands are still the ones that hold the power when it comes to the supply of coveted product, not the resellers. In other words, reports of adidas flooding the market with millions of YEEZYs are likely to have a negative effect for sellers on the resale market.
So, will the sneaker resale bubble continue growing or is it about to burst?
Staying ahead of the pack
"In the past 12 to 24 months, the needs of the customer completely changed, so we had to change [with it]," says Marius Obiegala, co-CEO of KLEKT, the dominant European resale website. In 2017, four years after its launch, KLEKT changed its business model from peer-to-peer marketplace into an augmented one, meaning it acts as a middleman with an authentication service. The shift paid off, with KLEKT's revenue growing by 375 percent and new customers increasing by 190 percent between 2017 and 2018.
In 2019, we will see resale players continue to evolve and diversify their operations, both to stand out from competitors and to find new avenues for growth. Connecting buyers with sellers, offering the lowest prices, and authenticating products alone simply won't cut it as market competition heats up.
For some, that means looking toward brick-and-mortar retail expansion and celebrity partnerships, while others are keeping things more focused.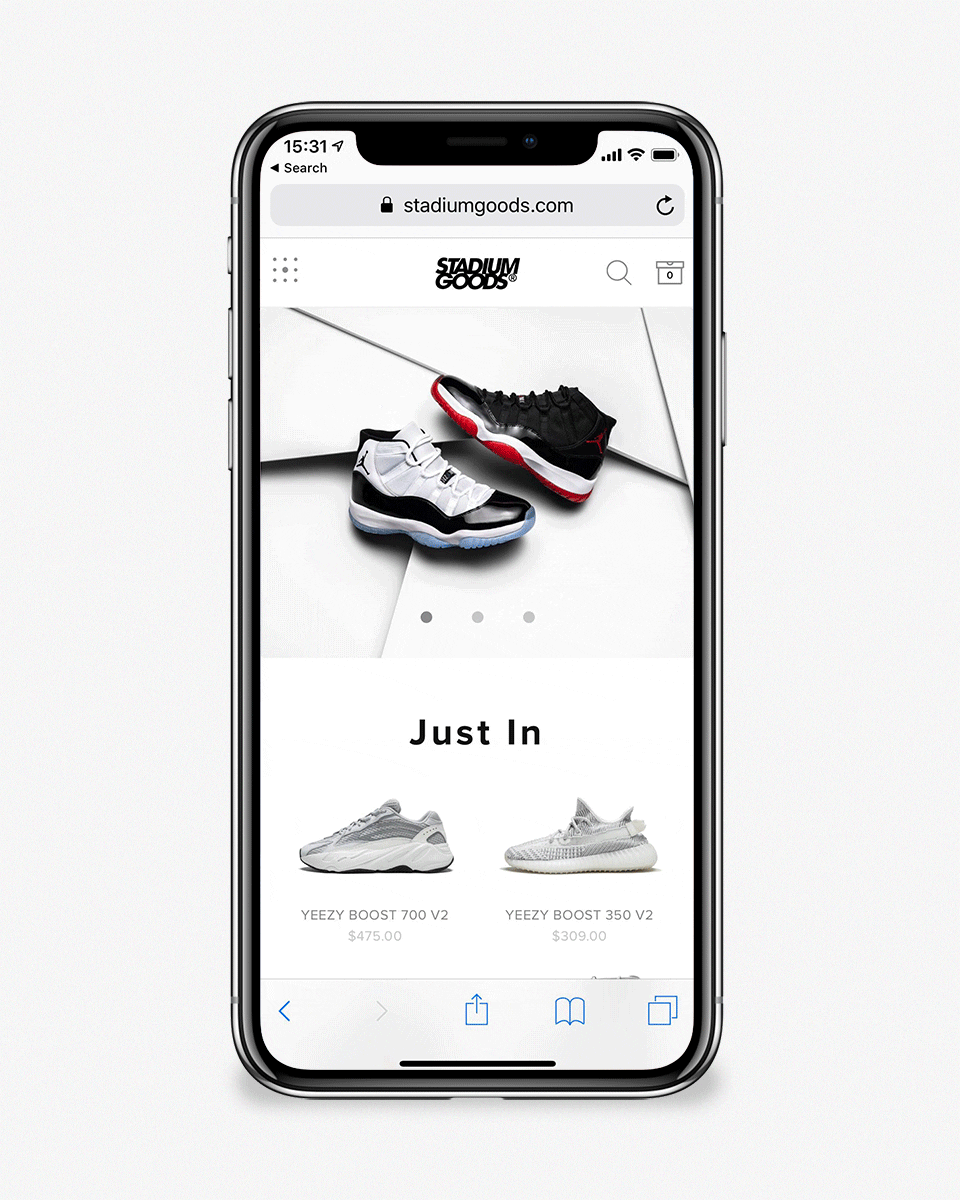 After branching out in 2017 with the launch of its sister site Heroine, Grailed has continued to cross-pollinate its commercial and content businesses by hosting customer events and partnering with influential figures such as Jerry Lorenzo, Matthew Williams, and Lil Yachty. It's a way to educate consumers while luring them in with something different.
"It means doing more community-building activations, working with emerging and established designers, and producing more content and projects that will further enhance our brand and attract customers to this new method of commerce," says Grailed CEO Gupta, whose strategy of building a tight-knit community has resulted in 28,000 user comments on Grailed listings per month.
StockX CEO and co-founder Josh Luber is casting the reselling net wider. In May 2017, StockX added luxury watches and handbags to a product mix that until that moment had consisted strictly of streetwear and sneakers. Later this year, he says, we might be seeing new offerings outside of wearable goods — think KAWS companions and rare Supreme skate decks.
"Today, to be a vertical marketplace you need to be a collection of niche marketplaces," Luber says. "Different marketplaces have separate social handles, marketing, and content because those customers are different."
Merging primary retail with resell
While resale businesses are finding ways to diversify, this year we'll continue to see the market as a whole become more accepted by consumers and more authoritative in the sneaker space at large.
"We do see retail and resell merging," says GOAT CEO and co-founder Eddy Lu. "It's not just about flipping shoes anymore. People are coming to us now to buy sneakers, period." Proof can be found in the 25 percent of the company's inventory that are general release sneakers offered at or below retail price.
GOAT currently has more than 11 million users, up from 2.5 million a year ago, while supply has also grown from 200,000 sneaker listings to 750,000 in the same time frame. Revenue has grown 500 percent as a result. The most lucrative sellers have sold more than $10 million in sneakers each, up from $2 million in 2017.
"That aftermarket graph is going to keep trending in the same way e-commerce has compared to retail, because people are more comfortable than ever to make that purchase," echoes Stadium Goods' McPheters. "It's going to scale very well in the next couple of years."
Yet rather than just courting the greater acceptance of the resale market, players are now vying for market share in the primary space, which according to StockX is nearing $100 billion globally. It would put the aftermarket in direct competition with retailers such as Foot Locker and brands including Nike, which sells sneakers direct-to-consumer via its own channels.
"What we're seeing is that a lot of players are saying fuck the resell market and let's move into the sneaker market itself, which is great," explains KLEKT's Obiegala. "The whole market is changing from a classic resale market to a fashion market."
Farfetch's acquisition of Stadium Goods is an early sign of two once distinct markets blending seamlessly. StockX's Luber is even more optimistic about the way retail and resale are evolving.
"It's a self-fulfilling prophecy once players in the secondary market start to bring over that retail customer like we're already seeing," Luber says while acknowledging that StockX is looking for ways to converge the two markets. "At some point in the future, there won't be a distinction between the primary and secondary markets, it just happens on the same platform. So [Nike] releases something on its SNKRS app, for example, and we'll sell it on StockX at the same time."
In essence, the initial sale and resale will be so seamless, the original buyer will never even see the physical product.
Working directly with brands
For the two markets to work successfully alongside one another, the key to cutting out the middleman is the full cooperation of brands. For years, sportswear and luxury companies have tended to dismiss the aftermarket, believing it to dilute their brands. Both Nike and adidas declined to comment for this story.
However, some early adopters — including Nike — are awake to the opportunity of partnering with reselling platforms. In January 2017, the Swoosh worked with StockX to jointly launch the "Cavs Court SPO," including 23 pairs of the Air Zoom Generation "First Game" signature shoe from LeBron James' rookie season and 23 pairs of "Out of Nowhere" LeBron 14s, bypassing traditional wholesalers and donating a portion of the proceeds to Cleveland's Cavaliers Youth Foundation.
In April last year, GOAT became the exclusive partner for Versace's launch and subsequent re-release of the anticipated Chain Reaction sneaker designed by YEEZY alumnus Salehe Bembury. According to GOAT, it was the first time ever that many of its buyers had purchased a luxury brand sneaker, demonstrating the value a resale platform can bring to brand partners.
"The streetwear market is getting huge and, in the end, brands don't care if it's resale or not, they just want to participate," says Obiegala. "Brands will try to collaborate with those where the motion is, and it's not at Foot Locker, but on platforms like ours. The secondary market will always project what's really happening at the brands."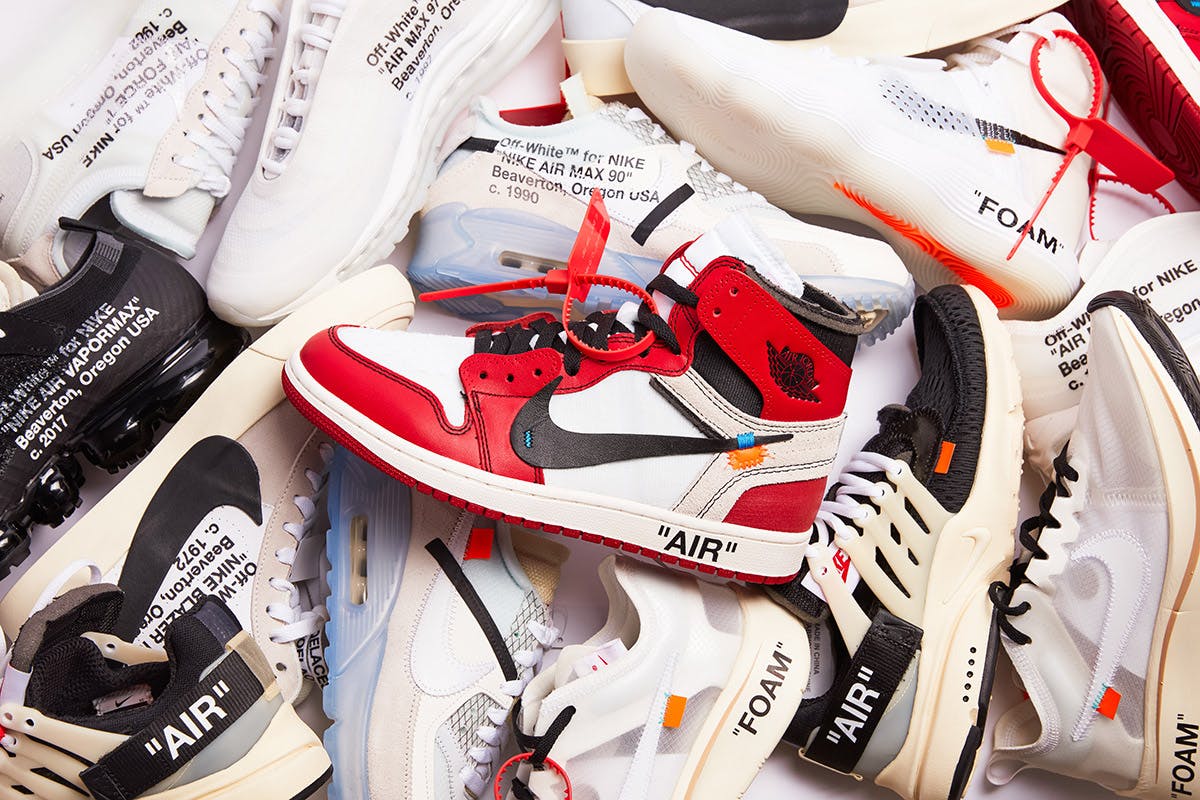 Luber agrees. "We now have a better view of a certain customer segment than the brands do," he says. "For a pair of OFF-WHITE shoes, Nike knows all the people that are paying $200 for a pair of Jordans, but those are resellers and I have all the data of the people willing to spend $2,000 for them. Nike knows nothing about that customer."
As well as a rich data set, resale platforms have more liquidity and supply than traditional retailers, with the individual products in stock also being more scarce than the items sold at retailers. Brands that might have been wary of the resale market are now faced with a space that is legitimized and backed by some of the world's most notable venture funds and wealthy individuals.
"At Farfetch, we're confident that this trend will continue," says Farfetch founder, CEO, and co-chairman José Neves. "We're starting to see that brands are increasingly valuing the secondary market, which is authenticated and promotes a sustainable circular market." Neves adds that the premium sneaker category grew at a compound annual growth rate of 22 percent from 2009 to 2017.
"We've had many conversations with fashion brands about working together," says Grailed's Gupta. "Brands and stores are [finally] embracing this shifting paradigm and engaging us in conversations about how they can engage directly with our audience."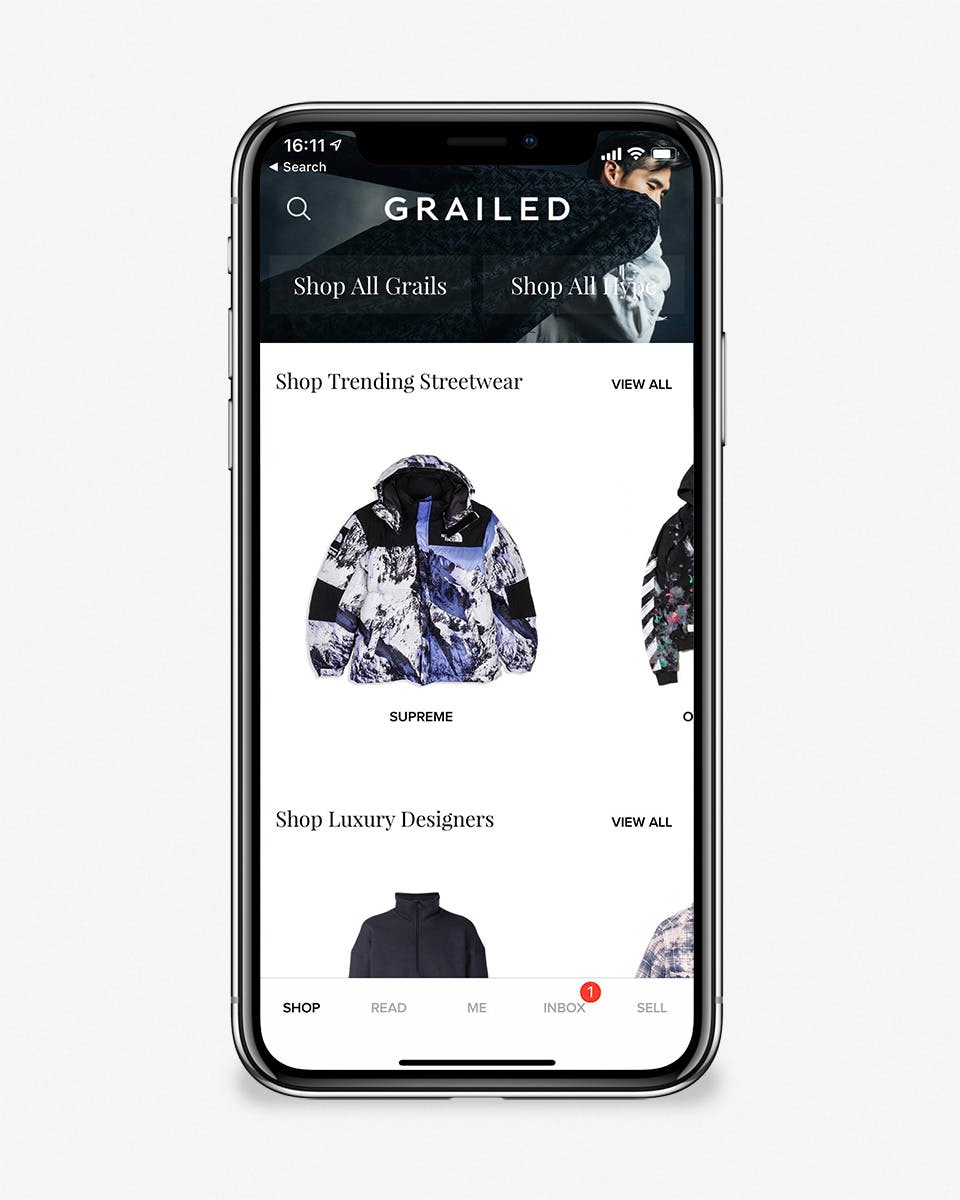 The opportunity for brands is big, argues McPheters: "Brands will have to work with the aftermarket more. Whether it's selling product through us as a channel or using it as a data-access point to understand metrics and consumer interest. It's a much different space than it was even last year, and I think people are seeing the writing on the wall. We understand how these brands work and how we can drive value."
Growth potential in China
While getting brands more involved will be a major target for 2019, resale companies are also planning to extend their horizons geographically. All parties interviewed for this report said international expansion was a big priority over the next two years.
While resale companies currently ship products around the world, there is an opportunity to conduct business at a more local level. In October 2018, StockX expanded into Europe with a UK authentication center. The warehouse will also serve as the company's European office and shipping hub for the 30 European countries in which it does business.
"What a global business looks like in 2019 is many local businesses tied together, so it's about local currencies [to remove friction on sales], local shipping costs, transparency, and a local operations center," says Luber. "That's the strategy on how we're moving forward."
In the near future, for resale businesses that also means entering Asia — China mostly importantly — in a big way. Management consultancy Bain & Company predicts that China will account for at least 45 percent of luxury purchases worldwide by 2025, up from 33 percent today. A big driver of that will be the country's millennial and Gen Z demographics, the same group behind the sneaker resale boom.
According to Nielsen and OFashion, from 2015 to 2017, streetwear consumption in China grew 62 percent, 3.7 times higher than in other countries. But companies approaching the Asian market with the same attitudes and marketing tactics as in the West are likely to fail.
"I know for a fact that the [sneaker] aftermarket in China alone is over $1 billion," says Luber, who recently hired StockX's first person in Japan and says the company is having detailed conversations in China to find the right strategic partner to elevate the business there. "China is probably our second largest country, not only for direct sales but also for shipments to Chinese port cities that buy in bulk."
Stadium Goods, too, saw the opportunity early, partnering with Alibaba's Tmall platform in 2016. The Farfetch buyout will enable the company to extend its reach further through Farfetch's strategic partnership with Chinese e-commerce giant JD.com.
"We have a big focus on international, both on our direct business and through new channel partnerships we have rolling out," says McPheters. "Obviously, we also have retail expansion lined up in some really exciting new locations."
Eddy Lu says GOAT is planning its own expansion. "We want to make sure we have a global marketplace, so it's important for us to fulfill the supply and demand needs of our customers," he says. GOAT is planning additional Flight Club stores this year, both in the US and internationally, and is already working with a Chinese partner. "[China] is such an important part of sneaker culture. There's a big opportunity there and we're definitely going to work and grow our China business this year."
But not everyone believes the sneaker resale market can scale as fast as some executives seem to think. The NPD Group's senior sports industry advisor Matt Powell thinks growth potential is limited.
"Two big drivers of the resale market, YEEZY and Jordan, are going the wrong way," Powell says, referring to the oversupply of both brands. "Certainly, there are collaborations with OFF-WHITE and so forth, but they're very limited. To me, this market could find itself in some difficulty simply because there's nothing of scale to step up."
Powell says resale companies should continue to expand their offer beyond sneakers alone. "The business model that diversifies itself and finds other categories to resell will be the big survivor here, because I'm really losing faith in how big the sneaker resell market can be," he says.
He has a point. Brands still hold the power, and scaling a business built on limited supply has its challenges. Still, Luber isn't worried.
"The way brands can crash the market and destroy this would be with mass supply, but that will never happen because they would all go out of business because every product would be infinitely supplied," Luber says. "Tastemakers will always want stuff that's scarce, that other people don't have. [Brands] can't actually crash the market."
Powell, however, remains skeptical. "This is going to be a real transitional year for the [resale] industry, and it will be interesting to see how it plays out over time," he concludes.