Consistency is an attribute that Shawn Stussy's namesake brand Stüssy has in abundance. When the time rolls around for a new seasonal collection to reach global shores and online storefronts, fans' expectations are unsurprisingly high. Lacklustre is an ingredient left out of Stüssy's selections, and Spring 2023 is all of the proof you need.
The world's most beloved streetwear giants, the likes of Supreme, Palace, and Stüssy, have done well to ensure that their product offerings have consistently evolved and grown over the years.
As painfully obvious of a strategy that this may seem within the apparel market, it's never a given; plenty of brands have faltered at the line, stumbling as they desperately cling onto fan favorites to drive sales.
Keeping the brand fresh while grounded in what has kept their cults loyal is a cautious balancing act that Stüssy has perfected. By maintaining a seasonally updated rotation of desirable staples alongside fresh takes, it's proven its merit across countless categories and decades.
Spring 2023 fails to disappoint, knocking it out of the park on several fronts – considering we've only just dipped our toes into the season, this is an exciting prospect.
Pant styles have once again proven a big draw for Stüssy, which has doubled down on remixing its most favored silhouettes with new pattern and palette treatments to huge success. The trail-inspired Nyco Over Trousers and Big Ol' Jeans have been shown particular attention, both of which have undergone print and hand-dye treatments, resulting in a series of statement pieces.
Each of the three hand-dyed takes on the Big Ol' Jeans comes paired with a matching jacket, serving full workwear looks that look fit for the fast-approaching festival season.
Unruspsingly, classic tour tees have been snatched up in a host of colorways, while spooky "Widow" spider print tees have been a massive hit in their black and white colorways.
Shirting makes up a pretty hefty portion of the selection, and while most styles remain in stock, they're worthy of attention. Padded tech shirts built for the seasonal transition offer a heavier weight, contrasting the Hank Plaid Shirt, which riffs off past seasons' Shadow zip-up shirts.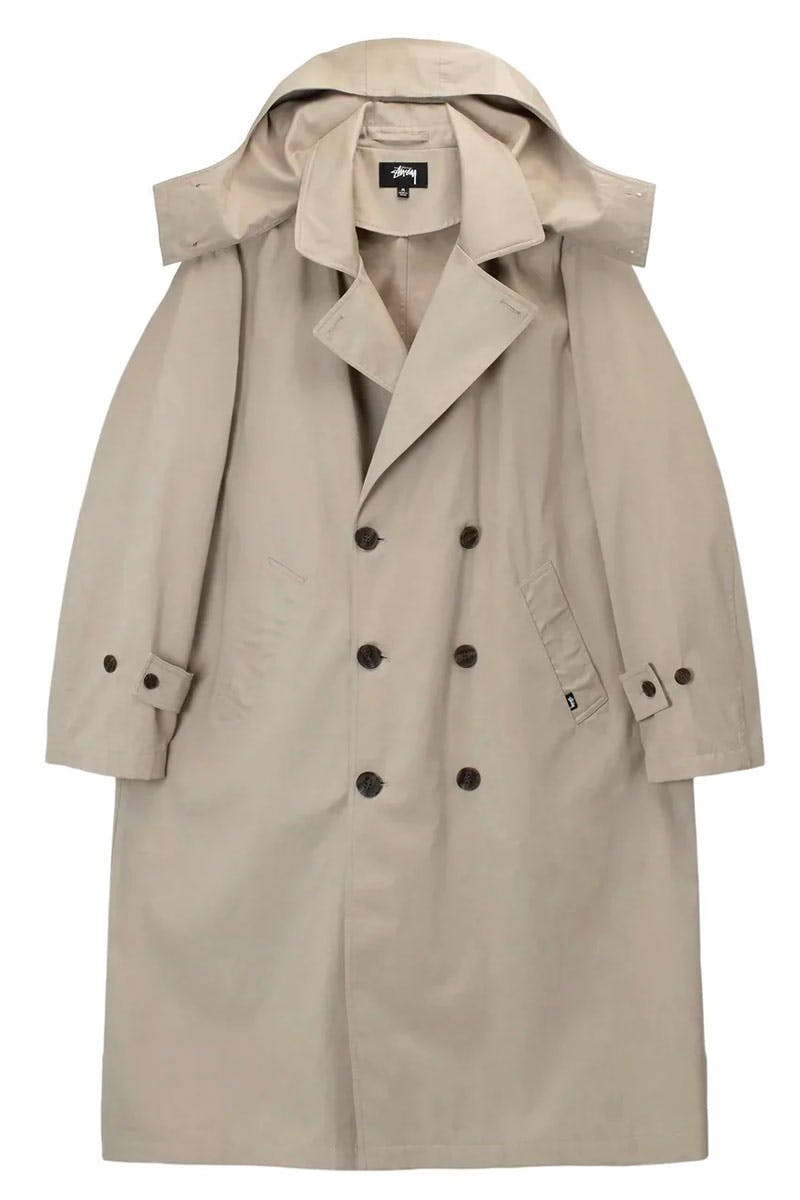 Staple or not, there are bangers up and down the store; but these are very familiar in the grand scheme of things. The perfect example of something fresh that highlights the brand's elevation through the 80s and into 2020s, is the Nyco Printed Fishtail Parka, which further riffs on the militaristic silhouette of the Over Trousers.
Outerwear at Stüssy, similarly to Palace and 'Preme, provides the perfect opportunity to get experimental or push the boat out, so to speak, and Spring 2023 certainly utilizes that opportunity with pieces like the Twill Moto Zip Jacket, or better yet, the Solar Trench Coat, which changes color under UV light. Need I say more?
I, for one, am clutching to scoop a few pieces from the latest drop – and there's still so much more to come. Brace yourselves. Your wallets, too.