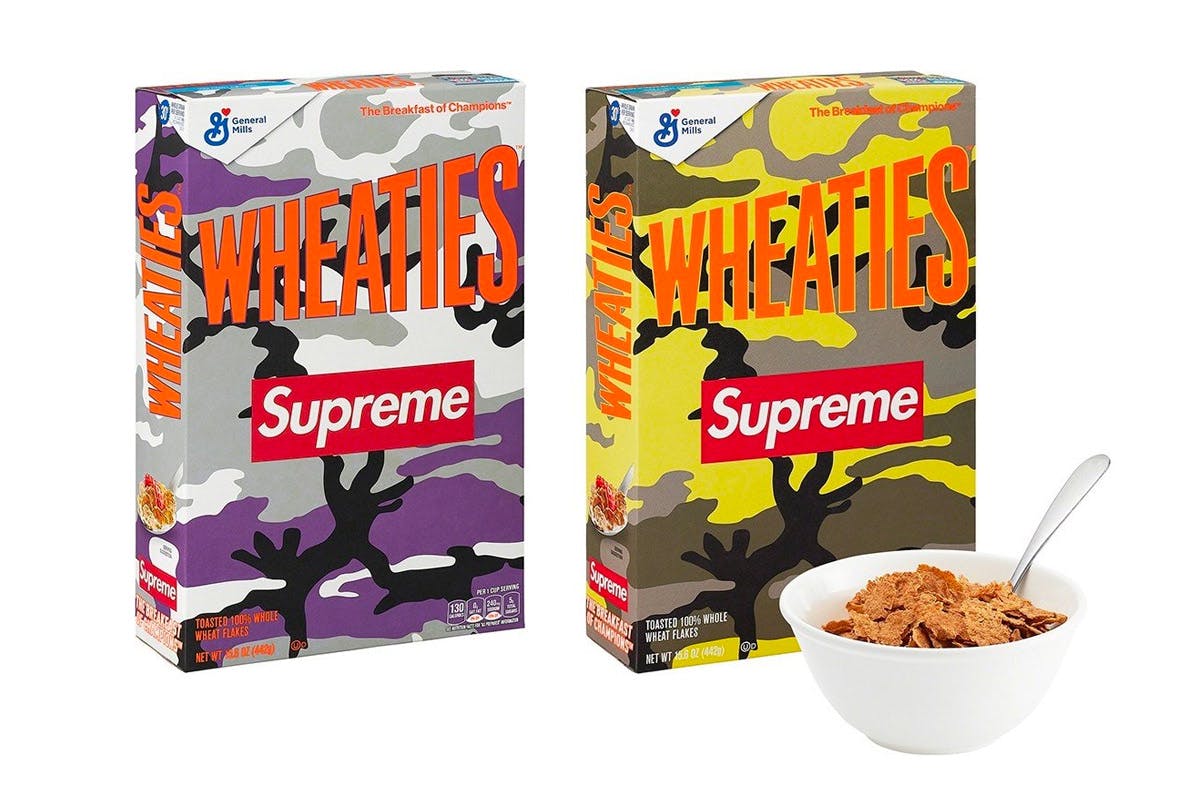 Supreme has slapped its box logo on a number of tasty products over the years — but today, the privilege goes to wheaty cereal.
The 15.6oz cereal box will drop today in two colorways, purple camouflage, and yellow camouflage — finished with the famed Wheaties slogan "Breakfast of Champions." Wheaties have previously featured athletes on its boxes, including LeBron James, Michael Jordan, and Muhammad Ali, but the Supreme collab is their first on-box fashion cross-over.
In recent years, the fashion/cereal collab has proven extremely lucrative. We need only look back to Travis Scott's special edition Reese's Puffs collaboration — when the collab was first released in June 2019, it sold out in less than 30 seconds. Boxes have since been resold on StockX for as much as $214.
As cereal bars and restaurants continue to pop up across the globe, many brands have tried to get in on the action. In 2019, KITH dropped a special capsule to celebrate National Cereal Day and released its own Cinnamon Toast via KITH Treats. The cereal (small squares or rectangles of wheat and rice covered with cinnamon and sugar) was mixed with the brand's Chocolate Toast Crunch and Cinnamon Toast Crunch Churros, resulting in the special KITH concoction.
Last year, Champion took inspiration from Wheaties, Lucky Charms, and Cinnamon Toast Crunch for a collection of assorted T-shirts and hoodies. Champion reimagining the cereals' well-known logos and mascots for the piece and also appropriated Wheaties' tag line of "The Breakfast of Champions," combining it with its own logo for a neon orange sweatshirt.
The Supreme Wheaties are expected to drop today, April 1 — unless this is all one big joke?