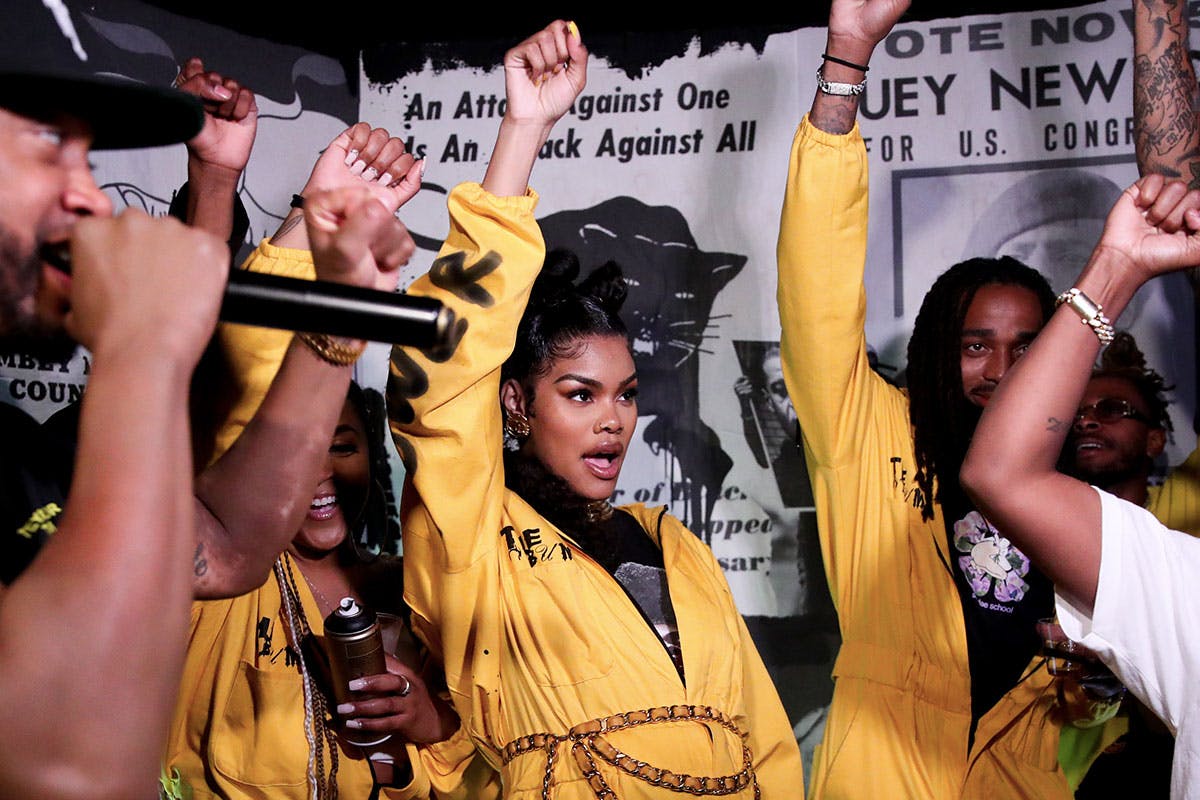 Artist: Teyana Taylor
Album: The Album
Drop Date: June 19— Juneteenth.
The Listening Party: Taylor previewed the project at a star-studded listening party on Wednesday, June 17. Cardi B, Offset, Quavo, Trey Songz, Winnie Harlow, Snoh Aalegra, and many more donned yellow protective gear for the event. Taylor's own jumpsuit had the words "Justice for All" spray-painted across the front, referencing the Black Lives Matter movement.
One of the walls at the event was dedicated to #BlackLivesMatter photographs and messages. Guests observed a moment of silence for the tragic deaths of George Floyd, Breonna Taylor and Ahmaud Arbery, among others. Guests were able to tag their own names onto the walls, uniting and standing for change within our system.
The party was also significant as the first time many of the attendees had met in public since lockdown began.
Reviews: Since the listening party, reviews have been streaming in and The Album is already being hailed as Taylor's strongest work yet.
Tracklist: Fans had been holding out for The Album  since her 2018, Kanye West-produced LP,  K.T.S.E. And today, Juneteenth, they weren't disappointed. The 23-track project features an absolutely stacked list of guest artists: Erykah Badu, Missy Elliott, Ms. Lauryn Hill, Future, Kehlani, Quavo, Rick Ross, King Combs, Iman Shumper, and more.
1. Intro 2. Come Back To Me (Ft. Junie & Rick Ross) 3. Wake Up Love (Ft. Iman Shumpert) Lyrics 5. 5K 4. Lowkey (Ft. Erykah Badu) Lyrics 5. Let's Build (Ft. Quavo) Lyrics 6. 1-800-One-Nite Lyrics 7. Morning by Teyana Taylor & Kehlani 8. Boomin' (Ft. Future & Missy Elliott) 9. 69 10. Killah (Ft. Davido) Lyrics 11. Bad Lyrics 12. Wrong B**** Lyrics 13. Shoot It Up (Ft. Big Sean) Lyrics 14. Bare Wit Me Lyrics 15. Lose Each Other Lyrics 16. Concrete Lyrics 17. Still Lyrics 18. Ever Ever Lyrics 19. Try Again Lyrics 20. Friends Lyrics 21. How You Want It? (Ft. King Combs) 22. Made It Lyrics 23. We Got Love (Ft. Lauryn Hill)
Stream:
Artwork: The album art for The Album depicts a statuesque Taylor against a bright white background. Channeling Grace Jones, her profile is accentuated by a dramatic, Nefertiti-inspired hairstyle, and chunky gold collar jewelry, contrasted with slouchy, oversized patent pants.