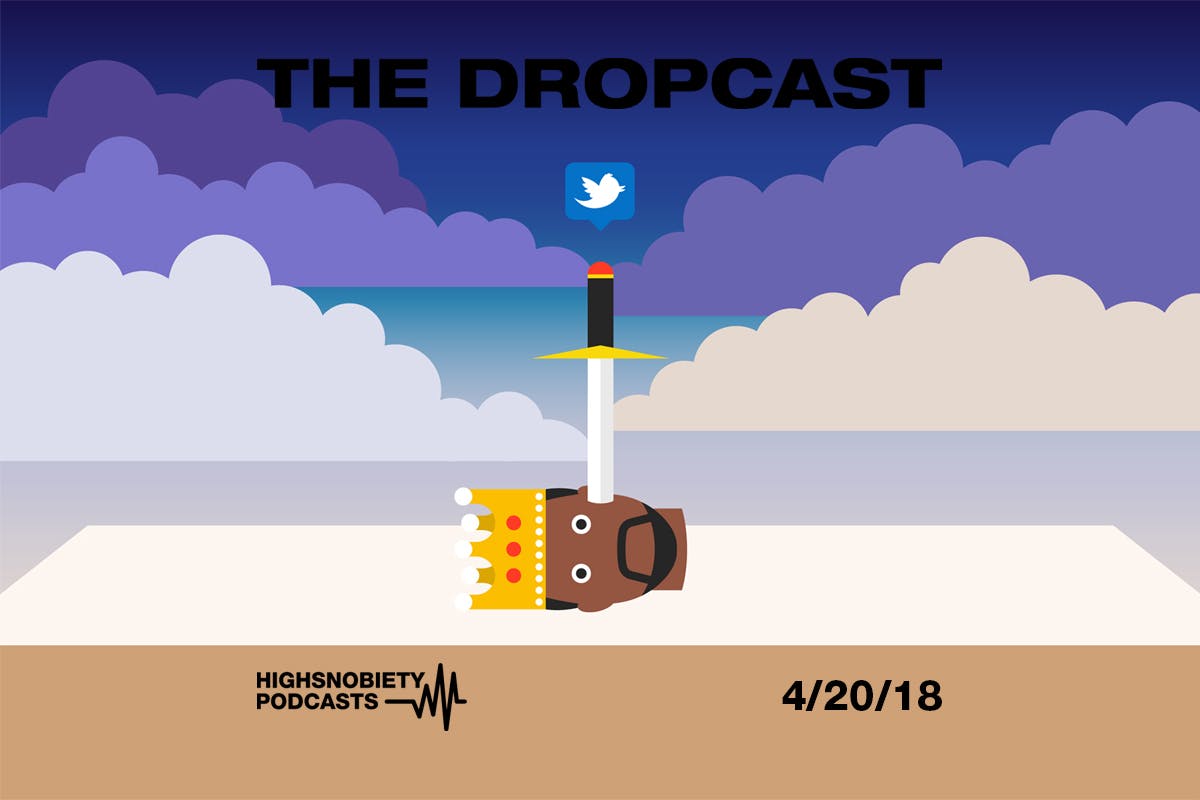 Kanye West is back on Twitter, but in the process deleted a whole slew of digital gems before dropping a bunch of new tweets that range from philosophical to early versions of his covetable kicks. Hosts Jeff Carvalho, Noah Thomas, and Jian DeLeon do a bit of analysis of West's impact on the social media platform, with some feedback from the Dropcast Hotline.
Meanwhile, we examine how important Kendrick Lamar's Pulitzer prize win for DAMN. is, and also talk about some of the week's best drops including COMME des GARÇONS x Nike track sneaker, FILA's Mindblower launch, ALYX & HEELYS nostalgic roller shoe, and more—though the jury is still out on how we feel about Heron Preston's collaboration with UGG boots.
We also talk about our upcoming documentary High End, which releases this Friday at 11 p.m. Eastern time, and the premiere in Los Angeles tomorrow at the Elder Statesman store in West Hollywood, where we'll also be selling our High End x Elder Statesman collab. Oh, and before we forget—you may have seen teasers of our Highsnobiety Japan T-shirt capsule collection on Instagram. Featuring designers like Noah, N. Hoolywood, A Bathing Ape, ACRONYM, Pleasures, Richardson, and Civilist, we're offering listeners a chance to win a few tees. But you have to listen and find out how to snag one.
As always, we welcome your comments, feedback, and perspectives on the Dropcast Hotline. So give us a ring at 833-HIGHSNOB. That's 833-444-4766. Call us now!
For further information on each topic discussed in the podcast, check out relevant links below:
Heron Preston Is the Latest Designer to Join Forces With UGG
COMME des GARÇONS & Nike Debut a Black-On-Black Night Track Sneaker
FILA Calls on Nearly 50 Collaborators to Relaunch the Iconic Mindblower
ALYX & HEELYS Team Up for a Nostalgic Roller Shoe
Kanye West Shares Early YEEZY 350 Rendering & Gosha Rubchinskiy-Designed Neck Tattoo
Kendrick Lamar Just Won a Pulitzer Prize for 'DAMN.'
Yeezy Mafia Has Been Suspended by Twitter
Watch the Full Trailer for 'High End,' Our Documentary About Luxury Weed
After listening to the latest episode of 'The Dropcast,' be sure to revisit our previous episode about Drake considering leaving Nike for adidas.