"There's fuckery afoot." These words, said by Rosalind Pearson, Michelle Dockery's character in Guy Ritchie's latest film, are probably the best way to describe The Gentlemen, a 113-minute postmodern caper about an American drug kingpin living in Britain trying to sell his business. Like much of Ritchie's best work, the film is a frenetic exploration of the British gangster way of life: equal parts violence, comedy, decadence and suspense.
The same can be said of the seasoned director's signature style. There's visual cues to help move the story along, occasional nods to pop culture, and winks to the art and business of filmmaking. There's another classic Ritchie element that's rarely acknowledged amidst the intertwining plots and back-alley character nicknames that are hallmarks of his most celebrated films, including Lock, Stock and Two Smoking Barrels and Snatch: the wardrobe.
This go around, however, the auteur puts the importance of the clothing front and center early on in an exchange between Mickey Pearson (Matthew McConaughey) and Matthew Berger (Jeremy Strong), where the two discuss menswear and its relation to power in snappy, subtext-heavy dialogue. Once the scene ends, it becomes impossible to ignore the fabulous wardrobe on display. These are the kind of looks that make you believe in Savile Row again. At the same time, they wouldn't be out of place in a roundup of British brands reinventing suiting for the next generation.
To achieve this frenzied tribute to British tailoring, Ritchie enlisted Academy Award-nominated costume designer and all-around style expert Michael Wilkinson. Although Wilkinson is best known for his work in the DC Extended Universe, one look at his exhaustive costume design resumé paints a better picture of just how influential the Sydney native has been in contemporary cinema.
To find out how Wilkinson created the wardrobe for what will easily rank among the most stylish films of the year, we caught up with the costume designer. Read our exchange below and catch The Gentlemen in theaters now.
There's one thing I need to ask you about right away: Colin Farrell's glasses. Where did you find those and what did you try to communicate through that style choice?
I'm a huge fan of high-impact glasses to create a strong character. Colin Farrell's frames were a one-off original from the early '80s that we sourced from a vintage eyewear specialist. We wanted to show that Colin's character had an innate sense of style: bold and idiosyncratic. For Hugh Grant's character, we chose a classic pair of Ray-Ban Wayfarers, but added lenses that had an unsettling reddish color⁠—it gave Hugh a lecherous, creepy vibe that he loved!
What about the amazing tracksuits worn by his crew?
We designed and manufactured all of the fabrics for the tracksuits for Colin and his crew. We based them on classic English suiting fabrics, which we then enlarged, made more vibrant and printed onto a modern quilted technical fabric. We wanted to show how different groups of people have interpreted this classic "Englishness." In this case, a more modern update for streetwear and casual sportswear.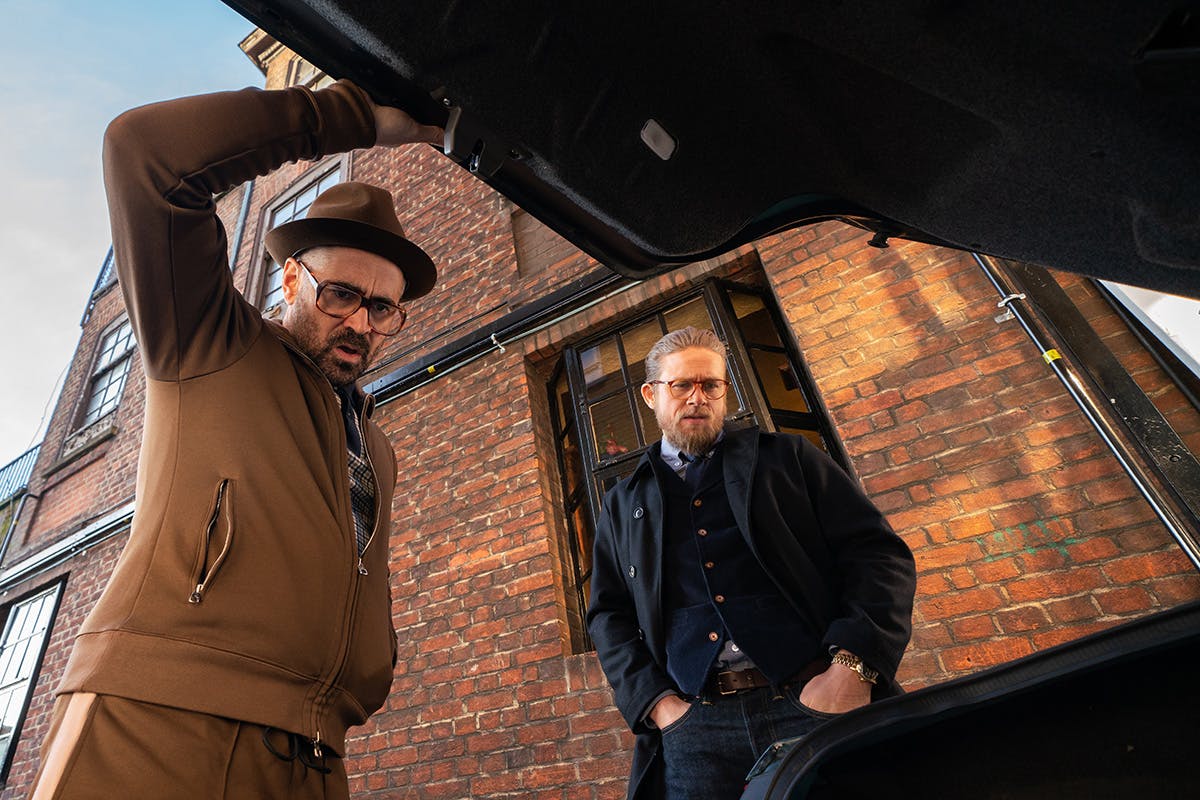 What about the other characters, specifically the suiting? Did you also have to have every costume made specifically for each character?
We wanted to create an original, very specific look for Matthew's character, so we decided to make all of his suits ourselves using our amazing tailor, Sheikh Ali. His costumes show a modern take on classic English tailoring⁠—extremely high quality but with a younger, less constrictive vibe. Matthew wears his suits like a second skin, his character is absolutely at ease with his status. I chose luxurious fabrics for the suits to exemplify classic English⁠—windowpane checks, Prince of Wales checks, etc.⁠—woven from beautiful wools, cashmeres and silks.
With Charlie Hunnan's costumes we wanted to show a more casual side of English style. He combines tailored pieces with quilted Barbour jackets, knitted ties, tweed waistcoats, chunky knits and beautiful bespoke boots. Charlie's character had an effortless sense of style. The fact that he was engaging in less-than-legal activities did not inhibit his appreciation of well-cut, well-made clothes.
Henry Golding's character shows the new generation of well-dressed English gangsters. He has an expensive leather jacket with fur collar, a high-neck merino wool sweater and tailored pin-striped wool trousers. The gold necklace worn over the sweater adds some modern swagger. He wants to be respected by the high-level suit-wearing older mafia bosses, but is showing his own younger interpretation of English style, which is more influenced by street style. My favorite detail is his leopard-skin Christian Louboutin loafers⁠—Guy made sure they made it into the frame!
What about pieces that existed already?
We combined the custom-made pieces with clothes sourced online, and from boutiques and fashion houses. I like to really mix things up to create a fresh look, so I added in some vintage elements from specialized vintage dealers and from costume rental houses in London.
Was there anything specific Ritchie was looking for?
Guy wanted a compelling, urban look for The Gentlemen that is quintessentially British. The characters and situations have an irreverent, heightened quality to them that echoes the tone of Guy's earlier films, but with an updated feel. Guy is very involved with the costume choices because all of these characters are very close to his heart and he has a great understanding of the language of clothes.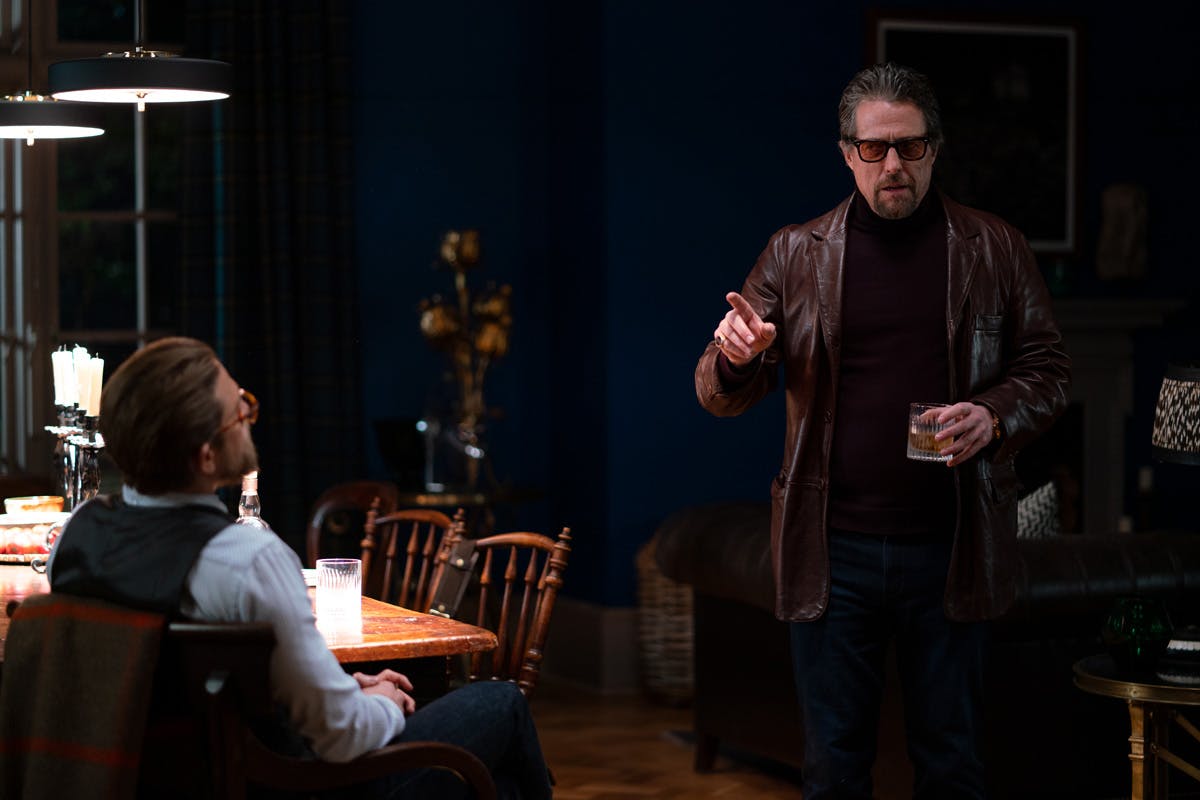 Did you reference Ritchie's past films at all?
I watched all of Guy's earlier films again for research and although The Gentlemen is part of this legacy, we wanted to create something special and different for this new film.
Just about every single look in this film is both 100% classic and completely modern. Is this something you were aiming for?
Guy was after a memorable look for each of the characters, simple elements for each costume that would define them and differentiate them from each other. We had characters from different worlds but everyone absolutely cared about their look. We had wealthy drug-lords in classic Savile Row tailoring, nouveau riche mafia bosses (both new-school and old-school), street gangs, council estate boys⁠—but everyone put their look together with pride and wore it with 200% commitment.
There are about half a dozen power players in this movie. How does each character use their clothing choices to communicate a kind of soft power?
Everyone in the film is using their clothes to project power and status, each in their own particular way, using the resources available to them, from billionaire gangsters to street gangs.
Does this type of man exist in the real world anymore?
The film is set today but it feels like a slightly stylized version of the world we know, where each character has an iconic, memorable look⁠—a little larger than life. We had fun with the costume choices. Guy didn't want anything boring or obvious, but it was important not to go overboard and to find a relatable grounding for each character.
The Gentlemen is now playing in theaters nationwide.