As multiple businesses and industries reel from the effects of the Covid-19 pandemic, the rapidly rising sneaker industry has been hit especially hard. Matt Powell, a longtime sportswear analyst and consultant for the NPD Group, reported that athletic footwear sales were down by 65 percent the week of March 21, when compared to sales figures from the previous year. Sales for team sport-related shoes (soccer boots, baseball cleats, and football cleats), were down as much as 90 percent; running and basketball shoes were down by 70 percent.
Even Nike's famed "Air Max Day," quite possibly one of the most memorable corporate holidays manufactured this decade, didn't feel half as exciting this year. Combined with a product offering that didn't have a real "must-have," AMD 2020 was a forgettable one. That isn't to say sneakers are totally irrelevant — in a controversial decision, StockX is keeping some of its global authentication centers open (albeit with strict adherence to CDC and WHO social distancing guidelines), because the resell market has only experienced about a 4 percent decline.
But James Harris and Lawrence Schlossman — the hilarious co-hosts of the no-takes-barred Throwing Fits podcast — have been prophesying the rise of a "post-sneaker world" for a long time. For them, it's a way of holding brands accountable for creating less-than-stellar products, and giving credit where it's due to underrated labels and silhouettes that otherwise get lost in the hype sauce. We caught up with the pair to figure out what a "post-sneaker world" looks like, and if that's the reality we're inevitably hurtling towards.
What's this whole "post-sneaker world" narrative you guys are pushing?
James Harris: We have humble beginnings in menswear, before sneaker culture truly took over and became the dominant fucking force of everything. We didn't grow up necessarily with sneakers being the default. We always had a healthy dose of skepticism...
Lawrence Schlossman: A healthy distrust, you might say.
JH: When every kid thinks that they're an entrepreneur and employs the dark arts to cop six pairs of the most coveted sneakers in the world, and then flips them because they think they're the next fucking Benjamin Kickz, it becomes about conspicuous consumerism. It's all about flexing on the 'gram. It becomes more and more mass. It's just spun out of control.
I think when we say "post-sneaker world," it's not completely severing all ties with that world, but realizing there's more than just taking an L on SNKRS App and then having to pay 20 times retail on StockX for some sneakers just because you want to flex with them one time. Then guess what? They're old news by next week.
But you guys did get the Union Jordan 1s.
LS: Yes we did, digital high five on that. Well, look: There's exceptions to every rule. Just to reiterate what James said, at some point over the past five years, this shit became fucking clown college where there's just too much stuff and all of it's mediocre. There are new collabs every single fucking day from people that shouldn't be working together. This shit is impossible to buy at retail, and the resale prices are out of control. You've got all these kids thinking they're door-to-door jawns salesmen. The whole game got bastardized.
We've been lucky enough to have had other types of footwear in our lifetime. One, we've aged out of this shit — we're in our thirties — and two, we also came from a time when sneakers and streetwear wasn't the end-all, be-all of acceptable cool things. We already have that collection of boots, Wallabees, and loafers; I think the bigger issue, and why James and I are pushing this narrative, is because we want to bring a younger generation into that post-sneaker world with us.
As long as those kids have been buying stuff with their own money, it's always been about sneakers, sneakers, sneakers. You don't need to buy Travis Scott's terrible Nike shit when you can buy a beautiful pair of loafers that are going to last longer and aren't going to make you haggle over pennies on the dollar with some psychopath.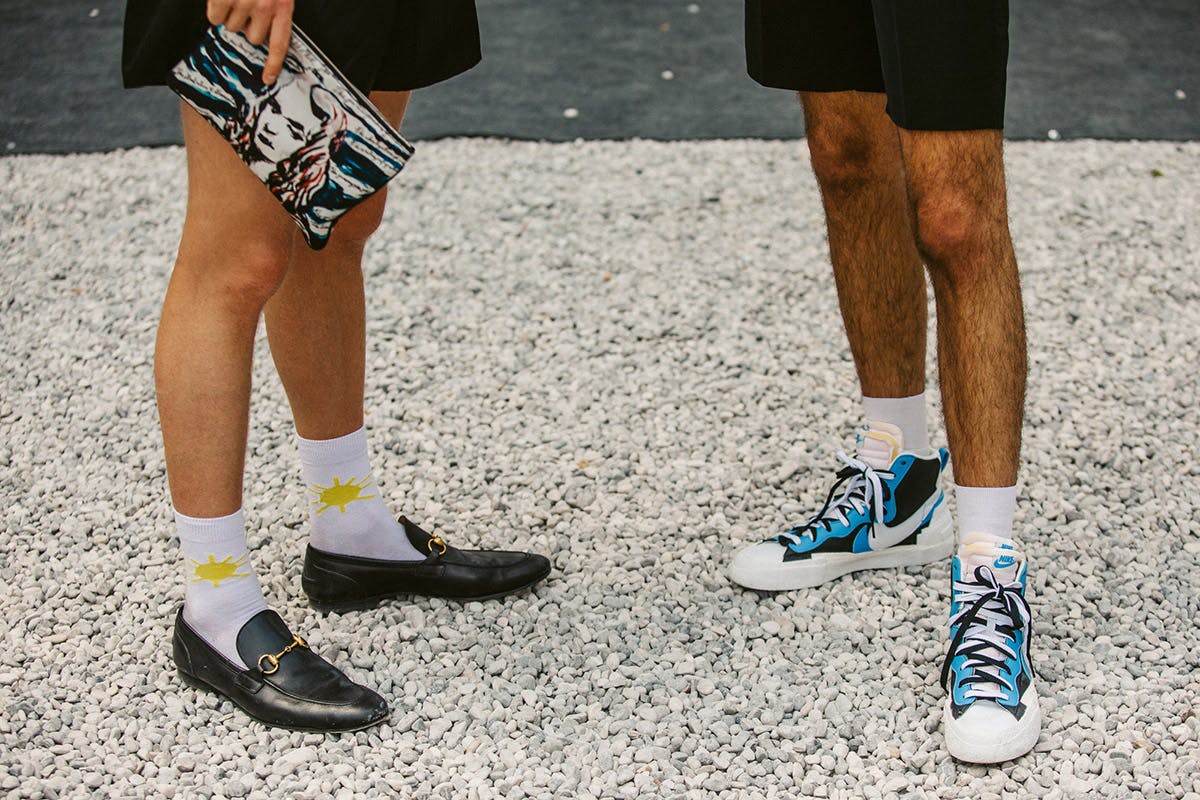 The last time that loafers, classic menswear, and tailoring had its heyday was the 2008 recession. Do you think we can expect that to come back strong again?
LS: Probably not, they're probably going to use sneakers to lift themselves out of economic depression.
JH: Pull themselves up by the sneaker straps.
LS: I don't know if this generation of kids has any context around any type of footwear besides sneakers. Maybe for guys our age there'll be a return that James and I have gotten ahead of to some degree, but I don't expect these younger kids to immediately figure this out on their own. Me and James will drag them kicking and screaming, and we will fucking talk about this until we've done our job. But the last time this happened, trends were different, the marketplace was different, and it was almost like a different world.
JD: The "buy less, buy better" trope will always be there. What I'm a little cautious of is the reactionary measure towards one extreme just means everyone going to the other extreme. I really hope we don't see motherfuckers looking like they're dressed in the 1920s again, in saddle shoes and top hats. There is a middle ground where sneakers, streetwear, and other clothing can happily coexist. We've been calling it "grown man streetwear." We see some brands rise, and the cream has risen to the top of that Venn diagram overlap.
What are some of the brands that occupy this matrix?
LS: Noah, Aimé Leon Dore, Adsum.
JH: 18 East, Engineered Garments, Needles.
LS: The Nepenthes brands are an awesome example of this. Let's say you either wanted to dip your toe in some GORPed-up gear, you got South2 West8. It's almost like Nepenthes is — stylistically and aesthetically — the bullseye for me and James. They're the fucking best; they have a great brand to satisfy a bunch of different segments. Just go to Nepenthes and cop whatever you feel. That's my advice, if anyone's asking.
To wrap things up, is this a way of retiring from the game, or is it more like "opting out" of this never-ending jawns arms race?
LS: It's definitely opting out, but also fulfilling the need that all jawns enthusiasts have to be confident in what they're wearing, to be comfortable, to feel good about themselves, and to flex a little bit. That basic hierarchy of needs of a jawns enthusiast can't be met by a Travis Scott SB. The kids right now — I know I sound like a fucking boomer — but they're making their pool too small. They don't even know that there's a whole ocean of fire stuff out there. Even GR sneakers! You see that happening with New Balance and ASICS because of higher profile collabs, but you could also buy cool GR sneakers. Not everything is going to be fucking Off-White™ Jordans.
JH: There's nothing sadder in this world than old men in their late thirties and forties wearing Supreme logos or Off-White™ and shit. That to me is just... ugh.
LS: It's cringe bro. That shit is cringe as fuck.