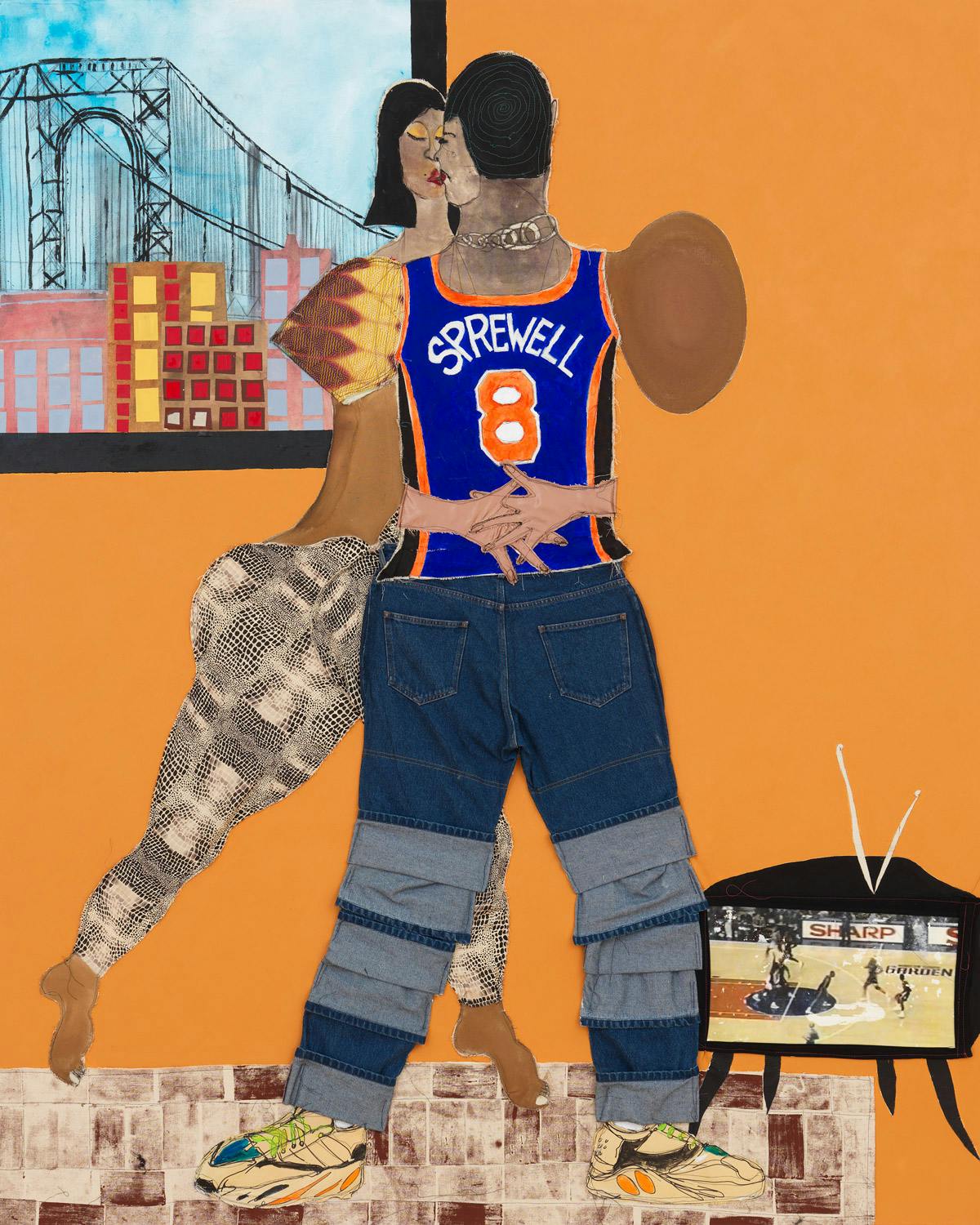 For this week's FRONTPAGE, we're diving into the striking visual world of Tschabalala Self. In this piece (appearing in the March 2021 issue of HIGHStyle) the artist opens up about the "ever-evolving" Black mythology.
Metallic feedback swirls around Tschabalala Self's disembodied voice as she begins to speak. "Okay — idea for Eva Presenhuber show…," "Cotton Mouth," the American artist's debut solo exhibition with Swiss gallery Eva Presenhuber, on display at their New York venue this winter, featured new paintings, drawings, and sculptures arranged around a 16-minute audio track.
Since receiving her MFA from the Yale School of Art in 2015, Self has garnered international acclaim for her singular depictions of Black life: works that recall quilting traditions from the southern US in their use of stitched textiles and accumulating layers. Now the focus of a major exhibition at the Baltimore Museum of Art, "By My Self," her renderings of the body as torqued, bulbous, and a little uncertain, situate individuals in a vivid social world.
"Black pop culture," Self repeats on the audio track that holds the group of paintings and drawings together, "is the oral history of the contemporary Black mythology." The words are woven into a patchwork of archived voice notes, YouTube testimonies, and interview clips — scraps that accumulate before collapsing into one "cohesive, ever-evolving, inconsistent but consistent narrative around Blackness."
We spoke with Self for an in-depth discussion of her work.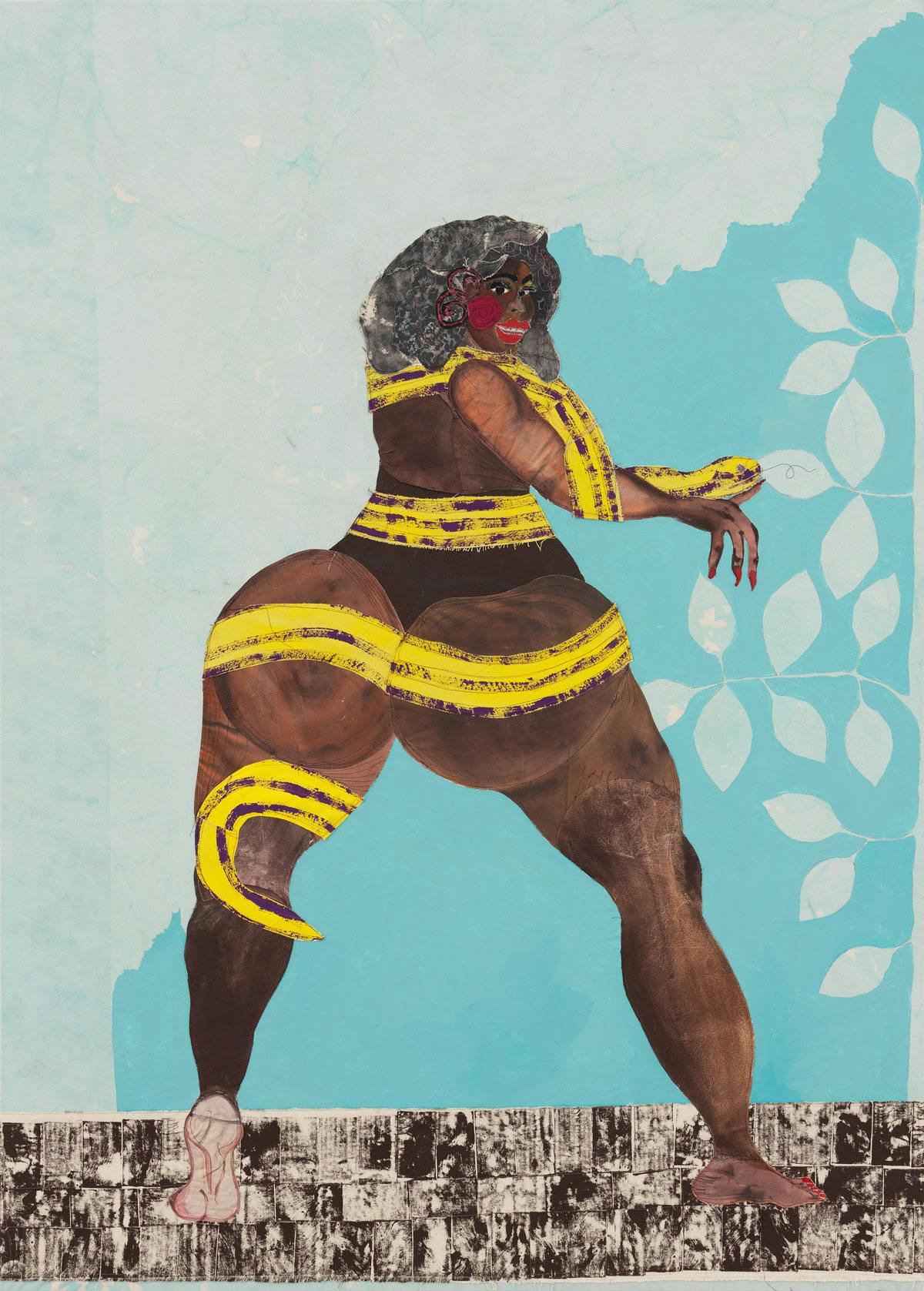 You have a background in printmaking. The "matrix," which is printmaking's term for the tool that goes into the press to generate an impression, strikes me as an apt descriptor for the emotional terrain in your paintings.
Outside of the way we might ordinarily use the word, I think about a "matrix" as the system in which my figures exist. It can also be applied to more general ideas that describe the structures that affect my muses: America, Black America, Black Americans — Black individuals in general. I think about my subjects primarily on an existential level; however, my work does address societal and social issues. My subjects have large and oppressive concerns that run parallel to the various narratives presented in the work. There are instances in which those forces collide, some instances in which maybe they build, and some instances — through all the muck, through all those matrices — where there is freedom and an opportunity for transcendence. Ultimately, the "matrix" is both a tool and metaphor.
I have been thinking about time as it relates to your paintings — the same materials appear across multiple works, made years apart, which confuses a sense of linear sequence.
Oftentimes, if I'm working on a painting in the studio for a couple of weeks, it might end up feeling like a failure. That work will then be deconstructed, destroyed, and cannibalized into a new work. I do that with everything. Because of my materials, the textiles and fabrics exist as such small bits and pieces — there are many works born from just one yard. Over a long period of time, there can be many works composed of the same bits and cut from the same cloth. For me, it's symbolic of how I imagine real people in the world — everyone's collections of pieces forming a whole or holes within. Outside of all that, on a formal level, this way of working allows all of my works to be linked: materially, through this not-so-linear chronology.
There's a painting in the show, Sprewell, in which something similar is going on. The male protagonist in the work is wearing a Latrell Sprewell jersey, which situates him in an early 2000s moment. But then he's also wearing Yeezy sneakers, which brings him closer to the present. It's a kind of illogical organization of time in that work, but I wanted to intentionally conflate those two Black American pop-cultural figures. I was thinking about Sprewell as someone who would have ostensibly been very successful, who would have gained all the things one might hope to gain within an American context — wealth and notoriety. You would imagine those things would lead to agency, but he didn't feel that way in his career. After the incident with his coach, he was seen as being a rogue negro, you know? I feel like Kanye West is also seen in that light.
Carpet 2020, Tschabalala Self / Courtesy the artist and Galerie Eva Presenhuber, Zurich / New York Photo: Matt Grubb
You've said that when people use the term "exaggerated" in relation to the characters in your paintings, it exposes the Eurocentrism of the canon. It relates to what I think you're saying about the clearing of these landscapes. The idea of something being exaggerated only applies if you believe in some standard of truth, which we know is often unreliable.
I think I've even fallen into repeating that kind of language around the work at times. You, too, absorb the ideas that get placed onto you. That is why I like to speak about identity as an accumulation — not as this thing that's inherent to you, but rather an aspect of yourself that is made in the image of everything around you.
Your work explores Black femininity, yet there is a fluidity embodied by many of the figures you create — a vision of femininity that extends beyond womanhood.
That is very, very true. A lot of people speak about womanism as a more intersectional answer to feminism, as it relates to Black feminine identity. I'm curious about the ways in which people are reclaiming that conversation of late. Some examples are more positive than others, but it seems like there's a new movement for Black femininity online. In some ways, I can see it as corrupting this trope of the strong Black woman, which in and of itself can be destructive. But in another way, some of these conversations really pedestalize the idea of white femininity, or bourgeois femininity, which has a lot of social and class-based biases embedded within it. These conversations often veer off into intra-racialized conversations that I think can be dangerous, in regard to phrenology, and how and what a "feminine" Black woman should look like. Many gender norms are being deconstructed in this moment, so it's interesting to see some people clamoring to hold on to them even tighter.
Do you have any thoughts on the way that craft is positioned in relation to art? There's a binary that's often enforced and I was wondering — because of the materials and historical vernacular in your work — if anyone has ever tried to apply such a distinction to your practice.
I think about craft as being something that's imbued with a spirituality, or maybe some kind of supernatural ability. I appreciate the relationship craft has to "women's work" and its association with the feminine. I identify with that. My mother loved that kind of artwork, and she decorated our home with it, but she wouldn't have described them as "craft" objects — she would have called them artworks. They weren't necessarily unique pieces, but objects that she would find in Harlem, on 125th Street, or when she would travel to South or Central America and the Caribbean. She would get things that I guess tourists would buy, but they were really beautiful. Some of them were extremely unique — the kinds of things I haven't seen again now that I'm older, even when I've gotten to visit some of those places.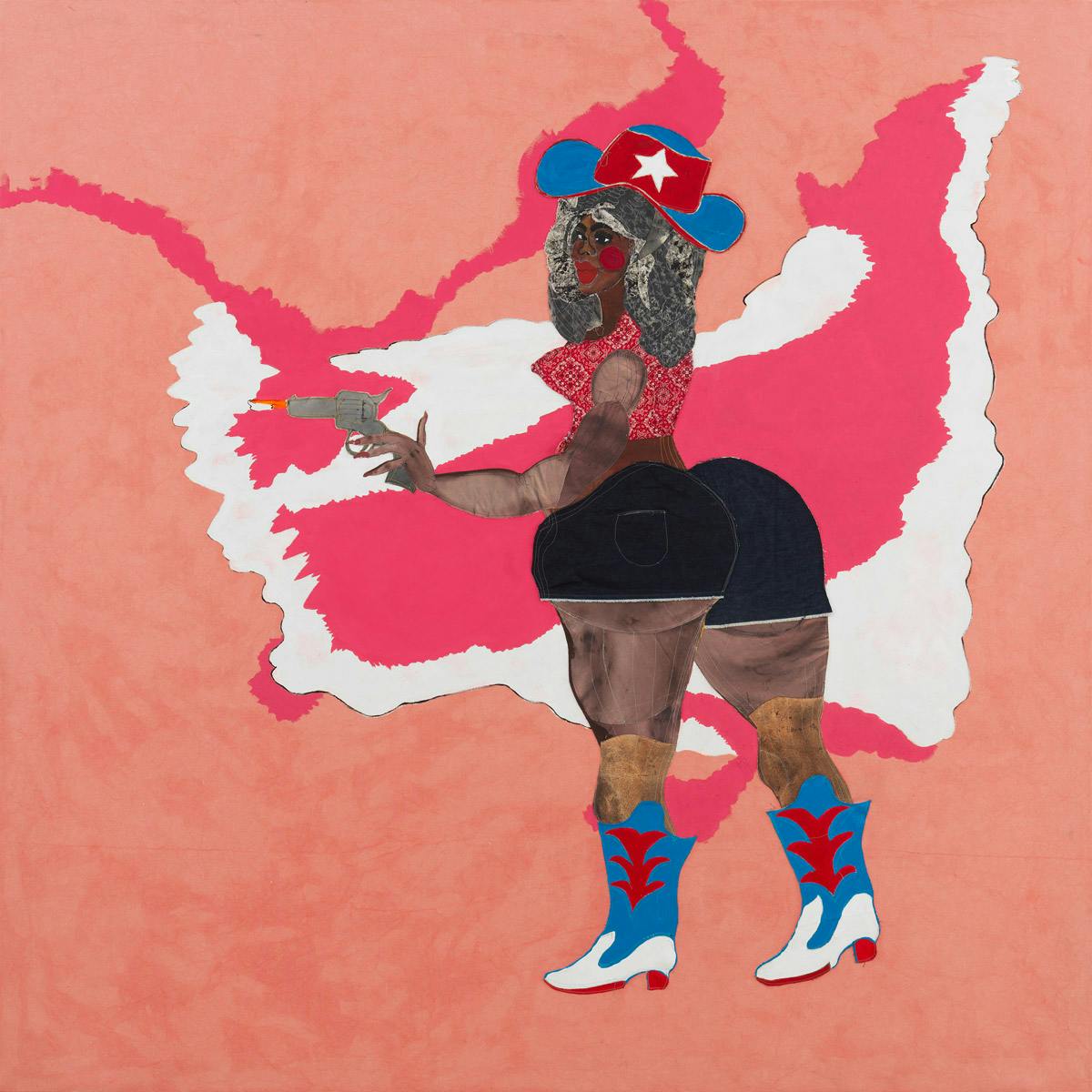 Trump's rise marked a devaluation of fact in American politics. And you articulate myths as being born from the collapse of fact and fiction. What role do myths serve when we are witnessing the collapse of fact and fiction in real time?
The American identity in general is a mixture of fiction and fact. It came to a head with Trump's presidency. He really exploited that flaw in the nation. Think about all the holidays we celebrate. When you learn their true history, it's very different from the history you were socialized to believe. Look at the Hudson River School of painting — all these landscapes that are completely devoid of people. It's because the people were displaced, removed. It's not normal to have that kind of landscape. I think America has always been about myth-building and promoting myths about itself. I don't know how the situation will resolve. The country is very broad, with a lot of different opinions and regional attitudes. The issue of race is still very chaotic, I think partly because we never had a moment where any of those people had to claim responsibility, like in Germany or South Africa.
I'm obsessed with YouTube, and a popular topic on YouTube is people who have narcissistic personality disorder. If you think about a lot of the traits that are applied to that personality type, it matches perfectly. If America was a person, they would be a narcissist. Say, gaslighting, for example — America is amazing at that. Often individuals who develop these disorders suffered some kind of great trauma in childhood that was never dealt with. If you think about America's origin story, all the chaos and the atrocities that occurred here, perhaps that is our trauma — it is certainly the cause of all the disorder.
Is there any use in distinguishing between a mythology of Black America and an American mythology with origins in anti-Blackness, or are they ultimately part of the same puzzle?
Within any mythology, you have a pantheon of characters — gods, devils, and individuals — who can't be separated from it or one another. People talk about Blackness in this really generalized sense, but I feel that there's a level of insincerity in speaking about Blackness in that way. This kind of flattening causes a default rhetoric in which Blackness becomes abstract; what Blackness feels like, or some kind of generalized spirituality, which can edify racist ideas about Black identity being that which is other.
In the audio piece, when I'm talking about Blackness, I'm talking about the specificity of my own personal identity — being a descendant of American slavery, my ancestors coming here because of that institution, and every moment in history since then. Black American identity cannot be spoken about outside of the larger American context. But the same is true for all American identity. That conversation cannot happen without talking about the specifics of every single group of people that contributed to that narrative: Indigenous Americans, Black Americans, even the people who came here and colonized this country — and every single individual and person who came and continues here after. There are so many people whose narratives are never acknowledged who have contributed to the America that we know today. Their stories need to be acknowledged so we can have a realistic understanding of where, of what, the country is really about, and what it should be about moving forward.
Read more about Tschabalala Self's exhibition 'By My Self' at the Baltimore Museum of Art.