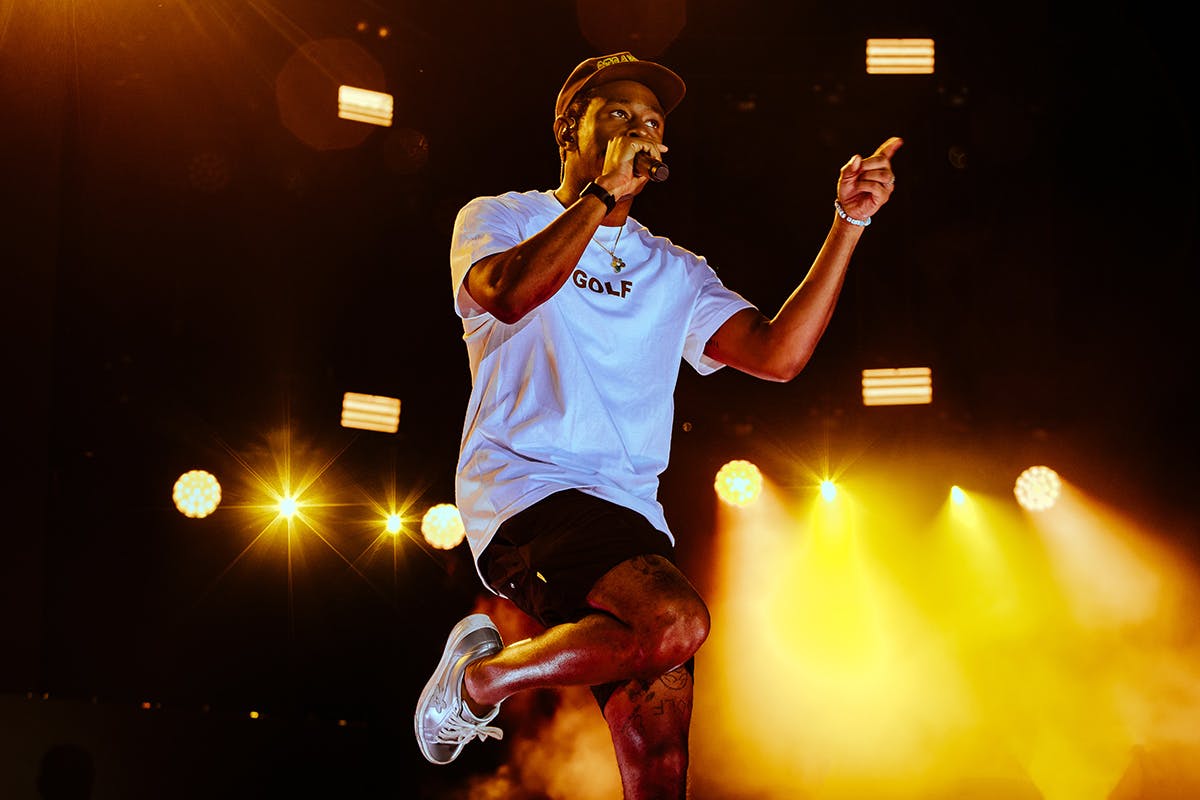 In case you weren't aware, rapper and Renaissance man Tyler, the Creator was born on March 6, 1991 in Ladera Heights, California. Today, in honor of Tyler's 30th birthday, we decided to dig deep into his astrology and what it says about him. Because if we don't, who will?
With this handy article, you'll find out that he's a triple Pisces, very much dominated by the emotional element of water, with a dash of fiery Leo tendencies. Basically, the perfect astrological storm was set in place on that fateful sixth night of March 1991 for a fearless innovator to be born and unleash his talents onto us all - whether we were ready for it or not.
Sun in Pisces, Moon in Scorpio
In case you aren't completely obsessed with astrology, your "Sun" is what you answer when someone asks you that age-old question "What's your sign?" It's based on your birth date alone.
Our boy Tyler was born on March 6, so he falls right under the Pisces sign. All astrological signs fall under four elements - Water, Fire, Air, and Earth - and Pisces is a water sign. Water signs are generally very in tune to the emotional world of themselves and others. They're highly intuitive, imaginative, dreamy and often impulsive rather than logical.
Tyler is a classic Pisces in many ways - he's very much in his own world, whether its designing his Golf Wang clothing or Converse sneakers, creating the wonderfully twisted universe of his cartoon series The Jellies, or establishing the all-encompassing sonic and visual environment of his most recent Flower Boy album.
It's also no secret that Tyler's quite impulsive - aside from his in-your-face lyrics, he became infamous for his social media presence, which often includes some pretty wild quips and rapid-fire responses to fans. Although he's chilled out a bit more on Twitter as of late, he's showed us time and time again that he's rarely afraid to lay bare his emotions, often without much forethought.
Your Moon sign represents your inner mood and emotional world. With his Moon in Scorpio, Tyler has an active mind and enjoys deep exploration into whatever he stumbles upon, with the most ordinary things taking on cosmic and meaningful implications. His Viceland show NUTS + BOLTS is a great example of this - Tyler very simply sets out to learn about how his favorite things are made, but it turns out to be an enriching and hilarious experience for himself and everyone watching.
He's also quite philosophical in his own way, and despite his casually swaggy exterior, he's not ever content with external impressions. This Pisces Sun / Scorpio Moon can often lead to people being neurotic and "criminally-inclined," but luckily for Tyler, he's made it work in his favor as a spiritual and creative individual.
This Sun/Moon combination also leads people to be heavily influenced by their environment, which is more of a Pisces vibe, but on the Scorpio side of things Tyler's charismatic, strong-minded, and very much his own boss. Pisces Sun / Scorpio Moon people are also known to cling stubbornly to old ways of behaving, and their initial responses are too frequently their only responses. Again, we can see this in a lot of Tyler's tweets, but if Flower Boy is any indication, he's a little more open and tender than he used to be (or used to publicly display).
A consulted source on the Pisces Sun / Scorpio Moon gives the following advice to those with this astrological combination, but it is sound advice to anyone - "Try to be a little less single-minded and become more tolerant. Do not focus so much on yourself, but turn your energies outward. It is not unusual to find yourself by losing yourself first."
Rising Sign / Ascendant in Leo
Tyler's rising sign or ascendant is Leo, based on the standardized birth time of 12:00 p.m. that we used since we don't know his exact birth time. Although we're making a guess here, Leo rising makes a lot of sense for Tyler. Your rising sign is often thought of as the mask you wear when you're meeting others, your general impression on people, and your spontaneous reactions.
With his bold public personality, the fire sign of Leo suits Tyler quite well. Leo risings are magnetic, loud, pay a great deal of attention to their personal appearance (hello 2018 Grammys red carpet!), and are acutely self-aware. They often indulge in rash decisions and excesses, with the occasional temper tantrum thrown in, but despite all this they have a lot of staying power.
They're also known to be quite confident, and rightfully so. Tyler explaining why he should win the Grammy for Best Rap Album is but one of many examples.
As evidenced by his wild lyrics, Tyler is not one to shy away from controversial statements that make people uncomfortable. But he's always keenly aware of what he's doing - the shocking lyrics and unquestionable, singular personal style represent him well, yes, but on another level, he knows what kind of reactions he'll get from pushing some buttons once in a while.
Mercury in Pisces
Tyler's Mercury is in Pisces, and Mercury rules communication. That's why astrology freaks are always panicking when "Mercury is in retrograde" - communication can get supremely fucked up when Mercury occasionally decides to slow down and spin backwards as it's orbiting the earth.
But back to Tyler! Pisces shows up again in Mercury for him, which means he often comes across in a poetic way, making perfect sense as a rapper extraordinaire. Mercury in Pisces people are also known to not bother too much with details, sponging up the feelings and moods of their environment. They can also be super moody when it comes to communication - you never know when they'll delete their Twitter or go hard on the replies. They often come across as dreamy or indirect, and seem to change their mind a lot. Although Tyler, the Creator is consistent in creating dope shit, it's sometimes hard to pin down what exactly he stands for. But we love him for it nonetheless.
Venus in Pisces
Venus is the planet that rules everything to do with love and romance. Tyler's Venus is in Pisces, meaning the way he expresses romantic love is elusively charming, playful, but sometimes a bit moody and unpredictable.
However, when Venus in Pisces people fall in love it's unconditional, and they completely fall for the person their chosen partner is inside, on a deep, emotional level. Case in point, Tyler's unconditional, undeniable love for Leonardo DiCaprio circa 1996. We won't speculate on his actual love life, because we've done enough digging for one day, and dat boi deserves some privacy gosh darn it!
So, what exactly did we learn from examining Tyler, the Creator's astrological birth chart? Deep down, Tyler is fundamentally a softie, with a fearless, fiery exterior. He is primarily led by his emotions, which could be an issue, but his trusty Scorpio Moon allows him to use his feelings to lead him to his interests, subsequently dive deep into what he loves, and effectively share them with the world - whether its through his music, his television series, his art, or his style - both for his Golf Wang empire and for himself. The stars truly aligned to create our boy Tyler, and his chart reveals that his unstoppable creative energy, grounded in his ability to feel things truly, madly, and deeply, has and will serve him well for the first 27 years of his life and beyond. For more Tyler, the Creator goodness, check out our ranking of all his sneaker designs from worst to best right here.