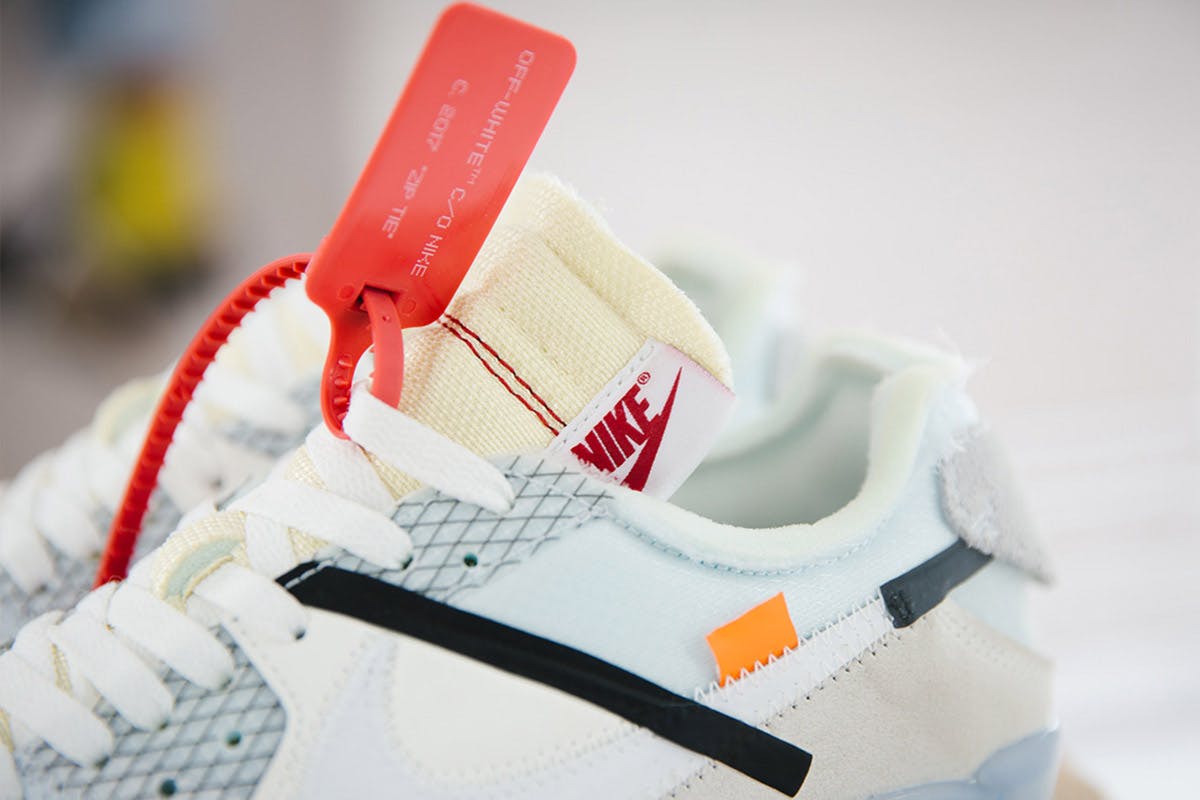 A lot has been said about Virgil Abloh, his eye for synthesising different references, and more recently, his highly sought-after "The Ten" Nike collaboration. A key aspect of Virgil's signature design language, from the headline grabbing Nike collaboration to his apparel and accessory designs for OFF-WHITE, is his use of industrial red zip ties.
As ubiquitous as these zip ties have become, it's worth investigating the root of the real reason that Virgil has used this industrial detail in a different context.
Here are four possible reasons why Virgil uses zip ties on his products, and WTF you're actually supposed to do with them.
Industrial design language
Schooled at the Illinois Institute of Technology, Virgil is an architecture graduate turned fashion designer, which leads us to the most obvious reason for the zip ties. At the very core of Virgil's education, he is an industrial architect (the definition of which is someone who creates buildings that serve an industry). Taking an industrial zip tie and re-contextualising it in the fashion world also parallels Virgil's career trajectory from architecture into fashion.
This industrial influence trickles down to his products, which can be seen in items such as his OFF-WHITE construction-themed T-shirt, and the now iconic industrial belt, as well as the interior of his stores – a prime example being the centerpiece in his new Melbourne store. The zip tie, which is often used in construction as a means of holding things together, exemplifies industrialism.
Also – although this might be a reach – just like the industrial revolution, Virgil wants to revolutionize every space he moves in, whether thats style, interior design, sculpting, or IKEA furniture. The zip ties - which are undoubtedly heavily linked to industry – symbolize Virgil's determination to affect change in whatever space he's in at the moment.
Attention to detail
Attention to detail, nit-picking, originality – call it what you want but Virgil knows how to set his products apart from his competitors'. The zip ties serve no real functional purpose on his products, and the following OFF–WHITE Instagram post instructs customers to remove the zip tie before wearing.
Therefore, it stands to reason that his use of zip ties is purely there to achieve the aesthetic Virgil is striving for in his products and to uniquely accessorize them. Virgil could simply be practicing a branding exercise, in the same way that branding details like Supreme's box logo or Alyx Studio's lighter cap accent have become renowned in their own way.
Virgil is also famously a stickler for detail – known for being very adamant about how his brand's typography is displayed – so this could just be another over-the-top detail that enhances his creative vision.
To impede resellers
Virgil wanting to "kill resale" may be a bit of an exaggeration. With that, everyone thinks twice about cutting off the prestigious red zip tie, and once it's gone, the shoes are no longer deadstock.
Zip ties are finite – they serve a singular purpose and (most of the time) cannot be reused. Once you cut that zip tie off the value of your product falls dramatically. You're making a conscious decision to lose out on profit, and instead wear the shoes because you genuinely like them.
That is the effect Virgil might want to highlight with his zip ties – he wants us to be aware of our consumerism and make a conscious choice as to what your motives behind buying his products are.
Giving his products new context
Virgil loves recontextualising fashion to fit his vision. Is it fashionable to put a zip tie on something? Not really. When Virgil does it? Yes.
Virgil loves to push the envelope and do things differently. His obsession with quotation marks drives everyone else insane and has become a bit of a meme, but even then, it reinforces the idea that Virgil has an eye for adding new context. Another perfect example is the paper clip bracelet he's been rocking lately. Designed by Jacob the Jeweller,  the bracelet adds new context to the simply mundane paper clip, turning it into a fashion statement.
The same goes for zip ties. If any fast fashion brand had started putting zip ties on its clothing, the effect would not have been teh same. Because of his reputation and the circles he moves in, Virgil has the authority to not only put zip ties on his clothing and get away with it, but also for it to become fashionable. And in doing so create another means of branding for his label.
To stay informed about new releases, be sure to follow Highsnobiety on Twitter, and Instagram, as well as our sneaker chatbot on Facebook to receive lightning quick updates on release dates, sneaker street style, shopping tips and more.