Like many of our beloved staples in our wardrobe, the durag was born out of functionality. Specifically, in my household, the durag was very much a right of passage into my teenage years as I began to put a little more "effort" into my fits and overall look. So, for those of you wondering, "why do people wear durags?" the answer to that question is relatively simple.
Black men use durags to protect and style their hair overnight. Simply put, standard pillows can damage curlier hair types while also ruining your meticulously brushed hair.
Usually made of satin or silk, a durag not only preserves the brushing but, through consistent wearing, gives the effect of "waves," wherein your hair creates a radial effect from the crown. You have probably seen a "wave check" TikTok or two while scrolling on your phone. And, let me tell you, nothing beats showing up to school with a fresh cut and waves, new Air Force 1s, and the latest in streetwear. You are basically a mini-celebrity at that point. But I digress.
Durags can also be worn with protective styles like cornrows, keeping them friction and frizz-free for at least a while. So at its core, a durag is a hair maintenance device that had early beginnings in women's hair wraps. But somewhere along the way, through the continued dominance of Black and hip hop culture, the du-rag transitioned from out of the home into rap videos, magazines, and inevitably the runway. Let's dive deeper into the world of durags.
A Brief History: Why do people wear durags?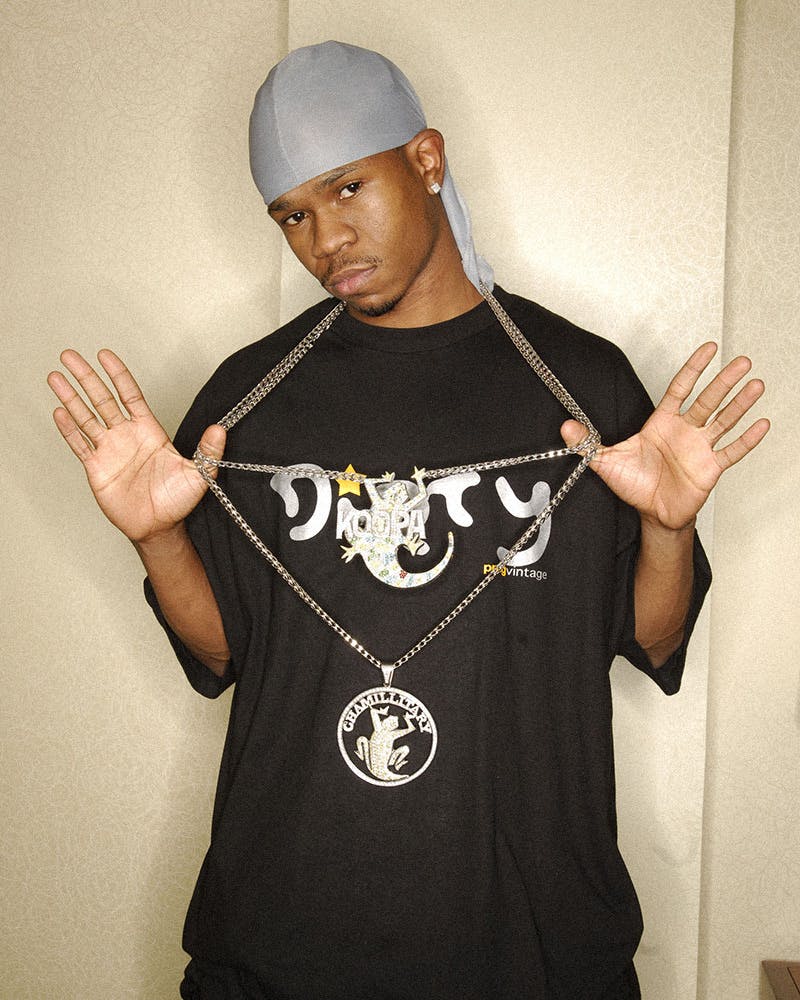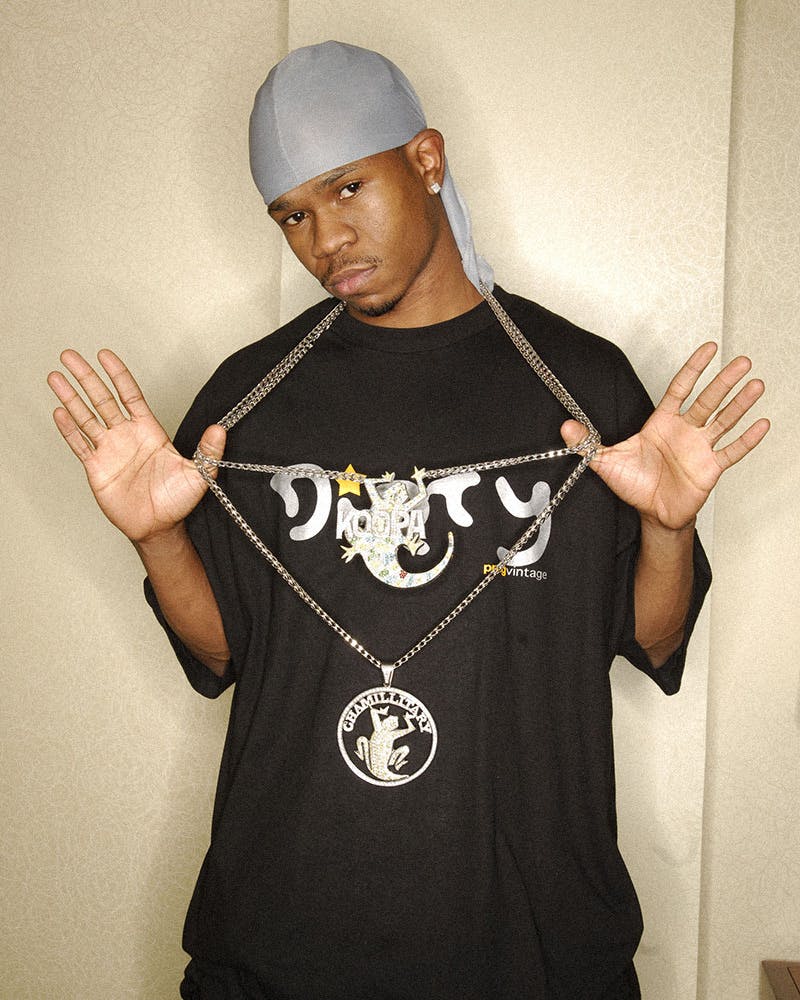 For quite a while, durags weren't really worn out in public. They were ostensibly the same sort of thing as house slippers; you wore them for a very specific reason within the confines of your own home.
It would have been been unseemly to do otherwise. But after the black liberation movement in the '60s and '70s, and as black entertainers rose to prominence in the 90s, that changed.
The heyday of public durags as a "trending" item was in the '90s and early 2000s. Rappers like Chamillionaire, Cam'ron, 50 Cent and Nelly wore them everywhere.
They wore them under fitted caps as Memphis Bleek did in the late 90s as well as by themselves. In fact it was because of this outsized wearing of the piece that durags began to be manufactured in a variety of colors, sometimes even printed. Allen Iverson was once spotted in one printed with an American flag while Cam'ron went pink, as was his habit.
At first, the durag became a testament to and marker of blackness. It was simply a symbol of a somewhat shared experience, a mutual understanding.
Similar to a scene enacted when President Obama was in office and allowed a small black boy to feel his hair to know that the leader of the free world's hair was just like his, the durag was an acknowledgement of our similarity. But as is custom in American culture, that association got durags effectively criminalized.
As GQ points out, in 2001 and 2005, durags were banned from both the NFL and NBA. Journalists from the Washington Post and others began to debate whether or not it was appropriate, respectable even to wear a durag.
Black men wearing them became "those types" and black parents began to forbid their children from wearing them outside of the house to ward off those stereotypes.
The instances emboldened some entertainers, adding to the street credibility of the piece. So much so that the likes of Eminem donned it, hoping to translate not only the blackness but a bit of gritty street mentality through the visual representation.
The popular young artist Spooky Black also paired a durag with FUBU jerseys and simple gold chains back in 2014, in a likely attempt to make himself resemble other R&B crooners that he hoped to call his contemporaries. For many, Eminem's wearing of the rag was acceptable. The jury is still out on Spooky.
But before long, the durag as a public statement fell out of favor for a variety of reasons. Amongst them: long haired styles like fades and locs rose in prominence. In fashion, trends just die out. But recently, in a bit of a slow burn, the durag is coming back, mined for the significance it carries and experience it makes evident.
Most gloriously, Rihanna wore one at the 2016 VMAs channelling a certain type of black cool. The net cap swooped low, instantly recognizable to her fans. It was that same version of cool that Rick Owens and Kylie Jenner tried to cash in on when they utilized the piece.
Photographer John Edmonds too investigated the piece in a recent series entitled "Hoods." In compositions almost identical to A$AP Ferg's mixtape cover, Edmond poses faceless black men against backdrops wearing durags. "I look at them always as crowns," he told the New Yorker about the pieces. And that is the status that durags carry today.
In a world of identity politics, the durag has become not only a signifier of a shared experience but also a badge. It stands as not only a symbol of a possibly gritty, street mentality but evidences a pride in it.
As respectability politics and ideas of assimilating into a homogenized culture in order to progress dissipate, the durag stands in as a designation of a different type of authentic black excellence.
Next-up, dive into our Highsnobiety Fall 2022 Style Guide.