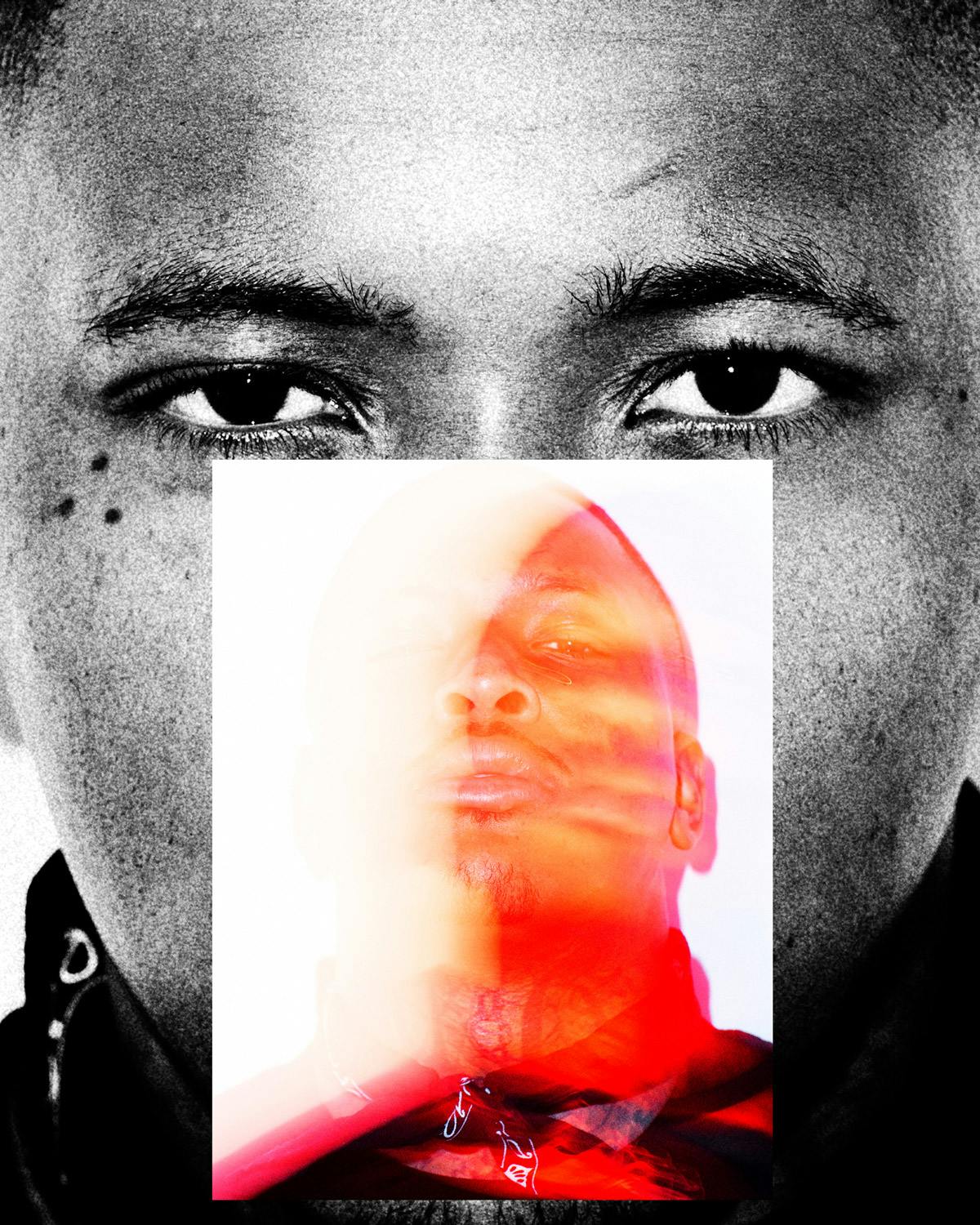 Few artists have been as proudly polemical towards the political regime of emboldened racism as YG. But his status as Los Angeles' defining gangsta rapper of the last decade has not only failed to deliver him from his trauma or insulate him from legal battles and police attention, it has actually exacerbated these problems. In this FRONTPAGE interview, YG delves into the dark period of personal turmoil which informed his new album.
In Los Angeles, as with every other major American city, no occupation or demographic receives more undue attention from the leering eye of law enforcement than rappers do.
In 2018, 03 Greedo, the great 21st century bard of Watts, accepted a 20-year plea deal to avoid the possibility of a 300-year sentence for drug possession and weapons charges. In July 2019, four months after Nipsey Hussle was murdered in the parking lot of a South Central strip mall he owned, it became apparent that the LAPD and city attorney's office had been investigating the property as a "hub of gang activity," and continued the investigation after his death.
That same month, Drakeo the Ruler, the star of the South Central rap collective Stinc Team, was acquitted of murder charges. The District Attorney's office immediately re-filed charges of criminal gang conspiracy and shooting from a motor vehicle, despite knowing that he was not the triggerman. Today, Drakeo sits in solitary confinement and faces life in prison.
In January of this year, journalist Jeff Weiss was at the Compton Courthouse covering the Drakeo trial when he observed that the only bulletin on the courthouse wall was a call from the Los Angeles County's Sheriff's Department seeking tips regarding a six-month old homicide involving an Escalade registered to YG.
A couple weeks later, the L.A. Sheriff's Department showed up to YG's house before dawn with a search warrant. In YG's account of the incident, he answered the door to officers with guns drawn and heard a helicopter whirring above; they ran up to the bedroom and pointed their rifles at his girlfriend, 4-year-old daughter, and 6-month-old daughter, yelling, "Don't move!"
"Them niggas came, and they had the whole SWAT team, motherfuckers with the big guns aiming all on my kids' face," YG said during a phone call with Highsnobiety last month. "They had my oldest daughter outside; she ain't have on no clothes, she had on some panties. They was outside in the cold at five o'clock the morning."
Officers arrested YG on robbery charges and took him downtown for questioning. Hours later, he made $250,000 bail, and two days later, he performed as part of an emotional Nipsey Hussle tribute at the Grammys. "The timing is suspect, to put it mildly," said his lawyer, Joe Tacopina, at the time.
"Out On Bail," the single inspired by this incident, channels the euphoria of posting bail, in part because it borrows the layered kicks and steam valve hi-hats of YG's finest jerk-era bops. And yet it is a lament; one of the darkest songs he's ever put out. Despair leaks into his voice, as he likens his label contract to a 10-year bid, vents about the sheer number of people he looks after financially, and explains his need to self-medicate. "You can tell I'm fucked up in the head," he raps, "My niggas either broke, locked up, or they dead / I can't sleep at night / I'm being watched by the feds." He sounds tired.
"Out On Bail" encapsulates the tension of YG's new album, My Life 4Hunnid, which wrestles with the fact that his status as Los Angeles' defining gangsta rapper of the last decade has not only failed to deliver him from his trauma or insulate him from legal battles and police attention, it has actually exacerbated these problems. In many ways, the project is an echo of his modern G-funk masterpiece Still Brazy, which emerged from his political awakening, the growth of his popularity on a national scale, and a 2015 incident during which an unknown assailant shot him in the hip. Like Brazy, 4Hunnid is a profoundly paranoid record animated in large part by YG's trust issues. "The bro turned opp / That's weak," he raps on "War Scars," "Keep the heat 'cause he knows where I sleep / Once was a brother to me / Man, this shit be fucking with me."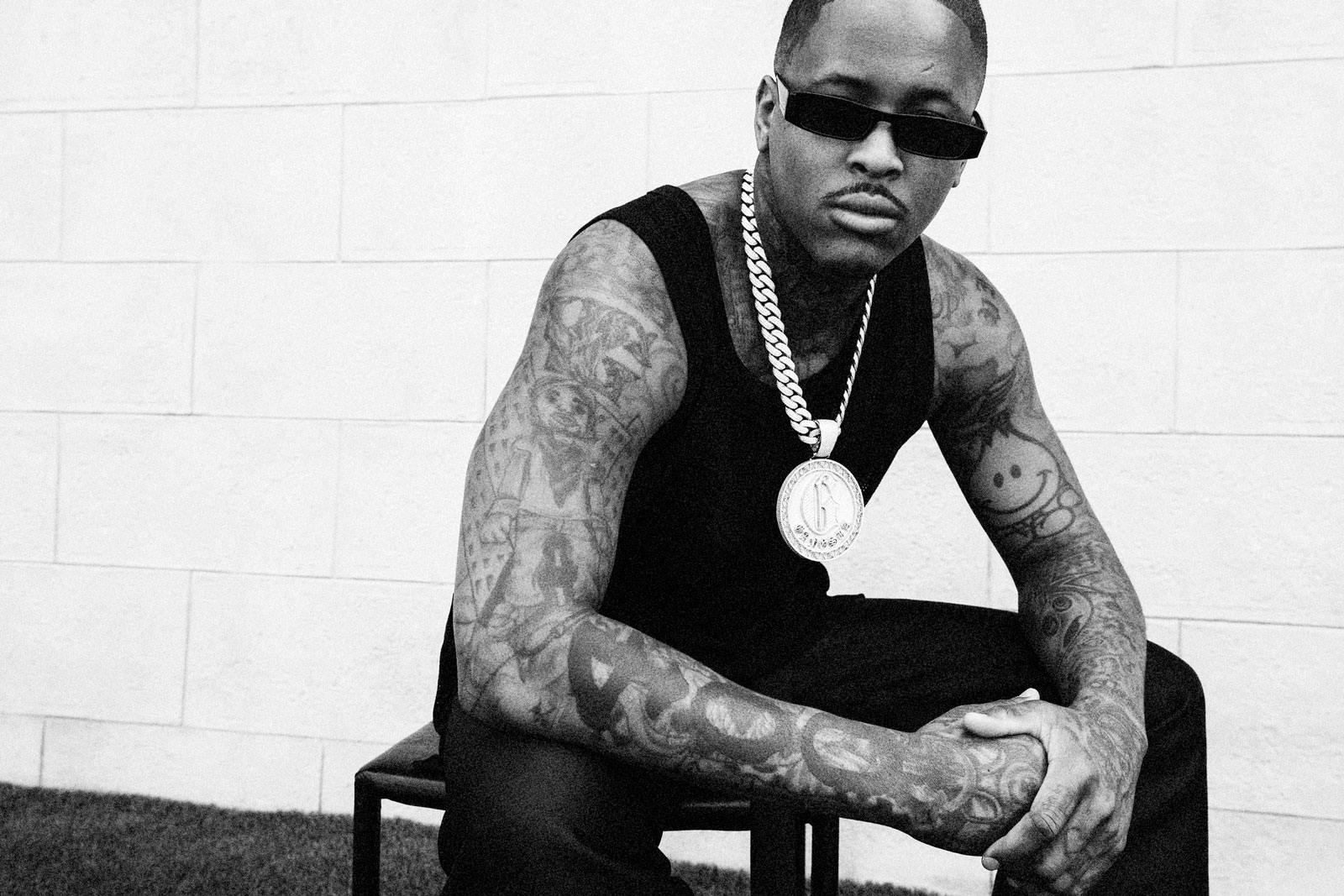 Highsnobiety / Kenneth Cappello
As always, YG upholds his party rap bona fides. On "Swag," he achieves this with an incredible economy of words: "Hop in the whip and I smash / On the way to the bag." On "Laugh Now Kry Later!" the vibe is downcast, as he vows to appreciate what he has and not let mental and emotional turmoil dictate the rhythms of life: "I'mma live it up, that's pronto / Right now, fuck tomorrow."
"What I'm getting at in ['Laugh Now Kry Later!'] is, no matter how far I get, as far as career shit, nigga always going through some deep-ass real shit," he explains on the phone. He disassociates heavily when talking about his mental health issues, alternately referring to himself in first, second, and third person; when asked if these mental health struggles are new to 2020, he says: "I mean, a nigga been dealing with shit his whole life. Niggas keep going through shit, and you know, no matter how successful you get — I got — nigga still be going through crazy-ass feelings. Like damn, blood, my dog be going through this type of shit? Like, living this life that I live, I'm still going through shit that I felt? Like, DAMN."
Does he see a light at the end of the tunnel? "In life, there's always gonna be trials and tribulations," YG responds. "No matter what. That's life. You can't get around that. But it's just the type of shit I'm dealing with. I'm ready to be DONE with this type of shit. It's just shit on a certain level that's like, woaaahhh… You dealing with that, dog? You ain't supposed to be dealing with that, living the life that you live, and how far you came, and being the age that I am. I'm just like, this shit crazy, but you know, this shit comes with this shit, dog. This shit comes with this life. This lifestyle, how a nigga live. What a nigga represents."
YG doesn't want to put a name to his mental health struggles; when asked to characterize his emotional struggles — whether as PTSD, or depression, or something else — he says, "I explain it just like, life. It's just like, it is what it is."
The week of YG's phone call with Highsnobiety is a big one for him, as he's just taken his first flight (to Miami, to shoot the video for "Blood Walk") and gone clothes shopping for the first time since the beginning of the pandemic, which had him feeling pretty cooped up.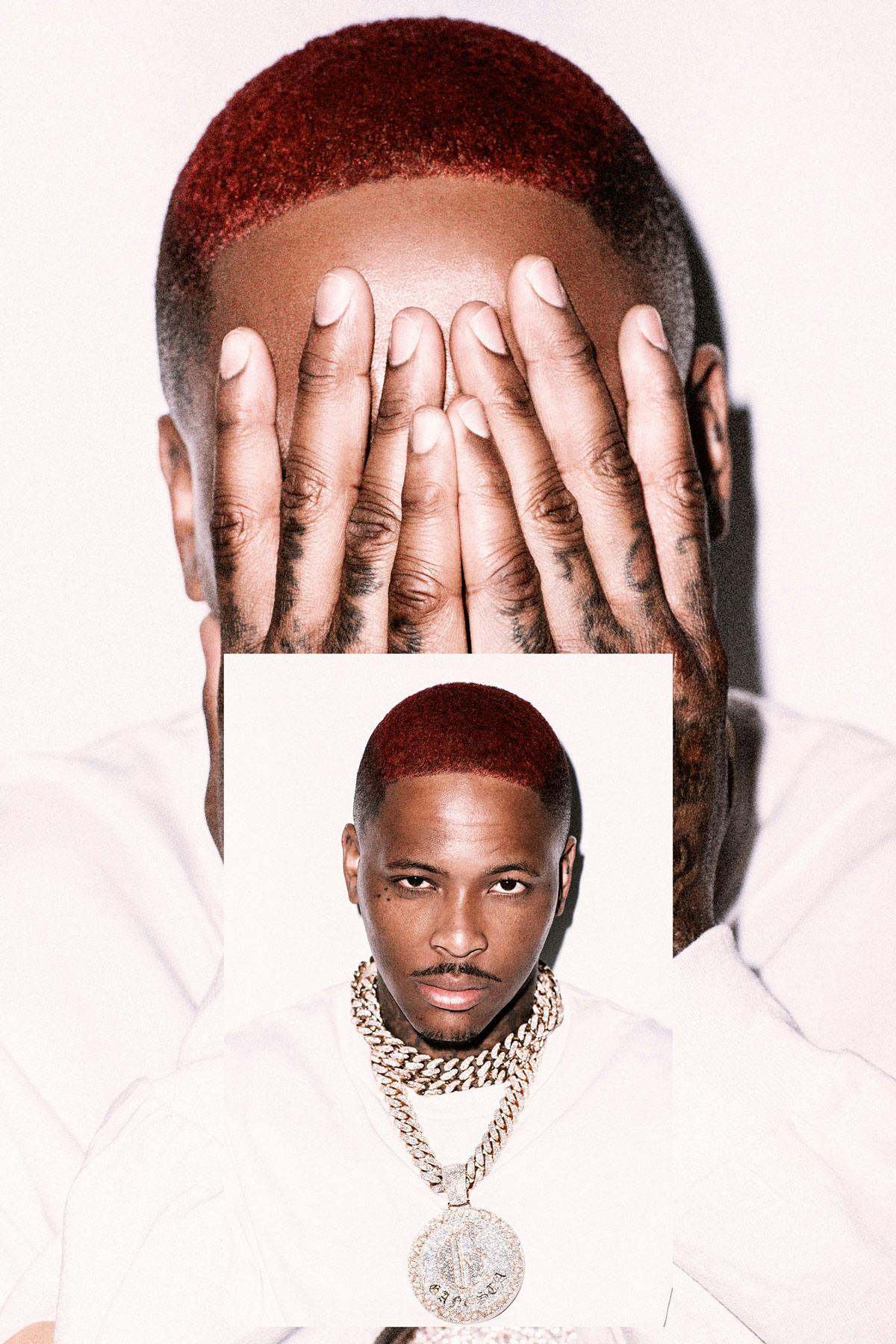 "When it all first started, I was locked in the house," he says. "Some weeks after, I'm like, man! I gotta do something. So I started recording; I started the album. Then after that, I'm like, fuck this, I can't take this shit no more. So I rented a house, me and the homies. We all went to this one location and we were just doing our thing at the house. Create vibes, have fun. Recording, pool parties."
At the same time, YG has served as one of Los Angeles' most important political actors in 2020. On the first Sunday of June, during the George Floyd protests, he co-organized a peaceful march with BLM activists. As the march progressed, he shot music video footage for "FTP," the spiritual sequel to "FDT," his 2016 collaboration with Nipsey that became the defining protest song of the Trump era.
This time, he turns his animus from Donald Trump to "Ku Klux cops," distilling the fear and hatred law enforcement has sown in Black and brown communities: "Buy a strap / Bust back after all these tears." At the outset of the march he held two microphones to his mouth and gave a rousing speech to a massive crowd at the intersection of Hollywood and Vine. "A lot of people, when they heard I was doing a march, they got nervous, 'cause they look at me as a N-I-G-G-A," he said. "But, you know, I'm a Black man. And I'm Black, and I'm proud, you dig! I'm tired of waking up and looking at my phone and seeing another one of my people killed by the police. I'm tired of my mama hitting my phone checking on me, talking about, I love you, you straight? We tired as shit." Before he relinquished the two mics to another speaker, he yelled, "Black lives matter, motherfucker!" Before he relinquished the two mics to another speaker, he yelled, "Black lives matter, motherfucker!!"
YG sees nothing special about his status as one of LA's most influential political actors in 2020. "I just feel like I did what I was supposed to do," he says of the march. "Me being YG, representing what I represent. Being one of the dudes that made the 'Fuck Donald Trump' record. It's like, I was supposed to do that, you feel me? And I was supposed to be involved in all of this madness at a high level."
Highsnobiety / Kenneth Cappello
This shrugging sense of responsibility also compelled YG to don a Niners uniform and afro wig in honor of Colin Kaepernick for his "Swag" video, and to reference John Carlos and Tommie Smith's legendary Black Power salute at the 1968 Olympics by rocking one glove while modeling his 4Hunnid lifestyle brand's anti-cop apparel. He seems to admire, above all, Black athletes who have sacrificed their careers by making controversial political statements.
"I wanted to put emphasis on swag as far as being Black," YG says of "Swag." "Being Black, that's like swag to me. I wanted to highlight some of the Black leaders who are really making a difference out here. So I did the Kaepernick thing. But that was nothing special; I just did, once again, what I was supposed to do."
YG's 2014 debut album My Krazy Life was a day-in-the-life teen memoir about partying, robbing empty houses, and repping his set. The summer after it came out, police officers killed Eric Garner and Michael Brown. That fall, they killed Tamir Rice and LaQuan McDonald. These tragedies underscored the false hope that Obama's election had promised — the notion that the state might not look at black with fear and derision. Nothing had changed since the Rodney King riots rippled away from Florence and Normandie in 1992, or since cops attempted to censor N.W.A's live performance of "Fuck the Police" on their 1989 tour. While YG's unshakeable feeling that he had a huge target on his back formed the inner arc of Still Brazy, this broader political climate formed its outer arc, and in particular its final three songs: "FDT," "Police Get Away With Murder," and "Black and Brown."
"My daughter [Harmony], she remembered that shit," YG says, thinking back to when the sheriff's department raided his house in January. "Before this event took place, she already got in her head that the police ain't good. When she sees the police, she turns to me, like, Daddy, the police. How they say on the side of their car, protect and serve — that's not the vibe that my daughter got from the police. So I'm like, damn, that's kinda crazy. This [now] 5-year-old who's not even living in a crazy environment — because, you know, you get that money and shit — she still got them vibes from the police. Like, she got traumatized."
Compelled to include Harmony on the album, he recorded audio takes of her talking, using his iPhone. In an inversion of the intros to My Krazy Life and Still Brazy, which feature his mom and dad, respectively, she is the voice of the two "Traumatized" interludes that precede "Out On Bail" and "FTP." On the interlude that runs up to "FTP," she urges her dad to hurry home. "Can you hurry up because the pigs kill people, and I'm scared!" she exclaims.
Like abuse of power, protest has a million forms. And, evidently, the FTP mentality is generational. On the day "Out On Bail" came out, YG posted a video of him and his two daughters vibing heavily to the single on Instagram. He bounces his younger daughter on his lap and flips the bird at the camera. Harmony follows his lead, raising a defiant middle finger at the camera and keeping it raised well after YG puts his finger down.
The next day, YG posted a video to his IG Story of him leaving court victorious, flanked by his lawyer. "We free, but how many more cases we gotta figure out?" he asks, smirking. His lawyer tells him four, and he lets out an incredulous laugh. "We knocked one out, we got four more to go. Pray for me, dog."